Lithuanian Riesines (Wristers)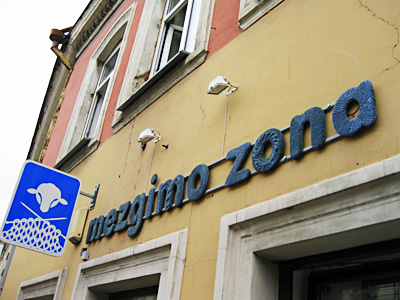 "Where's your favorite LYS?"
I'm asked this question all the time. I'm never sure how to answer.
The problem is, my most of my favorite yarn shops aren't local for me.
These days, Mezgimo Zona (The Knitting Zone, shown at left), at Pylimo gatve 38 in Vilnius, Lithuania, is one of my favorite shops.

I first heard about this shop from on Ravelry from Sonata, the shop owner. She'd read some posts I'd written about visiting Vilnius, and she invited me to visit her shop next time I was in town.
I've been visiting Vilnius every summer for the past four years. (Alas, I won't be making a hop across the pond in 2011.) I'd been to other yarn shops in the city before, and found shelves filled with yarns imported from Italy, Turkey, and Russia, with a smattering of local linen threads and yarns. Some of the shops in Vilnius have the old Soviet-style atmosphere, where many, if not all, of the products are behind glass counters, and stern-looking women sit in the corner or follow you around while you browse. Although I own several knitting books written in the Lithuanian language, I was surprised I didn't find these in any of the yarn shops I visited. I did find a large selection of Russian knitting patterns for sale, but not the local flavor I was hoping to find.
I knew immediately that Mezgimo Zona was different. The shop is well lit, and well stocked with popular yarns, and an entire wall houses an international library of knitting books. The products are all out in the open where you can look at and touch everything, with plenty of samples so you can see how the yarns knit up. Local knitters gather here every week for a knitting club meeting (with chocolates!). I was thrilled to discover that Irena Juškienė, the author of Riesines, a book about Lithuanian beaded wrist warmers, would be teaching a workshop at Mezgimo Zona while I was in Vilnius last fall.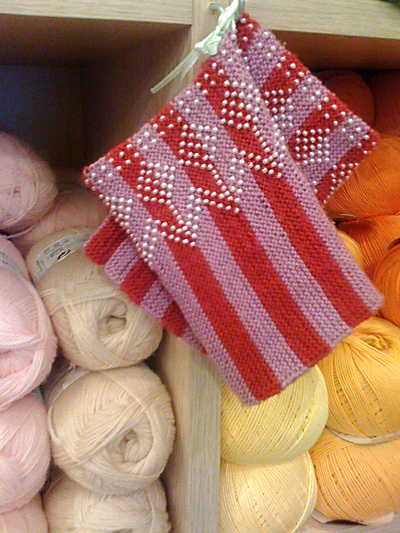 Riesines, designed by Sonata Eidikiene at Mezgimo Zona
Wrist warmers are the perfect fall accessory. They fit in your purse or back pocket, and you can slip them on whenever it gets too chilly for short sleeves, but you don't have a cardigan or jacket with you. They provide just the right amount of warmth when the air conditioning is still on in the office even though the weather has started to cool down outside. Wristers are also perfect gift-knitting projects. You can whip up a pair in a weekend, and the beads turn a simple, small knitting project into a decadent present.
It's amazing how a small piece of fabric wrapped around your wrists can keep your whole body warm. These little wonders are sometimes called "pulse warmers" because they warm your blood as it passes through your wrists, raising the temperature of your entire body.
The class began as Irena told us a bit about the history of wrist warmers as part of the national costume in Lithuania, where the climate is cold and even summers can be chilly. Both men and women wore wrist warmers year round, indoors and outdoors, because they add warmth without encumbering the hands. Unlike mittens and gloves, wristers don't hinder you from doing your work, something we can appreciate today as well, especially those of us with iPhones.
A knitter would make everyday wristers out of scraps of yarn, using any technique that struck her fancy. They were very often made with strips, using so many scraps of colors that they remind me of the "hit and miss" color schemes that Amish and Shaker knitters used when knitting and crocheting rugs in North America.
For holiday wear, something fancier was called for. The wristers worn for special occasions were usually knit in garter stitch and embellished with glass beads. These wristers had more regular patterns and were made with much more care than their workaday cousins.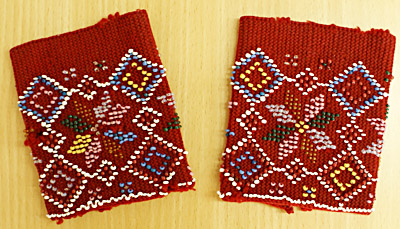 Antique Lithuanian Wrist Warmers
In the workshop we learned that wristers can be made with a single color of yarn or stripes, with contrasting beads all of one color. White beads were the most popular in Lithuania, and have been used on black, blue, red, and striped wrist warmers. Sometimes several different colors of beads are used in one design, making for a tedious process because the beads are strung onto the yarn before the knitting is started, and they must be counted and strung in the order they are presented on the chart.
After we covered the background material, we got out our yarn and needles, and the shop provided the other materials. We all had purchased wool yarn, similar to fingering or sock-weight yarns in the US. Some of us used Latvian yarn that is made of three strands of two-ply yarn that are wound together in one ball; others chose a softer merino yarn.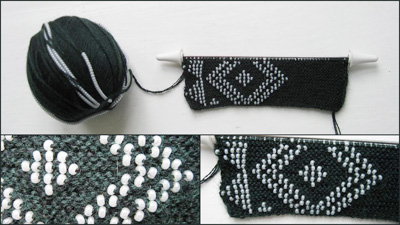 My Class Project
Knit on 1.25 to 1.5mm needles (size 0000 or 000 US), the stitches are tiny and tight, holding the beads in place and creating a firm fabric that won't lose its shape when stretched to pull over the hand and onto the wrist. The yarn is fine enough to allow size 9 seed beads to slide on easily, although requiring needles with a very small eye and a special trick for getting the beads strung onto the yarn.
I intended to take a lot of photos in the class, but I got caught up in the learning experience, trying to understand the instructions in Lithuanian, and chatting a bit with the other students. Before I knew it, Irena was telling us about finishing techniques, and the class was winding up.
I hope my story makes you want to try this yourself.
Here's how:
You'll need fingering or sock yarn, size 8 or 10 seed beads, a beading needle and sewing thread. If you're using size 10 seed beads, you'll also need quick-drying craft glue.
Stringing the Beads
Thread the needle with a 6-8 inch long piece of thread.
If you are using larger (size 8) beads, tie the ends of the thread together. Fold the knitting yarn through the loop in the sewing thread and over itself.

If you are using smaller (size 10) beads, they will probably not fit over the knot or the double strand of yarn. In this case, tear the end of your yarn with your hands to make a tapered end. Then glue the yarn onto a single strand of the sewing thread and wait for the glue to dry.
Thread a bead onto the needle and push it onto the thread and then onto the yarn.
Repeat as many times as necessary for the number of beads you want to use. After a little practice you can string more than one bead at a time. You can just scoop the needle into the bowl of beads and several will hop onto the needle at once, or you can individually beads onto the needle and thread, and slide six or eight at a time onto your yarn.
Normally, Lithuanian knitters will string all of the beads needed for the one wrister onto the yarn at once. However, if your yarn is soft or fragile, especially if it's an unplied singles yarn, strand only four or five inches of beads at a time. You can easily cut the yarn, string on more beads, and rejoin the yarn to continue knitting as needed.
If you string all of the beads onto the yarn at once, put 100 beads on first. Then keeping those separate from the beads you add next, string on another set of beads the same length as the first 100. This keeps you from having to count so much. String on as many sets as 100 beads as you need for your charted pattern.
Before you begin knitting, gently push each set of 100 beads up onto the yarn, so you have one or two yards of yarn, or more, between each set of beads, and all but the last 100 are pushed 10 or 20 yards up onto the yarn.
Push the last 100 beads up about one yard onto the yarn, and spread them out over the yarn so you can pull a few down close to your knitting as you begin each charted row.
Knitting with Beads
There are many different ways to knit with beads. We will go over the way that is used in Lithuania when knitting garter-stitch wrist warmers from charted patterns.
Only the wrong side rows are shown on the charts.
Knit a right side row with no beads, then work the charted row as follows:
Slip 1 for a slip-stitch edge, if desired. Do not count this stitch.
Begin following the WS row on the left edge of the chart. Knit the plain stitches (white on the chart) normally. When you come to a black square on the chart, slip a bead up to the needles and knit the next stitch, pulling it tight to hold the bead in place. This counts as one bead stitch.
The bead sits between two stitches on the needles and will naturally go to the back of the work, which is why we knit in the beads on the WS rows.
Learn More
Riesines (Wrist Warmers) by Irena Jurskiene (Lithuanian)
ビーズニッティング (Beads Knitting) by Kotomi Hayashi (Japanese)
Nordic Knitting: Thirty-One Patterns in the Scandinavian Tradition by Susanne Pagoldh (English)
Knit Tajarutit Greenlandic Wrist Warmers by Lis Stender (Greenlandic and English)
Perler på Pulsen (Pearls on the Pulse) by Kirsten Rømcke (Norwegian)