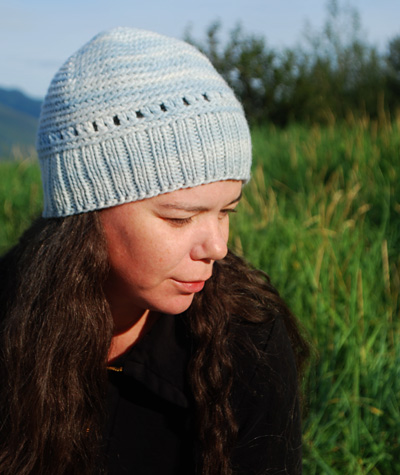 Crown
Using crochet hook chain 4 and join in a ring.

Round 1: Ch 1, 6 sc in chain loop, mark start of round with removable marker.

Round 2: Inc 6 times. (12 sts)

Round 3: (1 sc-blo, inc) 6 times. 18 sts.

Round 4: (2 sc-blo, inc) 6 times. 24 sts.

Round 5: (3 sc-blo, inc) 6 times. 30 sts.

Round 6: (4 sc-blo, inc) 6 times. 36 sts.

Round 7: (5 sc-blo, inc) 6 times. 42 sts.

Continue increasing evenly until the desired head circumference is reached. You can use this site to help you calculate the correct diameter for your desired finished head size. Lay the crown of the hat flat and measure from increase point to increase point. Remember you want a circumference 1 inch smaller than your head measurement.

Sides
Work even in sc-blo for 2.5 inches.

Filet Round: Ch 2, dc-blo in first stitch of the round, ch 1 (skip next stitch, dc-blo in each of two following stitches, ch 1), to end, slip stitch in top of beginning chain-2.

Work 1 round in sc-blo, ending with a slip stitch in both loops of the first stitch of round.

Ribbing
Remove crochet hook and place last loop on the knitting needle.

With the needle, pick up and knit 1 st through the back loop of each crochet stitch
Place marker for start of round and join for working in the round.

Count your stitches. You need a multiple of 3 sts for the ribbing.
Knit 1 round, working an increase or a decrease at the end of the round to adjust stitch count.

Ribbing round: K1, p1, [k2, p1] to last st, k1.
Note: the 2 x 1 rib echos the pattern of the filet row, the k2 lines up with the 2 double crochet.

Work ribbing as set for 2 1/2 inches.

Bind off using Jeni's Surprisingly Stretchy Bind-Off.