This pattern is a teaser to get you thinking about sheep, wool, and knitting in the Shetland Isles of Scotland.

Last winter, I learned that my friend and editor, Deborah Robson, was at a point where she was feeling lost. At Cat Bordhi's Visionary Retreat in Friday Harbor, Washington, Deb opened up to a group of like-minded knitting authors and explained her dream to travel to the Shetland Isles to study Shetland sheep and wool, and to share what she learned with knitters and spinners around the world. She also revealed her frustrations with finding the money to fund her travel and research.

Dreaming of Shetland is an upcoming ebook -- my effort to give back to Deb Robson, who is one of the most generous and open-hearted people I've known. I invited over 30 talented knitwear designers and writers to help me help Deb fund her Shetland project. In the pages of the ebook, you will find articles, essays, photos, and patterns donated by many of those who have been touched by Deb's generosity, including:
Meg Swansen
Ann Budd
Franklin Habit
Beth Brown-Reinsel
Cat Bordhi
Anne Berk
Myrna I.A. Stahman
Sivia Harding
and many more...

What Deb learns in her research will apply to topics as small as the hats we put on our heads and as large as the global wool marketplace. I hope you will be intrigued enough to check out our website, and consider buying a copy of Dreaming of Shetland to help Deb live her dreams.



model:

Donna Druchunas, Joyce Druchunas


photos:

Donna Druchunas




FINISHED MEASUREMENTS
Band circumference: 21 inches
See Pattern Notes for a stretchier option for the band, which will fit a wide variety of sizes
MATERIALS
Yarn
Jamieson's Spindrift Shetland [100% wool, 115 yds per 25g ball]


[MC] 104 Natural White; 2 balls


[CC1] 1010 Seabright; 1 ball


[CC2] 587 Madder; 1 ball


[CC3] 525 Crimson; 1 ball


[CC4] 524 Poppy; 1 ball

Recommended needle size
[always use a needle size that gives you the gauge listed below -- every knitter's gauge is unique]


16 or 20-inch US 2/2.75 mm circular needle


16 or 20-inch US 3/3.25mm circular needle, or size needed to obtain gauge


US #3/3.25mm needles for the crown decrease

Notions


stitch marker


yarn needle
28 sts/48 rounds = 4 inches over charted colorwork
28 sts/36 rounds = 4 inches over single color stockinette stitch
PATTERN NOTES
[Knitty's list of standard abbreviations and techniques can be found here.]
For a stretchier ribbing that will be more adaptable to smaller or larger sizes, knit the brim in standard K2, P2 ribbing in one color or in horizontal stripes.

CDD: Slip next 2 sts together (as if to k2tog), k1, pass 2 slipped sts over. 2 sts decreased.
DIRECTIONS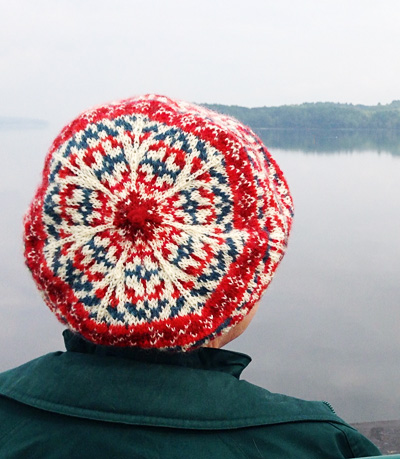 Band
With A and smaller needles, CO 144 sts. Place marker and join to work in the round being careful not to twist.

Work corrugated ribbing as follows:
Rnds 1-4: [K2 with MC, p2 with A] around.
Rnds 5-8: [K2 with MC, p2 with B] around.
Rnds 9-12: [K2 with MC, p2 with A] around.

Sides
Change to larger circular needle for body.
Rnd 1: [K3, m1 (k4, m1) 4 times] 6 times, [k3, m1, (k4, m1) 3 times] twice. 182 sts.
Rnd 2: Knit.

Rnd 3: Work Side Chart around.

Work as set until Side Chart is complete.

Wheel
Next rnd: Work Wheel Chart around.

Change to DPNs/Magic Loop/2 circulars as circumference gets too small to work on circular.
14 sts rem when chart is complete.

Next rnd: K2tog around. 7 sts.

Next rnd: K2tog 3 times, k1. 4 sts.

Work I-cord on these 4 sts for 1 inch. Bind off.
FINISHING
Weave in ends. Tie i-cord in a knot. Block over a dinner plate as shown above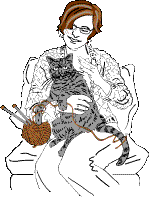 Donna Druchunas escaped a corporate cubicle to honor her passions for knitting, world travel, research, and writing. She teaches in the United States in Europe, offers online sock-knitting classes at Craftsy.com, and holds retreats at her studio in Vermont. Her newest project, Stories In Stitches™ is a pattern line featuring stories about knitters and their lives, traditions, history, and travel, all tied together with gorgeous knitting patterns and projects.

Visit Donna's website at sheeptoshawl.com.
Pattern & images © 2013 Donna Druchunas. All rights reserved. Contact Donna