How to Make Great Cloth
When you start learning something new, you need to jump in and do it — lots of it. After you have some experience with basic processes, you quickly want to be able to predict the results of your efforts with more accuracy.
The Scientific Method
I spend a lot of time with scientists (I'm married to one), and I've come to embrace the scientific method as solid basis for approaching design. My first lightbulb moment about this happened while chatting with Stefanie Japel who is a trained scientist and a knitter. Breaking down the steps in the design process as scientist would has helped me get better results and to have more patience with the process.
Googling "Scientific Method" led me to the flowchart above on Wikipedia. I tracked down the original creator, Dr. Theodore Garland Jr., Professor of Biology at at University of California, Riverside. He gave me permission to share it with you. I found the full slideshow fascinating.
How this method applies to design
Any project starts by making observations. You do that all the time. For instance, you see an incredible sunset and think of a yarn colorway or you spot an interesting weave structure in a commercial textile. Then you ask yourself questions such as how can I make that? What steps would I take? This forms the basis of your hypothesis, such as, "I think this yarn at this sett in this structure will make that thing". You develop testable predictions by gathering yarn and tools and perhaps do a little research on ways other people have gone about making something similar. You test those predictions by sampling/swatching.
Once you have your sampling information in hand, you analyze it to see if your hypothesis is supported. The hypothesis is either rejected or accepted. Perhaps do further testing and modifying where necessary.
You prove your hypothesis by completing a project or perhaps you make another project until you feel you have the result you are looking for or you may abandon this path and start on a new one.
An important last step in this process is that you share the results with others by publishing, posting, blogging, or entering a show. This allows us to build upon each other's work — crediting our sources as we go, as I did with the flowchart and my conversation with Stefanie.
There is no end game. This is an iterative processes on which we build a body of knowledge that allows us to gain deeper and deeper understanding in our field of interest. If you stick with it, you begin to create work that furthers our field.
The folks that do this are the people that we recognize as designers. Creativity is not necessarily something given to some and held back from others; it is a muscle that can be worked.
Sampling
At first we all resist sampling as a waste of time and yarn. In the end, it will save you time, yarn, and it gets you better results. Sampling is also important when substituting yarn in a pattern — even yarns that seem very similar can behave differently in finished cloth.
I've come to embrace my sampling time as the most liberating of the design process. If you haven't read the Get Warped column in Knitty's 2015 First Fall on Yarn Selection, do that before starting to sample.
Here are some sampling tips that I shared in the latest Yarnworker newsletter (sign up here):
Put on a very short warp. I use a 1yd warp length about 8'' wide. This uses about 200 yards of yarn for a sett of 12, less if the sett is lower.
Try lots of different color combination, including ones that that you don't favor or are convinced won't work.
Make a mistake in the color order or threading? Leave it. The results just might surprise you.
Finish each end differently. Leave enough fringe to try out new knotting techniques.
Take good notes before you wash your sample.
Wash your sample more vigorously than you think the yarn can handle. This is the opportunity to see what the yarn can take.
Write notes about what you learned. I use the little hangtags in the photo and put pre-washing specs on one side and notes on the other.
Display your samples for inspiration
If you don't have enough yarn for a full sample, put on extra warp and do some sampling before you start your project.


In the the 2015 First Fall Get Warped column, I shared a the instructions for a simple little table scarf. I followed the scientific method to get to this final sharable result.

Variegated yarns can be tricky. Sometimes the results are muddy or the optics get weird. I tested my chosen yarn three ways. The first (bottom left) used variegated as warp and weft. The second and third used variegated with coordinating solid. I tested a few solid colors before I settled on this orange. I chose the sample at bottom right for my project. For a table scarf I wanted the eye to be drawn along the length of the cloth.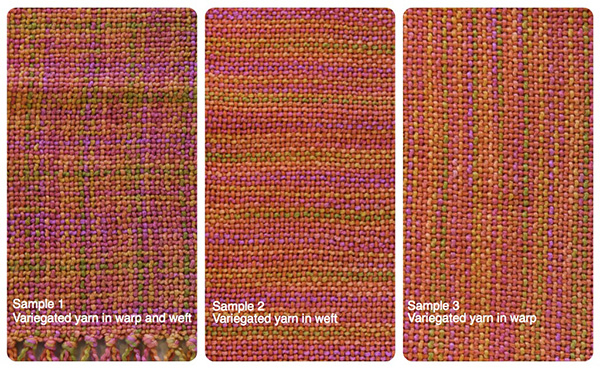 Because I had three samples, I also could test various finishing techniques and ways of wet finishing. All these samples are sett at 8 ends per inch for a balance plain weave and have been washed.
Any one of these would have made a perfectly fine piece of cloth. I chose Sample 3 because I like the long painterly brush-stroke. My sett checked out ok, and although I tried various hemstitches, the fancy knotting worked best.

Open Source Sampling
Sharing openly in the scientific and technology community allows others to come up with better and more sophisticated hypothesis. The same is true in the yarn community. The more we share our yarn experiments the better yarn users we all become. I started a Swatch Club in the Yarnworker Ravelry group where you can share your samples as you work to design your perfect woven project or modify an existing one to your needs."
Here another project that takes advantage of variegated sock yarn. This is a yarn almost every knitter has in their stash and sometimes struggle to make it do what they want it to do in woven cloth.