Feature: Cool stuff
Cool stuff
SR [Finished chest measurement for sweaters] = the smallest chest measurement to the largest chest measurement we could find in the book. There may be only one pattern with the smallest or largest size, but it's in there. Books are softcover unless noted otherwise. All prices USD unless noted.
When you click on an Amazon affiliate link below and make a purchase, you're supporting Knitty. We thank you!
Jump to... Spinning | Crochet | Other Crafty Things

Knitting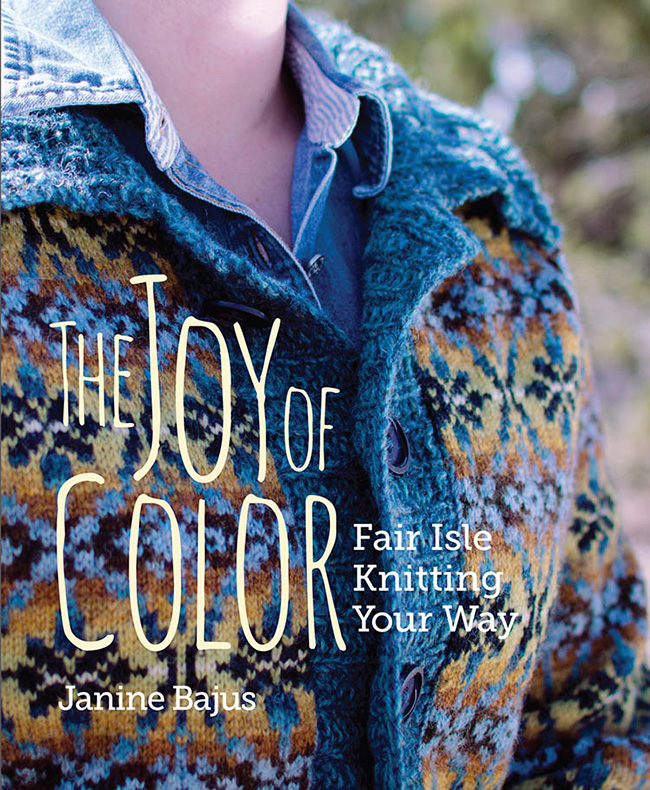 Joy of Color: Fair Isle Knitting Your Way
by Janine Bajus
$25-40

Janine Bajus has been teaching Fair Isle workshops for years. I've heard from other knitters how wonderful they are, but have yet to take one myself. Joy of Color is her color workshop in a book and even though this can only approximate an in-person workshop, I get exactly why knitters love her classes.
About ten minutes into reading my pdf review copy I jumped out of my chair and ordered a paper copy as well as a complete Jamieson & Smith color card from Janine's site.
I finally understand so many things, and the book is beautiful!
I finally understand about color progression in Fair isle knitting. I must have read about it before but it never stuck until home Janine described it. Also about how to pick colors for Fair Isle, she makes it easy. She teaches about motifs, how they work in Fair Isle and how to design your own.
Her method of color swatching is genius (and quick). It takes so much of the overwhelm out of Fair Isle knitting.
She explains things with such clarity that I wonder why I was ever confused. Because I've never had a teacher as good as she is.
She makes Fair Isle, which can be very intimidating, into just knitting, knitting that can be played with and fun.
There are no sweater patterns in this book but there is everything you need to design your own. One of my favorite parts of the book are the inspiring stories and photos of some Janine's students and sweaters they have designed after taking Janine's classes.
To get your feet wet there are patterns for a cap, tam, fingerless mitts and a scarf, but you will have to choose and chart you own colors and motifs.
The instruction is thorough and crystal clear. The tone is kind and supportive and so encouraging. This is a book every knitter should own.

JM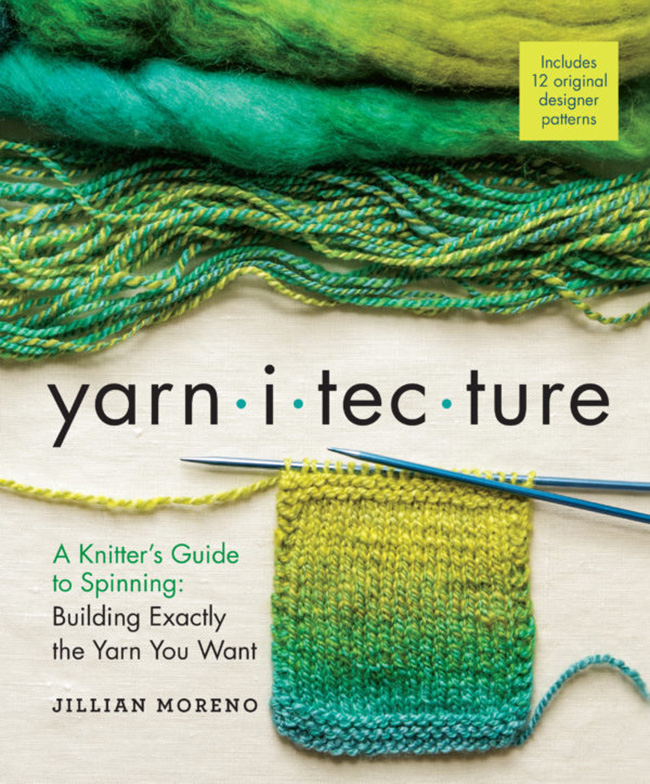 Yarnitecture: A Knitter's Guide to Spinning: Building Exactly the Yarn You Want
by Jillian Moreno
Storey Publishing
Hardcover: $29.95
True story: I was cleaning out my yarn and fiber closet the other day and I actually considered getting rid of most of my much-neglected fiber stash. The very next day, the universe (or maybe it was Amy Singer) sent me Jillian Moreno's Yarnitecture to review, and I thanked my lucky stars I hadn't followed through.
With her clear descriptions of various fibers and preparations, the words I've long heard and sorta understood are making a lot more sense to me. Her can-do attitude along with all of the wonderful, clear photos that illustrate techniques have reminded my why I became a spinner in the first place. I don't think I've ever seen 4 fibers finished 8 ways each and then knit up to show what happens! Mind: blown. Her instructional style is friendly and empowering, and the pictures are just gorgeous. Every key point is illustrated with step-by-step photos, and swatches show you the results of the different techniques you'll learn.
After Jillian gets you excited about all of the possibilities and how-tos, you may start to wonder what the heck you are going to do with your stash of handspun yarns. Fret not. There are a dozen patterns that are perfect to show off your handiwork.
Suddenly my stash seems reasonable, full of potential, and I'm confident I can avoid repeating the How-Did-I-Manage-to-Spin-Something-that-Feels-like-Steel-Wool-Disaster of '15!

KG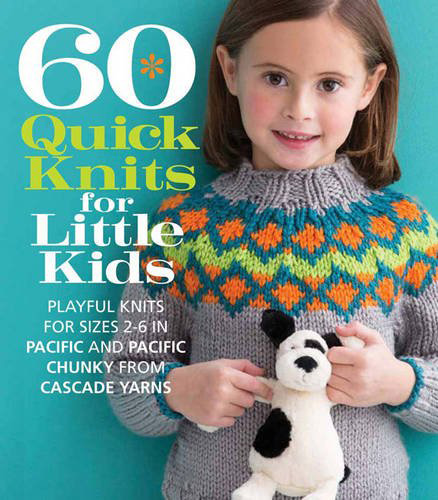 60 Quick Knits for Little Kids: Playful Knits in Sizes 2-6
Sixth&Spring
$17.95
Why are little kids in chunky knits so cute? As a knitting mom I love chunky knitting, because it is fast to finish. I remember the days when my son wanted a new hat or sweater for Monday and told me Saturday, no problem with fat yarn. This is a book I wish I had when my kids were small.
The patterns are simple enough for kids to like them and are very much not fussy patterns. There is some patterning, some colorwork, but just enough to make the knitting interesting. There is nothing in here you can't knit while watching Frozen for the 752nd time.
I like that half of the patterns are for garments sweaters, dresses, ponchos and vests. The other half are the usual mixture of accessories – scarves, hats, mittens, blankets.

JM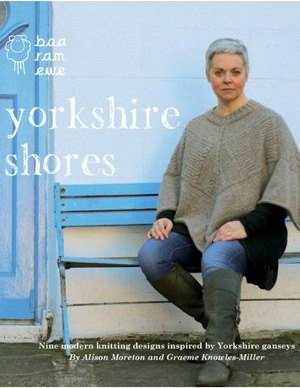 Yorkshire Shores: Nine Modern Knitting Designs Inspired by Yorkshire Ganseys
by Alison Moreton and Graeme Knowles-Miller
Baa Ram Ewe
SR=28-54"
£15

This book, while small, shows off the beauty of the gansey. A gansey at it's most basic is a section of textured stitches set off with mostly plain knitting. They are simple and I think beautiful. Aran sweaters get most of the press and love as the textural sweater from the British Isles, but a gansey's beauty lies in the sparseness of texture, just enough, rather than the texture, texture everywhere of the Aran.
There are nine designs knit from Baa Ram Ewes unique Dovestone DK, 3 sweaters, a tunic (women and kid sized) a blanket, socks, mitts, a hat, and a poncho that I actually want to knit and wear. I have never met I poncho that I've liked until this one.
A lot of care has been taken with this book. The photos are beautiful. There are short sections on the history of the gansey, a round up of special techniques used in the patterns, a stitch dictionary, even these small sections are given beautiful design treatment with excellent photos.
The designs are written out and charted, so you can knit how you are most comfortable. These are the type of patterns that will never go out of style and quickly become part of your fall and winter wardrobes.

JM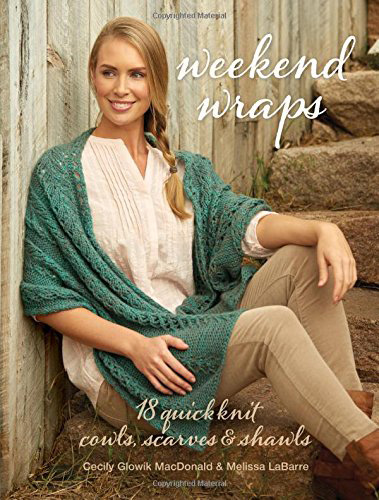 Weekend Wraps: 18 Quick Knit Cowls, Scarves & Shawls
by Cecily Glowick MacDonald & Melissa LaBarre
Interweave
$24.99
There are two times a year that I crave a quick knit. One is when I've backed myself into a corner, time-wise for gifts. The other is right now, when fall is just starting. I want something wooly on and off my needles as fast as possible to mark the start of my favorite season. This book fits both of those scenarios perfectly.
This is a book full of great accessory designs from two talented and experienced designers and their equally talented friends. You know the pattern you fall in love with will come out exactly as it looks in the photo. There are 5 cowls, 9 shawl/wraps, and 3 what they call "Not Quite a Sweater" – a shrug, a bolero, a cardigan and and poncho.
Worsted weight yarn is the finest yarn in this book, so the title doesn't lie, most knitters could finish these projects in a weekend or less. The designs are all but one, texture and lace, which look bold and cozy knit in heavier yarns.
The three patterns that want to hop on my needles to celebrate fall are Little Waves Cowl, Bias Cable and Lace Stole, and the North Star Cardigan.

JM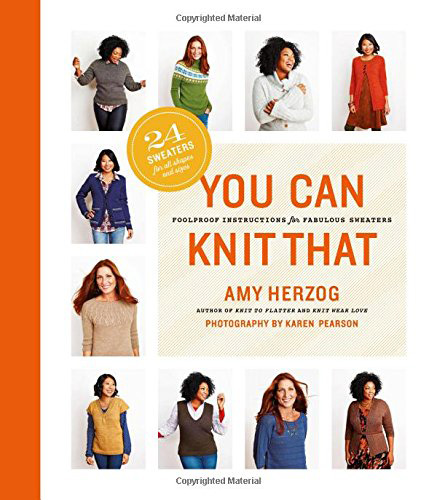 You Can Knit That: Foolproof Instructions for Fabulous Sweaters
by Amy Herzog
Abrams
$24.95
SR=34-58"
Your first sweater+ Amy Herzog= perfection. Also, no crying.
With her third book Amy Herzog opens her crazily talented arms and brain to first time sweater knitters. She walks a knitter though all they need to know to kit a first sweater. She takes her infinite sweater knitting knowledge and distills it for a sweater newbie.
She fills the book with mini exercises that are genius. I wish I had a teacher that had taught me that way. They are quick hits into learning about things like, yarn, gauge, shaping, button holes and finishing.
She talks honestly about why things are important – like swatching, how all of your knitting choices affect your sweater and how to get your gauge to not lie to you.
The how to is done all with photography including step by step of sewing in set in sleeves.
There are twelve designs in 6 categories : vests, integrated sleeves, drop shoulders, raglans, yokes, and set-in sleeves. The designs not as fitted and detailed as her other books, but they are lovely. Plus less fitted and detailed mean a less stressful and quicker knit for a newer knitter.
There is a small but very comforting section in the back of the book where Amy talks about which sweater to knit when – for a first sweater try this one, to try texture this one is perfect, etc. If you feel overwhelmed look there.
This is an excellent book, and not just for new sweater knitters.

JM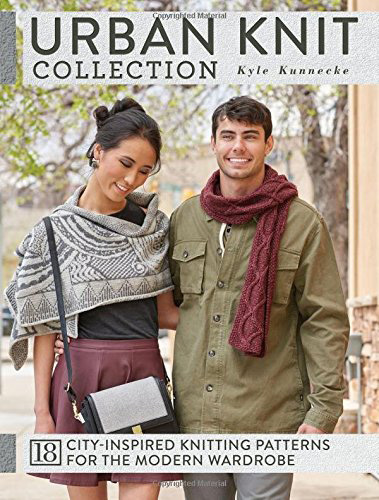 Urban Knit Collection: 18 City-Inspired Knitting Patterns for the Modern Wardrobe
by Kyle Kunnecke
Interweave
$26.99
This is a knitting book to slowly absorb. There is nothing quick and easy about this book and that is fantastic. Kyle talks at length a bout his inspiration (architecture) and the techniques he uses. He is focused on detail and it shows.
It is instantly clear that Kyle is a master of colorwork. The designs using color are stunning. Not all of the designs in the book are colorwork there are some delicious textural patterns and some that mix the two. Here is an example of the level of detail he brings to his designs.

One sweater has a front that is a colorwork pattern and the back and sleeves are a solid color. Most designers would have used stockinette stitch on the solid bits. Kyle uses a textured stitch that gives those plain pieces of the sweater a greater density, similar to the front which is thicker than just plain stockintte due to the colorwork. He could have left it plain and uneven, but that is not the type of designer he is.
Many of the colorwork patterns in the book could stop traffic. Designs like the Savoy Cardigan and the D'Amour Wrap are beyond beautiful.
I really like his approach to what it takes to knit his designs. He doesn't rank them by beginner, intermediate or advanced, but talks about the skills needed and time it takes.
Like the detail he takes for his designs, he takes the same approach to making sure a knitter can be successful when working one of his patterns. He is obviously a first-rate teacher. He is clear about what skills you need and has an extensive techniques section in the front of the book. Here he teaches, among other things, how to do locked floats. Locked floats are a particular colorwork knitting skill that leaves the backside of your knitting looking woven. It gives a marvelous finished look to color knitting.
This is a book full of beautiful projects designed by a skilled artist and teacher.

JM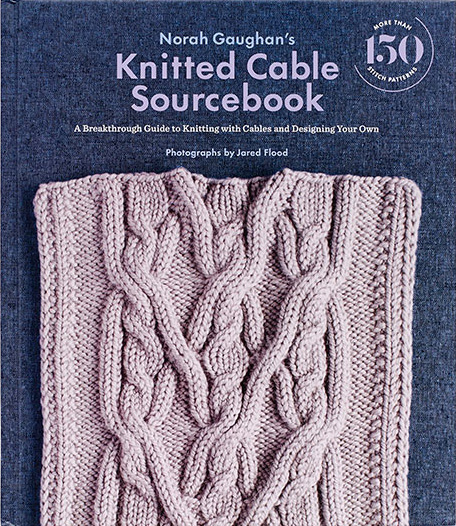 Norah Gaughan's Knitted Cable Sourcebook: A Breakthrough Guide to Knitting with Cables and Designing Your Own
by Norah Gaughan
Abrams
SR: 32-56"/ 81.5-142cm
$29.95, hardcover

One hundred and fifty-two unique cable patterns, brought to us from the creative mind of Norah Gaughan. Norah is one of the biggest names in knitting because she's a true innovator. Her sweaters often use knitted fabric like origami paper, bending and folding planes over each other.
In this case, she's turned her innovative mind to creating new cable patterns. And they're fabulous. After a thorough – and interesting! – introduction on the anatomy of cables, she dives right in. The book is divided up into Basics (Ropes, Braids and Horseshoes); Adding Breadth (widening the cable bands); Expanding (creating wider panels of cables); Finding Motifs; and Drawing. As the chapters progress, simpler cables give way to wider, more complex creations. Each chapter is matched with projects that are stylish bases upon which to apply these beautiful cables to make the projects your own. Throughout, she shows us a selection of panels that look attractive both front and back, if you need something reversible.
I love this next bit: Norah created a system called Stockinette Stitch Equivalent (SSE). Says Norah, "A cable's SSE, which is included with the instructions, tells you how many stockinette stitches are needed to achieve the same width as the cable in any weight yarn." So you could take any existing sweater pattern and, using the SSE, find cables that you can apply to the pieces of the garment without altering its size. THAT IS SO COOL.
If you like cables, you must own this book. It's as simple as that.

AS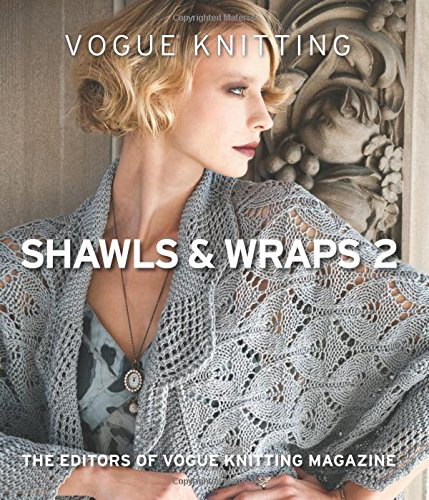 Vogue Knitting Shawls and Wraps 2
by the Editors of Vogue Knitting
Sixth&Spring Books
$24.95, hardcover
This is a greatest hits shawl book from Vogue Knitting, 35 shawl patterns chosen by Tricia Malcom. Needless to say there is quite a bit a of variety.
The book opens with lace, featherly light and complex lace shawls like the Wrapped- Stitch Shawl. Then double knitting gets four shawls, including a crazy-wonderful double knit Fair Isle and lace shawl. Cozy wraps comes next, mostly rectangular. Some are fantastically bold like the Ripple Wrap that is 20x 88" of eyelets and drop stitches. My favorite section is the color and texture section that includes Brandon Mably's stunner, Vibrant Fair Isle Shawl.
Shawl lovers won't be disappointed with this book.

JM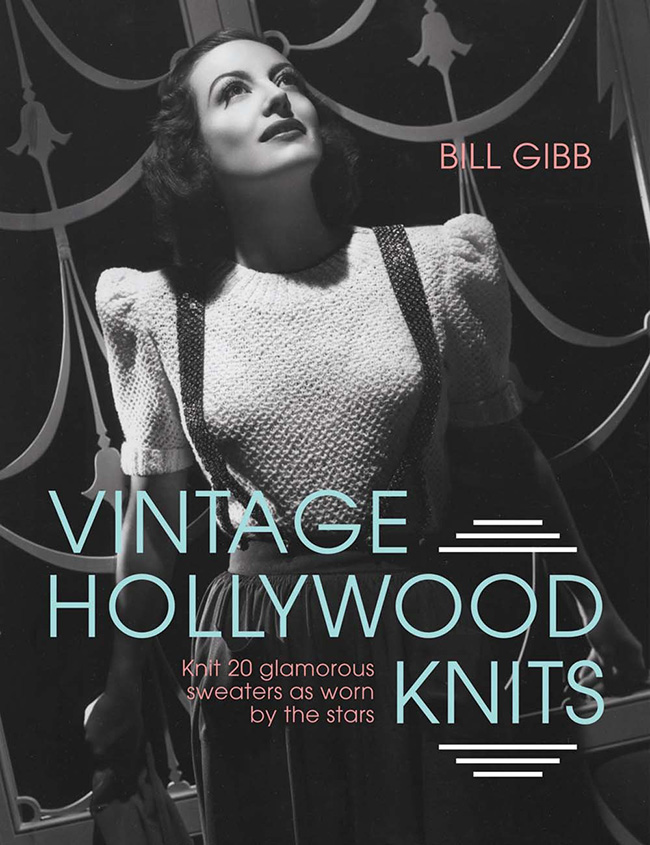 Vintage Hollywood Knits: Knit 20 Glamorous Sweaters as Worn by the Stars
by Bill Gibb
Pavillion Books
$19.95, hardcover
SR= 34-44"
Do you know who Bill Gibb is? Me neither, but apparently he was the man behind the knits in many vintage Hollywood films. He designed for Lana Turner, Judy Garland, Cary Grant and Errol Flynn.
This book is full of great photos of stars in sweaters, some knitting in Hollywood history and even bios of the stars. I read it cover to cover and now will be hunting the movies that these sweaters (and stars) are in.
The patterns assume you know how to knit and piece some involved things like puff sleeves. The men's sweaters are straightforward with some color banding or texture. The women's sweaters are shaped and embellished within an inch of their lives.
It's a wonderful glimpse into another era and film and vintage knitting buffs will be delighted.

JM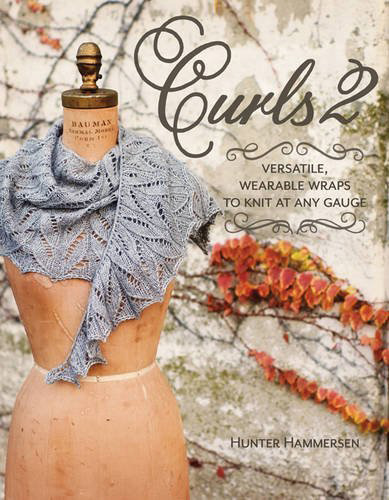 Curls 2: Versatile, Wearable Wraps to Knit at Any Gauge
by Hunter Hammersen
Pantsville Press
$21.95
Sigh. These Curls. Now there are more beautiful Curls to knit. Hunter Hammersen's brain never stops working on unique knitting. Curls 2 is 14 more Curls patterns. These Curls can be knit at almost any gauge giving a variety of sizes. The samples in the book are knit in a range of yarns from lace-weight to worsted weight. They style and construction is still the same, a unbalanced triangle, knit like putting legoes together – some stitches in this direction, now this way. There is something lighthearted about the whole process.
I will say seeing the Curls knit in heavier yarn gives me hope. My true confession is that even though I am perfectly smitten with Curls I have yet to make one.
The freedom to knit in bigger yarn, really pushes the patterns in to the ,'Why not? 'Category. Plus any one of them would look amazing in a handspun semi solid yarn or a gradient like Jill Draper's Rifton.
Now it just comes to choosing one, lacey like Taradiddle? Or textural like Cozenage? Or do I just choose by one of the excellent names? Bring on the fun!

JM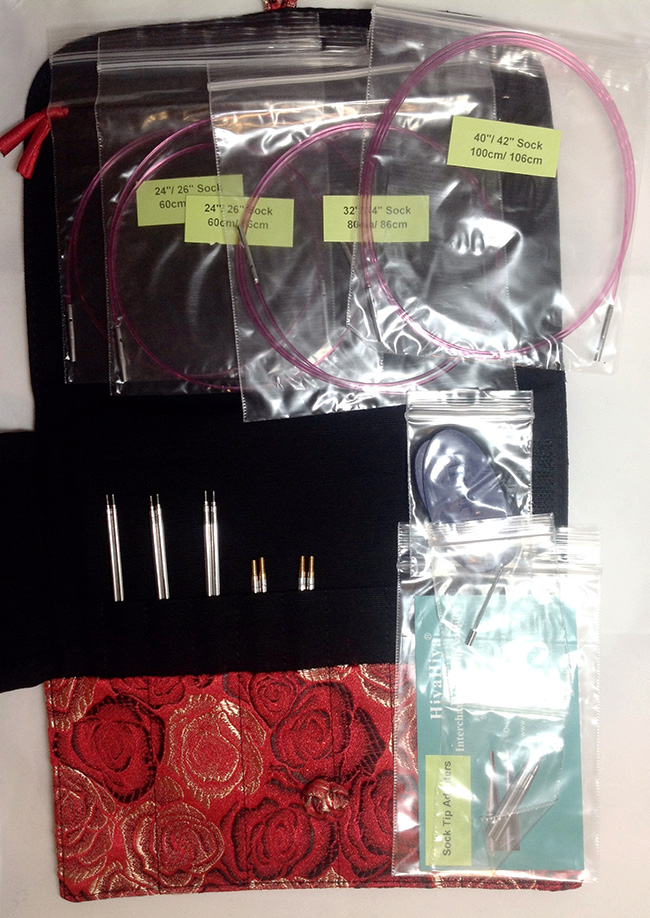 Sharp interchangeable sock needle set
by Hiya Hiya
Two 5" Sharp Steel Tips in sizes US 0, US 1, and US 1.5
Two 4" Sharp Steel Tips in sizes US 2 and US 2.5
Two 24" cables, one 32" cable, and one 40" cable
Two Sock Tip Adapters and Two Needle Grips
One Fabric Storage Case (available in a variety of colors)
$83.50
 
The Magic Loop method has become enormously popular for small circumference knitting – socks, mittens and the like. This new set of interchangeable needles by Hiya Hiya is nice solution for knitters who prefer working that way.
The set contains needle tips in all the key sock sizes US #0-2.5, including those sometimes hard to find "half" sizes (that is, 2mm, 2.25mm, 2.5mm, 2.75mm, 3mm), and a selection of specially designed cords. There's one each of the critical 32-inch/80cm and 40 inch/100cm lengths, and there's also two 24-inch/60cm cords. I don't use that length myself, as I find them a bit short for Magic Looping, but they'll come in handy as stitch holders; some who use the two circulars method like that length, and so you've got a nice solution with a small additional purchase of another set of needle tips. The cords are nicely bendy and flexible without being floppy, and join is smooth and solid and didn't come undone. Hiya Hiya sets rely upon a little gripper pad to help you tighten the joins, rather than a tool; I've used their interchangeables of different sizes for a number of years and never had a problem with them coming undone.
 
The needle bodies themselves are of the usually excellent Hiya Hiya quality, smooth and sharp – although if you're a "tip-pusher", you might find the smaller sizes a little too sharp...  The smaller three sizes are five-inch lengths, the larger two in four-inch lengths, but the kit also has an adapter, which meets two needs: it allows you to use these specific cords with needle bodies from their standard small-size interchangeable set, and it lets you turn those four-inch ones into five-inch lengths.
 
As with all Hiya Hiya needle sets, it's nicely packaged, in an attractive and functional fabric case. 
 
As to whether this is a good investment or not: it's all about your knitting habits. If you're one of those sock knitters who always uses the same size needle, then you'd probably just want to buy a a fixed needle (or two), but if you do like to change needle size with different thicknesses of yarn, then this set is a very good solution indeed.

KA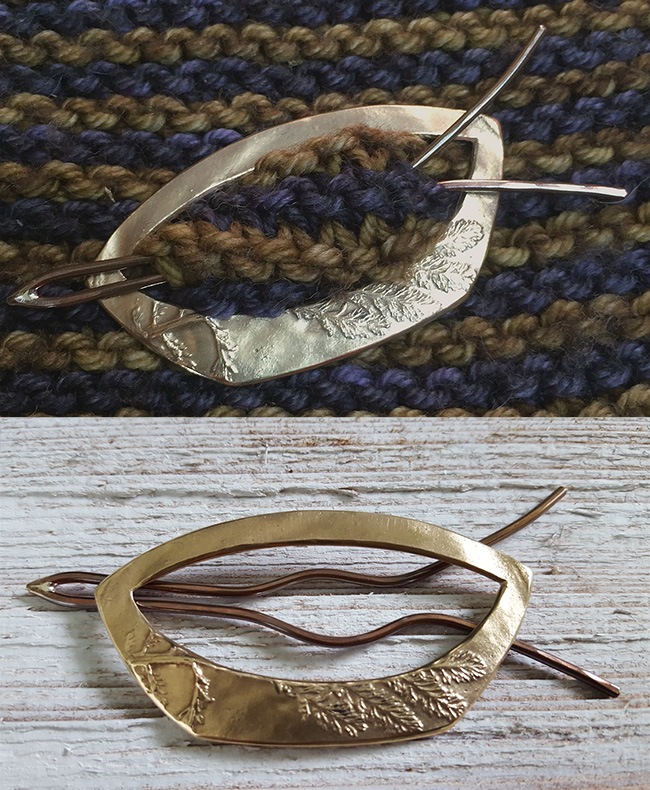 Bronze Shawl Pin
by Kristan MacIntyre
$55
This is a beautifully rendered shawl pin that is both rustic and delicate and is imbued with the hand of the maker. I love the organic feeling of the pin, that some of the working marks are still on it, the curve of pin. It feels substantial without being heavy and is easy to take on and off of knitting.
This particular pin is made from bronze with a texture made from dyer's chamomile. Kristan makes all of her pin textures from things in her life – her garden, textiles in her home – creating truly personal pieces of art.

JM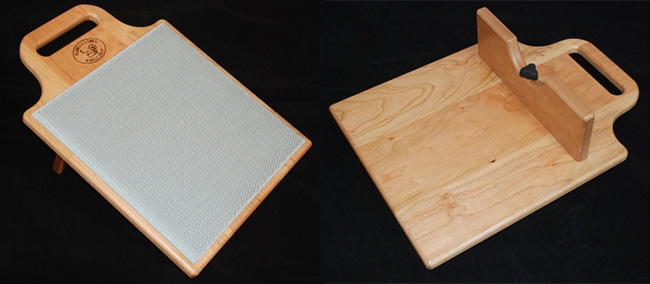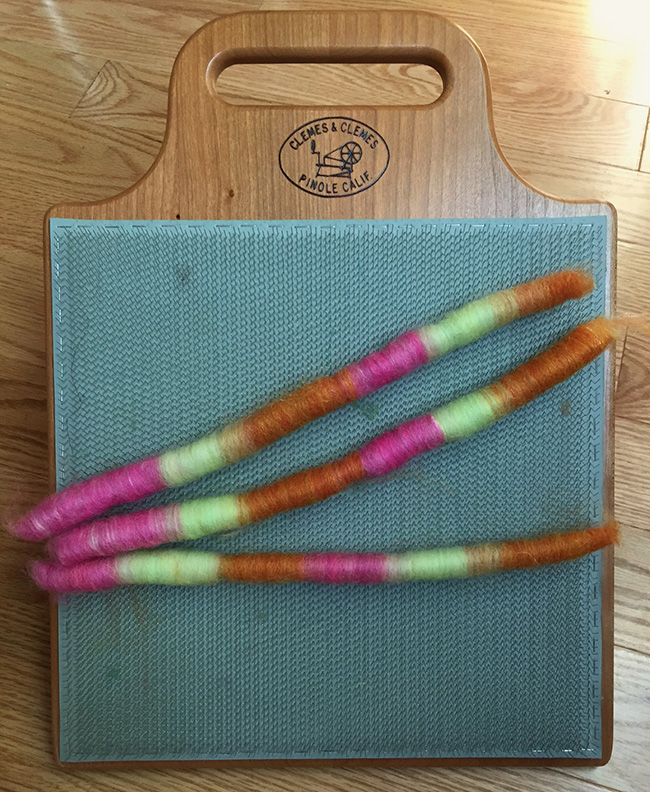 Blending Board
by Clemes and Clemes
$240
Blending boards are a flat drum carder, but they don't actually blend much. they are used for mostly layering. Blending boards are what fiber artists use to make those gorgeous, sexy, shiny, sparkly little batts/big rolags that are popular to make and spin now.
I'm new to blending boards and was a little intimidated when this one landed in my lap for review. But like all Clemes and Clemes products, it's a breeze to use and made with quality and durability in mind.
The Clemes and Clemes board is made of cherry wood, with a handle at the top and a removable and adjustable stand. The blending area is 11x11" and has 72 teeth per inch. It comes with a brush for blending and a dowel to help roll off your gorgeous, plump rolags. I like working with a little more than half and ounce at a time.
I understand why using these boards is so popular. Because the stand on this can pivot, I was able to sit on the couch with the stand between my knees. It was held firmly and I could blend and layer through many episodes of Stranger Things. Plus it's portable. I removed the stand, packed it flat in a bag and took it out to meet other spinners. I also put it in a suitcase to travel across the country.
The blending board never felt flimsy and I never felt like I was anything but in control, even as a beginner. The wood is smooth and the teeth,while sharp, never seemed to poke me even when removing my batts.
The instruction book has basic how to, but there are great videos on their website by Gwen Powell who, I believe, helped design the blending board.
It is fun to sit and paint with fiber on the blending board. Everything stays where you put it, and spinning from fresh rolags is magic.
The Clemes and Clemes Blending Board is portable, easy to use, USA made and will last long past my spinning career. I can't recommend it enough.
JM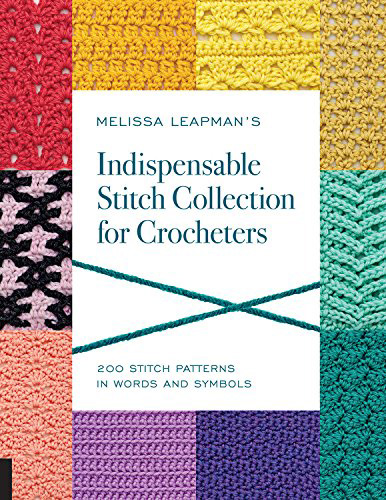 Indispensable Stitch Collection for Crocheters: 200 Hundred Stitch Patterns in Words and Symbols
by Melissa Leapman
Creative Publishing International
$24.95
Outside of Japanese stitch dictionaries, this is the biggest crochet stitch dictionary I've seen. I couldn't flip through it without designs popping into my head on every page. And I'm a beginning crocheter.
The book is divided into stitch categories: Simple Solid Patterns, Shell and Fan Stitch Patterns, Openwork and Lace Patterns, Textured Patterns, Colorwork Patterns and Edgings.

All of the patterns are both charted and written out. I love that the book is a larger format; I can see the stitches and easily read the directions and charts while I'm working. The second part of the book has crochet resources, techniques, symbols and abbreviations.
For me, this is a desert island crochet book.

JM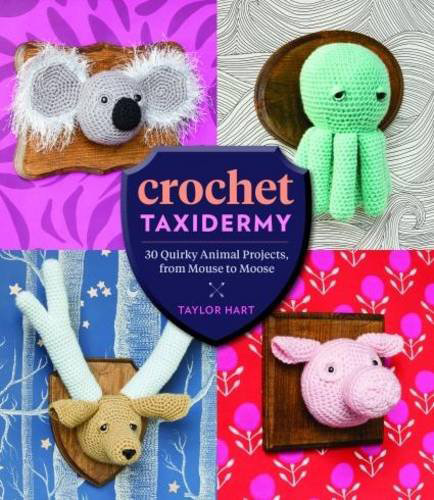 Crochet Taxidermy: 30 Quirky Animals Projects from Mouse to Moose
by Taylor Hart
Storey Publishing
$14.95
Yes it's a silly idea, but it's also wonderful. There are 30 amigurumi, one skein-ish crochet projects to make and mount, to decorate your space. These are exactly the type of thing I'd love to get as a gift, clever and hilarious.
The book is set up so there is a gallery of projects at the front with directions in the back, so you can look at all of the projects uninterrupted. The directions in the back are concise and clear, the tricky bits are photographed to exactly what's going on. Each piece is 5"- 6" square. There are instructions for crocheting in the round, attaching pieces, adding eyes and making a mounting plaque and mounting your piece. It's a thorough bit of directions. My favorites are the owl, sheep and cuttlefish.

This is cute and unique book. Secretly I was hoping for some full-body cheekily posed taxidermy, too. Maybe that'll be Volume 2?

JM

Crochet Therapy: The Soothing Art of Savoring Each Stitch
by Betsan Corkhill
Abrams
$21.95
Finally, a book that walks the talk. Lots an lots of books talk about crafts being relaxing and meditative, but mostly just instruct you to, just do it. This book is a gem because Betsan Corkhill actually walks you through using crochet for calming or mindfulness. Plus there are some very nice crochet patterns.
Her method is to choose a particular aspect of mood – calm, energy, focus, etc. and follow her very well thought out exercise. Starting with sitting and focusing your mind in a particular way and using crochet as a flow or an anchor while working through the exercise. She even has tips to keep the state of mind going after you are done and to recall it using your crochet item. For beginners there is a chapter on different stitches and crochet techniques.
Just reading this book with its thoughtfulness and kindness made me feel calmer. It also made me want to dust off my crochet hooks and follow her sage advice.

JM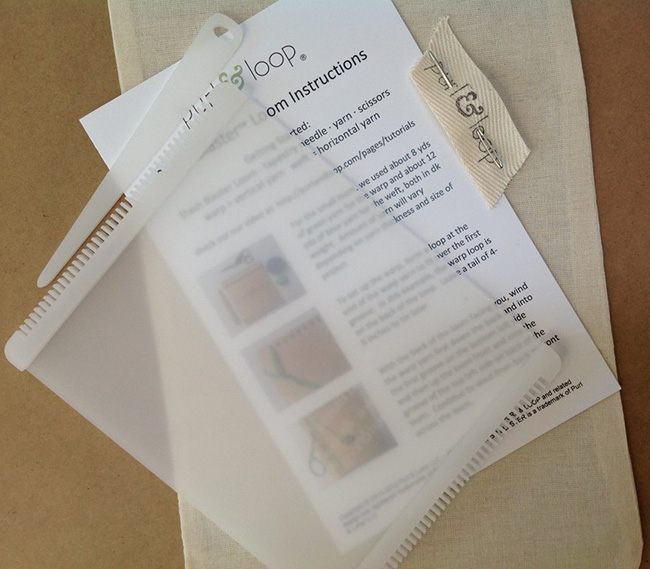 Stash Blaster Mini Weaving Looms
by Purl and Loop
$32 for 8, 10 0r 12 ends per inch
I am hooked on these little looms. They are so easy to thread and experiment on.
I almost always have one tucked in my purse these days. These looms are different than their 3 in1 Weaving Loom cousin, which has 3 weaving setts on one loom, these have only one. These looms are also made from acrylic
They come with instructions, a cotton carry bag, a small metal tapestry needle and a large acrylic tapestry needle.
I know after just a short time that if I think I'm going to make just one swatch or one type of swatch I am wrong. I carried around all three looms, one at a time for a week and three different colors of yarn. I thought I was going to just see the difference between the setts with each loom, but no. I had to play with the colors too.
Unlike swatching on my rigid heddle I can have a sample threaded and going in about 15 minutes – not including the yarn finding time. I'm using these looms to sample for a bigger project, but also just to weave a little. Sometimes all I want is to weave a little for no particular purpose.
These looms are perfect to draw people into weaving too. I've handed my loom over to adults and kids in waiting rooms and sporting events – "What is it? Can I try?"
Using a fork as beater is also a great conversation starter.

JM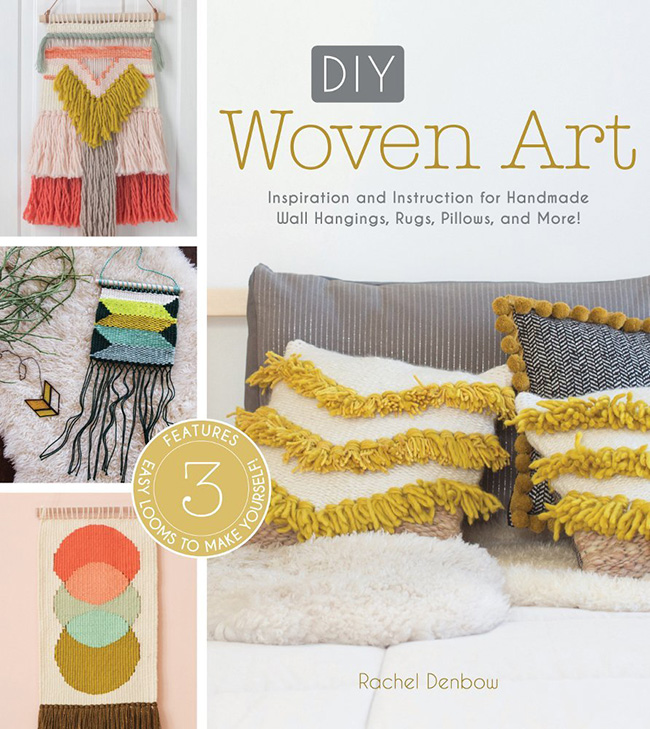 DIY Woven Art: Inspiration and Instruction for Handmade Wall Hangings, Rugs, Pillows and More!
by Rachel Denbow
Interweave
$22.99
Inspired to knit one of those textural wall hangings that are all the rage right now? Never tried weaving before? This is the only book you need. This book will not only teach you to weave 15 different projects, but will also teach you to build your own looms – three different ones.
The author talks about her own weaving journey and style of weaving and then jumps right into loom making. Don't want to make your own loom? She tells you what to look for in a loom bought ready-made. Then comes yarn, what to use for warp and weft yarn to get the look you are going for.
At this point most books would have a chapter on how to weave and all of the different techniques. I applaud this book for jumping right in.
She uses the sneak attack style of teaching skills – each weaving pattern teaches one or two specific skills like Rya knotting or weaving interlocked color blocks. The skills are listed in the index to easily find later for review.
There is a lot of basic tapestry-style weaving skills covered in the book. Very beginning weaving, knotting, working with roving, fringe, color blocks, soumack stitch, hem-stitch, bits of macramé, and how to hang and display your work.
The book has 15 projects mostly hangings but also pillow, clutch, a runner and a rug.
This is a great book for learning the basic skills to make textural and funky wall hangings.

JM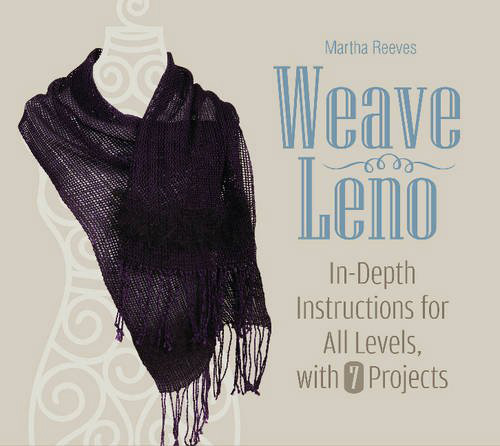 Weave Leno: In-Depth Instructions for All Levels with 7 Projects
by Martha Reeves
Schiffer Publishing
$24.95, hardcover
Before you fall in love with this book, let me warn you, not a lot of it can be done by a beginning-intermediate weaver on a rigid heddle loom. That out of the way, if you have a floor loom or are an aspiring floor loom weaver and are interested in open or textural structures this book might interest you.
At its most basic leno is a weave structure where warp threads twist around each other forming openings, like lace. There are a few basic leno weaves in here that would be easy to do on a rigid heddle. Most of the rest of the book is easier woven on four shafts. The author clearly likes bead leno, a specific leno that uses beads to help the loom to control the twist in warps threads as the shafts are lifted. Some can be done on a rigid heddle, but there are no directions for it. Bead leno creates a simultaneously open and textured fabric; it's wonderful for clothing.
The directions and drafts are clear if you are already a weaver. There are lots of variations on bead leno, using specialty yarns and using other weave structures. It made me almost want a multi shaft loom again.

JM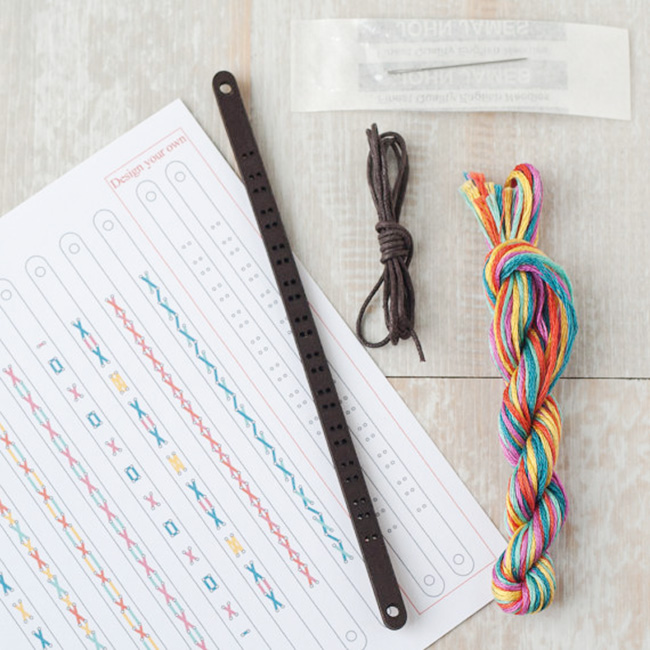 Embroidered Leather Bracelets
by Red Gate Stitchery
skinny, $25
super skinny, $20
I have been dying to get my hands on one of these kits! I have admired and lusted after them for a while now. They are simple and beautiful with everything you need to make the enclosed project (except scissors). They are well designed and really well packaged. Where some companies might cheap out on the supplies, Red Gate uses leather that is firm and supple, John James needles and DMC cotton floss.
I received two bracelet projects that my teen eyed with a gleam in her eye. My kid isn't a fiber crafty kid, so for her to show interest means they rank up there is the world of cool (though do kids say that these days?)
We took our kits on a camping trip and stitched them beside out campfire. My daughter had never stitched before, but after reading the directions, choosing her stitch pattern from the eight provided in the kit and asking a couple of questions, she was off! She finished quickly and deemed it as relaxing as coloring.
These bracelets take less than 30 minutes to make and are perfect to keep or to give as a gift. All of the Red Gate stitching kits are great gifts either already made or in kit form. They are a little bit of crafty stylish fun.

JM