Feature: Knittyspin
INTRODUCTION
Knittyspin
Heather & Tweed: Which is Which?

I've heard the description heather and tweed used interchangeably when it comes to yarns. I love them both but I don't think they are the same – related, but not the same. Most of the articles I've read about heather and tweed start with descriptions taken from a dictionary or textbook on textiles. But you know me; I like to just cut to the chase. For me heather is fiber, yarn or cloth with a blend of several colors, but not so blended that it becomes a new homogenous color. Tweed is fiber or yarn or cloth that has unblended flecks of color in it. They both are multicolored in different ways. Heather is a half-blended rainbow and tweed has all those delicious colorful nubbies. That's a good description for me.
I've wanted to explore the difference between heather and tweed hands-on, and the acquisition of a new drum Strauch Finest carder seemed to be the perfect opportunity.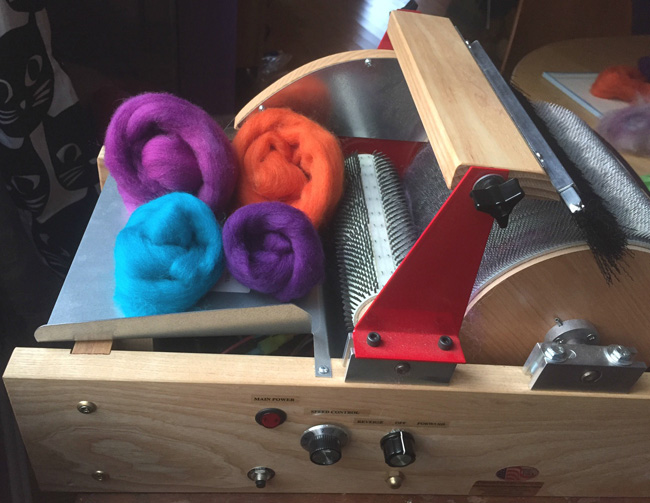 Strauch Finest Motorized Carder and Louet Corriedale ready for batt making
I reached into my stash and pulled out a bunch of dyed Corriedale from Louet. I wanted to keep this straightforward in my brain so I choose the same fiber, and fiber that was dyed the same way, solid. Semi solids and other dye effects can give glorious nuance to heather and tweed, but I always want basic when I'm puzzling something out.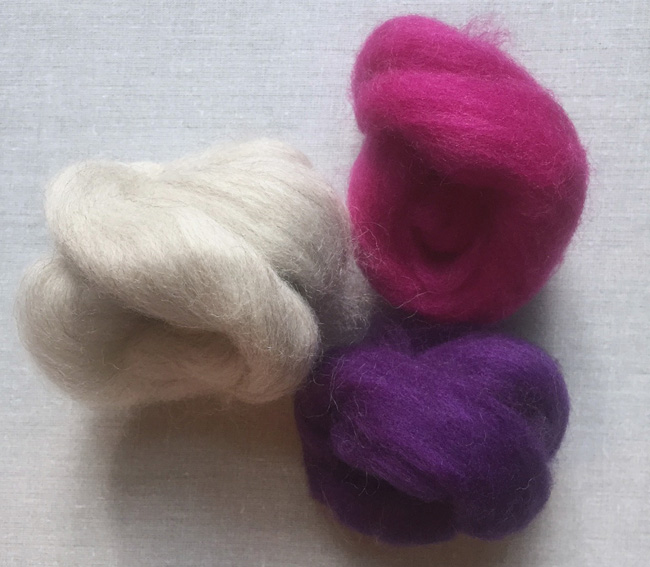 Will these three colors make a heathered batt?

First I made a heathered batt, or what I thought was going to be a heathered batt.

I used three colors: purple, magenta and a light grey in equal proportions. As soon as I put them on the carder, I knew they weren't right. I did just two passes on the carder because I didn't want the colors to completely blend. The batt I made was lovely, but it wasn't heathered, it was semi solid. The purple and magenta were too close in color and the grey just lightened it all.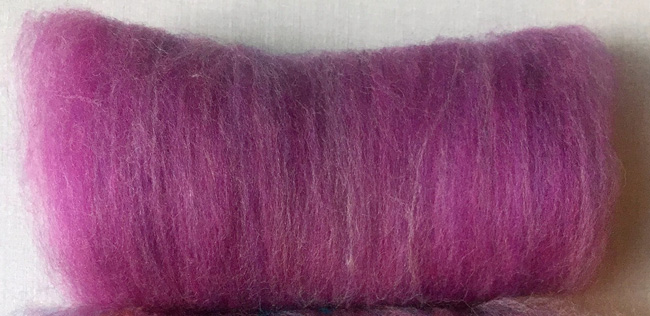 This batt is more semi solid than heather
I looked a little more, at fabric, yarn, nature. I tend to not use a color wheel when I'm puzzling. I'm stubborn that way. For me the lesson I learn sticks better with experimentation. I do look at a colorwheel after I get something I'm happy with to help note what I've done.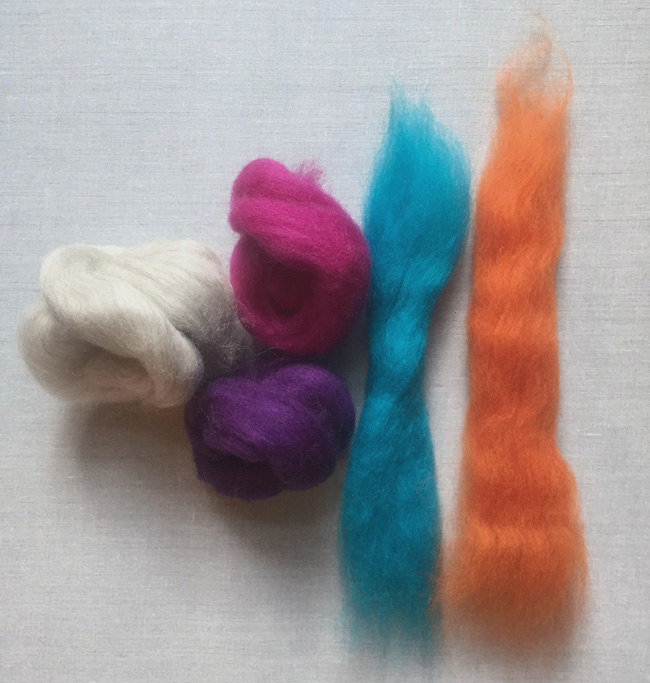 Let's try more colors to make heather

What I noticed just looking at other heathered things: lots of colors! And colors I wouldn't necessarily expect. So I added two more colors that were not in the red/purple range and changed the proportions of the colors.
I used the grey (40%), purple (20%) and magenta (20%) and added a little orange (10%) and turquoise (10%).
I did three passes with this mix and poof, got something I would call heather.

Look at all of those colors intermingling in happy heathered harmony!
And look at the difference between the semi-solid and the heather. The heather batt is just more interesting color-wise.

Heather batt, left and semi solid batt, right.
Here's where I will pause for color wheel geekery. Feel free to skip ahead if color wheels aren't your thing.
When I check the colors of the heathered batt against a color wheel, I see that if I count the purple/magenta as a single-ish color, that purple with the orange and teal form a tidy little triangle (a triad in color lingo), and the grey lightens everything and gives a neutral to play against. I thought about the orange and teal as highlights of color, so I used less. If I had used the same amount of all of the colors, it would have dulled the batt, especially since the colors are very close in value (light to dark on a grey scale).
Now to build a tweed batt. For this type of batt, I need a base and (my technically named) nubbies. Again, so I won't get lost in the the layers of possibilities, I limited myself to my same five colors for my flecks. For the base of my batts, I made a semi-solid batt, a heathered batt, just like I did above, and I added in a plain grey batt for contrast.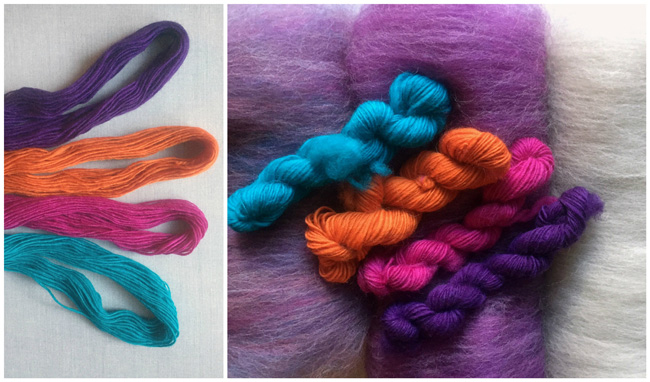 Base batts and yarns that will become nubbies
For my nubbies, I used my five saturated colors but no grey. I could use anything that won't hurt my carder with stiffness or bigness, and anything that won't really blend in all the way. Two things that I've seen that make great add-ins are dyed silk noils and sari silk waste. But for these batts, I made my own. I made low-twist singles, about fingering weight. I finished them with a steam from my traveling steamer and then cut them in to tiny pieces.

Ready to become tweed

You can see from the picture that some came untwisted and reverted to fluff and some stayed wee bits of yarn. Next time I make tweed batts this way, I may full my singles, but I was excited and in a hurry.
My base batts weighed about an ounce, so I used .25 of an ounce of each color. Pretty much equal amounts of nubbies to base batt. I'll use even more the next time. I did two passes to blend the bits into the batts. On the first pass, I sandwiched them between two layers of fiber to get them to bite into the batt fiber, and the second pass spread them out into the batt.
Here are my tweed batts. See what I mean about using more nubbies the next time? I think I would use more colors next time too.
The grey tweed batt has the most contrast, I like it but it's missing something to my eye. This is one that definitely could use a greater variety of colors in the nubbies.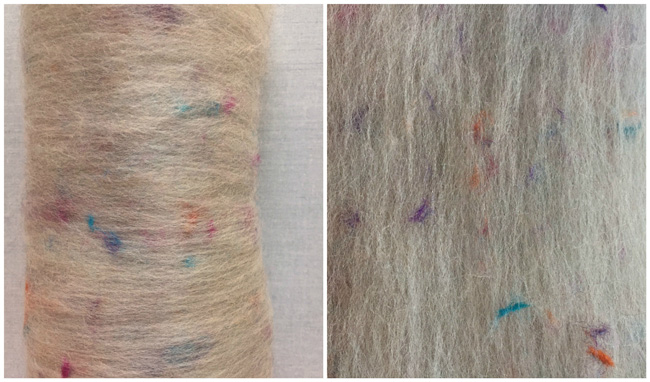 Tweedy pops of color against grey
The semi-solid tweed batt is so subtle that it's pretty dull. The purple and magenta nubbies blend right in.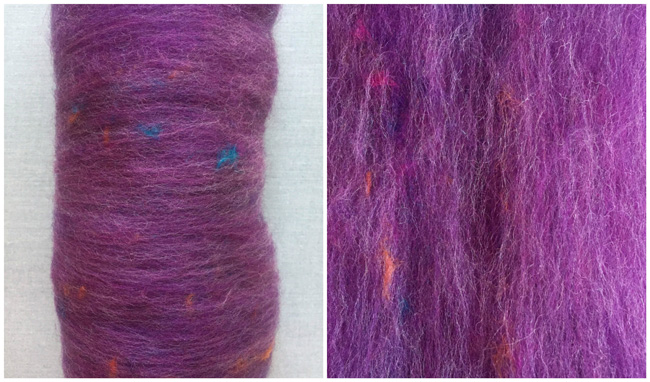 Half of the flecks blend into the batt
The heathered tweed batt wins the day for me. There is depth in the background, but it has enough contrast that the nubbies really show up. On my next round of these batts, I would use 50% more flecks just to see what happens. I like my tweed yarns very speckly.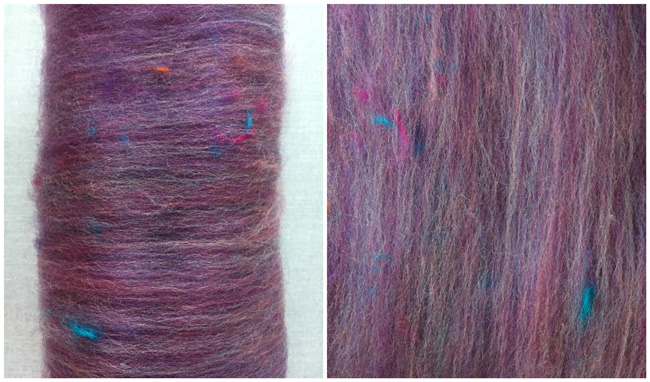 An excellent mix of contrast and color depth
Curious what the heather and tweed batts look like spun in comparison? I made a little yarn, just a quick woolen spun 2-ply. I'm ready to make more, because I don't have enough yarn to start a project.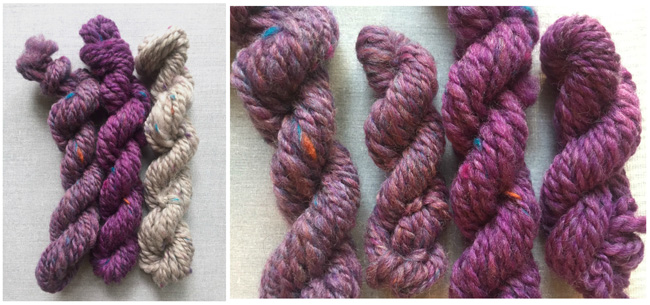 Yarn spun from tweed batts on left and a close up of tweed and heather yarns intermingled

Heather and tweed batts are a great way to experiment and feel comfortable working with color, and end up with some gorgeous yarn!