Feature: Our Knitting Roots: a study of the contributions immigrants have made to North American knitting, by Donna Druchunas
INTRODUCTION
Our Knitting Roots
by Donna Druchunas
It may be difficult to look at a sock or mitten that you've made with your own hands and feel a connection to a group of people who seem strange or foreign to you. But as knitters and as humans, we owe it to ourselves and to each other to forge these unlikely connections. Making things by hand, after all, is an intimate human endeavor and we should use it not only to knit strings into socks or sweaters or shawls, but also to knit person to person, strangers into friends.
In Harry Potter and the Sorcerer's Stone, J.K. Rowling wrote, "There are some things you can't share without ending up liking each other, and knocking out a twelve-foot mountain troll is one of them."
Knitting is another.
This issue: We're not All Immigrants
A phrase I've heard a lot in the USA this year is, "We're all immigrants." On the surface, it sounds like a message of inclusivity. But in reality, it's not true. Yes, there are many people who were born in other countries living in the USA today, and a large portion of the population of the United States has immigrant ancestry; however, there are two important groups that do not fit the bill:
Most African-Americans' ancestors did not come to North America by choice, but were brought here involuntarily to be sold as slaves. This is not "immigration."
The group in the USA that is not made up of people who came here in the past several hundred years--voluntarily or involuntarily--is the indigenous peoples of the North America. In the Civil War era, the term "Native American" was used to refer to those of European descent who were natural-born citizens of the United States. Today that term has a more correct meaning, and it refers to the people whose ancestors lived in these lands for millennia before the first European stepped foot on these shores. (I'm speaking from the perspective of someone in the USA. In Canada, the original inhabitants of the land are referred to as First Nations, Indigenous peoples, or Aboriginal peoples.) In my previous column, I mentioned that knitting is an immigrant . Knitting came to the continent where I live from Europe. But not all knitting techniques are immigrants. I'd like to introduce you to one technique that was invented by by knitters indigenous to North America: the colorwork of the Coast Salish people that is used in the famous and distinctive Cowichan sweaters.
Unique Knitting Style
The technique used by Coast Salish knitters in Cowichan sweaters is not an immigrant any more than the people themselves. Although knitting as a generic craft came to the Americas with Europeans, the local knitters in Coast Salish communities created their own unique way to knit with the materials at hand.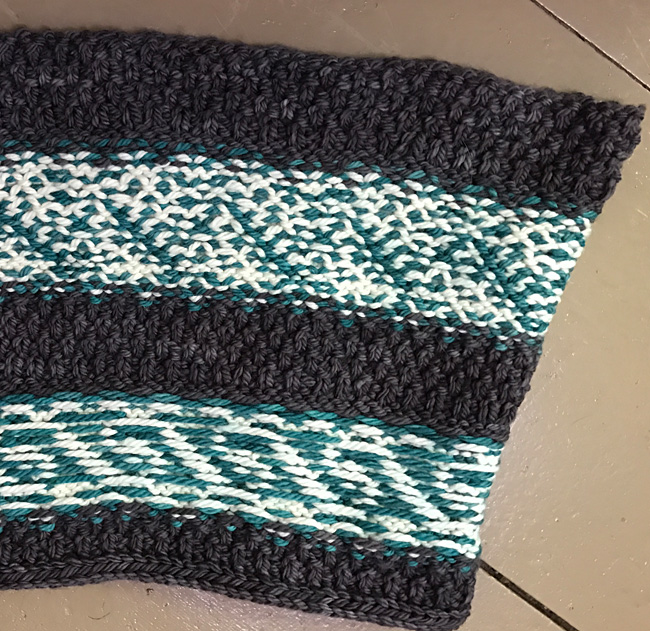 The unusual colorwork technique -- which leaves no floats on the back of the work -- is passed down from generation to generation without formal training. Young knitters sit and watch their elders and then figure out how to repeat the motions with needles and yarn in their own hands.
Because the first knitters to come to the area were from Britain, today most Coast Salish knitters carry the yarn in their right hand and knit "English style." But the Coast Salish knitters took the technique they learned and changed it to suit their own purposes. To work a two color pattern, knitters don't carry both yarns. They carry only the yarn they are knitting with at the time, leaving the other yarn at the back of the work. To change colors, they simply drop the old yarn and pick up the new yarn. Every time more than one stitch is knit with the same color, the unused yarn is moved so it is trapped on the back of the work. The motion of the hands adds a tiny bit of extra yarn between the stitches so the fabric, unlike traditional Fair Isle stranded knitting, is quite stretchy. (See my video in the pattern below.)
When I first learned this technique, I thought it would be slow and arduous, especially because I normally knit Continental style, carrying the yarn in my left hand, or working with one yarn held in each hand for two-color knitting. But with practice, I soon found the rhythm of the knitting to be quite pleasant and not slow at all. In addition, I was able to work back-and-forth and purl with two colors without the normal frustration that most knitters experience purling with two colors. Although I have done two-handed Fair Isle for many years, and sometimes trapped my floats every time I knit more than one or two stitches in the same color, that technique never produced the stretchy fabric that the Coast Salish technique results in. In addition, with the two-handed knitting, the surface of the fabric puckered and the unused color sometimes showed through between the stitches. This doesn't happen with the Coast Salish technique.
Unique Spinning Technique
In addition to their new knitting technique, Coast Salish knitters needed a way to create a heavy, dense singles yarn that was very different from the soft, bulky plied yarns used by British knitters. To create the yarn they wanted, the Coast Salish people invented their own way of spinning that was based on what the technique they used for making weaving yarns, but tweaked to make knitting yarn. The traditional Coast Salish weaving yarns were made of goat hair supplemented with plant fibers or, sometimes, particularly on Vancouver Island, with the hair of a small, local breed of dog. The British brought sheep as well as knitting with them, and natural-colored sheep wool became the preferred fiber for knitting. The spindles used for weaving yarns proved to be a little too big for making yarn appropriate for knitting, so over time the spindles got smaller.
Unique Garment Style
The famed "Cowichan Sweater," formerly known as the "Indian Sweater" is just over a hundred years old. Created at the beginning of the twentieth century--a time that was rich in the invention of many new knitting styles. The original sweaters were pullovers but the design was soon adapted to create cardigans, which were heavy enough to be worn as jackets. The pullovers were worked in the round, but the cardigans are knit back and forth. Bold two-color patterning is incorporated into the sweater design, and with the unusual technique the knitters use to work the colorwork pattern, purling is no more difficult than knitting.
Knitting came to the Coast Salish people on the needles of British knitters in the second half of the nineteenth century. By combining this new craft with their traditional skills in spinning and their design motifs taken from weaving and other folk art, the new knitters quickly adapted the technique for their own use and invented one of the only truly American knitting tradition: The Cowichan Sweater.
Learn More:
INTRODUCTION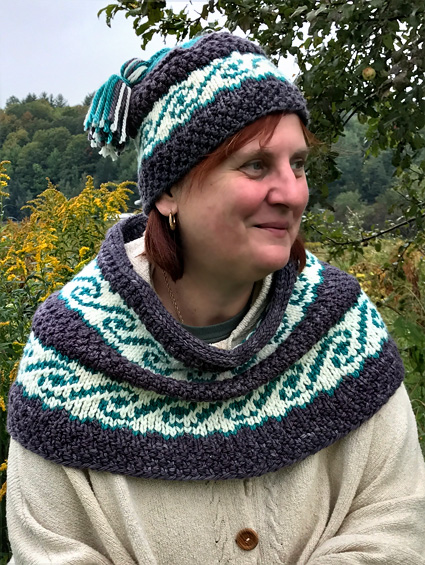 by Donna Druchunas

A couple of years ago, I took a colorwork knitting class with Canadian designer Sylvia Olsen, author of Knitting Stories: Personal Essays and Seven Coast Salish-inspired Knitting Patterns and Working with Wool: A Coast Salish Legacy and the Cowichan Sweater. In the class, I learned that the style of knitting used to make Cowichan sweaters – including the colorwork technique that has no floats – is the only 100% North American knitting tradition. I designed this cowl and hat because I had so much fun in the class, I wanted to keep knitting with the two-color technique that we learned.
These projects can be made using traditional colorwork technique used by the Coast Salish knitters or with any technique for stranded knitting that you already know. I've used two different techniques on the cowl so you can see what each looks like on the inside. The Coast Salish technique tends to work up looser than traditional stranded knitting for many knitters, so you may find that you need to use a smaller needle for this technique. It's quite surprising, because the opposite is normally true for stranded knitting. Many knitters need to go up a needle size to get the same gauge in stranded colorwork than they do in one-color stockinette stitch.
This design is dedicated to Sylvia and to all of the Coast-Salish knitters who have knit in this style and designed and knit the famous Cowichan sweaters that are still inspiring knitters everywhere today.

model: Donna Druchunas

photos: Dominic Cotignola
SIZE
Hat: Child[Woman, Man]
Cowl: One Size
FINISHED MEASUREMENTS
Hat:
Circumference: 18[20, 22 1/2] inches/ 46[51, 57] cm
Depth: 8 inches/20.5cm
Cowl:
Circumference at bottom: 40 inches/102cm
Circumference at top: 30 inches/76cm
Length: 12 inches/30.5cm
MATERIALS
Yarn
ModeKnit Yarns ModeWerk Bulky [100% Merino wool; 106yd/97m per 100g skein];


[MC] 014 Coal; 2 skeins


[CC1] 001 Pearl; 1 skein


[CC2] 030 Aquamarine; 1 skein
Note: Both projects can be made with this amount of yarn.
Recommended needle size
Hat:


US #9/5.5mm circular needle, 16-inch/40 cm


US #9/5.5mm needles for small circumference in the round
Cowl:


US #9/5.5mm circular needle, 24-inch/60 cm


US #10/6mm circular needle, 24-inch/60 cm
Note: Both projects can also be knit with 2 circulars or 1 long circular and magic loop.
Notions


stitch marker


yarn needle
GAUGE
10 sts/14 rounds = 4 inches/10 cm using US #11/8mm in stockinette stitch in the round
Hat
16 sts/20 rounds = 4 inches/10 cm in Moss Stitch
Cowl
14.5 sts/18 rounds = 4 inches/10 cm in Moss Stitch with larger needles
16 sts/20 rounds = 4 inches/10 cm in Moss Stitch with smaller needles
PATTERN NOTES
[Knitty's list of standard abbreviations and techniques can be found here.]
Techniques:
Moss Stitch
Rounds 1 and 2: [K1, p1] around.
Rounds 3 and 4: [P1, k1] around.
Rep Rounds 1-4 for pattern.


To make a tassel:
Cut a piece of cardboard .5 inch/ 1.5 cm longer than the finished tassel. (I actually used my phone.) Wrap yarn around the cardboard 25 times or until it's as full as you like. Only half of the tassel is on one side of the cardboard, it will be twice as thick when finished.
Thread a 6 inch/15cm long piece of yarn between the cardboard and the yarn loops and tie a knot. Use these tails to attach the tassel to the cord. Slip the loops off the cardboard.

Bind the tassel near the top, just below the hanging loop as follows: Wrap a 10-inch/25-cm piece of yarn around the top of the tassel several times about .5 inch/1.5 cm from the top. Thread both tails in a needle and hide them in the center of the tassel. Cut open the bottom loops and trim the ends evenly, if desired.
CHART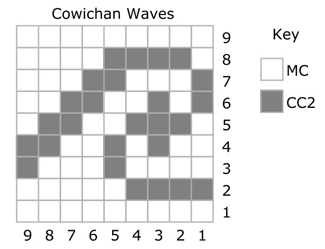 DIRECTIONS
Hat:
With MC and the long-tail cast-on, CO 72[80, 90] sts. Place marker and join for working in the round.
Brim
Work 8 rounds of Moss Stitch.
Knit 1 round.
Body
Round 1: [K2 MC, k2 CC2] around. Cut MC.
Round 2: [K2 CC2, k2 CC1] around.
For size M/Women only: M1 with CC2 at end of round. 81 sts.
Next round, start chart: Work Cowichan Waves chart 8[9, 10] times around.
Work as set until chart is complete.
Next round, for sizes S and L only: [K2 CC2, k2 CC1] around.
Next round, for size M only: [K2 CC2, k2 CC1] to last 5 sts, k2 CC2, k1 CC1, k2tog CC1. 80 sts.
Next round: [K2 MC, k2 CC2] around.
Cut CC1 and CC2.
With MC, knit 1 round.
Work 6 rounds of Moss Stitch.
Knit 1 round.
Purl 1 round.
Crown
Next round, size S only: Knit around, placing markers after every 9th stitch to divide crown into 8 equal sections.
Next round, size M only: K2tog, k to end of round, placing markers after every 10th stitch to divide crown into 8 equal sections.
Next round, size L only: K2tog, k to about the middle of the round, k2tog again, and k to end, placing markers after every 11th stitch to divide crown into 8 equal sections.
Dec round: [K to 2 sts before marker, k2tog] around. 8 sts decreased.
Rep Dec Round 3[3, 0] more times, then change to CC2.
Repeat Dec round every round until 8 sts rem.
Cut yarn. Use yarn needle to draw tail through rem sts to fasten off.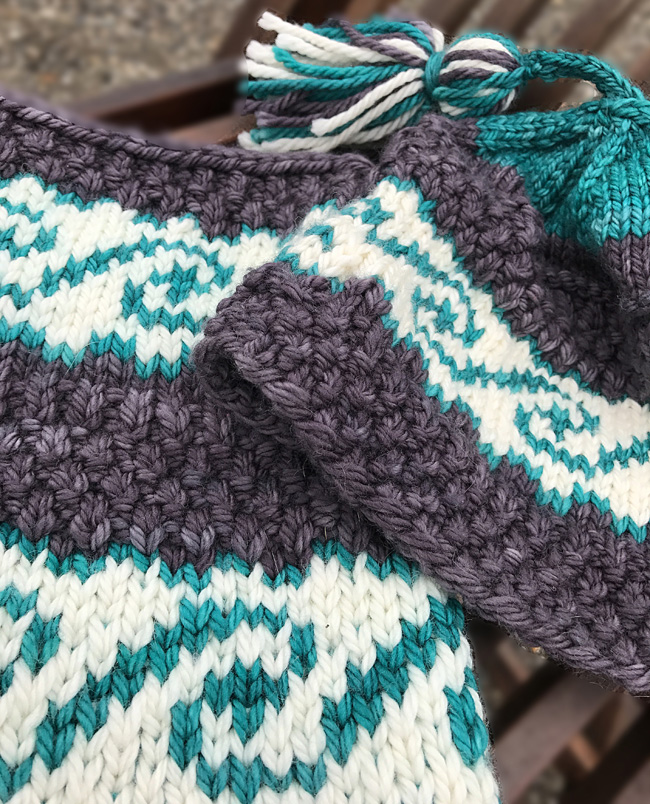 FINISHING
Tassel (optional)
With CC2, make a twisted cord or braid approx 1 inch/2.5cm long and attach it to the top of the hat.
Make a tassel and attach it to the end of the cord.
Weave in ends. Wash and dry flat to block.
Cowl:
With larger needles, MC, and the long-tail cast-on, CO 144 sts. Join to work in the round being careful not to twist.
Bottom Moss Stitch Border
Work in Moss Stitch for 2 inches/5cm.
Color Panel 1
Round 1: [K2 MC, k2 CC2] around. Cut MC.
Round 2: [K2 CC2, k2 CC1] around.
Next round, start chart: Work Cowichan Waves chart 16 times around.
Work as set until chart is complete.
Next round: [K2 CC2, k2 CC1] around
Next round: [K2 CC1, k2 MC] around
Center Moss Stitch Section
With smaller needles and MC, k1 knit 1 round then work in Moss Stitch for 2 inches/5cm.
Dec round: (K6, k2tog) 18 times—126 sts rem.
Color Panel 2
Round 1: [K2 MC, k2 CC2] to last 2 sts, k2 MC.
Round 2: [K2 CC2, k2 CC1] to last 2 sts, k2 CC2.
Next round, start chart: Work Cowichan Waves chart 14 times around.
Work as set until chart is complete.
Next round: [K2 CC2, k2 CC1] to last 2 sts, k2 CC2.
Next round: [K2 CC1, k2 MC] to last 2 sts, k2 CC1.
Cut CC1 and CC2.
Top Moss Stitch Border
Next round: With MC, (k19, k2tog) 6 times—120 sts rem.
Work in Moss Stitch for 2 inches/5cm.
Work i-cord BO: CO 3 sts on to left ndl. *K2, ssk, slide sts back onto left ndl; rep from * until all sts of cowl are bound off. BO 3 i-cord sts. Sew beginning and end of i-cord together.
Weave in ends. Wash and dry flat to block.
ABOUT THE DESIGNER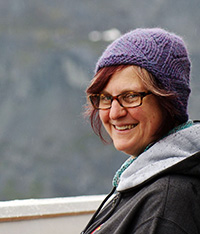 Donna Druchunas is obsessed with her family history and the history of knitting. In addition to writing this column about Our Knitting Roots, she is also running a book club for knitters who want learn to appreciate the people, places, and cultures behind the stitches of their knitting projects. She is the author of many knitting books including her newest titles: How to Knit Socks that Fit and Lithuanian Knitting: Continuing Traditions. Donna has taught knitting workshops in the United States, Canada, and Europe and she has five knitting classes on Craftsy.

Her newest project is opening a small local yarn shop in rural Vermont where lives she with her husband, mother, three cats and a long-haired Chihuahua. Visit Donna's website.
Text, pattern & images © 2017 Donna Druchunas. Contact Donna