BooBoo, a free knitting pattern from Knitty.com. Free knitting pattern for a DETAILS HERE.
INTRODUCTION
BooBoo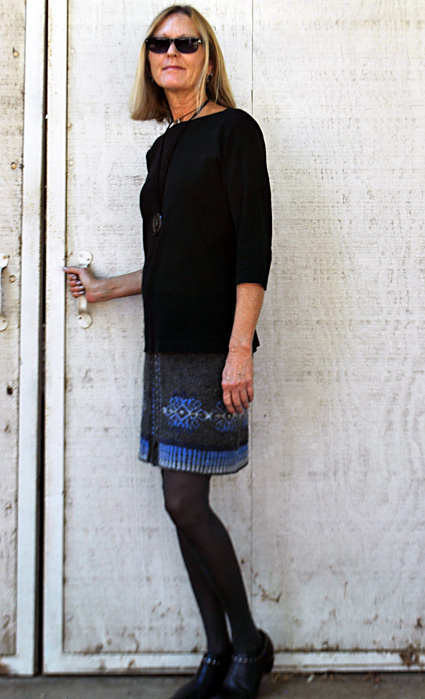 by Jeane deCoster

Originally designed as a sweater, I converted the original design into a skirt when I didn't like the way the sweater fit the model, ergo -- my BooBoo! And then, I wanted everybody to be able to wear it – so I wrote the pattern.
Suitable for knitters comfortable with stranded knitting – or not! The simple fit of the skirt makes it a good project to learn basic stranding skills.
Worked from the bottom up, the skirt is knit in the round with a steek and two center bands (as in a cardigan). It has an elastic waist with a decorative front closure that can be a simple running stitch (as pictured) or decorative buttons -- no buttonholes required.

model: Kim Genovese

photos: Jeane deCoster
SIZE
XS[S, M, L, 1X, 2X, 3X]
Shown in size S with zero ease at waist and high hip and 4 inches/10 cm of ease at low hip
FINISHED MEASUREMENTS
Waist: 24.5[25.75, 30.5, 34, 37.5, 42.75, 44.5] inches/ 62[65.5, 77.5, 86.5, 95.5, 108.5, 113] cm
Low Hip: 38.25[39.75, 44.5, 47.5, 52.25, 56.75, 58.75] inches/ 97[101, 113, 120.5, 132.5, 144, 149] cm
Length: 24.75 inches/63 cm
MATERIALS
Yarn
Elemental Affects Shetland [100% North American Shetland wool; 118 yd/107m per 1 oz/28 g skein];


[MC] Emsket; 5[5, 5, 6, 6, 7, ] skeins


[CC1] Dark Periwinkle Blue (20); 1 skein


[CC2] Wildflower Blue (09); 1 skein


[CC3] Periwinkle (22); 1 skein


[CC4] Light Denim (10); 1 skein

Recommended needle size
[always use a needle size that gives you the gauge listed below - every knitter's gauge is unique]


US #5/3.75 mm circular needle, 20-36 inch/50-90cm, choose a length shorter than hip measurement


US #3/3.25mm circular needle, 20-36 inch/50-90 cm, choose a length shorter than waist measurement

Notions


Tapestry needle


Stitch markers: 2 in one style or color for steek, 15 others for pattern repeats


1.5 inch/4cm non-roll elastic equal to waist measurement plus 2 inches/5cm


Sharp shears
GAUGE
26 sts/26 rounds = 4 inches/10 cm in stranded colorwork using larger needles
26 sts/33 rounds = 4 inches/10 cm in single color stockinette stitch using smaller needles
PATTERN NOTES
[Knitty's list of standard abbreviations and techniques can be found here.]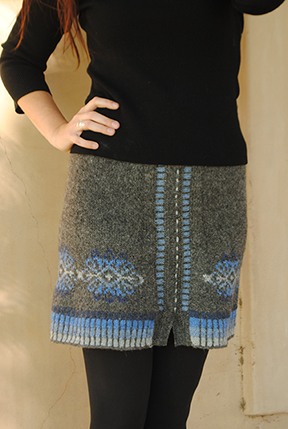 Steeks: (steeks -- "a place to cut.") Think of the stitches between your steek markers as your "seam allowance." When you are finished knitting the main body of the skirt, take a sharp pair of scissors and cut right up the center of those stitches. I leave my steek edges raw and cross-stitch them when finishing the garment – a method of folding back a raw steek and affixing the steek to the inside of the garment with a traditional embroidered cross-stitch.
There is an abundance of ways to create and finish steeks – most of which are covered in Janine Bajus' book: The Joy of Color: Fair Isle Knitting Your Way.
Tutorials can be found at Kate Davies Designs and from our own Knitty archives
Notes on the Yarn: This pattern is suitable for pure Shetland and Shetland-style wool yarns.  Because Shetland is a lightweight, airy yarn, you can knit it in a variety of gauges and still get a good fabric.  Also, because pureShetland wool is slow to felt, wet-finishing vigorously and steaming the garment causes the yarn to bloom and fill stitches -- and evens out inconsistencies that a lack of confidence can build into your stranded knitting.

I would avoid substituting with smooth, tightly spun yarns or other fibers. And, if you use a Shetland-style yarn that felts/fulls easily, adjust your wet-finishing accordingly.
CHARTS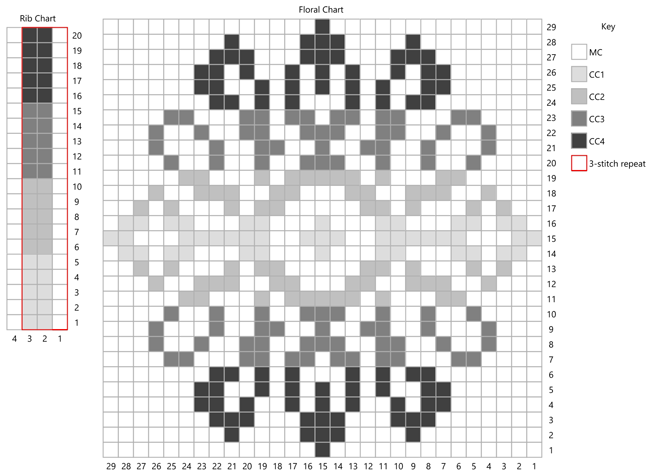 DIRECTIONS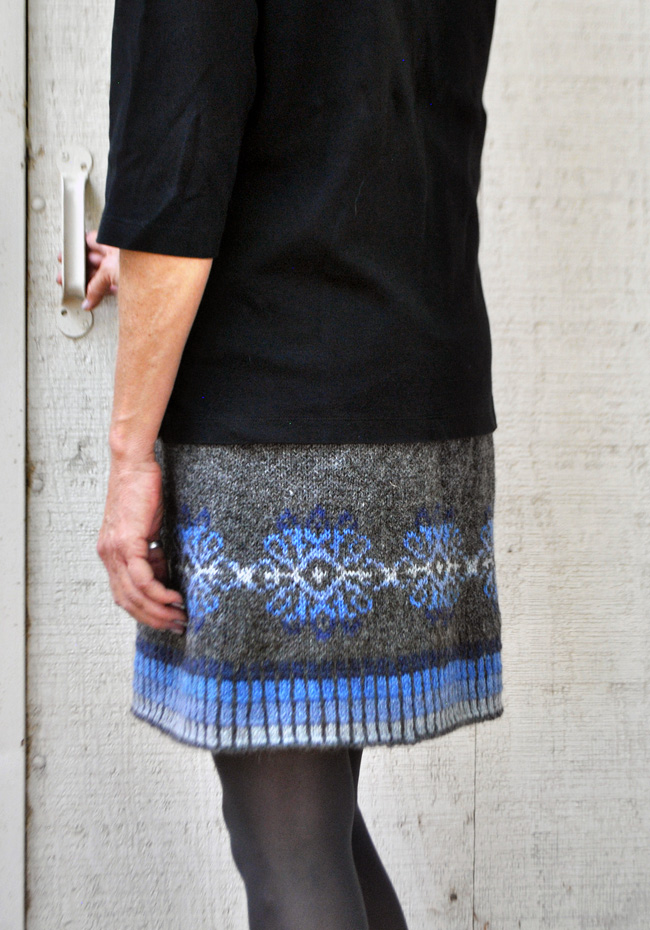 Skirt – Bottom/Border
With MC, larger needle, and using a long-tail method, loosely CO 286[286, 320, 352, 386, 418, 418]
Round 1, establish steek: Place marker for the beginning of the round and join for working in the round. K5 sts for the steek. Place a marker for the end of the steek, (k1, p1) to last 5 sts, place marker for the start of the steek, k5.
Note: The start of the round sits in the center of the steek so that color changes may be placed there.
Round 2: K5 steek sts, work ribbing as set to steek marker, k5 steek sts.
Note: From here, you'll work the Rib Chart around, cutting and joining contrasting colors as required in the middle of the steek. When more than one color is used in a round, knit the steek stitches in a checkerboard pattern.
Next round, third and fifth sizes: K to end of steek marker, work Rib chart to steek marker, working 3-st repeat to last st before marker, and working final st before marker as per chart, k to end of round. –[-, 320, -, 386, -, -] sts
Next round, all other sizes: K to end of steek marker, m1, work Rib chart to steek marker, working 3-st repeat to last st before marker, and working final st before marker as per chart, k to end of round. 287[287, -, 353, -, 419, 419] sts
Work as set until Rib chart is complete.
Begin Chart
Note: Read ahead before you begin. Chart and shaping are worked simultaneously.
Setup round: With MC, k5 steek sts, k2tog, knit to second steek marker -- placing chart markers as follows: after first 6 sts (this includes the decrease), and then every 33 sts, (leaving 6 sts between last chart marker and steek marker), k5 steek sts. 286[286, 319, 352, 385, 418, 418] stitches rem. 9[9, 10, 11, 12, 13, 13] chart markers.
With MC, knit 4 more rounds.
Next chart: K5 steek sts, k6, [k2, work chart across next 29 sts, k2] to 6 sts before steek marker, k6, k5 steek sts.
Work as set until chart is complete. Change to smaller needle, and continue only in MC until shaping is complete.
AT THE SAME TIME, work shaping decreases as follows:
Note: There are two decrease rounds given below: Decrease Round A and Decrease Round B. As you work through this section, alternate the two, starting with Decrease Round A. That is, the first time you work a decrease round, use Decrease Round A, the second, use Decrease Round B, and so on.
Work 33[49, 49, 33, 33, 33, 49] rounds even, then work a decrease round. 
Decrease every 32[48, 48, 32, 32, 32, 48] rounds 2[1, 1, 2, 2, 2, 1] times. 259[268, 299, 319, 349, 379, 392] sts rem.
Continuing to alternate decrease rounds, decrease every 8[8, 8, 10, 10, 8, 10] rounds, 1[4, 4, 3, 3, 3, 3] times and every 6[6, 6, 8, 8, 6, 8] rounds 5[1, 1, 1, 1, 1, 1] times. 205[223, 249, 275, 301, 327, 340] sts rem.
Then decrease every 8 rounds, 3[0, 3, 3, 3, 0, 0] times and every 6[6, 6, 6, 6, 10, 10] rounds 1[5, 1, 1, 1, 3, 3] times. 169[178, 209, 231, 253, 288, 301] sts rem.
Decrease Round A: [Work to chart marker, slip marker, k2tog] 9 times, work to end. 9[9, 10, 11, 12, 13, 13] sts decreased.

Decrease Round B: [Work to 2 stitches before chart marker, k2tog, slip marker] 9 times, work to end. 9[9, 10, 11, 12, 13, 13] sts decreased.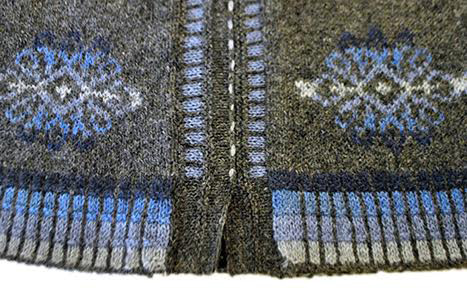 WAISTBAND
Continue with MC and smaller needle:
Knit 8 rounds. Purl 1 round. Knit 7 rounds.
Bind off.
FINISHING
Steam block the skirt. Then, with a sharp pair of shears cut up the center of the steek.
CENTER BANDS
With MC, larger needles and the right side of the skirt facing you, start at the bottom edge of the skirt and pick up and knit 160 stitches in the stitch between the steek and the body of the skirt- roughly 1 stitch for every round in the rib and charted sections and 4 stitches every 5 rounds in the plain sections, up to the purl round in the waistband.
Count up 24 rows from the lower edge and place a marker at that point.
Row 1 (WS): With MC, knit.
Row 2 (RS): With MC, to marker; add CC2 and follow Rib Chart to last 6 sts, k6 with MC.
Row 3: K6 with MC, work Rib chart as set to marker, k to end with MC.
Repeat the last 2 rows once more.
Rows 6-10: With MC, knit.
Row 11: Purl.
Row 12: Knit.
Repeat rows 11 and 12 one more time.
Bind off all stitches.
Repeat for the other front edge of the skirt – reversing directions (working from waist to hem) and lining up colored stitches to match the first edge.
Overlap the two skirt bands so the edge of the right band meets the Garter ridges of the left band. With tapestry needle and CC1, attach the two bands together with a visible running stitch.
Fold over and sew waistband, leaving opening for elastic. Thread elastic through waistband. Sew ends of elastic together. Sew opening in waistband closed if you wish.
When the skirt is completely assembled, wet finish the skirt by soaking in warm water until saturated. If you are using the stated yarn, squeeze (not gently) several times under water. (I do this 30 or 40 times but only if you have tested this on your swatch. It encourages this yarn to full and fill the stitches. It could ruin other yarns, so do please test first.)
Squeeze out water by hand and roll in towels to squeeze again, or spin in the washing machine to remove excess water. Lay out on dry towel, nudging into a rough shape slighly smaller than finished size. In other words, there should be bumps and ripples while drying.
When dry, lightly steam press.
ABOUT THE DESIGNER

Jeane is the owner, yarn designer, dyer, chief cook and bottle washer of Elemental Affects – a yarn company that specializes in developing unique domestic yarns for knitting, crochet, needlepoint and weaving. In her spare time, she occasionally let's her inner design diva out to play.
Pattern & images © 2017 Jeane deCoster.