The Knitty 2006 Calendar contest!
The winners are listed here, the honourable mention gallery is here
And now you can buy the calendar for you and your friends and family here!

The Knitty/Tom Bihn Design Your Dream Knitting Bag Contest...
Tom Bihn makes, we think, some of the nicest, best-quality bags we've ever seen. They're also kickass people with a true sense of adventure. So when they contacted us about setting up a contest, we were all for it!
They've got an idea for a great knitting bag, but now they want your input to make it the best it can be! And in return for your feedback, you could win one of these beauties...which doesn't even exist yet, so we can't show you a pic. Trust us, though -- our editor and several of our masthead staff have seen an early prototype and already there was a scuffle for ownership [guess who won?]. Mighty cool bags, these.
This one is easy. Everyone is eligible, and all you have to do to qualify is to fill out the questionnaire in full. One entry per person, please -- we're counting.
What could you win?
Prizes: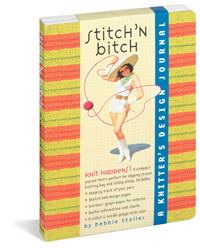 Grand Prize [1]: 1 LUX tote with knitting insert and a $100 TOM BIHN gift certificate, courtesy Tom Bihn.
(Approximate value of prize is $200usd.)

2nd and 3rd place prizes [1 each]: 1 LUX tote with knitting insert, courtesy Tom Bihn.
5 lucky runners up will each win one [1] copy of Debbie Stoller's new Stitch 'N Bitch: A Knitter's Design Journal, courtesy Workman Publishing ---->
Rules:
- Contest ends September 15th, 2005.
- One entry per person. Multiple entries from one individual/e-mail address will be deleted.
- Questionnaire must be filled out in full to be eligible.
- Knitty and/or Tom Bihn are not responsible for lost or misdirected entries.
- Grand prize, 2nd and 3rd place winners will be chosen at random from all eligible entries received by the contest closing date.
- Additions to these rules may be made at the Knitty editor's/Tom Bihn's discretion at any time.
- Grand, 2nd and 3rd prizes will be awarded by Tom Bihn.
- E-mail addresses are collected for the purpose of awarding prizes only and all addresses will be deleted from our records after the contest prizes are awarded.