This is a perfect quick gift for the crossword obsessed amongst your friends and family - or yourself! You can leave the beanie unadorned, or add some apt words using letter beads.

This crossword beanie is an easy introduction to fair isle knitting. The stranded section is only 8 rows in all. The second row in each line of crossword squares is a copy of the previous one, so you only have to count stitches in 4 rows. The regular grid design also makes it easy to follow, and there are only two colors.

As a puzzle writer, I spend my days surrounded by words, letters, crossword grids, and other patterns. Adding them into my knitting seemed the logical next step (or possibly a sign of madness!).

model:

Jenny Sutherland

photos:

Denise Sutherland
FINISHED MEASUREMENTS
Hat circumference (unstretched): 20 inches
Will comfortably stretch to fit head circumference up to 24 inches
MATERIALS
Yarn
Naturally Loyal DK [100% superwash wool; 115yd/105m per 50g skein]; 1 skein each color


[MC] #900 White


[CC] #907 Black

Recommended needle size
[always use a needle size that gives you the gauge listed below -- every knitter's gauge is unique]


1 set US #6/4 mm double-point needles


1 16-inch US #6/4 mm circular needle
Note: If knitting this hat for someone with a small head circumference, using a smaller needle size for the brim will give a snugger fit.

Tools


1 stitch marker


Yarn needle


Letter beads (optional)


Sewing needle and white thread (optional – used to attach letter beads)


Embroidery needle and black embroidery thread (optional – used to embroider letters)
GAUGE
21 sts/26 rows = 4 inches in stockinette st, worked in the round
PATTERN NOTES
[Knitty's list of standard abbreviations and techniques can be found here.]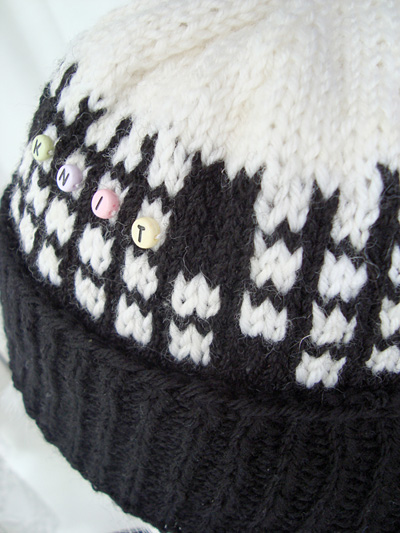 As written, this hat has a white brim and black crown. It can also be worked with a black brim and white crown. In these photos, the American-style crossword grid is shown on the beanie with the black brim, and the British-style crossword grid is shown on the beanie with the white brim.

The Long-Tail cast on method is recommended for this project.


1x1 Rib (Worked in the round over an even number of sts):
All Rounds: [K1, p1] to end.

There are two crossword grids to choose from:
1) American-style crosswords have few black squares, and nearly every letter in the grid appears in two words (ie Across and Down entries). This pattern is a bit easier to knit, as it has fewer black squares.

2) British-style crosswords (which are found in all Commonwealth countries) have many more black squares, and roughly half the letters appear in only one word. This is a little more challenging to knit because there are more black squares.

Chart: Click here to see the chart; it will print on a single letter-sized page by itself.
DIRECTIONS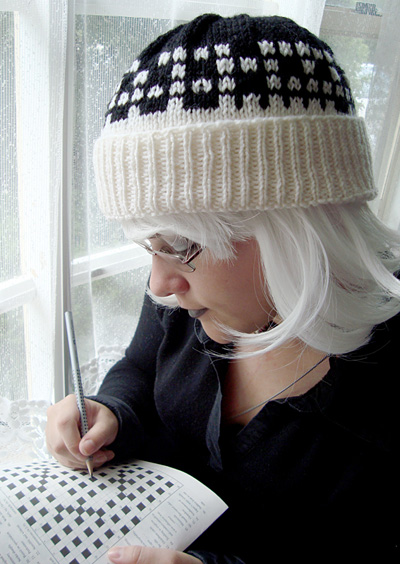 BRIM
Using long-tail method and MC, CO 108 sts onto circular needle.
Work one row 1x1 Rib, then place marker and join to work in the round, being careful not to twist. (Working a row before joining makes it easier to avoid twisting.)
Work 19 rounds in 1x1 Rib.
HAT BODY
K 20 rounds.
Work Rounds 1-11 of preferred crossword chart.
Break MC, leaving a tail.
Using CC, k 5 rounds.
CROWN
Round 1:
[K7, k2tog] to end. 96 sts.

Even-Numbered Rounds 2-10:
K all sts.

Round 3:
[K6, k2tog] to end. 84 sts.

Round 5:
[K5, k2tog] to end. 72 sts.

Round 7:
[K4, k2tog] to end. 60 sts.

Round 9:
[K3, k2tog] to end. 48 sts.

Round 11:
[K2, k2tog] to end. 36 sts.

Round 12:
[K1, k2tog] to end. 24 sts.

Round 13: [K2tog] to end. 12 sts.

Round 14: [K2tog] to end. 6 sts.

Break yarn, leaving a tail. Draw tail through remaining sts and pull tight. Weave in end securely.
FINISHING
Use yarn tail from CO to sew closed the small gap in CO edge.
Weave in ends.
If desired, form words in crossword squares by sewing letter beads to hat using sewing needle and thread. Alternately, words may be embroidered using embroidery thread.
Use an online puzzle resource such as OneLook if you want to figure out interlocking words to fill in some or all of your crossword grid.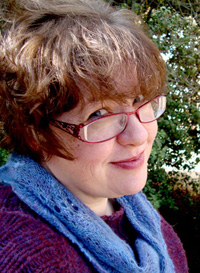 Denise (Jejune1 on Ravelry) is a syndicated puzzle author, artist, and knitter. She is the co-author of Cracking Codes and Cryptograms for Dummies, and her puzzle book Word Searches for Dummies (Wiley 2009) includes several knitting-themed puzzles, bringing the madness full circle!
She lives in Canberra, Australia with her astrophysicist husband, their two grown-up kids, four rats and one chihuahua. Denise blogs here, and has free knitting patterns, (including more crossword-themed patterns) and puzzles on her web site.
Pattern & images © 2009 Denise Sutherland. Contact Denise