Once upon a time an Experienced Knitter was handed a drop spindle and a wad of roving by her Fairy Godmother. Spin, she was advised, and so she spun. As she spun she realized the yarn she was creating was flawed, but she did not stop. The fiber had cast a spell upon her and she loved the wooly yarn pet she was creating with each turn of the spindle.

One day, the Knitter came to the end of her roving and carefully unwound her spindle. The skein she'd patiently created was—Kinky. It was thick and thin. It was like no other yarn in her stash. Crushed, our knitter prepared herself to banish her skein to the bin. Her Fairy Godmother stayed her hand with a gentle smile and said "You have potential, my dear. Your yarn, for a first time spinner, is lovely."And thus the kinked skein was saved from certain doom.

Still filled with shame for her yarn, our Knitter strongly considered hiding her creation in a box, far away from the eyes of her sister and brother knitters. Under normal circumstances, she would never consider using such flawed yarn. Her knitting had received many favorites throughout the Kingdom of Ravelry. What might "they" think of a project created from this homely yarn?

One night, in a fit of both stubbornness and enlightenment, she opted to knit with her handspun; to acknowledge, nay, embrace its imperfections. And so, the "Kink" collar was born. Kink is lacey, pretty, easy to make and very forgiving of less than perfect yarn. If you happen to have more expertly spun or commercial yarn then your Kink will really shine. Our Knitter shares it here to provide an opportunity for escape for all the enchanted, imperfect, yarn pets that are trapped in stashes around the world so that they too may live happily ever after.



model:

Mary Lee Kelly, Kate Hueber

photos:

Jodie Lucas
FINISHED MEASUREMENTS
Handspun: 9 x 45 inches [shown below, in jade]
Commercial: 7 x 36 inches [shown above, in blue]

MATERIALS
Fiber


Ashland Bay Colonial Wool [100% wool; roving]; color: Blue Green; 2.5 ounces.
Finished Yarn:


Wraps per inch: 17


Yardage used: 96 yards [62 g]
Drafting Method:


Split into pin roving and spun worsted with a short forward draw.

Commercial Yarn Alternative


Brown Sheep Lamb's pride [85% wool, 15% mohair; 190 yd/ 174 m per 100 g skein]; M-190: Jaded Dreams; 1 skein. Pictured Kink used 60g.

Recommended needle size
[always use a needle size that gives you the gauge listed below -- every knitter's gauge is unique]


1 set US #10.5/6.5 mm needles – straight, short circular or 3 DPNs (see note below)



Spinning Tool: 2-ounce top whorl drop spindle made by John Schneider
Tools


size I crochet hook


button or bead


sturdy rustproof pins for blocking


blocking surface


tapestry needle
GAUGE
14 sts/24 rows = 4 inches square in stockinette stitch in handspun
14 sts/20 rows = 4 inches square in stockinette stitch in Lamb's Pride
Gauge is extremely flexible and varies greatly depending upon the thickness of the yarn you've selected. Instead of working a standard gauge swatch, cast on and begin your Kink. If in a few inches you're not happy with the width of your Kink either change the size of your needles or if using commercial yarn select a different yarn and start again.
PATTERN NOTES
[Knitty's list of standard abbreviations and techniques can be found here.]
Adjusting size: Thicker yarns make wider Kinks, thinner yarns make narrower Kinks. Fingering weight yarn works up to about 6 inches wide and makes a delicate accessory. Bulky weight yarn works up to about 10 inches wide and makes a warm winter scarf.
Kink lengths can range between 30 and 48 inches – and length is entirely decided by how many repeats of the pattern you work. Shorter kinks are suitable for smaller frames or indoor conditions. Make your Kink longer if you want more wraps for warmth or have a large frame.
Working a wrap and turn: Bring yarn forward, slip the stitch to be wrapped purlwise from left needle to the right, take the yarn behind work and return the stitch to its original position, turn work.
In rows 2 and 10, you're working an I-cord edging. If you prefer not to return stitches to the left needle to rework them, make your Kink with double-pointed needles and substitute the following for these rows:
Alternate row 2 and 10 [RS]: K4, [slide these 4 sts to right end of the right dpn. With a 3rd dpn and holding yarn snugly behind stitches, k the same 4 sts] twice, k14, yo, k1.
Instructions for working a crochet chain can be found here.


DIRECTIONS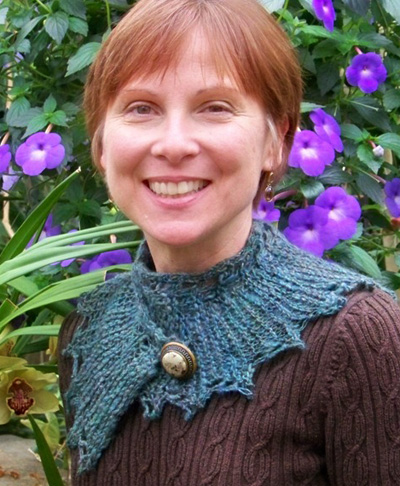 CO 19 st.

Row 1 [WS]: K15, p4.

Row 2 [RS]: K4, [slip these 4 sts back to left needle and knit them again] twice, k14, yo, k1, 20 sts.

Row 3 [WS]: K15, wrap and turn.

Row 4 [RS]: K14, yo, k1.

Row 5-6: Repeat Rows 3 and 4 once more, 22 sts.

Row 7 [WS]: K15, wrap and turn.

Row 8 [RS]: K15.

Row 9 [WS]: BO 3, k14, p4. 19 sts.

Row 10 [RS]: K4, [slip these 4 sts back to left needle and knit them again] twice, k14, yo, k1, 20 sts.

Repeat Rows 3 to 10 until desired length (or yarn runs out).

On final repeat, bind off all stitches in Row 9. If you intend to secure your Kink with a button, do not break yarn.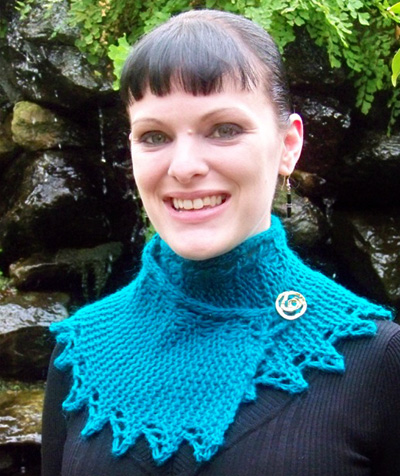 Optional Button loop
Insert crochet hook into remaining stitch.

Work a short crochet chain -- long enough to allow the button or bead you've selected to pass through – and secure it by working a slip stitch at the 4th stitch from the inner edge.

Break yarn and pull end through final loop.
FINISHING
Soak collar in cold water. Roll in a towel and gently squeeze to remove excess water. Pin the middle of both in the inner and outer edge of the collar to your blocking surface gently stretching the stitches. Continue to pin along the inner edge and each short end creating a "U" shape. From the short ends gently stretch the work and pin the points.

When pinning is completed the collar will be symmetrical, fully stretched, and all points will be staked. Allow to dry completely. Weave in ends.
Kink is intended to be worn asymmetrically (see pictures). If you are using a button, try on the collar and determine the best location. Sew on the button with scrap yarn and weave in all ends.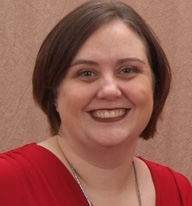 Jodie is living happily-ever-after with her very own Professor Charming. Her incredibly handsome and brilliant sons refer to her as "The Queen of the Universe" (Queenie for short). She has yet to let such obeisance go to her head.
She thoroughly enjoyed setting aside the needles for the drop spindle and foresees many hours of spinning in her future. Jodie's Fairy Godmother resides near Guthrie, Oklahoma. FG doesn't sing nonsense songs, have a wand or create pumpkin carriages. She does (magically?) weave beauty from chaos and has a handsome alpaca named Maxx. You'll find more of her work here.
Pattern & images © 2010 Jodie Gordon Lucas. Contact Jodie