DIRECTIONS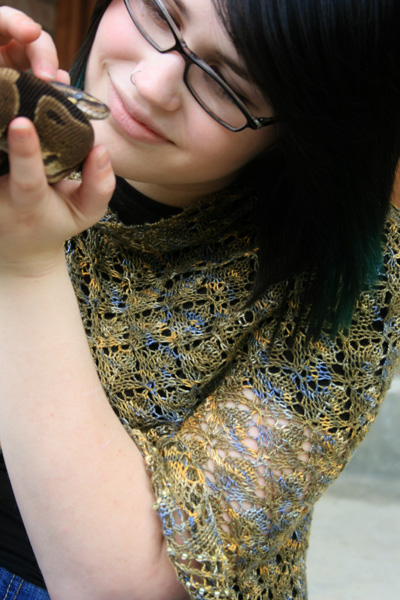 Using provisional cast on, CO 2 sts.

K 6 rows.

At end of last row, turn work 90 degrees clockwise and pick up and k 3 sts along one long edge of work – this will be 1 st in each garter st ridge along edge. Remove waste yarn from CO edge, placing resulting 2 live sts on left needle; k these sts. 7 sts.

Next Row [RS]: K2, work first row of Set-Up Chart, place marker, k1, place marker, work first row of Set-Up Chart, k2. 11 sts.

The markers now in place indicate the center st of the shawl. From this point on, k this st on RS rows, and p it on WS rows.

The 2 sts at each edge are the border sts; work these sts in garter st throughout.
Charts will be worked twice in each row, as set.

Continue as follows, working center st and edges sts as set:
Work Rows 2-18 of Set-Up Chart. 43 sts.

Work Rows 1-30 of Body Chart three times, then work Rows 1-22 once more. 267 sts.

Work Rows 1-20 of Edge Chart. 307 sts.

BO all sts using larger needle, as follows: K1, [sl st from right needle back to left needle, k2tog tbl] until all sts have been bound off.