I have been passionate about knitting for many years. It seems only natural that as a love and appreciation for yarn develops, the desire to create one's own yarn is soon to follow. So, five years ago I entered the wonderful world of spinning. I began with a drop spindle to learn the ins and outs of fiber behavior before moving on to the purchase of my Lendrum wheel (lovingly dubbed Jane).

As most spinners will tell you, some fibers are a particular joy to spin. So, when I spotted this alpaca in a booth at the annual World Sheep and Fiber Arts Festival in the tiny town of Bethel, Missouri, I was eager to get spinning.

I suspected the nature of the potential yarn that was stored within its lofty brilliance, and I was not disappointed. Spinning the Whirlwind Ranch Alpaca was everything I hoped it'd be and more. When the blissful process was complete, I had a skein of yarn that begged to be wrapped in and adored. The beauty of the finished yarn did not need much, in fact I considered just hanging the hank around my neck and leaving it at that. After some consideration, I chose this simple lace pattern to highlight the silky soft alpaca and to create this lovely stole. It's a pleasure to look at, but even more glorious to feel the softness created by this amazing fiber.



model:

Gena Wich


photos:

Steve Wich and Gena Wich




FINISHED MEASUREMENTS
60 inches long x 18 wide
MATERIALS
Fiber


Whirlwind Ranch Super Fine Alpaca Roving; color: Light Rose Grey; 4 oz
Finished Yarn:


Wraps per inch: 12


Yardage used: 600 yds


Plies: 2 ply


Drafting method: Long draw

Commercial Yarn Alternative


Isager Strik Alpaca 2 [50% alpaca/50% merino lamb wool; 272 yds/249m per 50g skein]; color: Taupe; 3 skeins

Recommended needle size
[always use a needle size that gives you the gauge listed below -- every knitter's gauge is unique]


24-inch US #7/4.5mm circular needle


Spinning Tool: Lendrum Original Double Treadle
Niddy Noddy: Lendrum two-in-one niddy noddy
Lazy Kate: Lendrum
Tools


Stitch markers


Rust-proof pins for blocking


Yarn needle
20 sts/20 rows = 4 inches in pattern stitch, after blocking
PATTERN NOTES
[Knitty's list of standard abbreviations and techniques can be found here.]
DIRECTIONS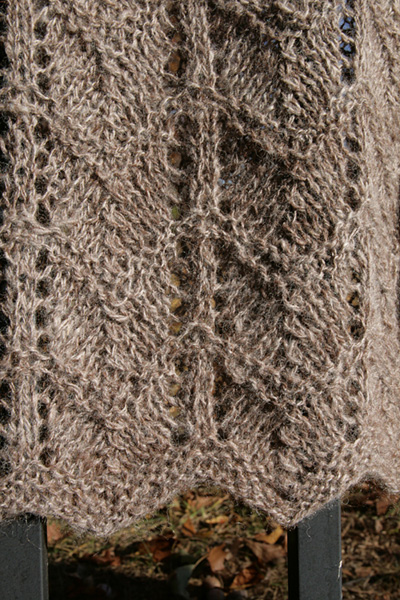 SHAWL

Lower Edging
Cast on 79 stitches.

Knit 5 rows.

Setup markers [WS]: K6, place marker, k to last 6 sts, place marker, k6.

Markers separate out patterned area from edging. Slip markers as you come to them.

Body
Row 1 [RS]: K6, k2, [yo, k4, sk2po, k4, yo, k2] to last 6 sts, k6.

Row 2 [WS]: K6, p to last 6 sts, k6.

Repeat Row 1 & 2 3 more times, and work Row 1 once more.

Rows 10-12: Knit.

Repeat the above 12 rows until you're nearly out of yarn.

Knit 3 more rows.

Bind off loosely.

FINISHING
Weave in ends.

Block shawl to specified dimensions, pinning out the scallops at each end.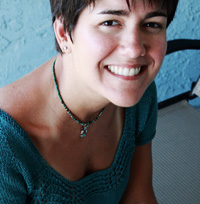 Gena lives in Port St. Joe, Florida, and when she's not busy homeschooling her 3 children, she can be found knitting, spinning, and generally revelling in the glory of fiber.

You can find her on Ravelry.
Pattern & images © 2011 Gena Wich. Contact Gena