DIRECTIONS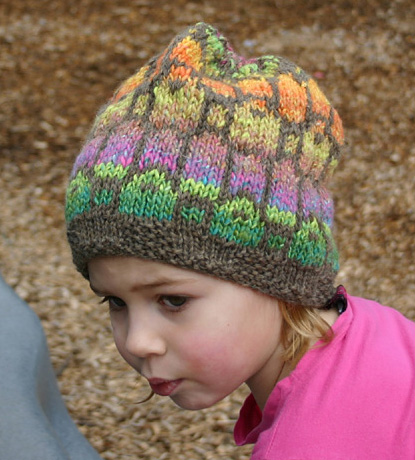 Using smaller circular needle and MC, CO 72[91] sts. Position work so that beginning of CO edge is at left needle tip, and end of CO edge is at right needle tip. Ensuring that CO edge is not twisted, slip last CO st to left needle tip, and knit it together with first CO st to join round. 71[90] sts. Place marker to indicate begining of round.

Child's Hat Only:
Work 3 rounds Seed Stitch, decreasing 1 st at end of last round. 70 sts.

All Sizes:
Work in Seed Stitch Rib until work measures 1[1.5] inches.

Switching to larger circular needle, shape hat body as follows:
Next Round: *K3[4], kfb, k2[3], kfb; repeat from * nine times more. 90[110] sts.

Work all rounds of Hat Body Chart; 10 sts of chart pattern will be worked 9[11] times in each round.

Switching to double-point needles, work all rounds of Crown Shaping Chart. 9[11] sts remain.

Adult's Hat Only:
Next Round: [K2tog] five times, k1. 6 sts remain.

All Sizes:
Break both strands of yarn. Draw CC yarn tail through remaining sts and pull tight.