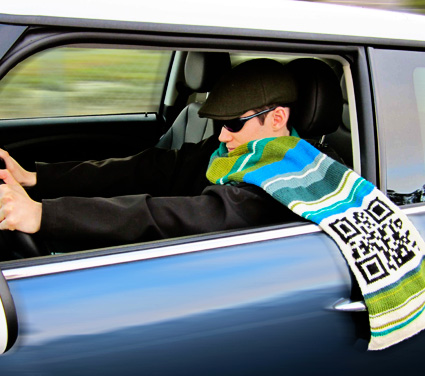 That's my scarf! And my phone can prove it. No one was more surprised than me to discover a smartphone could scan this knitted scarf to reveal a secret message. I took up the challenge one weekend when the geeks at my house were playing around on a website generating QRcodes.
"What are you guys making?" I asked.
"You know, mom, those square barcodes you see everywhere. They send you to a website or a give you a message of text."
"Really." I smiled and went back to my knitting.
"Hey Mom! You could knit a barcode."
"Yeah. Right." I laughed, but we all got intrigued by the idea. Soon I was knitting in black and white. My first swatch worked! I knit the QR code for my website. I was hooked. Let's try something else.
My son, Zach, (the geek who started it all) wanted a new scarf for his second winter at Boston University. Here in California there's not much call for extra woolies. But Zach discovered when a nor-easter blows he wanted to be able to bundle up. I was happy to oblige.
This scarf is knit in the round to be extra toasty. The construction means all the intarsia floats are hidden inside and won't snag. The QR codes embedded in this knitting scan to reveal: My Scarf! (Chart A) and Love Mom (Chart B). (You will need a scanner app for your phone like Red Laser.)