Yarn Selection for the Rigid-heddle Loom: The Secret Is In the Sett

Many of the yarns you already have can be used on the rigid-heddle loom. You can weave with virtually anything -- yarn, twigs, ribbon, wire, raffia, tule -- whatever tickles your fancy. The yarns that you use to set up the loom, the warp, is subject to more stress and takes a little more consideration.
TALKING TENSION
In weaving, tension is put on the yarns collectively not on each individual yarn, so while we have to evaluate the yarn individually, we also have to understand how pressure is exerted on it within the framework of the loom. The plastic heddles that make up the rigid-heddle itself are gentler on yarn compared to other heddle types. The relatively short length of warp held taunt between the beams allows you to use less tension than on larger loom where you have to exert much more tension on the warp to prevent sagging in the middle. With this in mind your yarn doesn't have to hold up to industrial standards, it just has to pass the simple pinch and pull test.
Pinch and Pull Test
Take a generous length of yarn, say 40-50 inches, and wrap one end of it around your index and middle finger then pinch it between your thumb and index finger. Leaving about a 12-16 inch section of yarn between your hands secure the other end as you did the first. Apply steady, firm pressure as if to pull the yarn apart. If the yarn easily drifts apart or breaks easily, it isn't a good choice as a warp yarn. Check out this short video where I demonstrate this test on a variety of yarns you probably have on hand.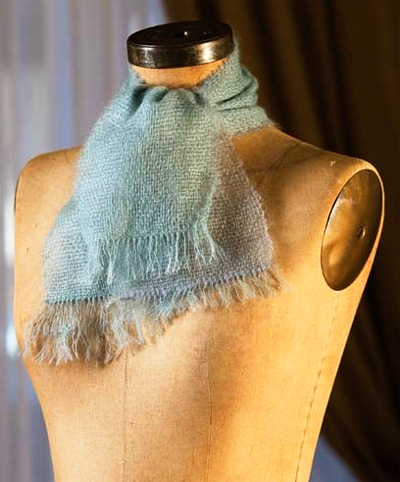 YARN CONTENT AND CONSTRUCTION
Yarns that are tightly plied and smooth are traditionally thought of as good warp yarns. Tender, loosely plied or softly spun yarns tend to fray or stick to one another. Fuzzy yarns such as mohair and some novelties may stick to one another. If you want to use these yarns, mix them with smoother yarns in the warp or allow enough space between the warp yarns to keep them from interfering from one another. Because they are sticky you can weave lovely gauzy fabrics that will still have integrity, such as in the Layered Cravat from Weaving Made Easy (shown at right).
Another consideration is how the yarn will act in the fringe. Yarns of more than two plies will often puff out in the wash; some fancy novelty yarns fray. Take the yarn you tested for warp and wash it vigorously in warm water with a little soap. Pay attention to how the ends behave and this will give you a good idea of what happen in the fringe.
Superwash and Acrylic
Cloth comes to life when wet-finished. During washing, yarns expand and settle, a process called blooming. Superwash and acrylic-based yarns are designed to be stable and so they don't bloom much. This is not a problem with the loopy construction of knitting and crochet, but it can be more problematic in woven fabric. As you start your weaving journey, consider mixing them with other yarns that will bloom such as a nice wool or wool-blend -- using one type for warp and the other for weft or vice versa.
Coned Yarns
Knitters often ask what is the deal with coned yarns and those funny numbers such as 8/2 or 5/2? Traditionally yarns for weaving were put up on cones because it was easier to wind a warp from the cone. They often, but not always, had more twist.
Those funny numbers are an archaic system that expressed the size, number of plies, and yards per pound of any given yarn. It isn't necessary that you understand this system to use this yarn. (If you are really curious, here is a video from The Woolery that explains it.) Understanding how to determine the sett of a yarn is all you need to know.
THE WEAVER'S GAUGE: SETT
We come to a much bigger question: what size yarns should I use for what project? Rigid-heddles come in standard sizes: 5, 8, 10, and 12. These numbers correspond to the number of slots and holes within every inch of the rigid-heddle. (You will also see 7.5 and 12.5. These are essentially metric equivalents of size 8 and 12.)
These numbers determine the weaver's gauge called sett. The larger the number, the finer the sett or the number of ends per inch in the warp. Just like with knitting and crochet if you use the wrong needle or hook and don't get gauge, your project will be off-kilter. A general rule of thumb for what yarn to use with each number is as follows:
5 = Bulky
8 = Worsted
10 = Sport
12 = Fine
Determining Sett
Most sett decisions are based on a Balanced Plain Weave (BPW) sett. A balanced plain weave fabric has the same number of warp and weft ends per inch.
To determine a BPW sett, wrap the yarn around a ruler under very light tension. You want to mimic what the yarn will act like when relaxed and not under the tension of the loom. Count the number of wraps and then divide this number by two. If in doubt, wrap two inches and then take an average of the two. By taking half the yarns away, you allow room for the weft to interlace with the warp.
For instance, if you have a yarn that wraps around the ruler 14 times in an inch, your BPW sett is 7 (see photo above). Choosing a size 8 rigid-heddle is probably a good place to start.
When determining sett, you want to take into consideration this bloom factor, as mentioned in the Superwash section, and leave enough room for the yarn to do its thing.
But this measurement tells you nothing about the character of the yarn. Two yarns can have the same sett and be radically different. One may be a tightly spun worsted yarn and the other an airy woolen yarn, but they will technically have the same BPW sett. You have to use your judgment about the nature of the yarn and how you will use.
Knitters often confuse Wraps Per Inch (WPI) with sett. You use WPI to calculate sett, but they are not one and the same. For those that want to get super geeky I wrote a blog post about how these two things relate to yards per pound.

If you are ready to tackle your first project, I'm going to give you my no-fail Vanilla Cake Table Scarf recipe as a good first project. (If you have a little more experience, I'll give you a fun decorative fringe to gussy up your next project.)