Circumference can be adjusted by casting on more or fewer repeats of the lace pattern, in multiples of 16 sts. Each repeat adds approx 4 inches to the length of the cowl, and requires about 30yds of yarn. The small size (pictured) uses 300yds, and the large uses 420yds.

Casting on and binding off with larger needles allows the edging to form points, and helps prevent rolling.
Sk2po: Slip the next st, knitwise, k2tog, then pass the slipped stitch over the stitch just worked.
Place bead: Beads are placed with a crochet hook prior to knitting the stitch. Place bead on crochet hook, use hook to lift stitch off needle, slide bead onto stitch, then replace on left needle and knit as usual. If not beading, substitute instructions for "place bead" with "k1".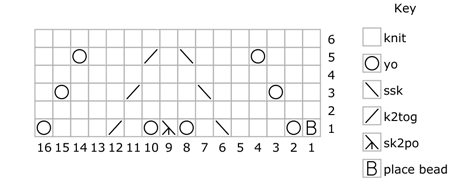 Lace Pattern
Work from Chart or Written instructions as you prefer.
Rnd 1: Place bead, yo, k3, ssk, k1, yo, sk2po, yo, k1, k2tog, k3, yo.
Rnds 2, 4, 6: Knit.
Rnd 3: K2, yo, k3, ssk, k3, k2tog, k3, yo, k1.
Rnd 5: K3, yo, k3, ssk, k1, k2tog, k3, yo, k2.