Feature: Cool stuff
Cool stuff
SR [Finished chest measurement for sweaters] = the smallest chest measurement to the largest chest measurement we could find in the book. There may be only one pattern with the smallest or largest size, but it's in there. Books are softcover unless noted otherwise. All prices USD unless noted.
When you click on an Amazon affiliate link below and make a purchase, you're supporting Knitty. We thank you!
Jump to... Spinning | Crochet | Other Crafty Things
Knitting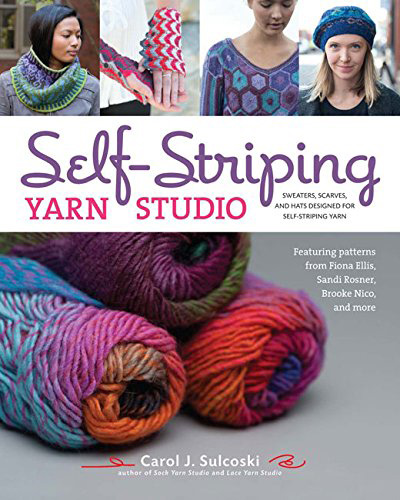 Self-Striping Yarn Studio: Sweaters, Scarves, and Hats Designed for Self-Striping Yarn
by Carol J. Sulcoski
Lark Books
$19.95
SR=34-50"

This is a wonderful all-around book on self-striping yarns. The first portion, All About Self- Striping Yarns, is worth the price of the book. I had several ah-ha moments reading the detailed explanation of how the different dye patterns work (or don't) when knit up. I really like that the explanations were demonstrated with both illustrations and knitted samples. It made it very clear, since the illustrations drove home the concept in hard lines and the knitted swatches show how subtle it can really be in knitting.
Carol has gathered 11 designers, plus herself to showcase self-striping yarn in 25 patterns divided by yarn weight: fingering, DK, and worsted. If you'd like to see self-striping yarn really put through its paces, take a look at these patterns. For example the Damask Iris Cowl uses two different coloways of Kauni in a stranded knitting masterpiece, The Hexagon Sweaters employs modular knitting to make self-striping yarn look much more complex than it is, and the Long-Line Short-Row Vest by Fiona Ellis combines self-striping yarn, solid-colored yarn, short rows and lace in one of the most original pieces I've seen in a long time.
JM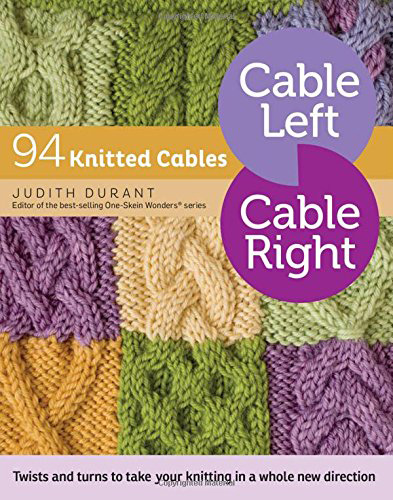 Cable Left, Cable Right: 94 Knitted Cables
by Judith Durant
Storey Publishing
$16.95, spiral bound
Nearly 100 cables are standing ready, waiting for your next design in Cable Left, Cable Right. I spent more than an hour happily flipping around in this book last night. I worked my way through from front to back trying to decide which was my favorite then flipped around putting cable together in an imaginary sweater.

It's that type of an addictive book. The moment you open it, your brain starts designing. Judith gives us five different cables families to play with: Simple, Angles and Curves, Braids and Pretzels, Fillers and Allover Patterns, and Dressed Up Cables and adds to that an excellent primer on cables and a chapter on designing with cables.
Each cable is charted with a large photo of the finished cable knit in smooth solid colored yarn. If there are any tip or knitting considerations for a particular cable you'll finds them on the facing page. This book is designed for knitters to use, just knitting the cables in yarns where I can see the cables is better than a lot of stitch books, add to that a spiral lay-flay binding and large charts and I'm in cable heaven.
JM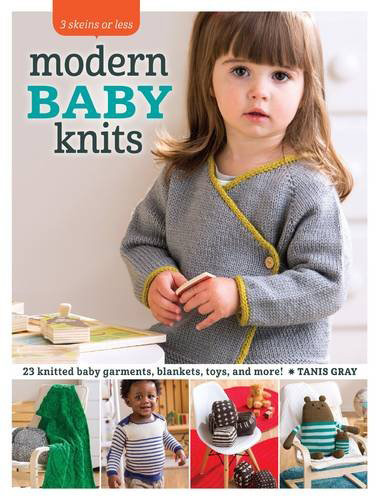 Modern Baby Knits
by Tanis Gray
Interweave
$22.99
This collection of baby and toddler knits has a fresh look and feel. The colors are a little brighter, the shapes a little cleaner. There is something a little different about these designs.
Most of the patterns are knit in sport or worsted weight yarn with stripes or blocks of color, though there are two adorable fair isle hats and a black and white chevron dress that make me wish my kids were still little. There are toys and blankets that would make wonderful gifts. The designs are sized from newborn to 24 months.

The designs look like things kids I know would actually wear and knitters I know would make or appreciate as gifts. An excellent collection of knits.
JM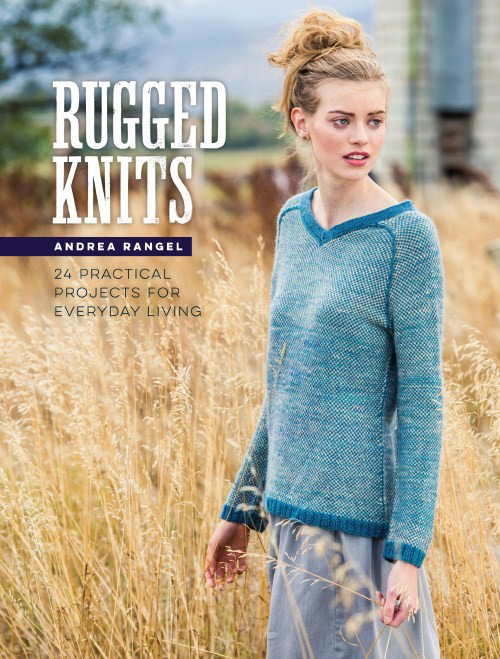 Rugged Knits: 24 Practical Projects for Everyday Living
by Andrea Rangel
Interweave
SR: 27.25-58"
$24.99
This charming book feels to me like it's meant for a modern-day Laura Ingalls Wilder: someone who wears knits as part of their daily life on the homestead...but wants to look good at the same time. Rugged can mean rustic in this book, but it can also mean elegantly chunky, deeply textured, strongly graphic.
In this volume, you'll find two base layers...body conscious pullovers that would be perfectly at home under a barn jacket. What follows are pullovers, cardigans, vests and a hoodie, as well as shawls, scarves, cowls, hats, and some really luscious-but-functional waffle stitch socks with a beautiful but simple cable that runs up the sides.
As you can see from the size range, the garments run from very fitted on a small frame to big and oversized (even on a bigger body), with room to layer under. Some can function as thermal undergarments, others as jackets.
I particularly like the Wheat Creek Vest, Elderberry Road Cardigan, Woolen Explorer Cardigan and Passing Glacier Hat. Among others. This book makes me yearn for fall already.
AS
I Dream of Yarn: A Knit and Crochet Coloring Book
by Franklin Habit
Sixth&Spring
$9.95
I knew a knitting coloring book done by Franklin wouldn't be like any other knitting coloring book. I knew it would be beautiful and it is. I knew it would be creative and it is. I didn't know how it would stop time, let my mind drift and send me to steal my daughter's colored pencils.
Franklin creates stories in his illustrations, whole worlds filled with knitting and crocheting creatures. Most of the illustrations I would be happy to just hang on my wall in black and white. The images are neither tiny and intimidating or thunk-you-on-the-head obvious. There are hedgehogs and gnomes and ladies who knit on transatlantic ships. There are pages devoted to the seasons, balls of yarn hidden everywhere and Dolores makes an appearance.
While the book was developed for coloring, the illustrations would make beautiful embroidery as well. The book appeals to knitters and non knitters alike. I found my copy in the hands of my teenage, coloring-book obsessed, non-knitting daughter, who said, "Mom, this is beautiful, can I have it?"
JM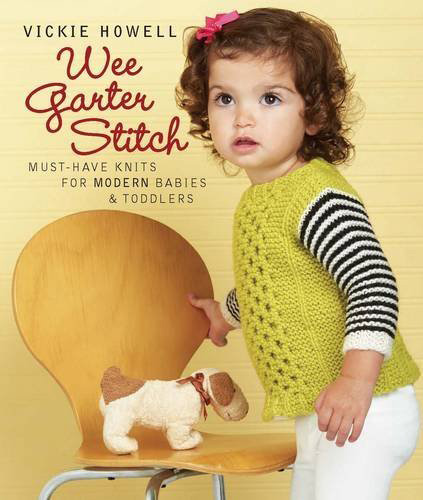 Wee Garter Stitch: Must-Have Knits for Modern Babies and Toddlers
by Vickie Howell
Sixth&Spring
$17.95
If someone has just described this book to me I would have probably made a , "meh" face. I never would have guessed a garter stitch book for babies and toddlers would be so stinkin' cute, but it is.
Vickie Howell has designed 28 adorable things to knit for the littles in your life. All in garter stitch. She does lace and colorwork in garter stitch, she makes sweaters and toys, hats, blankets, pants and the cutest tiny shoes. All of the patterns are quick (hello – they are garter stitch!) and would be welcome in any kiddo's wardrobe.
Be sure to look at the tiny Good Lad shoes, Coyote Kid sweater and the Best Dress-ed dress. There are lots of things for boys in here and the girl patterns aren't too frilly or fussy. All of the patterns are easy to make gender neutral with a quick color swap.
JM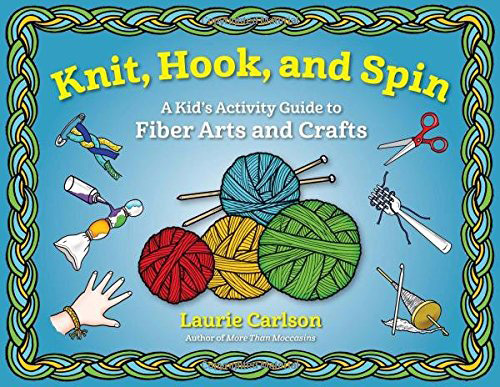 Knit, Hook, and Spin: A Kid's Activity Guide to Fiber Arts and Crafts
by Laurie Carlson
Chicago Review Press
$14.99
Want to draw the kids in your life into fiber arts plus keep them busy all summer? Take a look at this book that is filled fiber and yarn projects – 70 of them. There are basics of knitting, crochet, weaving, spinning and dyeing, with lots of things to make: friendship bracelets, braided rugs, tie dyed t-shirts, dolls, flowers, bags and tapestry.

The instructions are very basic, sometimes not more than a paragraph with black and white illustrations. I know that if I were doing these projects with kids, there are several I would need to look up supplementary instructions before jumping in. The book was written for kids and the people that love them, but I'm thinking it would make a great play-with-fiber grown-up camp guide for my friends and me.
JM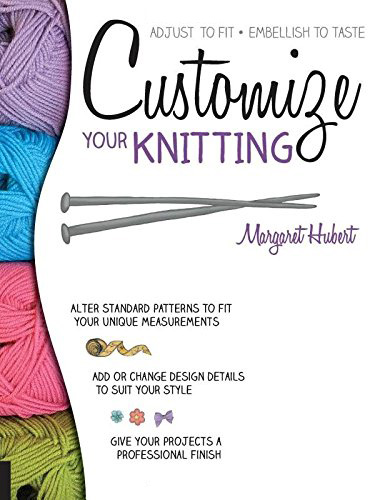 Customize Your Knitting
by Margaret Hubert
Creative Publishing International
$22.99
SR= 34-46"

A clever book that walks a knitter through customizing four specific patterns. I really like this idea. Rather than saying, 'you can customize anything to your body' which can be overwhelming, this book uses four patterns and customizes each pattern to each of the four classic body types – rectangle, triangle, inverted triangle and hourglass. This book also educates knitters on measuring their body, adjusting patterns for size, customizing the style of a pattern, seaming (all of the sweaters are knit flat and seamed), embellishments and correcting common mistakes.

This is an especially good book for knitters just starting to customize patterns to fit their bodies, the information is clear and concise.
JM
New Heights in Lace Knitting
by Andrea Jurgrau
Interweave
$24.99
Does the idea of multiple lace charts in a single pattern give you joy? How about adding beads to that mix? If so, this book is your happy place. New Heights in Lace Knitting has the most beautiful, intricate lace shawls designed in homage to the tallest mountains in the world.

Thankfully Andrea preps you for the big knitting. There is an excellent primer on lace knitting at the front of the book on yarn, beads, color, needles, blocking. She emphasizes the need for swatching and makes it painless by having patterns for two scarves to use as swatches. She then has a chapter with warm-up projects – hats, mitts, scarves, and socks – to practice reading charts, working with color, and some light lace. Then it's on to the high mountain shawls which are stunning, but not simple. All have multiple charts, usually around 4, but one (the cover shawl) has 9 charts to knit your way through. You must be an adept lace knitter or a very patient one to knit these shawls. I'm an intermediate lace knitter and the charts made me light headed.

But the shawls would be worth it to slowly pick my intermediate way through the charts. They are gorgeous and gossamer. My favorites are the Persian Sunrise Shawl, the Pacific Crest Shawl and that cover shawl with the 9 charts, Vinson Massif. Every knitter needs a dream.
JM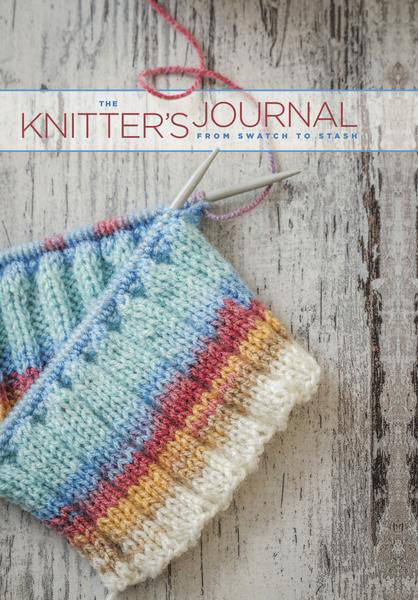 The Knitter's Journal: From Swatch to Stash
by Jane Klein
Jane's Knitting Kits
$29.95, hardcover, spiral bound
This is a cornucopia of handy tools for a budding knitting designer. Included in this beautifuly designed hefty spiral-bound volume, you'll find reference charts for knitting abbreviations, chart symbols, fiber characteristics, yarn weights, body measurements and ease allowances, how to read a yarn label, yarn sources, knitting books (to record those you own), and possibly the most useful feature: a list of knitting events and holidays to help keep track of where you're going and who you might want to knit for.
You'll then find a place for a needle inventory, samples of knitting and intarsia design paper (the intarsia is a finer grid so you can fit more on a page) and even shadow knitting design paper -- photocopy the pages and you have an endless supply for your personal use.
After that, you'll find three laminated heavy cardboard pockets with room to store your swatch(es) and note the details of your project, each followed by pages of standard grid paper. And at the end, more of that durable laminated cardboard pages with holes punched, so you can loop strands of the yarns you want to keep track of, with spaces to write down the details of the yarn. (manufacturer, color, dye lot, etc.).
The book finishes with a needle gauge in both US and metric, and a plastic zipper pouch to store notions or what have you.
AS
Flat Pack Lazy Kate
Akerworks
$126
This is a dreamy little Kate. It is one of the lightest lazy Kates, weighing just over a pound. Like the name says, it packs flat. What it doesn't say is that it folds flat. The pegs used to hold bobbins are securely attached and fold down into the Kate. This is genius for two reasons: the pegs won't get lost and there is no need for a top or extra packaging to hold the pegs in when not in use.
The Kate is a great size: 5x13 x1". It's a modest size, yet it holds up to 4 gigantor bobbins. It holds all the sizes of bobbins that Akerworks makes currently. The workmanship is the same high quality as their bobbins. They didn't rush into this project – it was planned and tested and tweaked and tested before it was released. The wood is beautiful and smooth and the mechanics of peg system are kind of magical, with never a hitch.
I was very concerned about the tensioning system for this Kate. It uses a pliable plastic stopper, one for each bobbin. I was sure it wasn't going to work. I am a fan of an angled tension systems and wish that this Kate had it as an option. Of course I can just stick a book under it to make that happen.

Here's the thing about those stoppers: they work. I could adjust them from the lightest tension to almost a full stop. And they can be adjusted individually. When I test a Kate, one of the things I do is to set it up with all different bobbins at once. I do it to see how a variety of bobbins spin on the pegs. With this Kate I did that using four different bobbins – a Lendrum, a big Hansen, a plastic storage bobbin and a cardboard storage bobbin. They all spun fine, but because of the individual tensioning stoppers I was able to tension them so they all spooled at the same rate. I believe I made some sort of primal, feral noise when I figured that out.
When I finished testing this Lazy Kate it went straight into the basket with my everyday spinning tools, it is an excellent all around Kate.
JM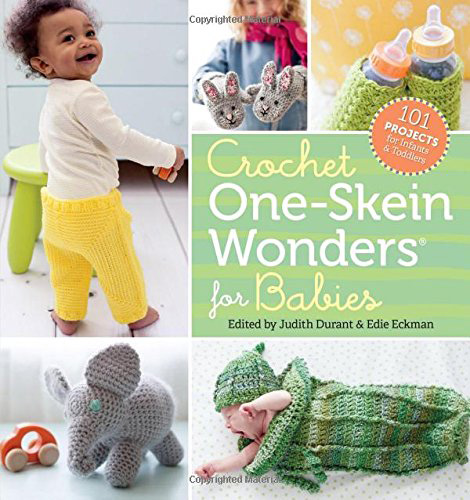 Crochet One-Skein Wonders for Babies
Edited by Judith Durant and Edie Eckman
Storey Publishing
$19.95
Have you hit one of those times in life when everyone around you is having babies? Do you like making and giving crocheted gifts? Stop reading now and go buy this book. You really don't need another book for your baby crochet needs.
There are 101 patterns in here for the under-1-year-old crowd. There are classic bonnets, booties and blankets mixed in with adorable skirts, pants and toys. The patterns span yarn weights, crochet levels and a huge variety of crochet stitches. Plus the photos are so cute, I couldn't stop cooing with every page turn. Come on...a newborn in a zucchini themed snuggle sack, awww!
JM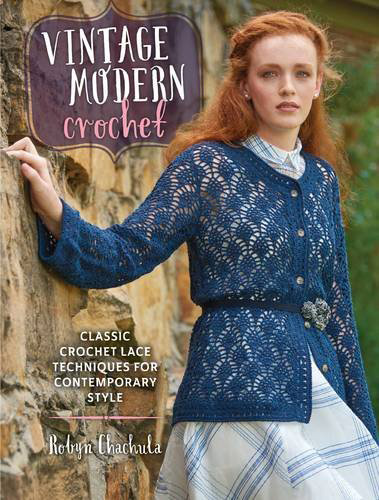 Vintage Modern Crochet: Classic Crochet Lace Techniques for Contemporary Style
by Robyn Chachula
Interweave
$24.99
SR=33-53"

Vintage Modern Crochet is a history lesson wrapped up in beautiful patterns.Robyn Chachula is the reigning queen of crochet design and it's easy to see why with this book. She has taken classic historic crochet techniques like Pineapple Lace, Bruges Lace, Filet Lace, Irish Lace and Tunisian Crochet, and updated them with color, scale and juxtaposition of motifs.

She doesn't just gather excellent designs, she starts each chapter with a history of the particular type of crochet, setting the stage for the modern takes to come. They have vintage feeling yet are easy to pair with modern clothes.
There is jewelry, tops, tunics and cardigans. There is a spectacular array of array of bold shawls that I'd like to add to my wardrobe, particularly the Yasmine shawl and the Fidelma motif shawl and I'd like the cover design, the Zoe cardigan, too please.
JM
Swatch Maker 3-in-1 Weaving Loom
by Purl & Loop
$49
This is an ingenious swatching tool for weavers. I'm not one bit surprised since it was developed with Knitty's own Weaving Columnist, Liz Gipson.

The loom is throw-it-in-your-bag portable at 6.25 x 9 inches and made of smoothly finished birch. The loom has three setts to use: 8 (using the slots), 10 and 12 (each using one set of holes).The loom comes with directions, a carry bag, tapestry needles and a birch weaving needle.
I wove a quick three swatches on mine with fine sock yarn. I've been dying to see what Hedgehog Fibers speckled yarns look like woven. This loom would be a great way to play with the gradient kits that are popular now. My biggest tip, which is mentioned in the directions is don't try to warp this loom with the whole length of the warp! I thought I knew better and tried with all the yardage and had to restart after many colorful phrases. I also didn't try to weave with the whole measure of weft at one time.

I can not tell you how much I love that there is a ruler that runs the length of the loom – that little thing is genius. I know that I wove an even weave at 8,10,12 picks per inch, because I could measure as I went.
The loom is light and easy to use. I now know, after a couple of evenings, that the Hedgehog speckled sock yarn I love looks fantastic woven and really only works at a sett of 12. That is a lot of time saved even comparing to a rigid heddle loom. Plus I have swatches to keep if I ever think I know better about a very fine sock yarn at a loose sett.
I can't wait to try more yarns and different structure. This loom really invites playing.
While it was developed as a quick way to make swatches, there is no rulebook that says you can't weave 6x7" rectangles and sew them together into something spectacular. Just look at what creative things weavers have done with Zoom Looms!
JM