Cool Stuff
Feature: Cool stuff
Cool stuff
SR [Finished chest measurement for sweaters] = the smallest chest measurement to the largest chest measurement we could find in the book. There may be only one pattern with the smallest or largest size, but it's in there. Books are softcover unless noted otherwise. All prices USD unless noted.
When you click on an Amazon affiliate link below and make a purchase, you're supporting Knitty. We thank you!
Jump to... Spinning | Other Crafty Things

Surprise reviews! (July 2019)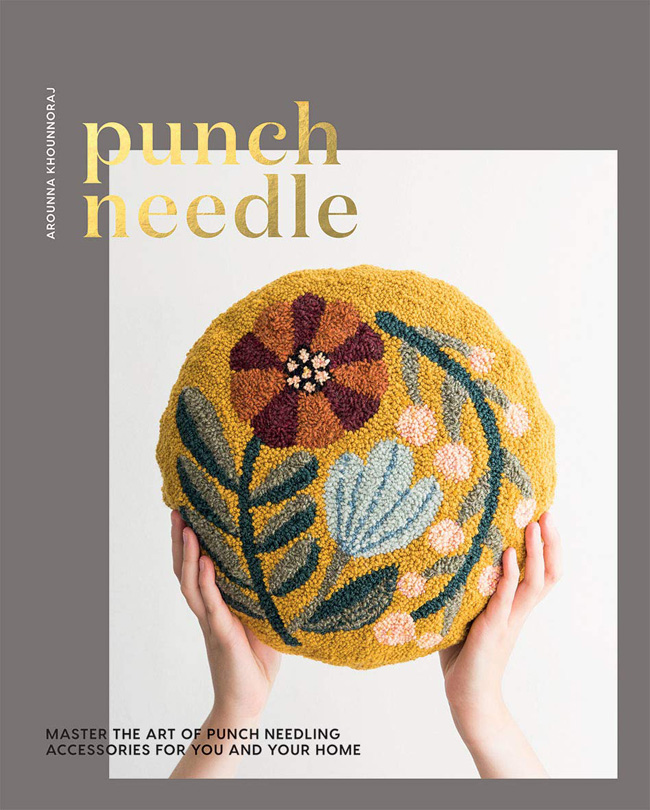 Punch Needle: Master the Art of Punch Needle Accessories for You and Your Home
by Arounna Khounnoraj
Quadrille Publishing
$19.99
Buy now at Amazon
Punch needle has been creeping back into the crafts world for a few years now. Amy Oxford kicked off this latest go round, but Arounna Khounnoraj of Bookhou launched punch needle into the stratosphere. Her punch needle posts and videos on Instagram inspired and excited the yarn world. Her first book, Punch Needle, is fantastic.
I wasn't even halfway through reading it before I was ordering needles, making lists of supplies and tossing the stash to see if I had any appropriate yarn (of course I did).
The how-to portion of the book is laid out with giant pictures. It's easy to see exactly what happening and to follow. The book is bound with a sewn binding, allowing it to lay flat while you punch along.
The patterns range from small pins and hair clips (did you know you can needle punch with embroidery floss? Me neither, and these accessories are fab) to cushions, stools covers, wall art and other home accessories. The designs are organic, graphic and really delightful, and stand apart from most of the punch needles designs available now.
I had never tried punch needle before I picked up this book, and I found it easy to follow and know exactly what supplies I needed. It is as fun as it looks.

JM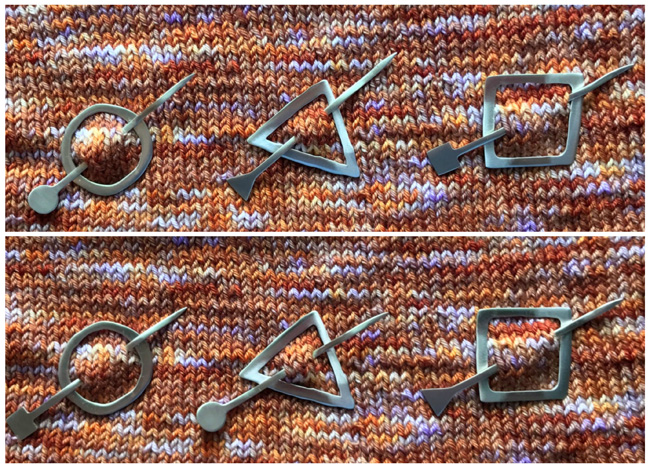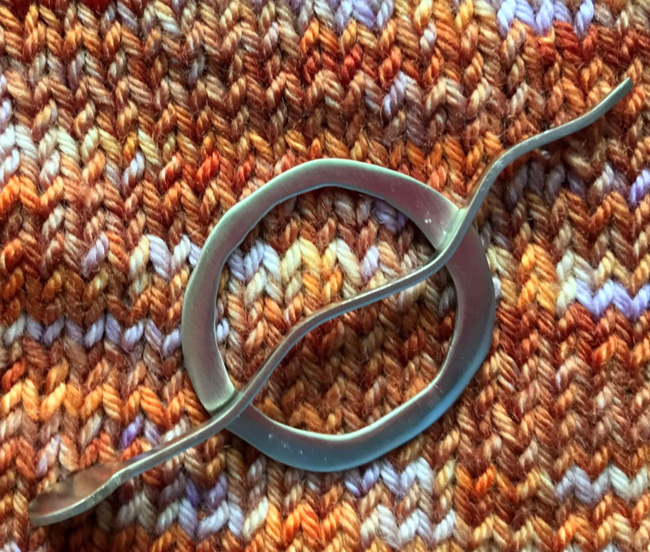 Mid-Century Modern Circle, Square, and Triangle Shawl Pins
by Jul Designs
$32 for one, $89 for all three
Buy now at Jul
These shawl pins are a welcome style departure from Jul's usual botantic and historic style of pin. These bold pins are made of polished white brass and measure about 1.75 inches across. The stick is 4 inches long.
They are weighty enough to stay in place but not so heavy that they would pull your knitting out of shape. The pins are beautifully finished and silky smooth with no burrs or edges that will snag.
It 's a great look to mix the stick and pin shapes, but you do have to buy more than one set to get that look. The sticks themselves are wavy rather than straight, easy to thread through knitted and woven fabric, plus they look cool.
I like that they are a graphic shape, but still look organic. The edges aren't quite even or straight. This really sets them apart from looking cold and mass produced. It makes them a perfect complement for hand-worked fabric.
These would be particularly great on a highly textured or colorful shawl, things like Fades and brioche.  The smooth shine and clean styling would visually clear a spot on the fabric, shimmering brightly.

JM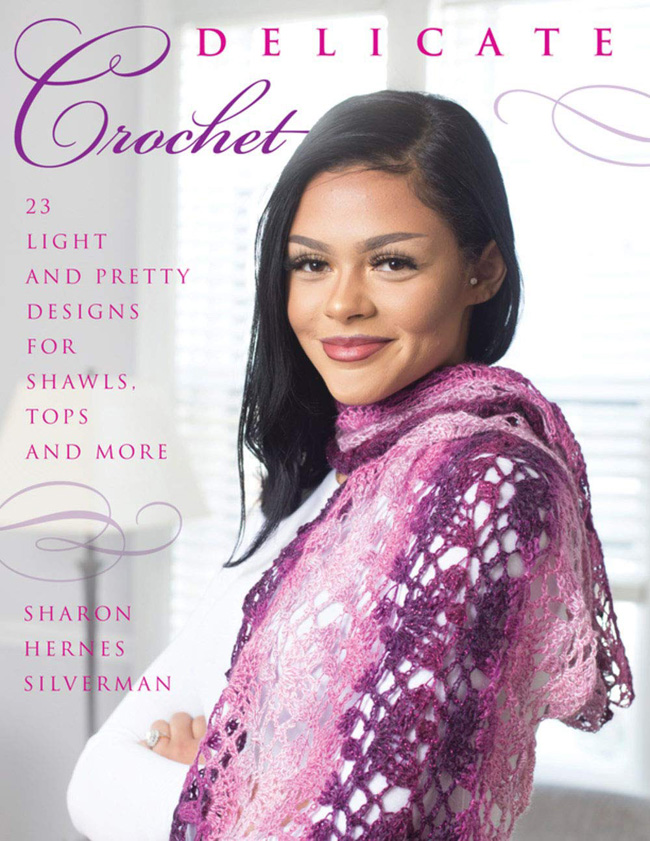 Delicate Crochet: 23 Light and Pretty Designs for Shawls, Tops and More
by Sharon Hernes Silverman
Stackpole Books
$29.95
Buy now at Amazon
I'm not a crocheter (beer cozies and circular purses don't quite count), but I am game, so when Amy asked me whether I'd review a crochet book, I said, "Sure." Maybe I just have a hard time saying "No," but I'm glad I took this on because now I have a crochet top (the Filet Pullover) on my hook!
Sharon Silverman is the author of numerous crochet books, and for her most recent, she's tapped a number of different designers to contribute patterns. The designs here range from expected fare like shawls, gloves, and tops to more unexpected, and contemporary, items like a skirt, necklace, and a cowl.
Each pattern comes with an assessment of the skill level required (scale of 1-4) and uses the Standard Yarn Weight System so you can easily substitute yarns. Sizing for most patterns goes up to large or extra large (the skirt goes up to 2X), and for a few of the patterns, instructions were given on ways to adjust the stitch count to make a larger size.
This book includes instructions and photographs for all the stitches used. You're talking to someone who still Googles "single crochet" to make sure I've really got it right. I found a pattern that matched my skill level, and the instructions for both the pattern and the stitches used are easy to follow. I have no doubt I'll finish that top.
If you're interested in exploring crochet or simply finding new designs, this book could be what you're looking for.

CBM

Knitting + crochet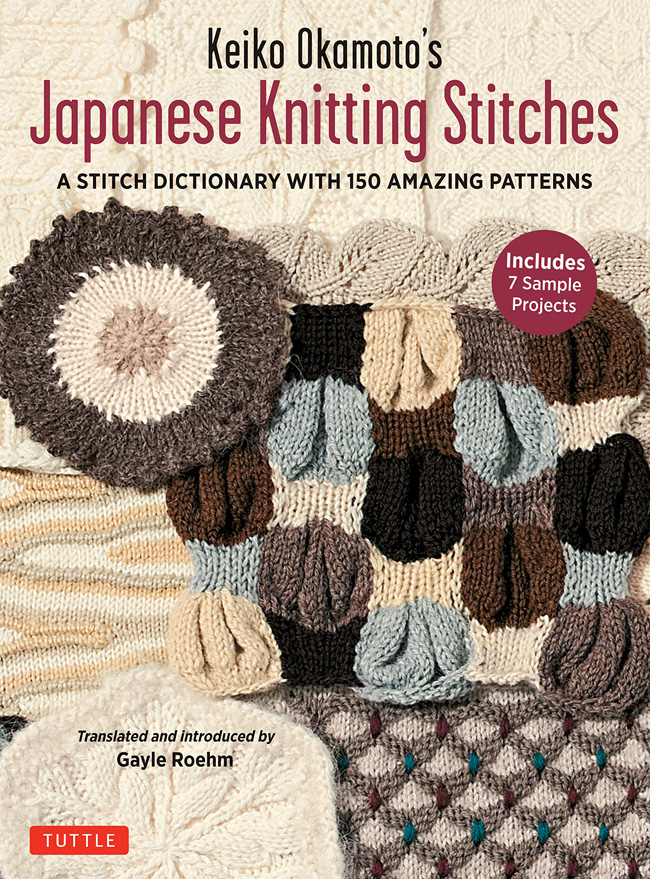 Keiko Okamoto's Japanese Knitting Stitches: A Stitch Dictionary of 150 Amazing Patterns
by Keiko Okamoto, Gale Roehm
$18.99
Tuttle Publishing
Buy now at Amazon
This is exactly my kind of quirky and wonderful stitch guide. The patterns are unusual in the kind of way where I grabbed yarn and needles to try some of the patterns before I was finished flipping through the book. There are 150 mostly adventurous stitch patterns divided up into overall patterns, smocking patterns, openwork patterns, color changing patterns, stranded patterns, patterns with bobbles, patterns with crossing stitches, 3-d patterns, lace motifs, and edgings.
The book is laid out similarly to other Japanese stitch pattern books in translation with a few twists. There is a symbol directory and a section on how to knit specific stitches, but there are also notes and directions for particulars right under the chart. I like it – it would be confusing to put that much information in a stitch directory.
There are a few patterns, in one size each, three sweaters, a cowl, arm warmers, a basket, and mittens. The patterns are written similarly to Japanese patterns with much of the counts and measurements in the schematic. Gale Roehm does her usual amazing work, adding clarification and explanation throughout the patterns.
The stitch patterns themselves make me tingly. Some look familiar, but not quite. The swatches are knit in a variety of yarns, materials, and gauges, which are much more interesting to look at. The patterns vary widely in texture, color, and embellishments. Here's an example of pattern chart direction: one symbol is knit 'with a smaller needle' another is knit 'with a needles 11 times larger'. How about crossing stitches that are bands knitted freely and then joined when they cross? The 3-d patterns pucker and spiral, with a measured surface texture in lines and dots. The edging really got me. I want to knit a whole garment out of some of them or attach them to a woven cloth.
This is exactly the type of fun this book is. The stitches are organic and playful. They are slipped, gathered, looped, wrapped and worked multiple times in a single stitch, all to stretch your creativity and knitting prowess.

JM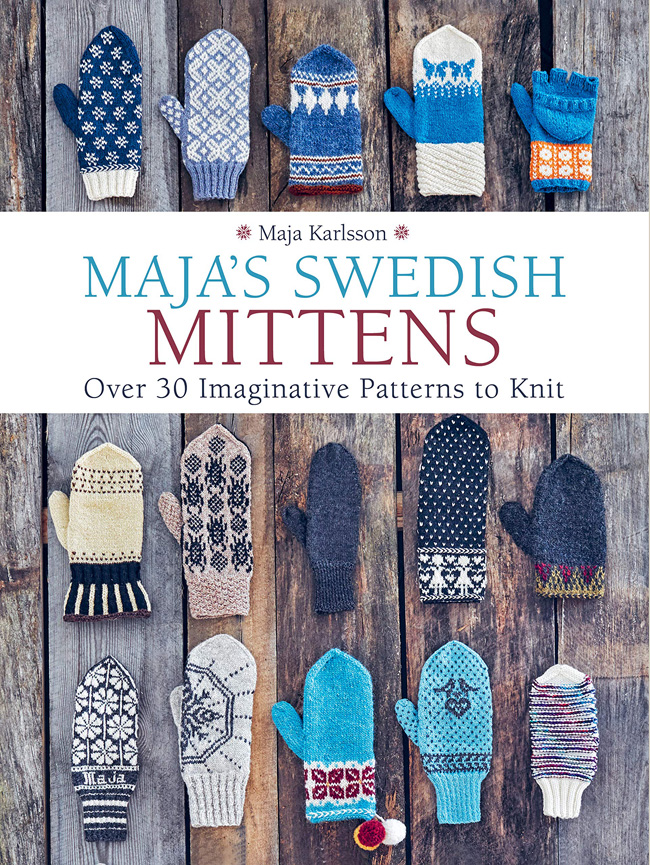 Maja's Swedish Mittens: Over 35 Imaginative Patterns to Knit
by Maja Karlsson
Trafalgar Square Books
$26, hardcover
Buy now at Amazon
This is beautiful book. It opens with a handpainted illustrations of all of the mittens in the book. Then comes pages of photography, woods, and cozy cottage scenes, all with mittens and rustic adornments. All of the photos, and design elements set a serene tone for the book.
There are 35 mittens, including fingerless and flip top. The mittens are thoughtfully patterned and gauged. They won't take all winter; some can be knit even a busy weekend. The gauges range from 5.5-7.5 stitches to the inch.
Fairy tales, Scandinavian folk art, and nature inspire Maja's knitting. There is so much nature in the mitten designs, bugs, leaves, patterns that are colorwork or slipped stiches evoke organic texture, rocks, bark, or the forest floor. Many of the mittens are embellished with braids and embroidery.
The colorwork charts are large and are hand drawn. They are unique and lovely . It's something I've not seen before and really helps to capture the overall feeling of the mittens and book.
I'm particularly drawn to the fingerless mittens in the book: Autumn Embers, Japonica, and Ratatosk (there are squirrels), maybe because I can envision those in my, very organic, not-quite-smooth, handspun yarn.

JM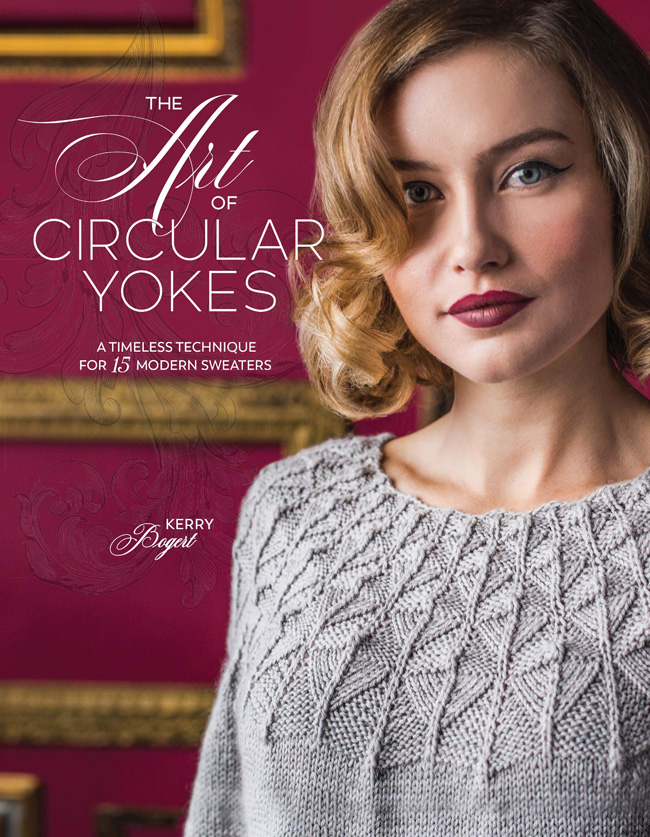 The Art of Circular Yokes: A Timeless Technique for 15 Modern Sweaters
by Kerry Bogert
Interweave
$26.99
SR= 32-50"
Buy now at Amazon
I have always avoided knitting yoke sweaters for myself, though I love the way they look. I usually need to modify patterns for my bod (due to the rack of doom) and because I haven't knit many, I don't understand how to modify a yoke sweater.
That all changes with this book. The first chunk of the book (about 15 pages) is all about how yoke sweaters are constructed, how to measure for them and modify them. There's even information on designing your own sweater. It's written with great clarity with schematics, and mathy hand holding by Holli Yeoh.
The rest of the book is a collection of 15 yoke sweaters designed by the likes of Knitty favorite designers Jennifer Wood, Holli Yeoh, Kate Gagnon Osborn, and Amy Gunderson. While the style of sweater remains constant, the designs are diverse. There are cables, lace, and a variety of colorwork. A few stand out to me because they look a little different than the many yoke sweaters out there, and for looking like I could modify them pretty easily: the interestingly textured Strike, Morris (a cabled marvel), and Twill with its subtle texture and color shift.

JM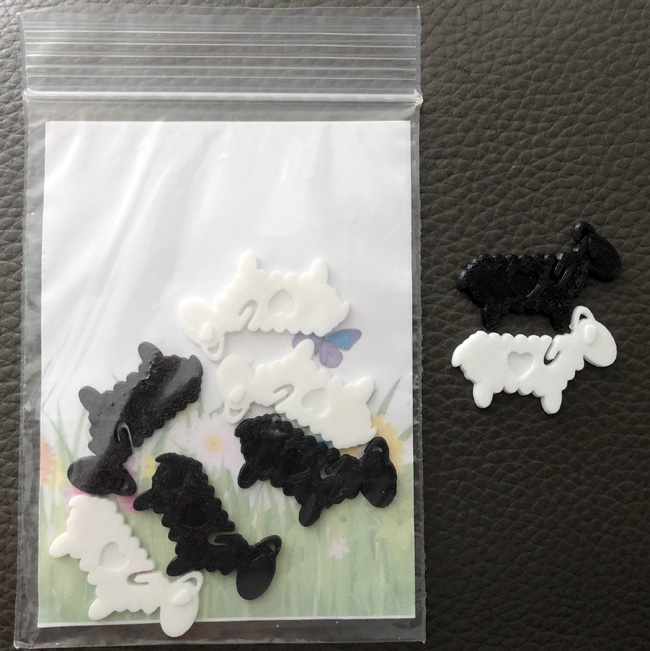 Suavest Sheep and Lovable Lambs: yarn bobbins for knit and crochet
by Crafty Flutterby
Sheep: 1 1/4 x 3/4 inches
Lambs: 1 x 5/8 inches
available in white or black
$4.00 for a pack of three sheep
$6.00 for a pack of six lambs
Buy now from Crafty Flutterby
Sometimes a product is so perfectly simple and well designed, you wonder why it hasn't existed before. Such is the case with these super-adorable and incredibly useful sheep-shaped yarn bobbins by Crafty Flutterby.
3d printed in Michelle's own shop from plant-based PLA (plastic that's plant based and comes from renewable resources), they weigh almost nothing. But their clever design locks a loose tail of yarn securely, making tangling less likely (or at least easier to untangle) when you're working with multiple colors in a project, or just want to tidy your ends until you weave in.
They come in white or black plastic, and each features a sweet heart next to the loop that secures your yarn. Two sizes available: sheep (bigger) or lambs (smaller).
AS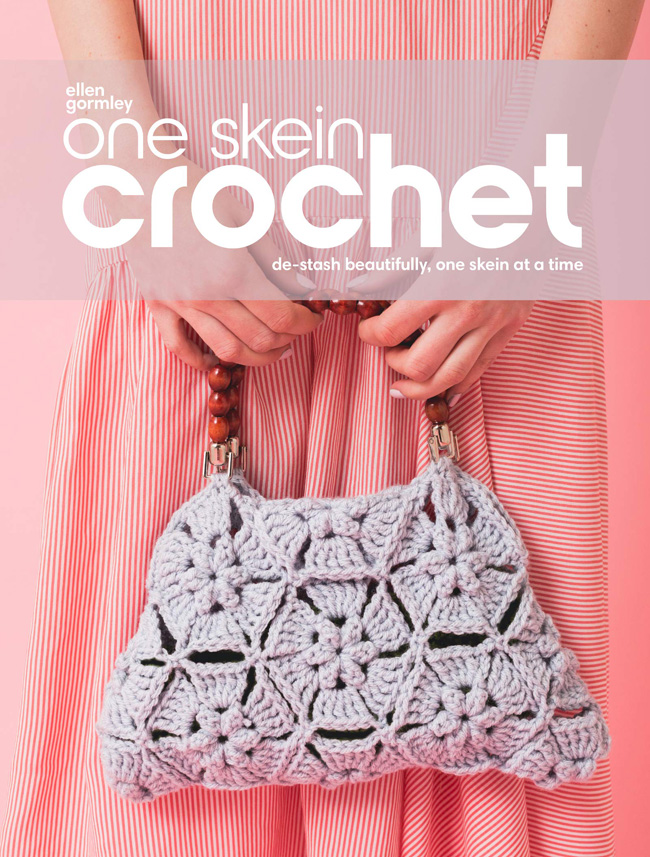 One Skein Crochet: De-Stash Beautifully, One Skein at a Time
by Ellen Gormley
Interweave
$22.99
Buy now at Amazon
Crochet, with only one skein? Yes. It's possible. This book by Ellen Gormley shows you how you can make a special skein of yarn into a masterpiece with a crochet hook. The book is presented in two parts: useful tips and techniques followed by 15 projects. The tips help you get the most mileage out of special single skeins.
In the first part, you learn different skills useful for evaluating yarn and creating a successful project. There are different methods provided to calculate if you'll have enough yardage. Also included in chart form are yarn estimates for scarves, cowls, and hats at gauges from 2-6 spi. If you have another project in mind, Gormley walks you through the math to figure out how much yarn you might need. Then you delve into different considerations for designs with limited yardage.
As the title hints, the 15 projects use one skein (or less). They include a range of accessories from the standard scarves, cowls, and hats to mitts, bags, larger coverings, and even a baby blanket. What surprised me was the range of stitch choices. I did not expect to see so much texture in these projects! And that's not all – there's a top, too! It's a repeated open lacy motif designed to join as you go, so there's no sewing at the end! All stitches include both written and charted instructions. A few of the projects include a schematic for motif placement.
I'm impressed at the range of stitch choices shown as well as the variety of yarns shown in the sample projects.
PSG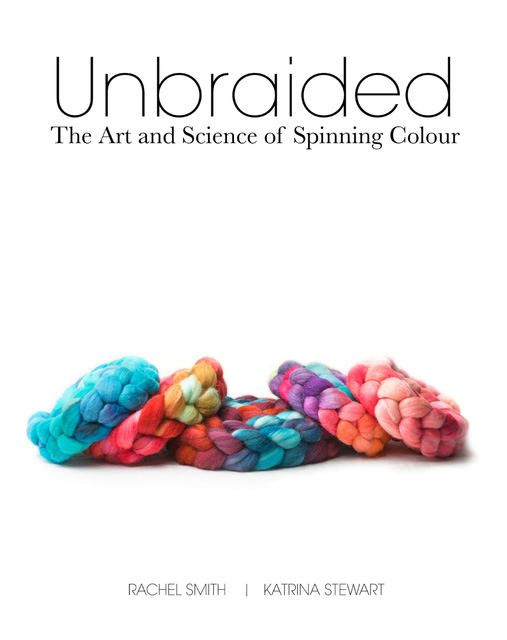 Unbraided: the Art and Science of Spinning Color
by Rachel Smith, Katrina Stewart
$32, paper book
$23.49 , ebook
I have been excited about this book since I first saw it mentioned on Rachel's social media. I knew the combination of Rachel and Katrina, both color fans, excellent spinners, and scientific thinkers, would make a beautiful and useful book. Unbraided is exactly that.
This book will give a spinner a greater feeling of ease when spinning dyed braids. The authors take much of the guesswork out of those sometimes intimidating spins by showing what a handpainted braid looks like spun (and swatched) in seven different ways. They take it a step further by taking three different styles of dyeing through each spinning technique.
The book is laid out in a methodical way. First, color in general is discussed, color and fiber, the types of yarn spun; then all of the wonderful samples are shown. The book is perfectly wrapped up with patterns to use with your colorfully spun yarn.
It's the type of book you can read from cover to cover, or use as a spinning recipe book.
The dye styles covered are analogous color, complementary color and color with white. The spinning styles are traditional 2-ply, center-pull 2-ply, traditional 3-ply, chain-ply, fractal 2-ply, fractal 3-ply, and combo ply.
It's easy to match the braid you want to spin to the style of dye, then choose the way you'd like to spin it from the menu of gorgeous photos of samples.
There is science-minded organization behind this book, which makes it easy to use and learn from, but it's never overwhelming or dry. The authors are always encouraging, and communicate such joy for color and spinning that you can't help but be excited to spin your next braid.

JM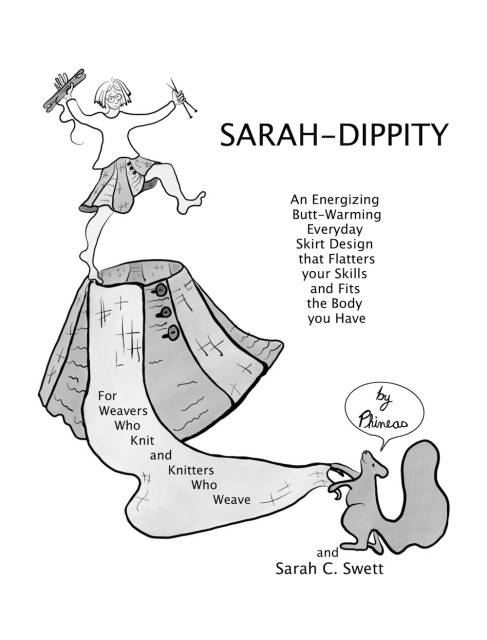 Sarah-Dippity: An Energizing Butt-Warming Everyday Skirt Design that Flatters your Skills and Fits the Body you Have
by Sarah Swett
PDF download
$7.00
I am forever in awe of Sarah Swett's creativity, and her commitment to being creative. She sees the shiny thing in her mind and follows it relentlessly, allowing it to transform into other things along the way. She makes it look easy, but anyone who does anything creative knows exactly how hard it is to follow that spark, while the world whistles at you from the sidelines.
One of Sarah's recent passions for backstrap weaving resulted in lots of beautiful long strips of cloth. This cloth triggered the idea to make a skirt combining her strips of cloth with knitting for shaping. This pattern for the Sarah-Dippity Skirt is our prize for her creativity.
It's brilliant, and she and her furry friend Phineas make it clear and easy in comic-style directions. You do not have to use backstrap woven cloth for these skirts, rigid heddle, or any woven cloth will do. The skirt is shaped with the knitting forming gussets between the straight-edged strips of cloth resulting in a skirt that fits your body exactly how you want it too.
Here's a blog post where Sarah talks about her skirts.
There is measuring, cutting, sewing, knitting to size involved in the pattern, but in her usual way, Sarah presents it as no big deal, and so you realize that it's not.
This is the perfect project for summer, getting to switch between different crafts, with all the bits easy to tuck in a bag and take along and it comes together like magic.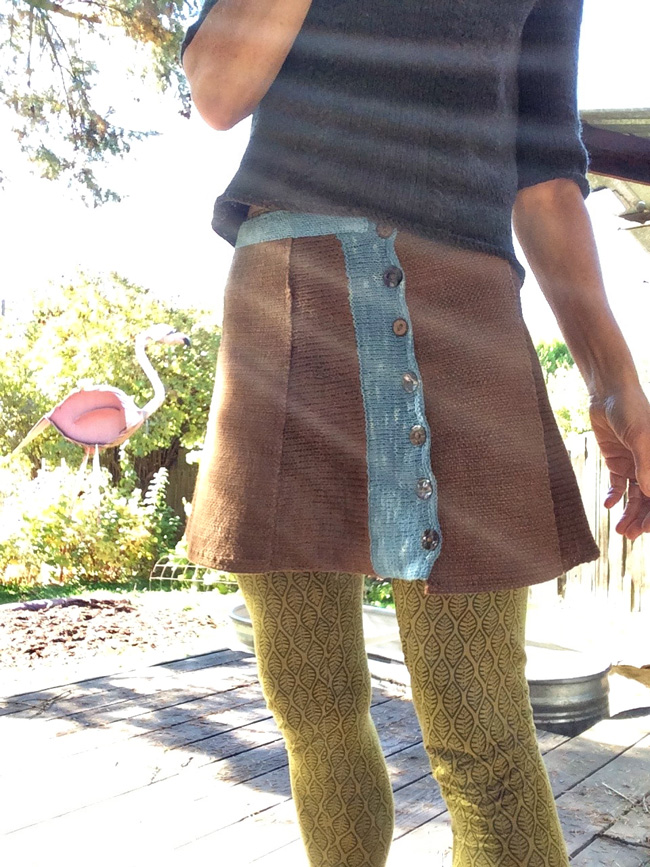 JM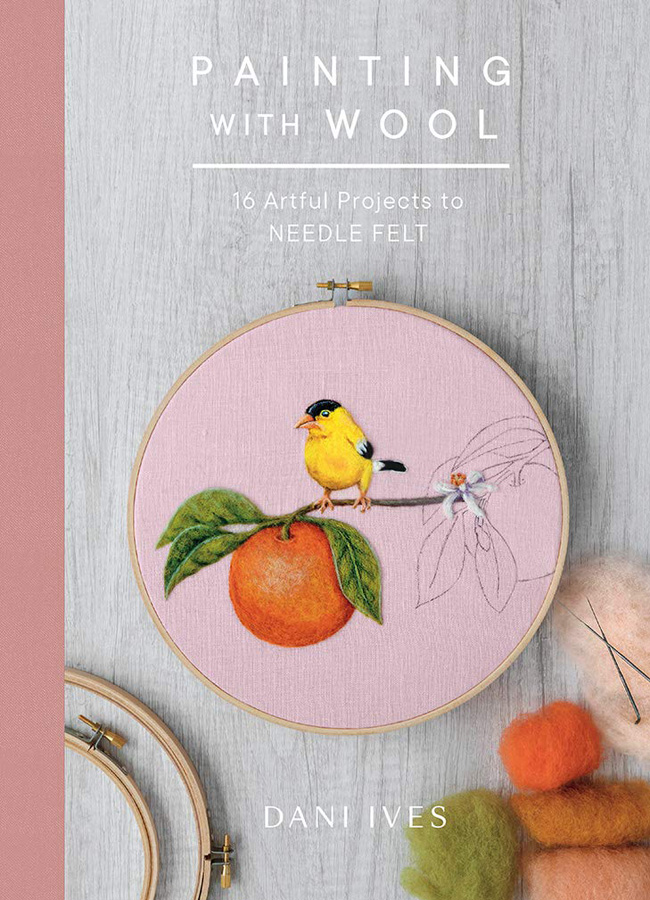 Painting with Wool: 16 Artful Projects to Needle Felt
by Dani Ives
Abrams
$24.99, hardcover
If you are a spinner, you've seen Dani Ives work gracing the cover of PLY Magazine's Corriedale and Bond issue. It's stupendous and so detailed – painting with wool is the right description.
I have never done two-dimensional needles felting, but this book is detailed enough that I feel I could gather all of my materials and sit down to follow one of the beginning patterns in the book.
She unrolls the basics in detail with words and photos. Then she somehow saw into my brain and answers the questions that popped up as I worked through the beginning steps. Things like how do I get this off of the foam block, what to do with the back, how to shade colors, how to make a straight line, etc.
Projects are level appropriate. They stay small, but ramp up in complexity of detail. There are time markers for how long a project takes for an average felter. I read through each project, even the ones that may be forever out of my reach, and learned even more from how the pattern is presented and tips for each pattern.
I will make one note about materials. The wool she calls for in the book is prepared batts, which is a carded preparation. She says you will be less successful if you use roving, calling it a combed preparation. We're currently in the midst of a shift of spinning terminology: roving is becoming a catch all phrase for commercially prepared fiber. To spinners and to folks that process their own fiber, roving is a carded preparation and top is a combed preparation.  I find it's best to be clear, rather than using a name use the definition, ask for carded fiber or combed fiber.
The two projects that have got me excited about stabbing wool are the Velvet Curtains with botanical shapes and the Forest Patches.

JM