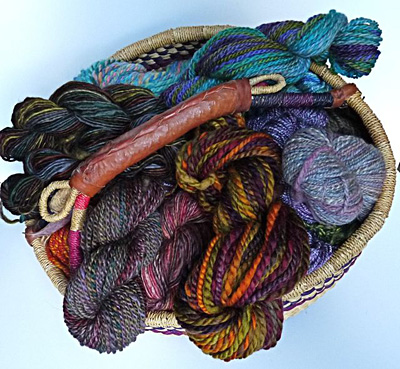 At its most basic it's simply this: Know Your Yarn; Swatch Your Yarn; Use Your Yarn


What are you working with? You fell in love with this yarn because of the color or the feel, what else can you find out?

Before you start knitting, it would be good to know all or some of these things:

What kind of fiber is it?
Yes, you can guess.

Why is this important?
Even if it comes down to saying it's soft or not so soft, that's something. Would you wear it next to your skin? Is it superwash? I wouldn't want to take a chance on lovely lace socks if I wasn't sure the yarn was superwash.

Even a little bit of fiber knowledge is important before spending time knitting for yourself or a gift.

What kind of spin is it?
Worsted-ish? Smoother, more lustrous, denser feeling, drapey. Or woolen-ish: fuzzy, matte, lighter almost fluffy.

Why is this important?
A fuzzy yarn will likely get fuzzier. Do you like that look? A fuzzy yarn may obscure some stitch patterns. Woolen yarns are visually softer, as well as being softer to the touch. Do you want your cables to have a soft look to them or do you want them to pop and look crisp? If you want a relaxed-looking cable, a softer, fuzzier, woolen yarn is for you. If you want crisp, popping cables, a smooth, worsted yarn is the way to go.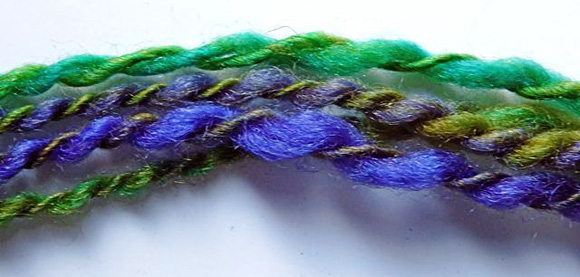 This super close-up photo shows a worsted and woolen yarn plied together. You can see the woolen spun yarn is all fluffy and the worsted spun is smoother and shinier; the two plies are the same fiber and colorway.
BFL fiber from Three Waters Farm
How many plies does it have?
Why is this important?
The number of plies can affect stitch definition. For example, a 3-ply shows great stitch definition for cables and texture stitches. Because it is a very round yarn, 3-ply tends to fill the holes of lace stitches, but less-round 2-ply is great for lace. The number of plies also affects strength: the more plies, the stronger the yarn.
How much yardage is there?
What can you make with it? Even if you have just a little bit of laceweight, it can be an accent or edging, or use it as a lace repeat for a pop of color. Be sure to see the chart below for approximate yardage for accessories.
What is the gauge - approximately? You can figure it out with Wraps Per Inch (WPI)
Before I talk about WPI, there's something important to do: Wash your yarn. Unless you yourself have just finished spinning and plying and have set your yarn, it's a good idea to give it a wash. If you've purchased it, the seller may not have washed it. If you've dug it out from your handspun stash, it may be flat and sad.

To wash: soak it in a bowl with a little wool wash and tap hot water. Let it sit for a few minutes. Rinse in water that's the same temperature, squeeze gently, roll in a towel, squeeze or stand on it, hang to dry.
Washing your yarn does a couple of things. It sets the twist in your yarn and it allows the yarn to relax and bloom if it wants to. A woolen yarn can change a lot from the time it is spun to after washing, as much as 2 or 3 wraps per inch or more, which changes the gauge.

Imagine knitting a sweater with a smooth yarn that knits at 5 stitches to the inch. You are finished and it's beautiful. You put it in water to block it and the yarn blooms. Now it's no longer a smooth yarn, it's fuzzy and the gauge has changed to 4 stitches to the inch. Ouch. Here's a tissue.

A singles yarn is really feisty before it's had a good hot soak. It has a lot of energy and twists on itself when the skein hangs open and has a definite slant when knit.

Wash your yarn.
One bobbin full of handspun singles that I wound off into two skeins, but washed only one. Look at the difference. One's twisty, the other's open. The WPI is also different by 1-2 wraps.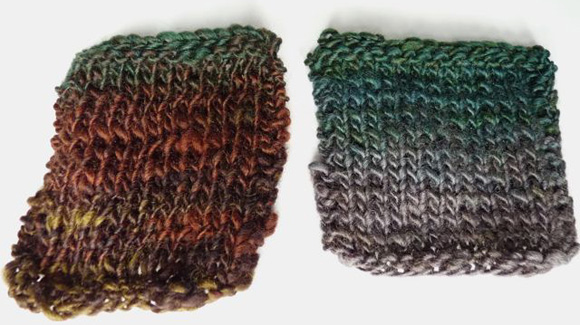 These are swatches knit from the unwashed and washed skeins. Notice the unwashed swatch [on left] is slanted to the right and the stitches look twisty? The swatch looks like it wants to crawl across the screen, which I kind of like, but not in a garment I want to hang straight. BFL fiber from Three Waters Farm
Now on to WPI. If you know the Wraps Per Inch (WPI) of a yarn, you can find a starting point for the gauge of your yarn. Here's a handy-dandy chart:
WPI & Knitted Gauge

WPI

Stitches per inch
in stockinette

Fingering

19-22

7-8

Sport

14-18

6-6.5

DK

11-13

5-5.5

Worsted

9-12

4-4.5

Bulky

4-8

3-3.5
Wraps Per Inch (WPI) measures how many times a yarn can be wrapped in a 1" length. To determine WPI using a ruler or a WPI gauge, wrap yarn snugly (not tightly) around ruler for 1". Yarn should just touch each other, not be crammed together.

Swatch Your Yarn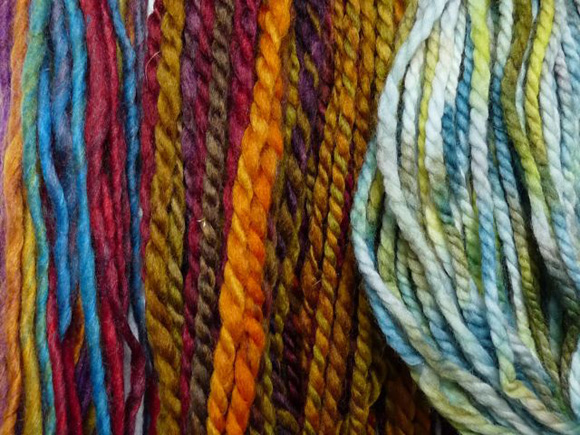 These are three yarns that measure 6 WPI, bulky. The middle yarn (red/oranges) is handspun. The others are a commercial single on the left, and a commercial two-ply on the right. BFL fiber from Three Waters Farm
Spend a lot of time swatching, more than you would for a commercial yarn, and knit a bigger swatch. Handspun yarn is rarely uniform. That's one thing I love about it, but it can make me crazy when it comes to gauge. I like a 6-to-8" swatch for handspun.
After you determine the WPI for your yarn try a needle one to two sizes bigger than you would normally use for a yarn of that type (according to the chart above). Handspun yarn is somehow bigger than commercial yarn of the same general size. It's due to the variation in handspun and to the fact that commercial yarns are made by machines and tend to be compressed.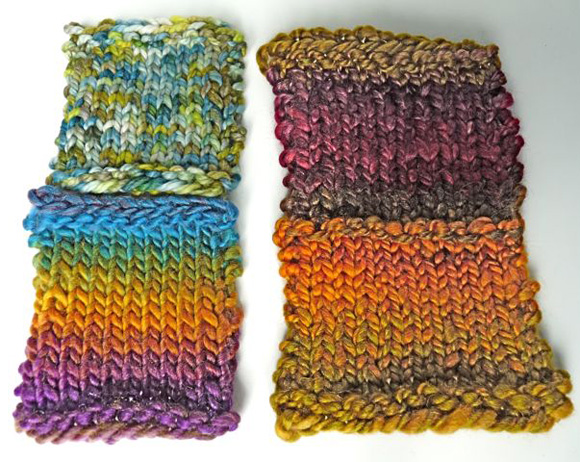 All three bulky yarns knit to a 3 stitch to the inch gauge, a happy gauge for all three, mostly. The swatches on the left are the commercial yarns. The swatch on the right is the handspun. The bottom part of the handspun swatch is the yarn knit at 3 stitches to the inch -- looks fine, maybe a little tight. The top part of the swatch is the yarn knit at 2 stitches to the inch -- a much happier fabric.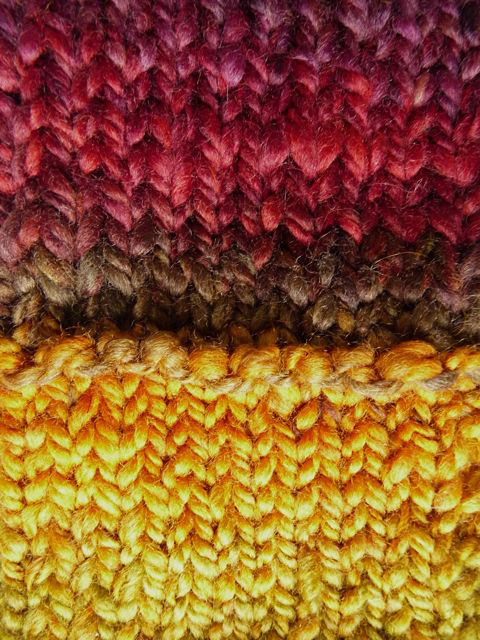 Even though this yarn measures the same WPI as the commercial yarns, it was a better knitted fabric when knit 1 stitch per inch bigger.
Vary your needle size and stitch patterns as you swatch, you will be surprised and excited by how your handspun behaves. If it is a variegated yarn, you'll also see how the colors behave or misbehave. I have many skeins of yarn that I didn't like how the colors looked in the skein, but turned beautiful as knitted fabric and the opposite, too. Swatching is the best way to get to know handspun

Use Your Yarn
When you're first starting out using handspun yarn for knitting, you probably won't buy a sweater's worth. Here's a little chart for how much yarn ish for accessories.
Use it as a ballpark amount; stitch patterns and gauge make a huge difference in yardage. Buy some yarn and play.
Fingering
7-8

Sport
6-6.5

DK
5-5.5

Worsted
4-4.5

Bulky
3-3.5

Scarf 8x60"

675

575

450

350

250

Hat – 20"

300

260

200

150

110

Mittens
Adult medium-large

300

260

200

150

110

Socks
Woman shoe size 8/ Man shoe size 11

400/500

350/450

250/350

200/250

NA

Shawl
Triangular, 24x60"
solid stockinette at stated gauge.
Lacey shawls approx.
use 30%-50% less.

1700

1500

1200

900

600
If you have your heart set on using handspun in a sweater but don't have enough, use it as an accent. Use a commercial yarn as a base, in a color that will make your handspun yarn sing, and have your hand spun for a yoke, button band, cuffs or collar. A great example is Ann Weaver's sweater King of Confidence [shown below]: the main part of the sweater is knit in Cascade 200; the yoke – handspun.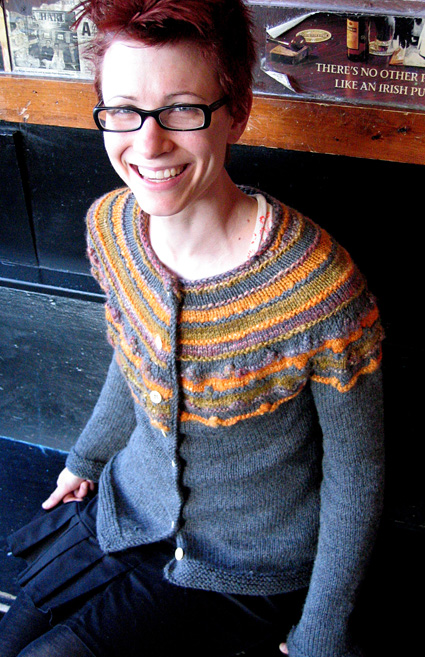 The bottom line is don't be intimidated by handspun yarn, use it for everything. Spend a little time getting to know a few handspun yarns and soon you'll be reaching for handspun as often (or more!) than commercial yarns.