Feature: Cool stuff
Cool stuff
SR [Finished chest measurement for sweaters] = the smallest chest measurement to the largest chest measurement we could find in the book. There may be only one pattern with the smallest or largest size, but it's in there. Books are softcover unless noted otherwise. All prices USD unless noted.
When you click on an Amazon affiliate link below and make a purchase, you're supporting Knitty. We thank you!
Jump to... Spinning | Other Crafty Things

Fresh (surprise!) reviews: April 2017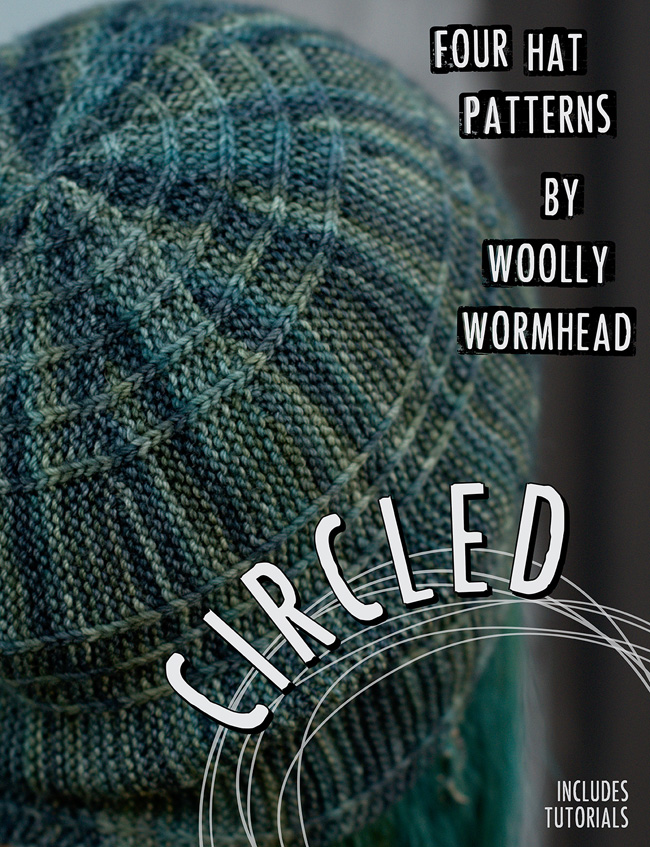 Circled: Four Hat Patterns
by Wooly Wormhead
$16, PDF
buy now at Ravelry
When is a hat not just a hat? When it is in the hands of the masterful Wooly Wormhead. Any hat that you knit of Wooly's design will be unique and you will learn more from that hat knitting and design-wise than you ever thought you could. But this new collection of hats will blow your mind. All four designs are developed around the idea of circles, Circled #1 is built on arcs, Circled #2 is a Fibonacci sequence, Circled #3 negative semi-circles and Circled # 4 is a top-down corkscrew spiral.
Circles are round, hats are round, 'what's the big deal? ', you might ask.
Are you sitting down? Do you have 4-ply/sock/fingering weight yarn at the ready? These hats are knit side-to-side, in garter stitch, with short rows and then grafted. Poof, that was my brain as I read through the book. The designs are so clever and interesting, I can't wait to start knitting and learning all the things.
Even before you get to the patterns there is so much smartness. There are tutorials for short rows in garter stitch and grafting in garter stitch (a tricky business). The way they are presented is just perfect – biggish step by step photos, but in black and white so you can focus on the knitting details not the, 'hey it's shiny, what's that colorway…' yarn.
The design of the book overall is gorgeous and makes great use of space. The photos are stunning, but never take away from the hats.
Get stuck in one of the patterns? Wooly won't leave you hanging. There is a Wooly Ravelry group with a special thread for these hats. Also check out the Rav page for the book, or Wooly's website where you'll find a lot of alternate photos.
This is a perfect book for any knitter that wants to learn clever construction on a smaller scale, or needs a cool looking hat.

JM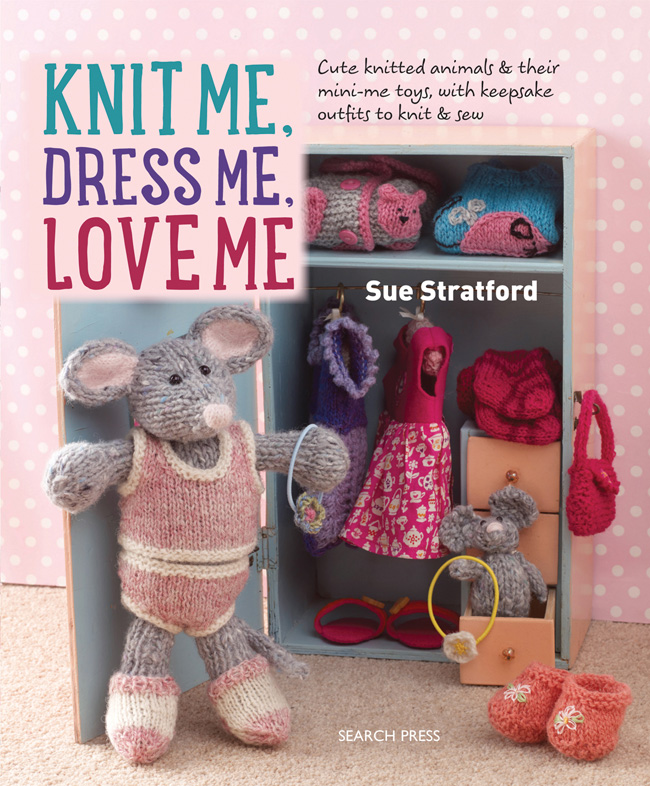 Knit Me, Dress Me, Love Me
by Sue Stratford
Search Press
$19.95
buy now at Amazon
I bought this book at the Edinburgh Yarn Festival, because I was utterly charmed. I showed it to everyone there, and I wanted to show it everyone here, too.
 
I love knitting patterns for toys of any kind - bears, dolls, creatures. And this one hits the jackpot! It's patterns for adorable creatures in doll-form, with patterns for various outfits to match! Each of the seven dolls – puppy, kitten, bear, panda, mouse, monkey and bunny – comes with a pattern for a mini-me. And the outfits and accessories – most knitted, but some sewn – are ridiculously cute and clever. There's a sweater or two, as you'd expect, but there are also dresses and jeans and shoes and socks and slippers and stripey tights (YES!!!! REALLY!!!) and pjs and even a house-coat and undies! The accessories are very pleasing: there's a little felt school satchel and bedding and books and a picnic basket and all sorts of other delights, all knitted or sewn.
 
The book itself is terrific: well-illustrated, with good patterns and helpful tutorials for key knitting techniques, and the sewing and embroidery skills required. The dolls are worked in worsted/DK yarn, and the clothes and accessories in fingering.
 
Although entirely appropriate for making gifts for babies and small children, this sort of thing may well appeal to adult knitters who are in need of smaller projects to use up leftovers, or just a dose of clever and charming cuteness.

KA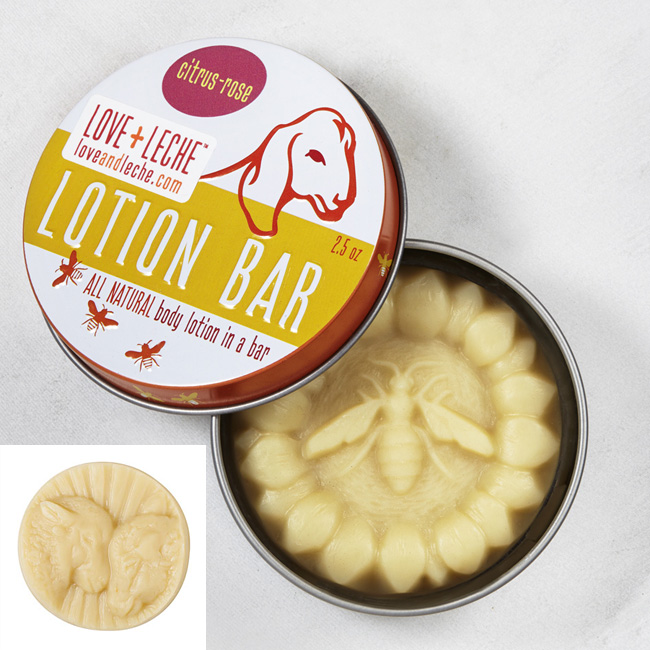 Sheep Shape Lotion Bar
by Love+Leche
$15, with tin
buy now at Love+Leche
Love+Leche lotion bars have a new sheep shape!

These lotion bars use your body heat to get the moisturizing oils and beeswax to melt into your skin.
I love these lotion bars. They don't spill or leak; I threw the one sent to me for review into my bag and didn't worry about it once, and my bag now smells great.
The bars leave your hands soft and smooth. Smooth enough to spin or knit with silk. The oils and wax take a minute to soak in, but getting deep moisture is worth a minute. I spend that time doing hand massage and stretching my overworked hands. When was the last time you stretched to help prevent a RSI? The oils soak all the way in they don't leave your hands greasy or sticky. You don't have to stop with your hands. I used my bar on my heels as part of a pedicure and my chapped lips.

Love + Leche Lotion Bars are made from all-natural, all-pronounceable ingredients: pure beeswax, coconut oil, almond oil infused with Certified Organic calendula flowers, and essential oils. They come in unscented and the following scents: cedarwood, citrus-rose, lavender, lavender-mint, lavender-rosemary and lemongrass.
The new adorable sheep shape was designed (as are all of their bars) by a sculptor local to Love+Leche in Santa Fe. Love+Leche locally sources many of their ingredients.
Love+Leche have a special offer for Knitty readers:
If you use the Coupon code: knittysurprise when you buy one lotion bar in a tin (min $14), you'll get a free mini balm sample ($4 value). Expires 5/31/17.

JM


200 Fun Things to Knit: Decorative Flowers, Leaves, Bugs, Butterflies, and More!
200 Fun Things to Crochet: Decorative Flowers, Leaves, Bugs, Butterflies, and More!
edited by Victoria Lyle
St Martin's Griffin
$24.99 each, hardcover
A little something springy for everyone, knitters and crocheters alike! This nicely designed book features all sorts of little whimsies to work up in leftover yarn. My favorite aspect of the book is the beautiful index at the front that shows off all the projects contained within, using large pictures. So much easier to browse the options available this way!
When you get to the pattern you want to work up, each has more photos of the project. The crochet book features written instructions (and some patterns have stitch charts) and the knitting book has full-color charts where appropriate. Both have technique tips from construction to finishing. The books feature the work of Lesley Stanfield, Betty Barnden, Jessica Polka and (Knitty favorite) Kristin Nicholas.
A delightful pair of books!

AS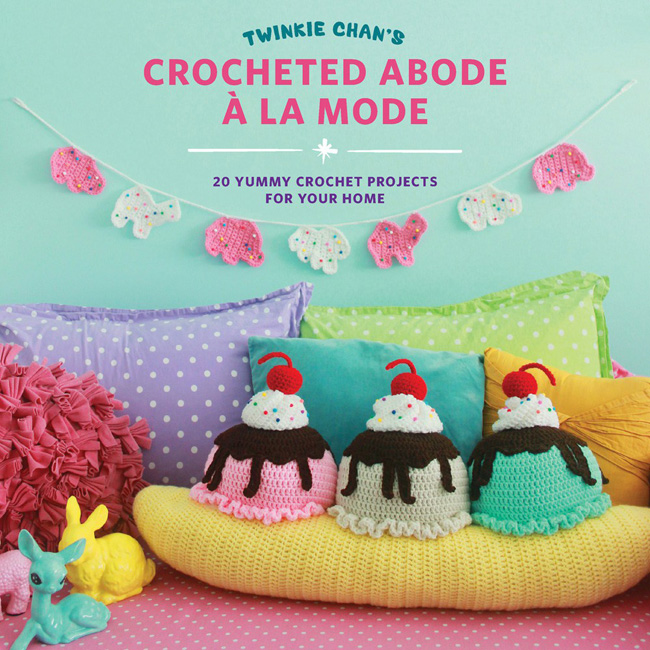 Twinkie Chan's Crocheted Abode À La Mode: 20 yummy crochet projects for your home
by Twinkie Chan
Creative Publishing International
$21.99
buy now at Amazon
Freaking adorable and ridiculous, but in the nicest way. A square hamburger-shaped tissue-box cover. A seat cushion shaped like a cherry pie. A licorice allsorts afghan, people. A clever, silly, super-fun crochet book with clear instructions, including illustrations about where to put your hook to do the finishing border round (including decreases) on the cookie-elephant garland, and photos of other techniques.
It's just way too much fun, and I defy you not to find at least one pattern that makes you smile big. I am hankering to crochet the big donut floor pouf. Or maybe that afghan. Because COME ON.
Crazypants fun.

AS

Knitting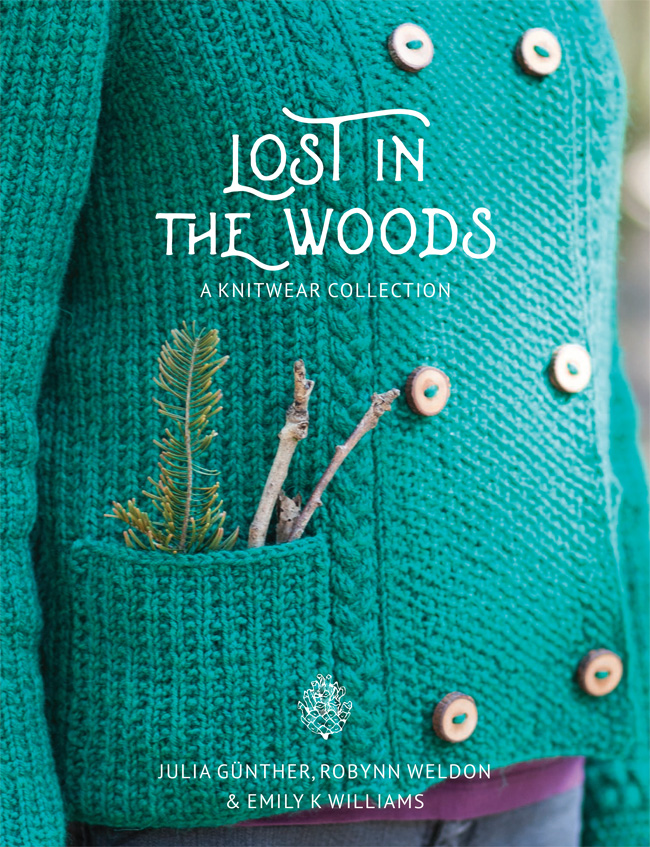 Lost in the Woods: A Knitwear Collection
by Julia Günther, Robynn Weldon and Emily K Williams
€25.00 EUR for complete e-book
Individual patterns €5.00 EUR and up
SR=31.5-53.5"

buy now at Ravelry
Do you remember when indie-published books used to look like stuff we made in high school? And then they got technically better, but the design of the books? Um.
Then both technology and the skill of the designers producing these books leapt forward, and we can now look forward to books like Lost in the Woods -- beautifully curated collections of exceptionally professional designs, from the photography, to the book design, to the outstanding patterns contained within.
Right from the start, I was blown away by the cleverness of the first design, Dounduff, by Emily K Williams. The spiral of openwork she's carved into the yoke is so simple, so perfectly eyecatching. The rest of the book follows along like that. Beautiful pictures of the woods this book was inspired by, and pattern after pattern that makes you want to reach for your needles. I particularly like the Ruskanval wristwarmers, Braevall cardigan, and the jaw-dropping Pravigan brioche scarf worked in two colors of silk/mohair.
Sizes for each pattern are marked out in different colors, so you can spot your size throughout the pattern at a glance (nice touch!), and the type is clear and easy to read. Projects range from easy to more complex and if you're not in the mood for a whole book's worth, you can buy any of the patterns individually.
A lovely, lovely book.

AS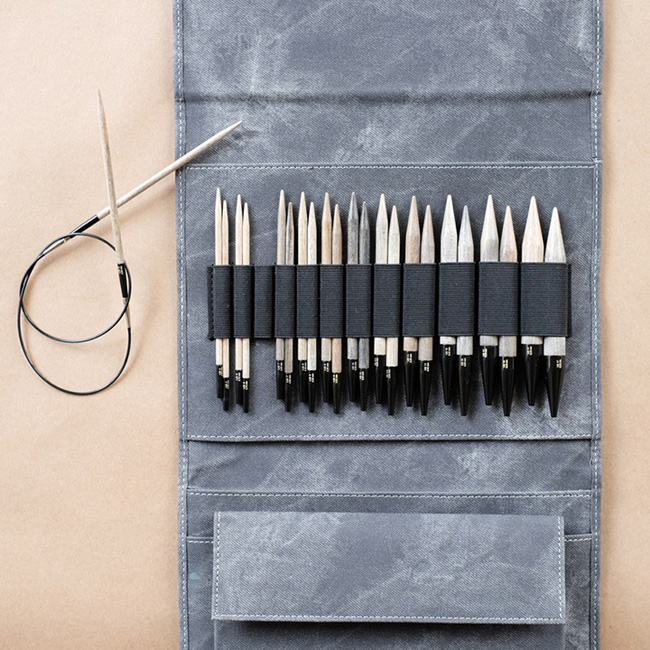 Lykke interchangeable needle set
available at Fringe Supply Co.
- 12 pairs of needle tips, sizes US#4-US#17
- 5 cables (two 24", two 32", one 40"), 4 keys, 2 cord connectors and 4 stoppers.
- grey faux waxed denim folding case with magnetic snap closure and interior pocket
- made in India
$125.00
buy now at Fringe Supply Co.
An email newsletter from Fringe Supply Co alerted me to the existence of these needles, and within moments, I'd written to them to obtain a sample for review. They looked smooth and elegant, with a well-thought-out case that one would be proud to have among their knitting supplies. But are they as lovely to knit with as they are to look at?
I had no idea how much I would love these needles, until I got my hands (and yarn) on them. These delicious things are not flawless. The first time screwing the needle tips on the shiny black cables, they needed a bit of extra force. But once properly attached, they stay put and do not come loose, and don't need to be bullied onto the cables ever again. There's something charmingly handmade about that.
The needle tips look unique, one from the other, and make a beautiful collection. The base wood is white birch, and each needle takes the grey finish a little differently. It makes them look like they were painted with watercolors.
The key question with circulars: how is the join from wood to connector and connector to cable? Smooooth, baby. Just lovely. The needles do not swivel on the cables, but I don't find that bothersome. I also love that the size of the needle tip, in both US and metric sizes, is deeply engraved into the connector and highlighted with gold. Now that's practical and even a little bit fancy. The black cable is nicely flexible.
The case is part of the attraction of this set. It's just really pretty. There's a sized elastic band space for each pair of tips, so that they fit in snugly. There are extra pockets for the cables and connectors and more notions besides on both the inside and outside of the case. So nicely designed.
I've been knitting on a scarf for someone special with these needles and am loving them. Smooth, strong, and dependable. Add that to beautiful, and you have a wonderful set of interchangeable needles.

AS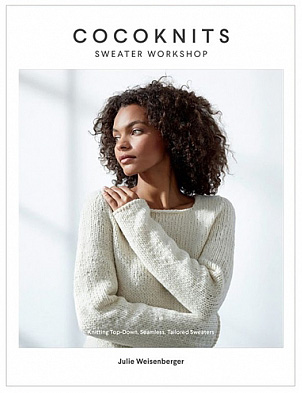 Cocoknits Sweater Workshop
available at Cocoknits
$35.00
buy now at Cocoknits.
I make no secret of being a Cocoknits fan. I love elegant, simple shapes in knitwear and embrace acres of stockinette. It's zen to knit and I love how it looks. I've knit several of Julie Weisenberger's patterns already, and can't wait to knit more.
Maybe you've seen this book's cover, and thought "big whooop. Another top-down raglan sweater book." You couldn't be more wrong, my friend. This book is about tailored shapes, with clever – but not crazy complex – construction so that they look gorgeous and flatter the body. And it's not about raglans...there's not a raglan in the book! Instead, Julie's patterns use a tailored yoke plus a simple-but-brilliant sweater Worksheet that you customize with your own measurements to indicate where to add shaping and other details. The Worksheet is the genius system behind Julie's method. Color-coded, and easier to follow than traditional pattern instructions.
All the sleeves are knitted in place with proper sleeve caps! The fit that results is much more elegant than you might expect from garments with such an easy feeling. There are no shapeless sacks here. And because the sweaters are all knit top down, you can try them on for fit as you go.
The book teaches you Julie's method for knitting these top-down tailored sweaters, starting with the ingeniously shaped yoke (check out how the shoulders meet the back!). If you're having trouble visualizing the method of construction based on this review, you won't have that problem with the book in hand. There is a super-clear tutorial that shows, step by step, how these sweaters are put together from the very first stitch with crisp photos and succinct descriptions.
There are 9 patterns in the book, but you could think of them as 9 silhouettes. There's so much room for customization that you could knit the same pattern multiple times and each one would look very different. The sweaters are knit flat and in the round on circular needles, and they're seamless.
There are sections on which styles Julie suggests for particular body types, and a comprehensive photo tutorial at the back for some of the techniques you might not be familiar with, like false grafting and knitting around corners.
I look at this book and I can see Diane Keaton wearing most of these sweaters with a collared white shirt underneath, slim pants and amazing shoes. Actually, I can see me wearing most of these sweaters. I'd better get to it.
Buy this book. You can buy the shoes later.

AS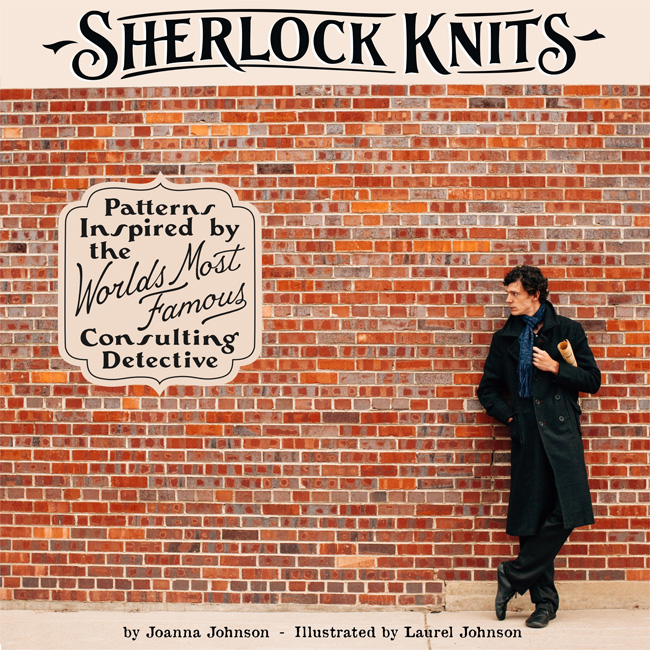 Sherlock Knits
by Joanna Johnson
Slate Falls Press
$12.95
SR: 36-48"
buy now at Amazon

Like her previous book, Green Gables Knits, the patterns in this book are for readers rather than watchers. You see Sherlock and may think of the BBC series, but these patterns come from the Arthur Conan Doyle stories, not the series. There are ten patterns, each tied to a classic Sherlock Holmes tale. Each pattern starts with a quote from a story that inspired the pattern. There is a cardigan for John Watson, a tea cozy for Mrs Hudson, Sherlock's scarf and ubiquitous Deerstalker, a vest for Lestrade, a cowl, a shawl, socks, arm warmers (for The Woman) and a Casebook (iPad) cover. The designs are beautifully executed in luxurious yarns and cleverly designed. The shawl inspired by The Speckled Band alternates chevron stripes of solid and speckled yarns. That shawl and the surprisingly textured and interestingly pocketed Sweater for John are my favorites.

The patterns in this book a worth a look even if you aren't a Sherlock fan.

JM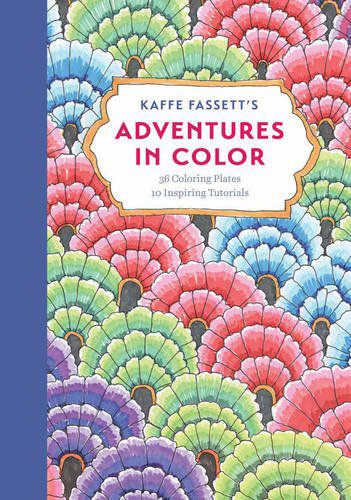 Kaffe Fassett's Adventures in Color
by Kaffe Fassett
Abrams
$15.95
buy now from Amazon
Well, it took them long enough!
When coloring books for adults started taking off, I kept waiting for Kaffe to make an appearance. His designs for both knit and quilt beg to become outlines for us to color with spectacular sets of pencils or markers. They are inspiring and familiar. But of course, Kaffe couldn't do just a coloring book. This has 10 coloring tutorials on things like mood, blending, watercolors and contrast.
The pages are drawn by Kaffe (and there are some colored samples) for the book of things that inspire him: a rooster, a bundle of carpets, a Chinese dragon and Ikat robes. I was quite happy to see Foolish Virgins in the mix. The book itself is a beautifully bound paperback. The paper is heavy, suitable for pencils, marker or watercolor.
This is a standout in a saturated market.

JM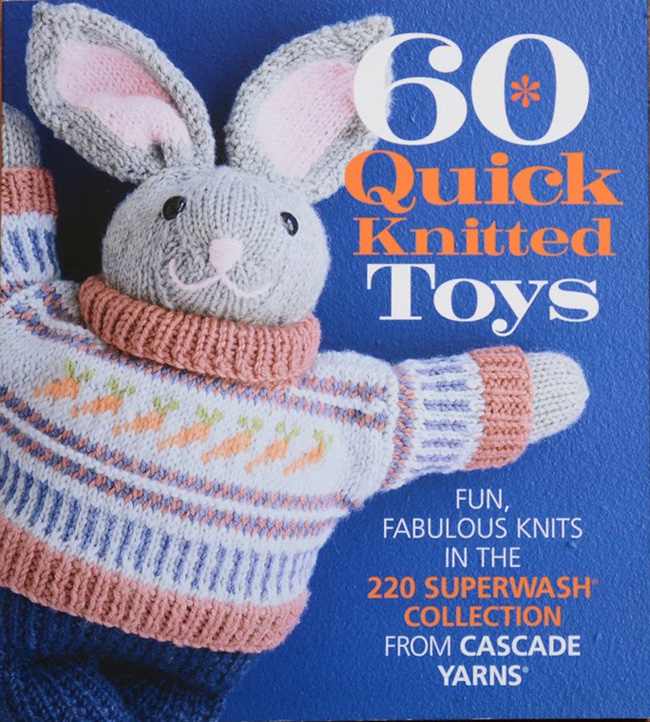 60 Quick Knitted Toys
Sixth & Spring
$17.95
buy now at Amazon
Are you in the market for a toy for a gift or just as a new friend? Look no further than 60 Quick Knitted Toys.
The book keeps the promise of the title. Inside you'll find animals, games, dolls and even a knitted castle and tools. The scope and scale of the toys ranges from cute to adorable, from 3" fish to a 30" square tic tac toe set. Nothing is too difficult and everything is knit from Cascade 220 Superwash, so it can handle all the love from sticky handed littles or a spilled cup of coffee from an officemate.

JM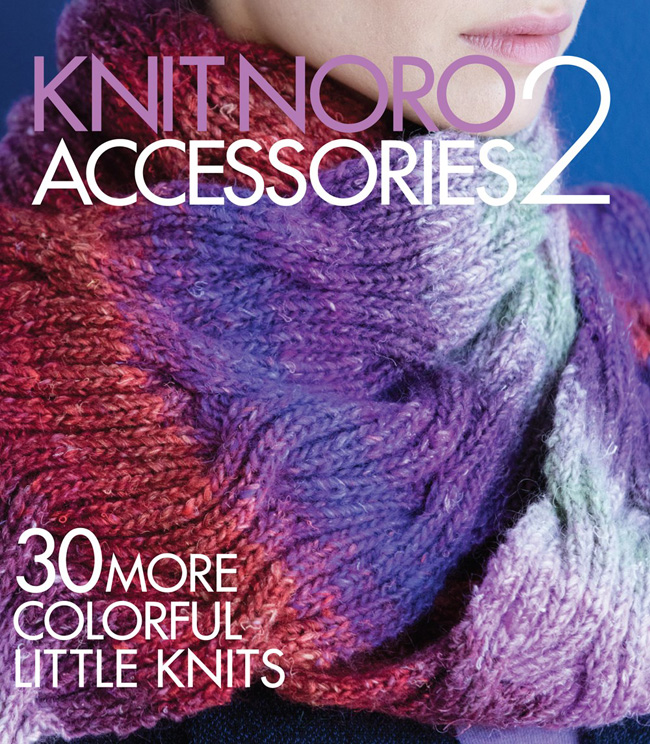 Knit Noro Accessories 2: 30 more colorful knits
Sixth & Spring
$24.95
buy now at Amazon
Noro never gets old for me. I love the colors, I love how it looks a lot like handspun. If I run out of Noro in my stash I don't feel quite right until I've refilled that hole. Noro can even make me say, "that's cute" about a poncho/cape. Really. Noro, the yarn, is made so that even the simplest of designs with a little twist look really lovely, with the bonus that they are usually quick to make.
In this collection of accessories there are hats, mitts, shawls, scarves, socks all with a little twist in pattern or yarn selection. My favorites are The Turtleneck Cape, Columned Shawl and Wavy Eyelet Cowl.
Remember how I said I like Noro yarn because it reminds me of handspun yarn? These patterns all would look spectacular in handspun.

JM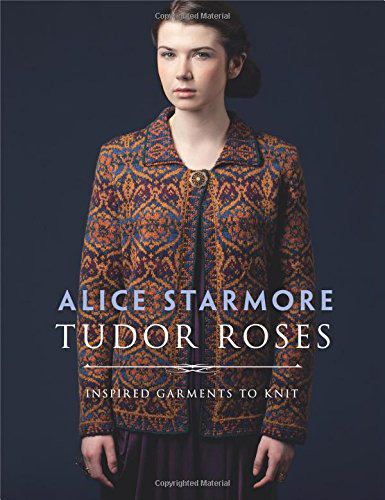 Tudor Roses (reprint)
by Alice Starmore
Dover Publications
$29.95
buy now at Amazon
This is a paperback reprint of the exquisite Alice and Jade Starmore's 2013 recreation of 1998's Tudor Roses. 2013's Tudor Roses had new sweaters and all new photography. The designs span the women of the Tudor dynasty from Elizabeth Woodville to Mary, Queen of Scots.

To say the sweaters and the photography are stunning is to just scratch the surface. This is a knitting book of sweaters so finely wrought that just looking at the pictures will excite and inspire you. Even if you never plan on knitting one, you will go back to look at the designs like they are fine art.

JM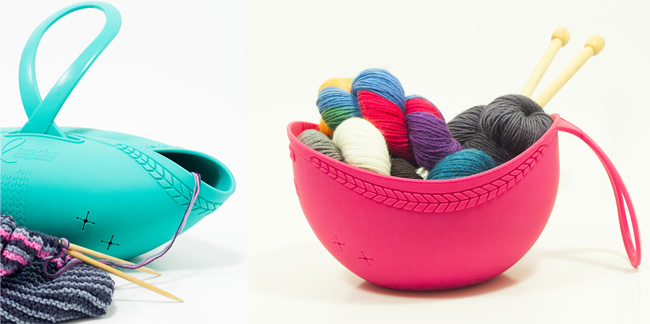 Project Caddy
Lazadas Knitting Accessories
$49
15" diameter , 5" high
buy now at Lazadas
It's a bowl! It's a bucket! It's the first project caddy that will protect your knitting from damp bartops!
This is the most unique project bag I've ever tried. It's made of silicone and goes from being a yarn bowl to an on the go project holder with handle, just by slipping the looped handle into a slot.
Here are the things that I really like about it. It's made of magic, rubbery, but not sticky material. It does not snag yarn at all, anywhere, not even yarn threaded through the side guides. I like the open bowl when I'm knitting. My yarn could move around but not leap free, even the hand-wound balls. It's quick to make travel ready and toss in a bigger bag or carry along.
I had to be careful how I packed it. It doesn't close completely. I had to be vigilant about not just tossing stitch markers or other tiny things into the caddy. Even when closed, the opening would let tiny things fall out. Since it's not fabric like most project bags, it doesn't squish like fabric. I learned while using this just how much I abuse my project bags – they get squished into bigger bags at the last minute and I couldn't do that with this bag.
It is a great project caddy. I take it out a lot. It's perfect for endless waiting and for bar knitting. Unless someone spills directly on your caddy, your yarn will stay blissfully dry.

JM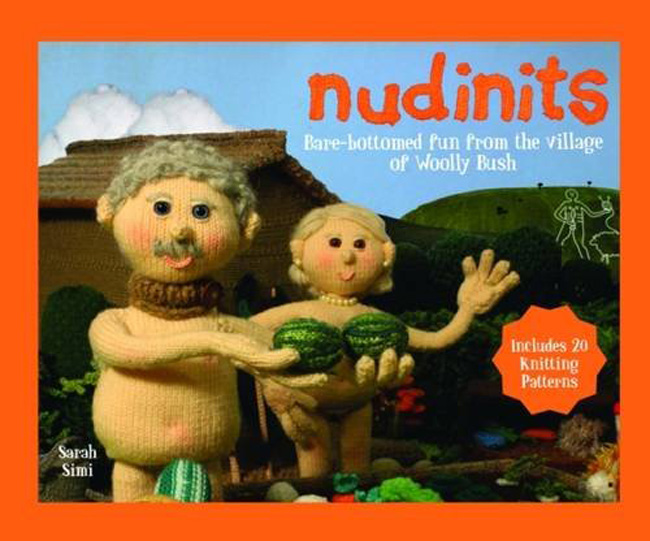 Nudinits: Bare Bottomed Fun from the Village of Wooly Bush
by Sarah Simi
Pavillion
$14.95, hardcover
buy now at Amazon
I love the Nudinits, from the tips of their noses to their rosy bums. I was first introduced to them by our Tech Goddess, Kate Atherle,y when she sent me their Abominaball Snowman short video in the midst of the holiday craziness. It's excellent knitted stop animation. In the few minutes it took to watch it, I went from being stressed to giggling over the silliest sexy suggestions. Warning: knitted nakedness.
The Nudinits live in the knitted village of Woolly Bush, where they go about their work and life au naturale. Both the videos and the book are saucy and hilarious. If you are a fan of snappy patter filled with double entendre and knitting, you will love Nudinits.
The book gives me the same fits of giggles over the innuendo, but the book has the addition of being a little Where's Waldo, while I try to find every single joke.
It's cleverly written and the knitted page spreads are filled with detail.
The book has 20 knitting patterns. There are patterns to make Barbara and Bernard, and a whole host of things found around Woolly Bush. Each single item is counted as a pattern, so a tea set with a teapot, a cup, saucer, sugar bowl and cakes would count as five patterns. There are enough patterns for you to make up your own goings on in Woolly Bush. But no one is picking this book up just for the patterns!
This cheeky book is endlessly entertaining and the perfect book to leave laying out when someone who thinks knitting is just for grannies comes calling.

JM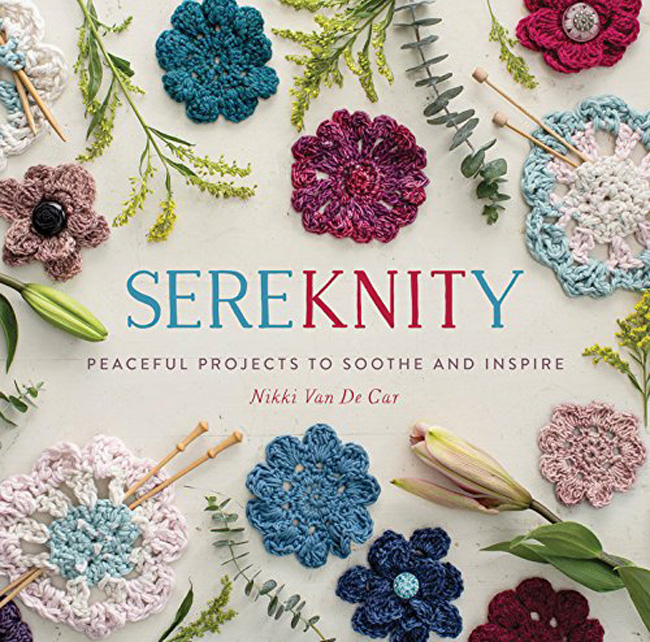 Sereknity: Peaceful Projects to Soothe and Inspire
by Nikki Van De Car
Running Press
$15.99
SR= 34-46"
buy now at Amazon
Eagle-eyed needle workers will notice that the cover of this knitting book is crocheted flowers. This book should probably be called Sereknity and Crochet, since there are more crochet patterns than knitting patterns. I love to see a good variety, but I don't want someone who does not crochet to order this book expecting all knitting patterns.
That aside, this is a wonderful, calming book. It's filled with patterns that are easy to work, encouraging the maker to find the meditative rhythms in their project.
The book is separated into three sections: Color, Texture, and Structure, with each section's patterns emphasizing the element of their division. The patterns are for things that soothe – cozy hats, washcloths to give, a cardigan, a shrug, scarves, mitts and mittens...mostly small things, easy to take along to work peacefully, and easy to give and use to feel comfort.
If you need to step out of the stress of everyday or need a comfort gift, look to this book for the perfect pattern.

JM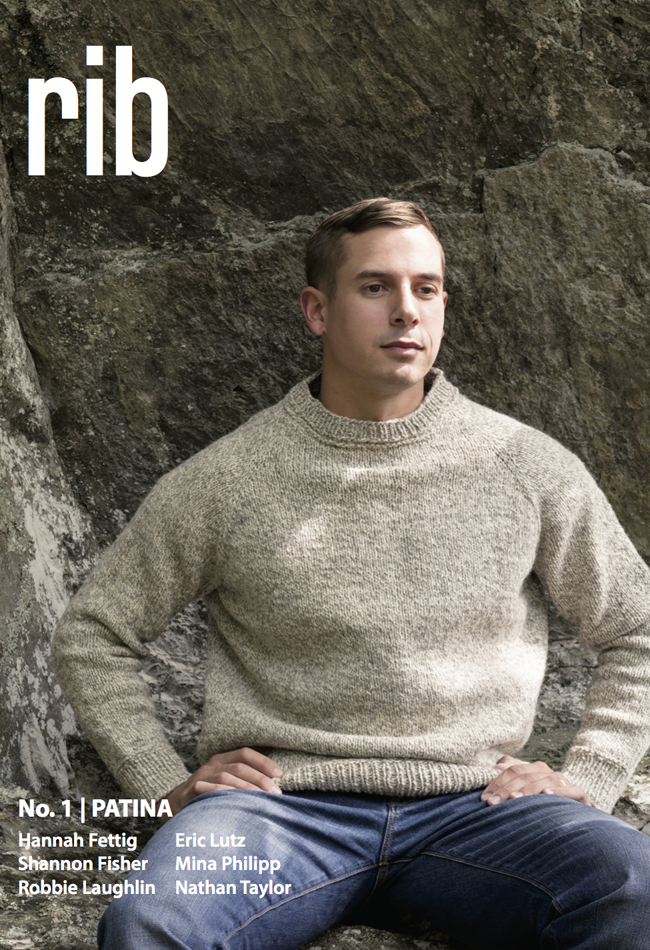 Rib Magazine
$20, includes shipping
There's a great new men's knitting magazine out and about: Rib.  Erick Lutz and Devon Johnson, Rib's editors, have produced a magazine that not only makes me want to immediately grab the nearest yarn and needles and cast on, Rib is also the sort of magazine that very seductively invites the knitter, male or otherwise, to sit down and spend some quality time with it.  The magazine is a great size, has incredibly beautiful photographs, and is made of that paper that feels wonderful to the very sensitive fingers of a knitter.
The patterns in Rib's premier issue are great, a classic plain stocking stitch raglan, an intriguing half stocking stitch/half gansey raglan, Aran fingerless mitts, patterns for a hat, cowl, and scarf, and a great gansey-patterned pillow cover.  The patterns are all for items that I (your basic tee shirt and 501s sort of male knitter) can see myself wearing.
The premier issue of Rib also includes stories of male knitters.  As a member of that tribe, I love reading about my fellow male knitters...hearing their stories and comparing them to my own helps put we intrepid males into a context...something I really enjoy.  Thank you, Shannon Fisher!
Finally, the sour cream on the potato soup (as Elizabeth Zimmermann would say) is that this issue of Rib concludes with a recipe for a Negroni.  One can only hope all subsequent issues will be so embellished.
In sum, Eric and Devon have done a great job!  My most sincere thanks to them.  Now I'm going to go try to find room on one of my knitting magazine/book shelves, I have a feeling this is going to be a long and very happy relationship.

GC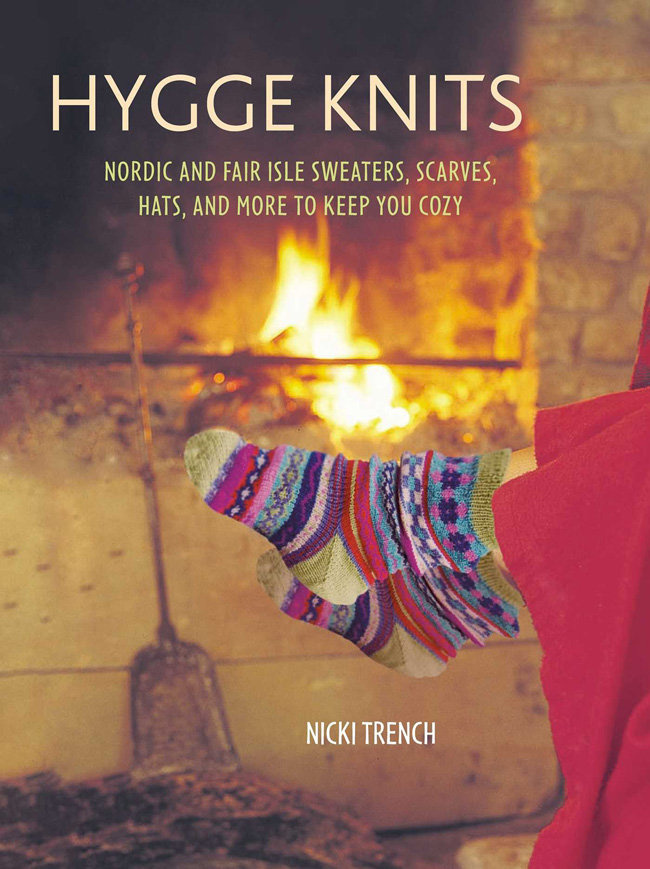 Hygge Knits: Nordic and Fair Isle Sweaters Scarves, Hats and More to Keep You Cozy
by Nikki Trench
CICO Books
$19.95
SR= 33-45"
Buy now at Amazon
Knitting is the perfect skill to celebrate Hygge, a Danish term that very loosely means "warmth and friendship". These 20+ colorwork patterns are about as cozy as you can get. Sweaters, hats, toys, pillows, socks and scarves are all knit in clear colors from luxury yarns. Nothing is too tricky to knit and projects range in gauge from socks knit at 8 stitches to the inch, to a pillow at 2.5 stiches to the inch. You can pick your groove fast and furious or more detailed a leisurely.
These are good basic patterns to keep you and your loves warm and happy.

JM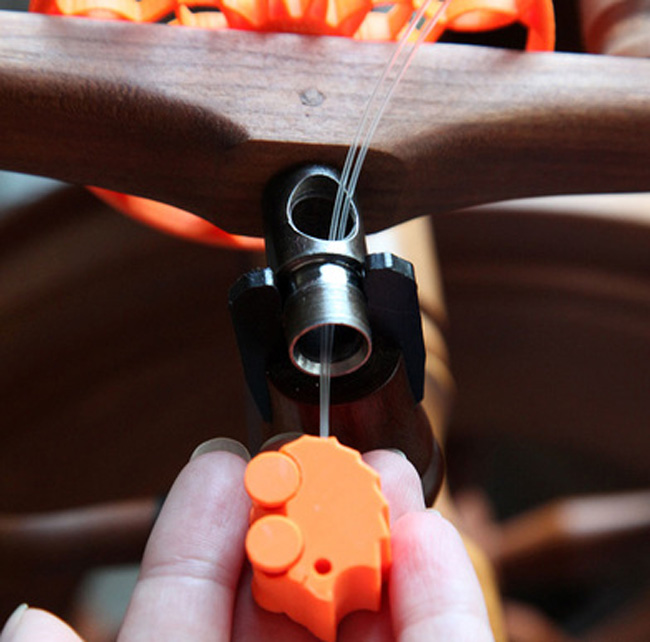 photo above: Evanita Montalvo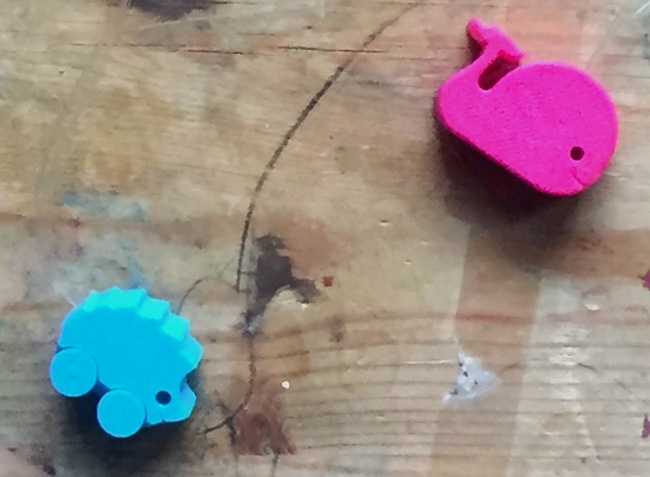 Flyer Threaders
by Akerworks
Whale or Hedgehog
$12
Everyone needs a little someone to talk to when they're spinning – a little friend to share secrets or assure you that your color selection is 100% perfect. If this spinning friend can be an adorable hedgehog or whale and help you thread your orifice, it's even better.

Akerworks is known for their unique spinning tools, bobbins and spindles that glow like a bouquet of flowers and hold a ton of yarn. They make the lightest travel Kate you'll ever use. These flyer threaders are not only cute but really useful. The threading loop is 6-inches long and is flexible enough to get into orifices that are tiny or have steep angles, and the loop is big enough to use with super bulky art yarn. They come in every color that the Akerworks bobbins and spindles do, so you can coordinate your spinning tools.

JM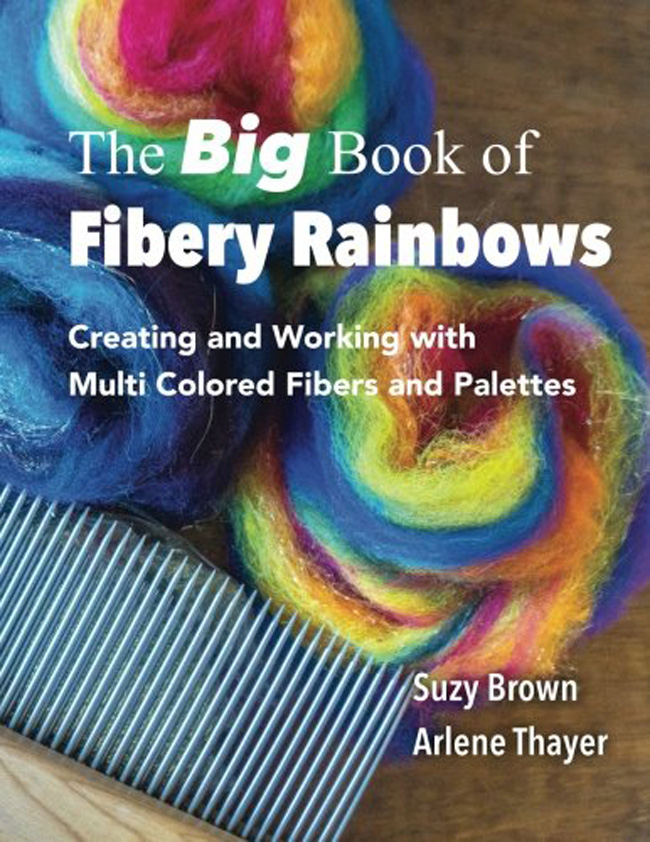 The Big Book of Fibery Rainbows
by Suzy Brown and Arlene Thayer
$33.95
Do you want to spin art yarns in glorious colors – bright or muted – but aren't quite sure how to combine colors, prepare colors or use fiber prep tools like a drum carder or a hackle? Plus do you want to dive right in without pages of technical information on color theory or using tools? This, my spinning friend, is the perfect book for you!
Suzy and Arlene start by giving you a just-the-facts tour of color, using a rainbow as a color guide, making color ideas much less intimidating. They introduce you to nine different rainbow palettes and include color recipes for each palette. Then comes fun with blending tools. The tools used in this book are a drum carder, combs, a hackle and a blending board. They make what is sometimes daunting seem easy, showing you how to use each tool, how to create colors and different rainbows with each tool, and all-important troubleshooting.
Spinning particular art yarns (15 different yarns), using your freshly prepared fiber is an exciting section of the book. I made me want to set up a table of tools and fiber and my wheel and then run back and forth between them creating original fiber rainbows and spinning then into yarns called WoolWench Mist Yarn or Rainbow Clouds. There are also sections on finishing your yarn, rainbows to be inspired by and a gorgeous gallery.
The book itself is well thought out and easy to follow. It has bold, bright photos on clear white paper. They even used a bigger than usual font, making it easy to put your book near you and work on blending or spinning and still read the directions.
What an inspiring book; it brings real excitement to preparing and spinning colors into art yarn!

JM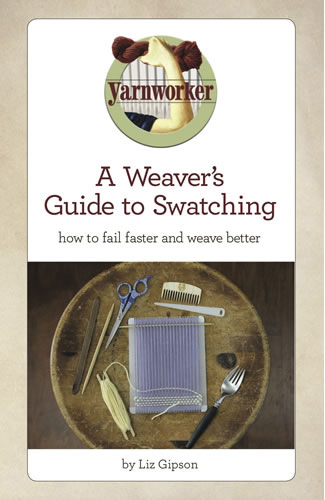 A Weaver's Guide to Swatching: How to Fail Faster and Weave Better
by Liz Gipson
$12-22
buy now at Yarnworker
Liz Gipson loves to swatch and that, if nothing else, makes her my friend. She knows all of the secrets of swatching for weaving, the short cuts, exactly what to swatch, and what to fix when things aren't right. She shares it all with you in this little book, starting with the very basics: how to set up and swatch. She gives you the essentials on swatching, how to do it and what to change to improve your cloth.
Swatching for a weaving project (like knitting and spinning) will make your finished cloth what you want, but the process of swatching and swatching again will make you a much better weaver.
Liz makes it painless. Her writing is friendly and straight to the point, but she explains the whys and hows thoroughly.
Come on over to the swatching side, you might just like it!

JM

Oldies but goodies: Natural Dyeing

There is so much interest in natural dyeing now, so here is a quick round up of oldie-but-goody books. Some are straight reprints, some updated. These aren't as beautiful as the new books on dyeing, and most have no photos, but they still contain good, interesting and sometimes unique information.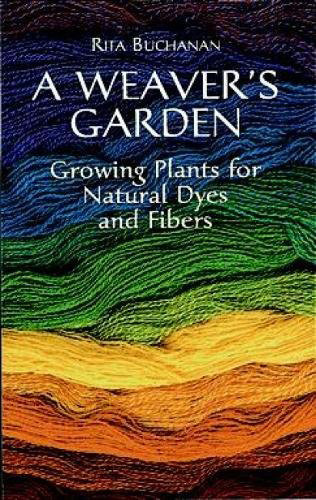 A Weaver's Garden: Growing Plants for Natural Dyes and Fibers
by Rita Buchanan
Dover Publications
$12.95
buy now at Amazon
An excellent book originally published in 1987 by Interweave and saved from out-of-print status by Dover.
It's a reprint; there is no new material. If you don't know about this book, give it a look. There is more than dyeing here. Almost half of the book is devoted to knowing and growing plants for dyeing. There are also chapters on plants to spin, plants for sachets (to deter moths), soap plants and plants to make textile tools.
It is book full of useful knowledge and a book utterly unique in the textile world.

JM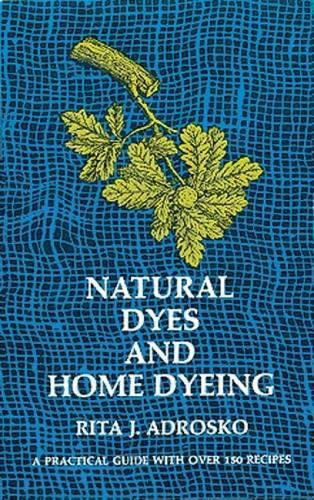 Natural Dyes and Home Dyeing
by Rita J. Adrosko
Dover Publications
$10.95
buy now at Amazon
If you are interested in the history of natural dye, this book will be interesting to you. Originally published by the Smithsonian Institution, the most interesting bits of the book are the histories of dyestuffs by color. Even the appendices have fascinating historical recipes for dyes.

JM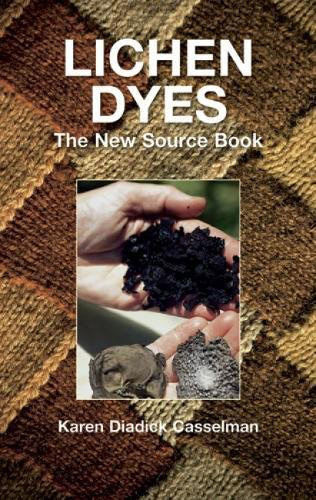 Lichen Dyes:The New Source Book
Karen Casselman
Dover Publications
$9.95
buy now at Amazon
This book has great charts of the colors particular lichens will dye, and dye recipes. It includes an international history of lichen dyeing, and methods including solar dyeing. The book concludes with an important chapter on the ethics of gathering and using lichens. This book was originally published in 1996 and revised in 2001 with 40% updated material.

JM