Tourbillon is a Fair Isle pattern that I improvised to experiment with crown shaping.

Traditional Fair Isle Tams often have centered crown shaping, with centered double decrease stitches traveling straight up, forming a star shape. But that's not the only way to shape the crown. I chose to decrease the stitches toward the left side with SSK (except the first 3 decreasing rounds in which S2KP double decreases were used to maintain a smooth pattern transition). The end result is a swirl that twists clockwise. You can also try to decrease the stitches toward the right side with k2tog to get a counter-clockwise swirl.

model:

Susan Wu
photos: Angela Wu
FINISHED MEASUREMENTS
Brim Circumference: 18.5 inches
Body Circumference: 26 inches
MATERIALS
Yarn
Jamieson's Spindrift Shetland [100% wool, 115 yds per 25g ball]


[MC] 101 Shetland Black; 1 ball


[CC1] 868 Leather; 1 ball


[CC2] 108 Moorit; 1 ball


[CC3] 676 Sapphire; 1 ball


[CC4] 274 Green Mist; 1 ball


[CC5] 587 Madder; 1 ball


[CC6] 343 Ivory; 1 ball


[CC7] 425 Mustard; 1 ball

Recommended needle size
[always use a needle size that gives you the gauge listed below -- every knitter's gauge is unique]


16-inch US #2/2.75mm circular needle


16 or 20-inch US #3/3.25mm circular needle


US #3/3.25mm needles for the crown decrease


Notions


stitch marker


yarn needle


Optional: Dinner plate, 10.5 inches in diameter for blocking
30 sts/32 rnds = 4 inches in charted pattern using larger needles
PATTERN NOTES
[Knitty's list of standard abbreviations and techniques can be found here.]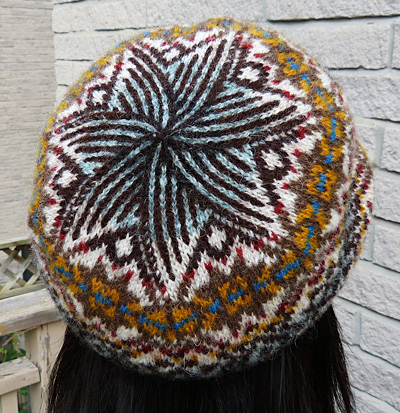 The Estonian cast-on with 2 strands of tail yarn was used in the samples and recommended for this project. It gives a decorative, sturdy, yet surprisingly stretchy ridge that is great for hats. A regular long-tail cast-on or the German twisted cast-on are also suitable alternatives.

References:
Bush, Nancy. Folk Knitting in Estonia: A Garland of Symbolism, Tradition and Technique. Loveland, Colorado: Interweave Press, 1999, pp. 41-42.
Note: It is called Double-start cast-on in this book.
Also see: Nancy Bush's video demo | A good photo tutorial.

CDD: Slip next 2 sts together knitwise, as if working a k2tog; k next st, pass slipped sts over.

To work the CDD on the chart in Rounds 54, 57 and 60: In the previous round -- that is, 53, 56 or 59 -- work in pattern to 1 st before the end of the round. This last st is the first of the new round -- the first of the two slipped sts. After the decrease is complete, replace your marker or rearrange sts so that the st created by the decrease is the start of the round.
DIRECTIONS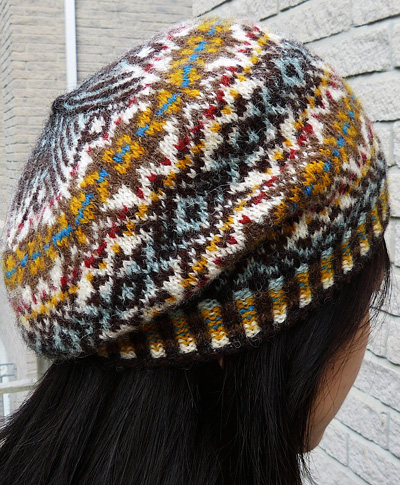 Using 2-strand Estonian CO, smaller circular needle and MC CO 148 sts. Place marker and join for working in the round, being careful not to twist.

Following colors indicated in Ribbing chart, work as follows:
Rnd 1: [K2 using first color, k2 using second color] to end.

Rnd 2-11: [K2 using first color, p2 using second color] to end.


Next round, increase: With MC, [k3, m1] to last 4 stitches, k4. 196 stitches.

Next round, establish body pattern: Work Main chart 7 times around.

Switch to larger circular needle and work remaining rounds of chart, changing to preferred needles for smaller circumference as required for crown shape. 7 sts rem when chart is complete.

Break yarn. Draw tail through remaining sts and pull tight.

Weave in all ends.

Block:
Soak hat in water with a small amount of a gentle soap. Rinse, and squeeze gently to remove excess water. Allow to dry completely.
If you wish to make a Tam shape, when hat is still wet, stretch it over a dinner plate. Allow to dry completely. Take the blocked hat off dinner plate.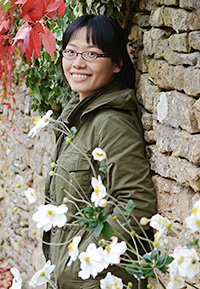 Angela is a structural engineer living and working in Toronto. After a hiatus of two years, she recently picked up knitting needles again and rediscovered the fun of designing, making and finishing a knitting project.

She blogs here.
Pattern & images © 2014 Angela (Sixian) Wu. Contact Angela