For me, in spinning, there is nothing more satisfying than washing a fine fleece and spinning it from the locks to make a beautiful laceweight yarn. The textures and smells are fantastic. I love how it's so much. easier to spin wool that you've prepared yourself. You have control over every step and the outcome is all yours.
You can wash and process a fine fleece very easily yourself and get a beautiful fine laceweight yarn. My washing method is adapted from Margaret Stove and her book "Handspinning, Dyeing and Working with Merino and Superfine Wools" which is now out of print but a great book if you can get your hands on it.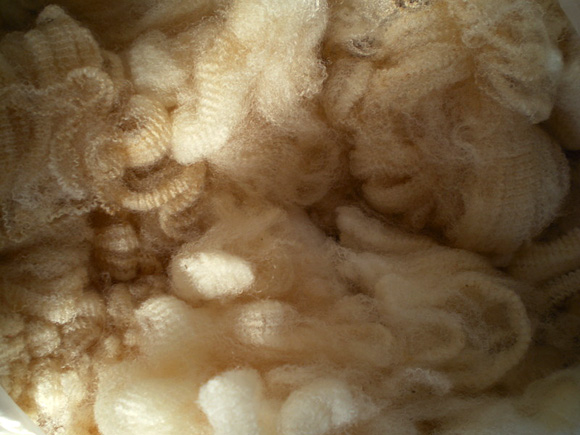 I'm working with Cormo fleece in these photos. This washing method works great for fine wools or any fleece in which you want to preserve the lock structure.
Take about an ounce of the locks and lay them facing in the same direction (all cut end or all tip end pointed up) in the center of a piece of bridal tulle or netting that measures about three times as wide as the length of the lock and 24 inches long. The thickness of this little row of beautiful locks should be about the thickness of a deck of cards. Not much thicker than that because we want the dirt to be easily washed away.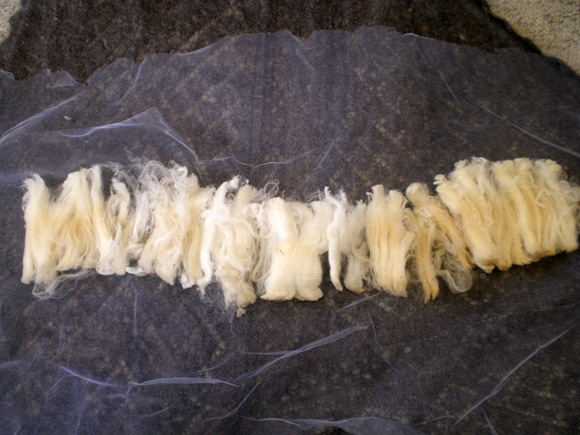 Netting or tulle is very inexpensive and can be purchased at a variety of craft stores, and it keeps the lock formation while washing.
Once you have your locks lined up fold in the top and bottom of the tulle and roll in the sides. Use a safety pin to secure each side and you have a very neat little wool sausage that is easy to handle and move around during washing.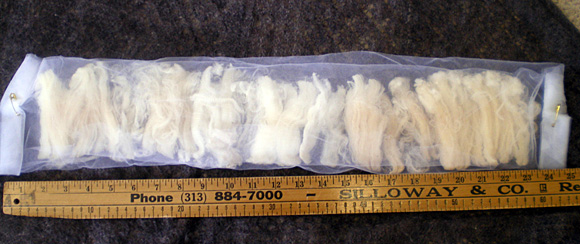 I usually make six to eight of these at a time because that's how many I can fit on my sweater dryer rack at a time. If you are spinning a fine laceweight yarn, these 6 to 8 ounces you wash will give you hours of spinning fun.
Now fill up your sink or tub or whatever receptacle you choose with very hot water. I use water as hot as I can get from the tap. Add a bit of wool wash or liquid detergent to the water and then lay your little sausages into the basin. You can fold them in half if you need to and I sometimes stack them on top of each other, but only 2 deep.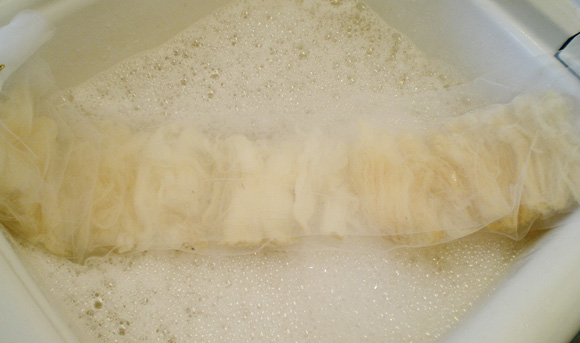 Go back and remove them from the water and squeeze the excess water out – do not wring, just squeeze.
Repeat this three more times – once more with soap and two times with clear water. This should be enough to get your locks clean. After the second wash, if you feel there is still plenty of dirt left in then go ahead and do another wash. The cleaner the locks are, the easier they will spin.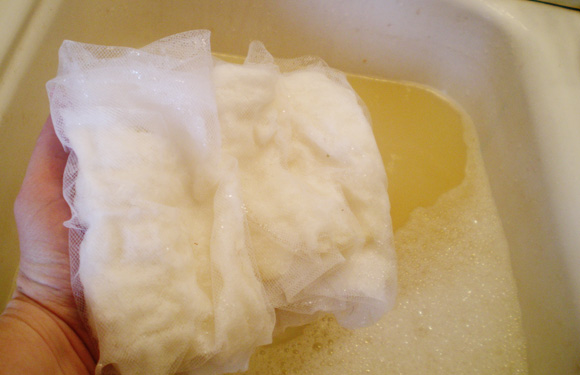 Now take all of the sausages out and squeeze out as much water as possible and then use a towel to squeeze out the rest. Let them dry on a screen, a sweater dryer rack or a towel on the floor.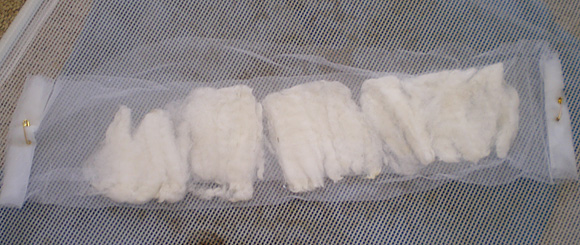 After your locks are dry it's time to spin!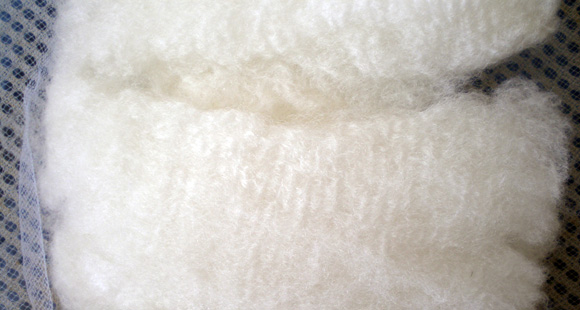 Take a lock, again about the thickness of your thumb, and put a little twist in the center of it. The twist will hold the fibers in place as you use the flick.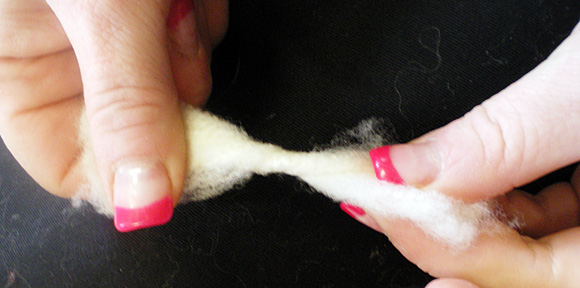 I prefer to use the flick more as a comb than the recommended bouncing motion. Maybe it's because it's gentler to my knee, but I really think it gets the job done a little faster and I like the results better.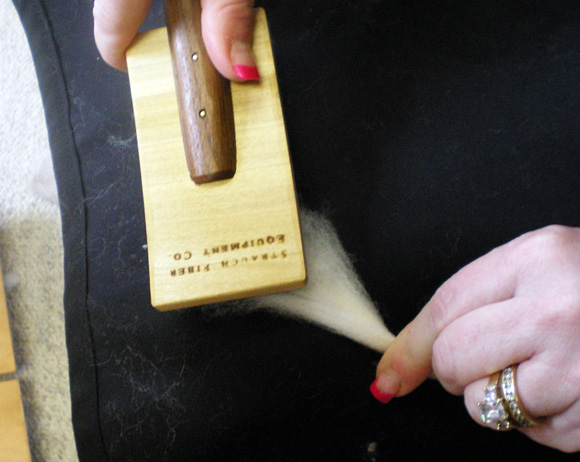 After you have drawn the flick through the lock on one end a couple of times turn the lock around and repeat on the other end.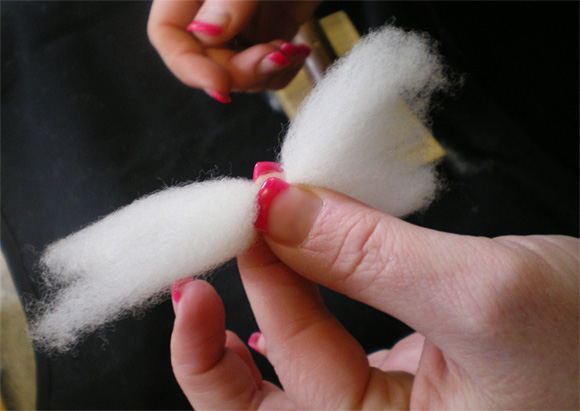 After you open both ends of the lock, grab both ends and wiggle them back and forth open the center. You now have a rectangular shaped lock. I do all of this prep right at my spinning wheel but you can flick the locks all at once and put them in a basket to be spun another day.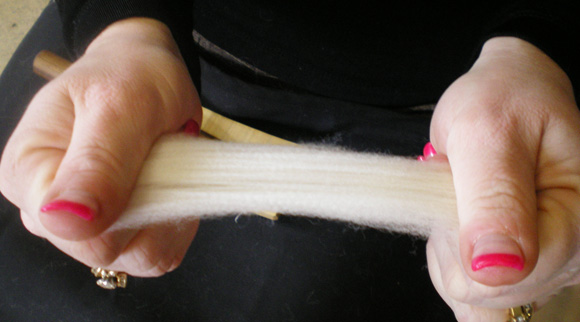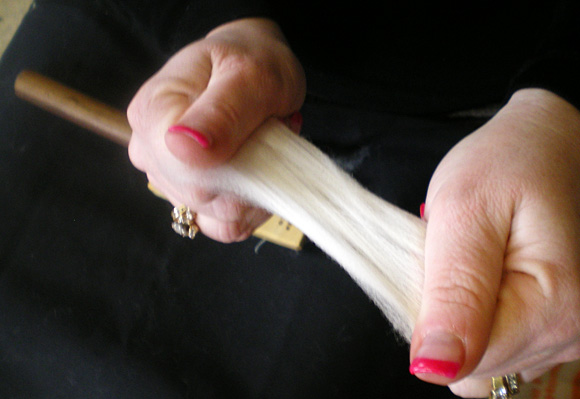 Place the lock in the crook of your hand and spin beginning at the tip of your thumb. I have found that a short forward draw works best to get a lovely smooth lace yarn. The fibers will just happily follow each other in an orderly way from the beginning of the lock to the end.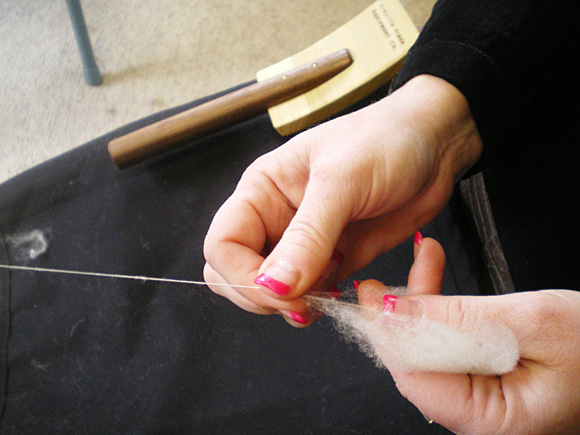 If you want to do the flicking all at once and then do all the spinning afterward, you should line the locks up in a box so that they are all facing the same direction. Cut end with cut end and tip end with tip end.
Let's talk about spinning from the tip end or the cut end. Spin from whichever end you feel comfortable with but for the best yarn, keep it consistent throughout the project. I have always spun from the cut end. Margaret Stove has always spun from the tip and she is a genius with fine wools and lace spinning. It's entirely up to you.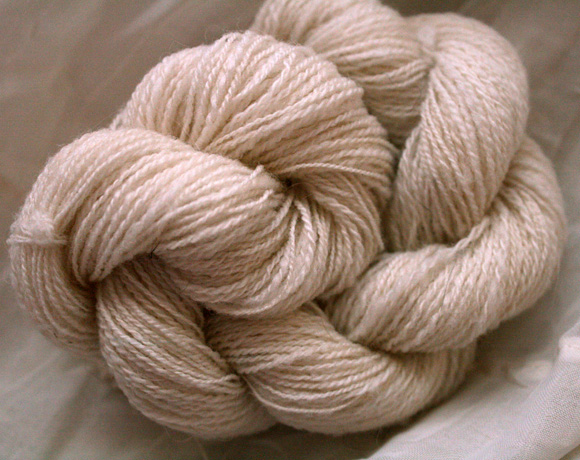 Don't be afraid to experiment. Wool is your friend. If you mess up a few little sausages it is only an ounce or two You can chalk it up to a great learning experience – plus the sheep are growing more wool for you right now.