Feature: Cool stuff
Cool stuff
SR [Finished chest measurement for sweaters] = the smallest chest measurement to the largest chest measurement we could find in the book. There may be only one pattern with the smallest or largest size, but it's in there. Books are softcover unless noted otherwise. All prices USD unless noted.
When you click on an Amazon affiliate link below and make a purchase, you're supporting Knitty. We thank you!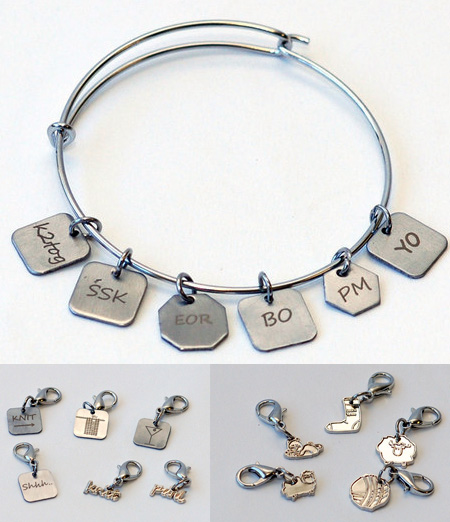 Stitch Marker Charm Bracelet and Charm Booster Packs
Skacel
Available at your LYS
$24.50 charm bracelet and stitch markers
$16.50 stitch marker booster pack
It's Alex and Ani bracelets for knitters!
I am I fan of knitting tools as jewelry. It's practical and proclaims our love for our favorite pastime. This is a nifty and fun marker set. There's a starter pack that comes with a stainless steel bracelet and six stainless stitch markers, with knitting directions on one side and the corresponding chart symbol on the other side. There are two booster packs of 6 different knitting-themed stitch markers each, bringing your possible total to 18. Just enough for a big project and all of your jingle jangling jewelry needs.
JM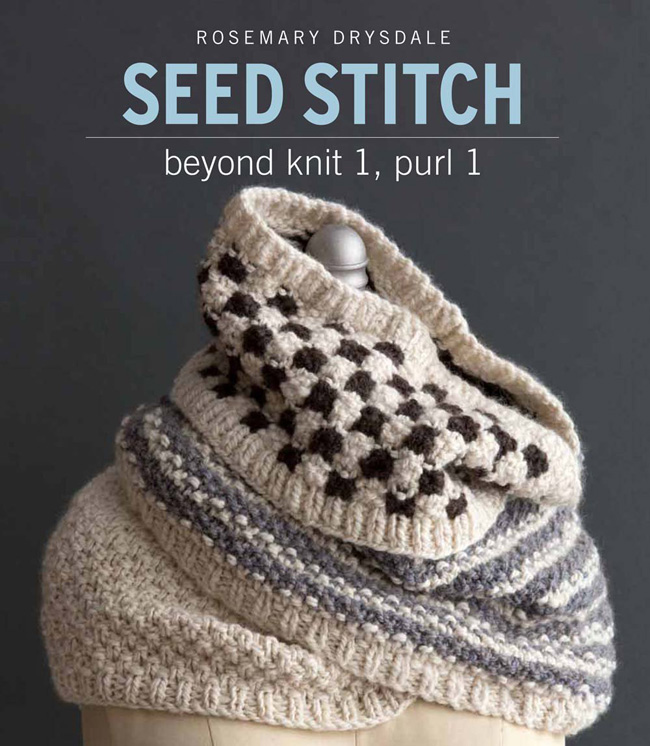 Seed Stitch: Beyond Knit 1, Purl 2
by Rosemary Drysdale
Sixth&Spring Books
$21.95
SR= 38-49"
Buy now at Amazon

From the same skillful knitting mind that brought us the classic Entrelac and Entrelac 2 books comes Seed Stitch. Seed stitch is a classic stitch that plays so well with other stitches, but here it gets to preen in the spotlight. Basics are given for knitting seed stitch and 60 different swatches for innovated uses of seed stitch are shown. Incorporating color into seed stitch is such a simple idea , that never crossed my mind ,and it looks so cool and sophisticated. If you don't want to design your own seed stitch pattern from the stitch library there are 30 patterns to knit. Pillows, cowls, a sweater, baby hats and sweaters and lots of scarves. In fact, my favorite patterns are the simple-yet-striking set of four scarves using colorwork seed stitch in natural colors.
Sometimes a simple stitch is all you need.
JM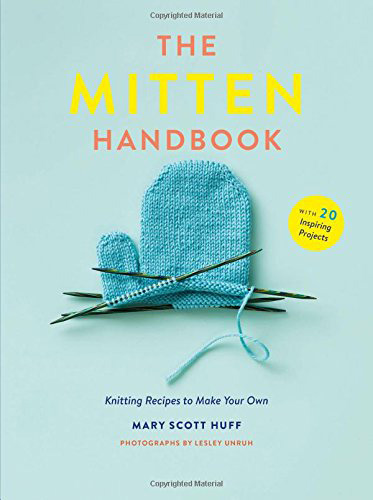 The Mitten Handbook: Recipes to Make Your Own
by Mary Scott Huff
Abrams
$19.95
Buy now at Amazon
This is a clever mitten book that puts you in the designer seat in the easiest of ways, by offering mix and match components. You get to choose between at least seven options of edges, cuffs, thumbs, and tops.. There is a lot going on in this slim book, the aforementioned components, complete with a worksheet to write a custom pattern, and there is discussion on fit, sizing, yarns, mitten anatomy and mitten architecture. That alone would have been a good mitten book. The icing on the cake here are 20 mitten patterns, for women, men, kids and even a baby pattern, an happily they are all infused with the characteristic wit and whimsy of Mary Scott Huff. Be sure to check sizes before falling in love with a pattern, some due to motifs, are sized narrowly.

This book will keep you happily knitting, designing while you keep everyone you love warm.
JM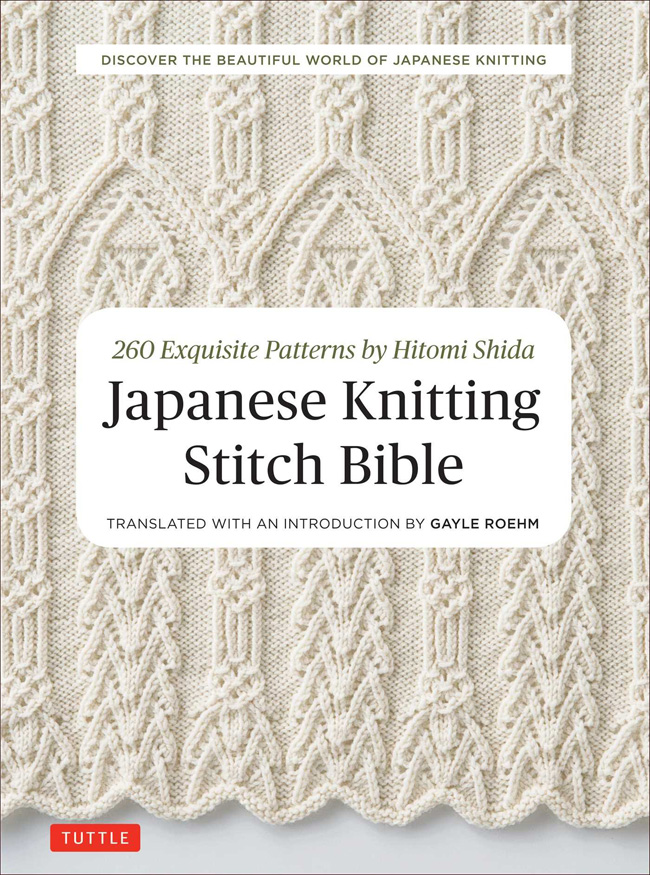 Japanese Knitting Stitch Bible
by Hitomi Shida, translated by Gayle Roehm
Tuttle Publishing
$16.95
Hitomi Shida is part of the wave of Japanese designers that helped to make American knitters more fearless. Her patterns are so beautiful that knitters brave the most intricate of stitch patterns and charts to knit them.
This is a book of knitting stitch patterns created by Hitomi and it will make you gasp as you flip through. Here's a quick tip, look at it first before you put your copy down in a room full of knitters; it will be a while before you get it back. These stitch patterns don't build up from simple to difficult, the first stitch pattern is 30 stitches by 24 rows and is stunning. The stitch patterns are broken up into Lacey Patterns, Overall Patterns and Crossing Stitches, Pattern Panels, Pattern Arrangements, Round Yokes and Edgings. Every single page has an exquisite stitch pattern that I want to knit, some pages have more than one. There are four patterns in the book; a scarf, a hat, mitts and socks that show just how wonderfully carved these complex patterns look in a design.

The book also has an introduction to Japanese knitting, a guide to symbols and ingenious color coded tabs on the edge of the pages indicated the different sections, all to help you find your way as you knit through this spectacular book.
As I go through new stitch dictionaries I mark stitch patterns that I want to try with post-its at the top of the page, my copy of this book looks like a post-it porcupine. This book is amazing and inspirational.
JM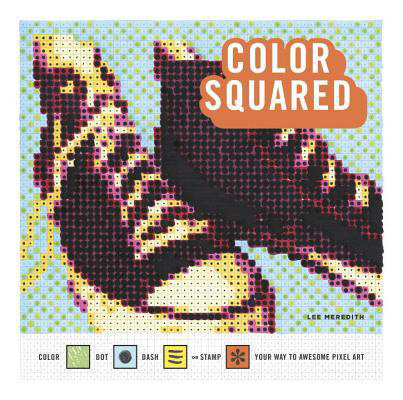 Color Squared: Color, Dot, Dash, or Stamp Your Way to Awesome Pixel Art
by Lee Meredith
Clarkson Potter
$14.99
buy now at Amazon
What IS this book? It looks like maybe a coloring book, but that would be a much too simplistic description.
This is closer to paint-by-numbers, except instead of filling in each little square right to the corners with solid color, you do something unique, and what that is is up to you. There are a whole bunch of techniques, each easily done by any of us, that make every resulting picture different than every other one. Straight lines, dots made with a brush marker, stamping tiny stamps in different colors...tons more.
Lee guides you with clear instructions and visual examples at the front of the book, and then off you go. You'll turn to one of the un-labelled pages to create...what will it be? You won't know till you start coloring. Unless you're a control freak, and decide to turn the page over to peek at the back where the image is revealed.
What will your finished page look like? A million different things. Here's an example of one of the pages in the book, colored 6 different ways, from Lee's Instagram feed. Follow her to see more ideas and inspiration! And check out her website to see videos of just some of the ways you can color any of the pages.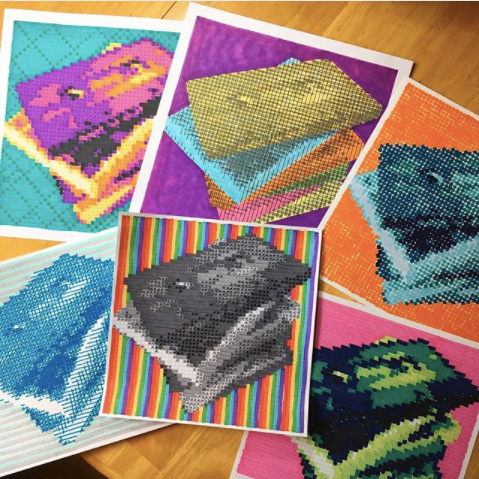 The images Lee has included in her book are fun, retro and very cool pixellated images. "What is that, daddy?" "Why, it's a cassette tape, dear. We used to listen to music on it in the olden days."
Still not sure if this innovative book is for you? Answer this short quiz:
Do you like color?
Do you like to doodle?
Do you like surprises?
If you've answered "yes" to any or all of these questions, this book will delight you. If you answered "no", this book will help you loosen up a little.
AS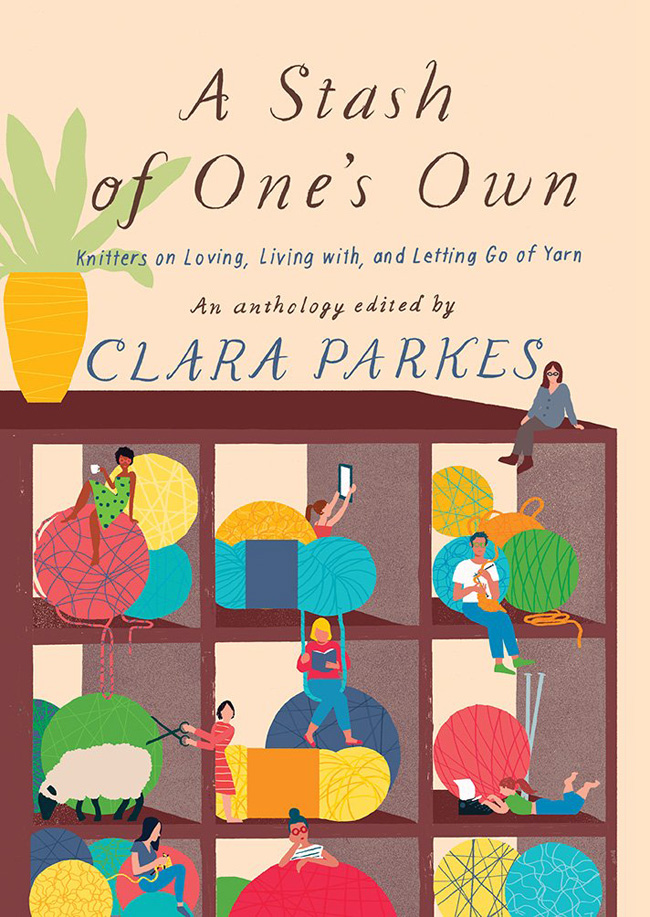 A Stash of Own's Own
by Clara Parkes (Editor)
ABRAMS Press
$22.99, hardcover
buy now at Amazon
Within this collection, Parkes and 22 essayists help us to examine our own personal meaning for that often loaded word, Stash. In addition, beyond our own definitions, we can think about how we and our stash (or lack thereof) fit as part of the global fiber community. What are the stories we hear in our stash? Do we whisper its secrets? Where is its place in our homes and in our lives?
I believe strongly in the power of books to come along when we most need them. This essay anthology appeared in my e-reader as I was reexamining my own stash under not-quite-ideal circumstances. Following a hip replacement and the loss of her long-time boyfriend, my mother had temporarily moved into my studio resulting in my yarn and fiber finding their way to any available nook and cranny in the rest of my house. As I selected items for her new downsized life, I rediscovered connections within my stash. Her favourite shawl is back under my roof for the first time since I knit it several years ago, and I still have yarn available to perform repairs if necessary. At times this upheaval has felt overwhelming and isolating. This anthology has reassured me every day that I'm not alone.
I'm also not alone in my dream that my archive of yarn, fiber, and notebooks will endure long beyond me. Nor for the hope that I can fit everything into four plastic bins and set off on a global adventure. I also am in good company when I want to look for yarn for a project that must be cast on right here and now - that it's 10:30pm is of no logical importance.
I appreciate the variety of voices and the pacing of the essays. While you could skip around and read each essay in any order you choose, I believe the full magic is found when curled up amid one's stash, favorite comfort beverage in hand, and read through cover to cover.
No matter your views to yarn and fiber stash, you are not alone.

PSG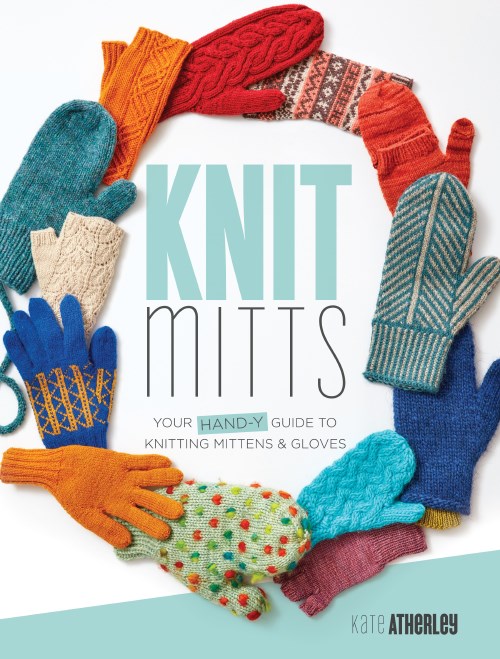 Knit Mitts: Your Hand-y Guide to Knitting Mittens & Gloves
by Kate Atherley
Interweave
$23.99
buy now at Amazon
Perhaps your hands are always cold. Perhaps the stated pattern size is not quite one that matches the hands you wish to keep warm. Perhaps you want to learn a little more about mittens and gloves and figure out how best to make ones that fit comfortably. Atherley's newest book delivers.
At 144 pages, this book is jam packed with detail. Kate provided comprehensive research about foot sizes in her previous book, Custom Socks
Knit to Fit Your Feet, and has done the same here for hands. This has allowed her to develop a solid basic pattern that is based on the sizes of real hands. This also helps her to offer rational ratios for when one needs to guess a size. It also helps her to provide helpful and straightforward tips and tricks.
My favourite mittens wore out at the end of last winter and I've put off knitting a new pair. Kate's book provides this mostly-sock knitter confidence to keep my hands properly warm. I now have a better understanding of what yarns are best for my hands to wear well, prevent pilling, and most importantly keep my always-cold fingers warm.
I love that there are charts for everything from estimated yardage to stitch counts for a range of gauges and sizes. Think of this as an expanded, annotated, and thoroughly modern version of Ann Budd's classic, The Knitter's Handy Book of Patterns.
If you find yourself glassy eyed after reading through the first five chapters which cover sizing, yarn selection, standard construction, basic patterns, and ideas and tips for customization, the sixth chapter is for you. It provides ten delightful patterns that range from warm yet lacy fingerless mitts (remember, yarn choice matters) to gloves with texture or colourwork and more.
There's something here for every knitter who wishes to keep a pair of hands warm. Now if you'll excuse me, I need to go knit. Winter will soon be here.
PSG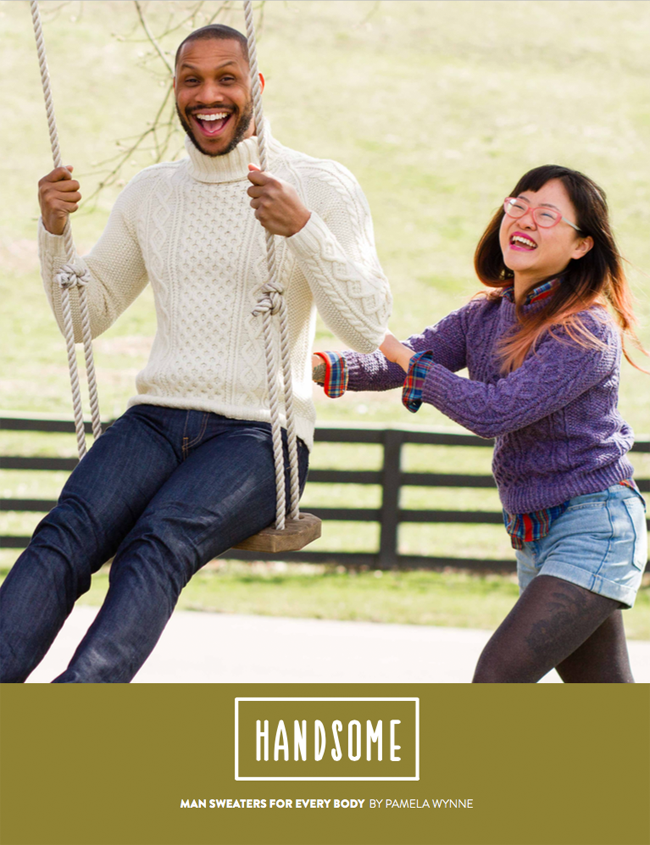 Handsome: Man Sweaters for Every Body
by Pamela Wynne
SR= 30"-60"
buy now from the author
Handsome is a book of great men's sweaters and a detailed workshop in fitting them to any body that wants to wear them.
There are five different sweaters, a plain pullover, a Henley, a shawl collared cardigan, a zippered cardigan, an Aran sweater and a color work cardigan. Each sweater is modeled by the by the friend who design idea it was and one other person who has a different body type.
The patterns are designed to either be knit as-is or with several thoughtful modifications based on your own personal shape and style.
I would make and wear every sweater in this book, but if I had to pick a favorite it would be Robert, a perfect in every way Aran pullover.
The first section of the book is an excellent workshop in fitting. Pamela walks a knitter through measuring, though explaining different fits and what shapes accentuate or minimize on a body and where to adjust to get the fit you want. She focuses on the big four of custom fitting sweater options: Body Length, Body Shape, Arm Length and Belly Short Rows. She even provides online calculators for the pattern adjustments!
The yarns used in this book are as thoughtfully chosen as the variations in each sweater design. They all come from companies who source, spin and dye most, if not all of their yarns in the US with and eye to sustainability of flock and shepherd.
The photography by Caro Sheridan shows the detail and perfect fit of each sweater, but it's her focus on the relaxed joy of each model as they pose and strut in their fantastically fitting sweaters that really makes me happy.
This isn't just a great knitting book with finely made and designed garments; it's an important book, an inclusive book. People may think knitting is small in comparison to some worlds, but it's the support and recognition of self in small things, everyday things and activities like choosing, making and wearing clothes that really build strength, community and acceptance.

I highly recommend this book to knitters who are looking for classic styled sweaters, written to accommodate many shapes and size, to knitters interested in making garments that bring a side of inclusive politics and any knitter who wants to feel handsome.
JM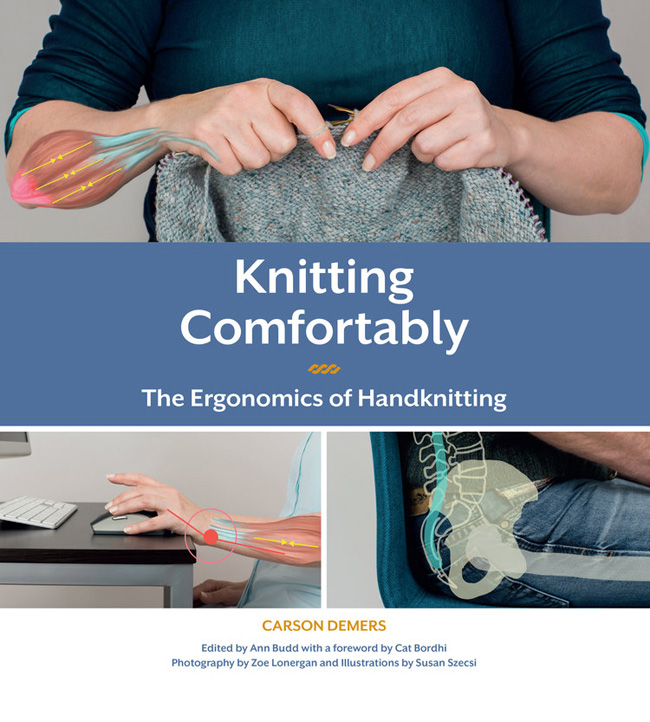 Knitting Comfortably: The Ergonomics of Handknitting
by Carson Demers
Ergo I Publishing
$49.95 hardcover
buy now at Amazon
Every single knitter is at risk for wrecking their body. Ask me how I know (two carpal tunnel surgeries in 2016, for a start). A few cursory stretches ain't gonna do it, folks. We need to take care of our hands, arms and the rest of us just as carefully as we do our most precious yarns and knitting tools.
First off, if you don't know who Carson Demers is, let me introduce you. He's a knitter, absolutely. But he's also an experienced physical therapist who specializes in ergonomics. This makes him a) qualified to tell us all what to do, and b) see a. He knows his stuff, and he wants us to feel better.
The book is a hardcover reference book that sometimes delves into the scientific (but not scarily so), and often speaks directly to the heart of us knitters. He wants us to remove the arms from our work chairs (really! I did it, and it really works) so we don't cram our shoulders up into their sockets. He wants us to put tape on our hands to make ourselves aware of the stresses we're putting muscles and tendons under, and then he'll tell us how to fix anything we're doing wrong.
This book is so comprehensive that it will take multiple readings to absorb it all. He covers the topic thoroughly, from basic ergonomics, through how and why our sitting position is so important (and that standing to knit is a quite good idea), forceful exertion (addressing everything from the type of needles you use and your style of knitting to dropped stitches!), repetition (one of the worst culprits), how to choose tools that will hurt us less and maybe even help, and a huge chapter on self care, including stretching, strengthening and cardiovascular exercises.
This is a beautifully put together book in a durable hard cover, full of immensely instructive clear, full-color photos and well-written prose by the man who is the subject matter expert on ergonomics and handknitting.
If your doctor could prescribe a book to help you keep your body healthy and strong as you knit, for years to come, it would be this book.

AS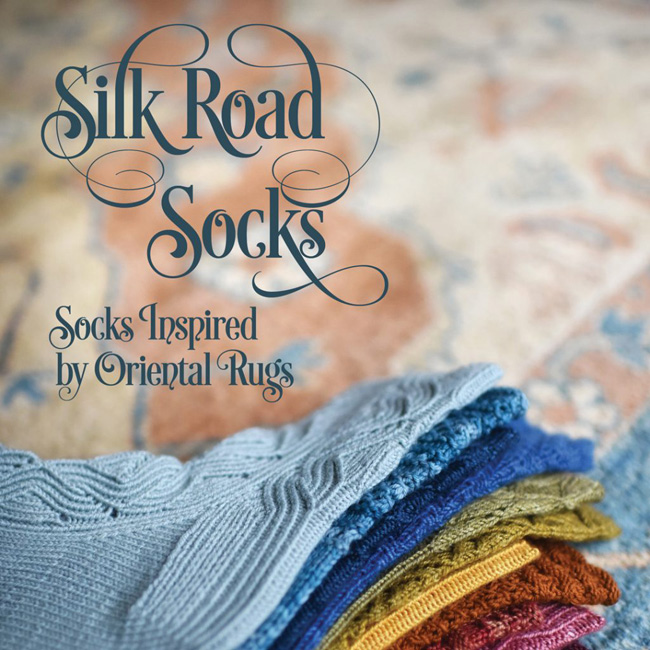 Silk Road Socks: Socks Inspired by Oriental Rugs
by Hunter Hammersen
Pantsville Press
$26.95
buy now at Amazon
If the name of this book sounds familiar, it's because this book was published once before and went out of print in 2011. The first time around, the book was pretty. Hunter's designs are unique and inspiring. But this second edition is stellar.

The original patterns have been updated, not just a little, but revamped, there are new charts, clearer written patterns, more sizes and each sock in written (in all of the sizes) for both fingering and dk yarns. Visually there are new glorious photos of socks on the carpets that could have inspired them, illustrations throughout that echo the design motifs and lots and lots of white space. The paper is heavy and the binding is paperback but the cover stock is thick and textures and the book will stay open without cracking the binding. There is a code in each book for a PDF download of the book.
This like all of Hunter's books is of such thoughtful quality; it feels more like a gift to yourself, not just a book of patterns.
The sock patterns are not colorwork, which is where my brain went when I read the subtitle. Instead Hunter has interpreted the rug patterns in marvelous texture, twisted stitches, lace and cables all mimic the dips and swirls of the intricate inspiration patterns. Favorites of mine are lacey Yomut, sculptural Nain and the simple with a twist Yalameh.
Because Hunter has the mind of an educator as well as a designer there is excellent information on the Silk Road, the history and creation of rugs ad well as detailing the style of rug that inspired each sock.

This is a great book.

JM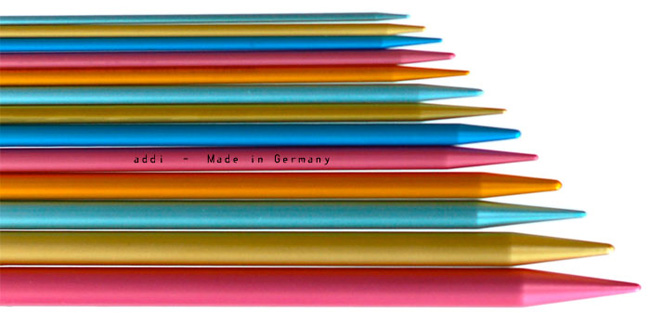 Addi FlipStix DPNs
$18-20 per set of 4

A welcome addition to the pantheon of DPN variants, the Addi FlipStix offer a nice new feature: two different tips. One end is the standard Addi "turbo" blunter point, the other is the sharper lace tip.
These are helpful in a couple of different ways: you've got the option of tip depending on what type of yarn you're working with. And if you do choose to work with the lace tips, you're not at risk of sticking yourself with the opposite end. They come in the key sizes, 2mm/US#1 to 8mm/US #12, including the 'missing' sizes of 2.5mm, 3mm and 7mm in two lengths: 6-inch/15cm and 8-inch/20cm (9 inch/23cm for the larger sizes).

They're a nice lightweight metal, and the finish is smooth but not so slick that you're afraid of losing your stitches.

KA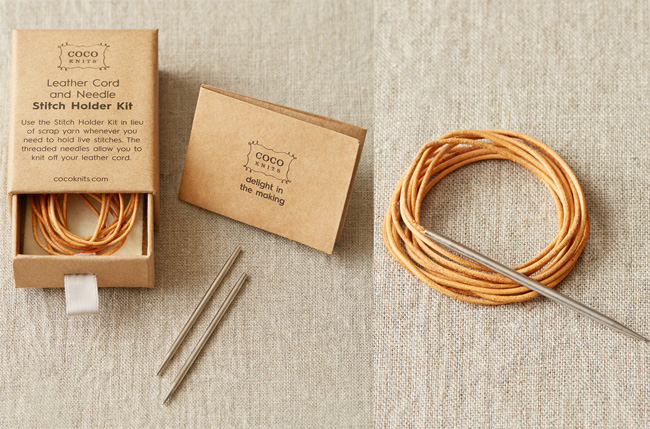 Cocoknits Stitch Holder Kit
$24.00
buynow at Cocoknits

A very clever tool, this is just what the seamless garment knitter ordered! The nicely packaged kit has three lengths of sturdy but flexible leather cord, and two 2.5-inch needle tips – about a 2.75mm, in case you're wondering – that are threaded on the inside. Just thread your choice of length of leather cord into the tip, and you've got a fantastic alternative to either long stitch holders or lengths of scrap yarn for holding large sets of stitches. These are particularly suited for seamless garment knitting. For holding sleeve stitches, the kit has two 30 inch/75 cm lengths. And there's a 59 inch/150cm cord for holding garment body stitches, either for when you want to try the garment on, or setting the stitches aside while you work on the sleeves.
Once the sleeves are safely on the cord, detach the needle tip, and tie ends of the leather cords together to ensure the stitches don't fall off. And then – this is the best bit! -- reattach the needle tip when it's time to work across the held stitches! They're a definite improvement over solid stitch holders, since everything is flexible and easy to hand, and that handy needle tip makes them so much easier to work across.
KA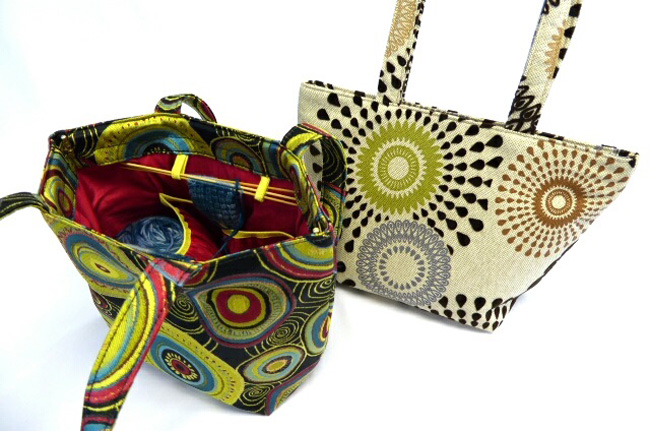 Laurie Laine Duo Sock Knitting Bag
12.25" wide across the top/8" wide across the bottom
45" deep
10.5" handle drop
$160.00
buy now at Laurie Laine

I can't resist a good knitting bag, and the Duo Sock Knitting bag is a nice idea indeed. It's well-constructed from lovely fabrics, a knitting bag masquerading as a purse, with nice long handles for carrying over your shoulder. All the details have been thought through: a strong snap frame keeps the bag open if you need, and nicely shut for when you're not working on your project. The bag stands up, sitting beside your chair at knit-night, or on the floor of the car.

The interior features four elastic-top pockets, allowing you to divide off your equipment as you need. The bag was originally designed for working two socks at once, and you can keep the two balls of yarn tidily separated from either other, and the WIPs. There's even little elastic loops on both sides, for holding needles.

If you're working on a single-ball project, the dividers can be pushed to the side, out of the way, and you've got a spacious single pocket (or combination of pockets). It's more modestly sized than many of the other project 'purses' on the marker, which is most excellent for small project knitters like me – that is, those of us who aren't tall and are a bit dwarfed by some of the larger bags, and those of us who are working on small things like socks and mittens.

The idea was originally brought to market through a Kickstarter, and I like that it's made in the US. There's a choice of fabrics available, to suit everyone's style.

KA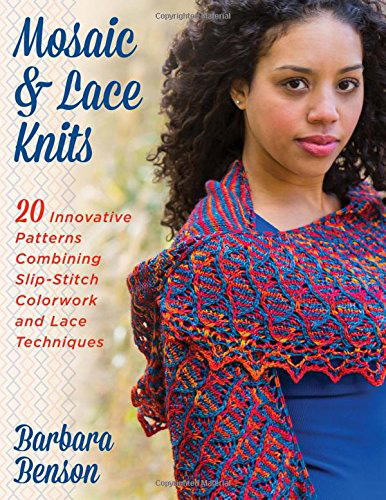 Mosaic & Lace Knits
by Barbara Benson
Stackpole Books
$24.95
buy now at Amazon

For knitters who like a little challenge, this book features a number of colorful and fun projects that combine the best elements of both lace and slip-stitch (mosaic) colorwork techniques and patterns. There's good tutorials and technique information, and it's well within the grasp of an intermediate knitter – it's clever and innovative, but not nearly as difficult as it might seem.
The projects range from a pair of quick-knit mittens designed as an introduction to the methods, to some not-too-overwhemling hats, and some larger shawl projects. I also like that the projects offer lots of interesting new ways to use up all the skeins of variegated and hand-dyed yarns we have in our stashes.
KA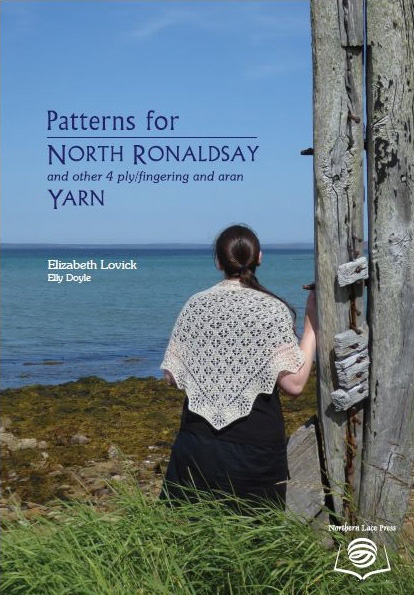 Patterns for North Ronaldsay Yarn
by Elizabeth Lovick and Elly Doyle
Northern Lace Press
$20.00
This is a book of classic Shetland style patterns. How classic? Until I read the introduction on my third pass of the book I had no idea that the designs in this book originally came out in 1997!

The patterns have all been updated with more detail and fresh charts. The designs have all been reshot on beautiful Orkney and the islands surrounding including North Ronaldsay.

The patterns have all been designed with North Ronaldsay yarn. The yarn Elizabeth produces in her mill on Orkney. The North Ronaldsay sheep have never been bred with other sheep, they are genetically the same as they were in the Iron Age. They are also the sheep you may have heard about that eat seaweed. The yarn has many of the same characteristics as Shetland.
The designs in this book are timeless gansey-style sweaters, lace shawls and scarves, hats, mittens, pillows, cowls and a fantastic sampler throw. There are 35 patterns in this book, most are from the original 1997 version designed by Elizabeth Lovick that have been reshot, and there are four new patterns by Elly Doyle, who dyes North Ronaldsay yarns for Elizabeth.
My favorites are the sweaters especially the Quoneden Sweater, a textural interpretation of Fair Isle designs and the Blanster Sweater a classic fisherman's sweater. Though the lacey Triangular Shawl on the cover is the pattern I'm most likely to knit.
There is an excellent photo of the original Blanster Sweater, 20 years old and showing no signs of wear, except for a coffee stain. That photo and sweater embodies what I enjoy the most in knitting, yarns and designs that stand the test of time and this book is made up of just that.
JM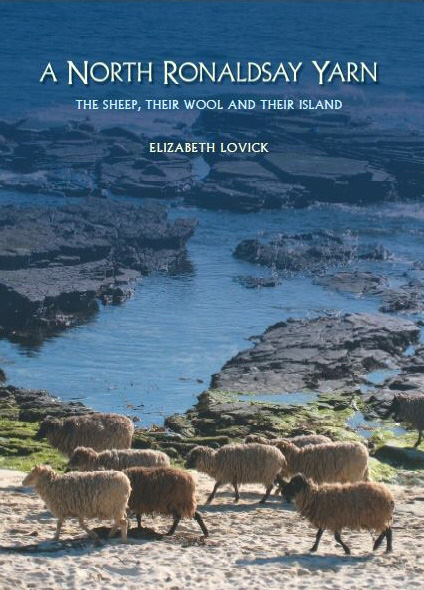 A North Ronaldsay Yarn: The Sheep, Their Wool and Their Island
by Elizabeth Lovick
Northern Lace Pres
$14
Can't get those little Iron Age, seaweed eating sheep and their remote island out of your mind? I couldn't either. They are a fascinating breed with huge personality and history. This little book will scratch that itch. It tells the story of the Orkney Island and their famous 4-legged inhabitants. It also goes into more detail about Elizabeth Lovick's mill and yarns. For sheep and yarn fanatics.
JM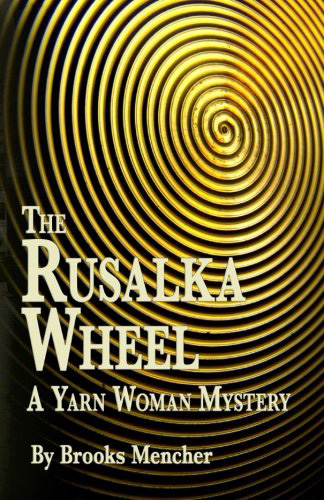 The Rusalka Wheel: A Yarn Woman Mystery
by Brooks Mencher
$15.99
buy now at Amazon
The newest entry into the Yarn Woman mystery series is a hugely atmospheric story surrounding a magical spinning wheel and a woman's disappearance.

This is the best in the series so far. It brings together the characters and atmosphere created in the first book and sharpens further the style and plotting honed in the second and ads a dash of magical realism and not a small amount of tension.
A woman goes missing after she discovers a peculiar spinning wheel in a side-street antiques shop in San Francisco. Detective Chu follows the trail of the missing woman. Ruth M, our Yarn Woman, follows the stories of the wheel through Russian history, Slavic fairy tale and Mr. Kasparov's past. We even learn a little more about Ruth's history. Brooks meters out the story of Ruth like an expert knitter tensioning for color work knitting.
What I enjoy so much about these mysteries is how craft and textiles are treated, with knowledge and respect, they are an integral part of the story. This and Brooks' tight plotting and character development are what lifts this series way above the typical cozy craft mystery.
JM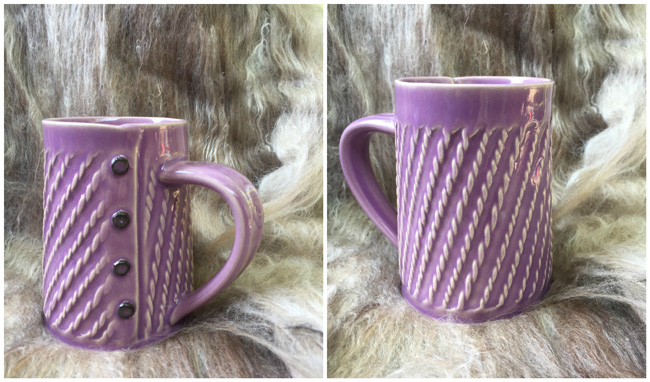 Handspun Mug
by Creative with Clay
$45
buy now from Creative with Clay
The latest textile offering from clay artist Charan Sachar is a mug decorated with handspun yarn. The yarn is impeccably depicted, not quite consistent or evenly plied as it spirals around the mug.

The mug is built from a slab rather than thrown on a wheel, which makes it wonderfully sturdy, mine has been through the dishwasher many, many times. I've noticed that this style of mug keeps my tea warmer longer.

Charan is an accomplished knitter and spinner and his knitted and now handspun items prove that. He has a masterful way with color and it's application on the mugs, areas of not-quite-coverage evoke beautiful handpainted semi-solid yarn.

This new handspun style is unique and perfect.

JM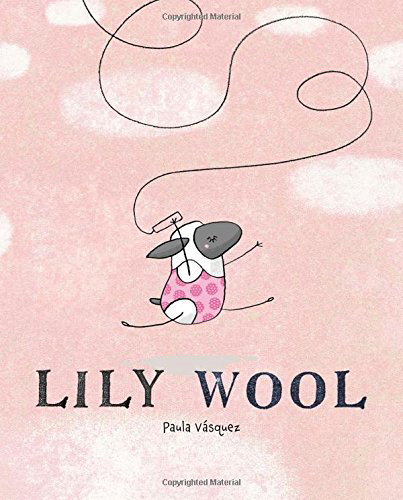 Lily Wool
by Paula Vasquez
Gibbs Smith
$14.99, hardcover
buy now at Amazon
Lily is bored, bored, bored with what the other sheep do all day, she watches the stars, she has a mind of her own, she dreams big. The other sheep don't understand. One day she is distracted by a piece of wool. She grabs it and her imagination catapults her into adventure after adventure, she's a gymnast, a cowgirl, goes fishing, play cupid, writes a story, until it's brought to her attention that her reverie has cost a sheep half of her fleece. With quick thinking and creativity Lily both saves the day and teaches her whole flock the importance of imagination.

The illustrations by author Paula Vasquez are loose, bright and exciting. Her sheep have individual personality and Lily dances off of the page.
I know more than one knitter who has some Lily in them. This delightful book would be a great gift for your favorite Lily.

JM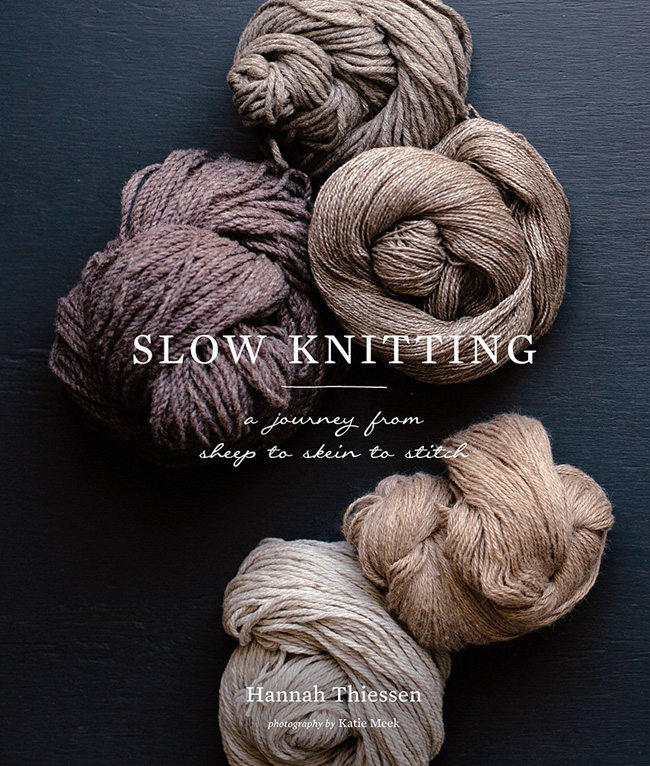 Slow Knitting: A Journey from Sheep to Skein to Stitch
by Hannah Thiessen
Abrams
$29.99, Harcover
SR= 32-51"
buy now at Amazon

The Slow Knitting movement isn't just about speed and taking the time to enjoy and sink into your knitting. Slow Knitting like Slow Food before it encompasses knowing where your yarn comes from and how it's made.

In this beautiful book, Hannah Thiessan walks the knitter through the ideas behind Slow Knitting from sheep to sweaters you can savor. The book is broken down into five sections Source Carefully, Produce Thoughtfully, Think Environmentally, Experiment Fearlessly and Explore Openly. Each section includes an essay on the topic a profile of two yarn companies that wonderfully illustrate the idea of the section; a pattern each from those yarn companies and a list of other yarns or companies to search out.

The book has a restful rhythm, it's not a book to race through though it's lovely to dip in and out of. Each topic is explained in enough detail that a knitter new or casually acquainted with the topics will feel educated after reading. The yarn companies are thoughtfully chosen not only due to their yarn producing practices, but they are all solid businesses that will be around for years. Some of the companies are obvious Green Mountain Spinnery, Brooklyn Tweed and Jill Draper are three, but there are lesser known yarns to explore, like Doc Mason, Salt River Mills and Beaverslide Drygoods.

The patterns exemplify Slow Knitting. There are only 10, carefully chosen to both highlight the yarns and to engage a knitters the mind and hands. I was drawn to the more complex patterns, in the spirit of Slow Knitting , sweaters that will take a season to knit, especially Julia Farwell-Clay's Russian Sage knit from Sincere Sheep's Cormo Sport and Grown by Norah Gaughan knit from Brooklyn Tweed's Shelter.
This book is a luscious meditation on yarn and knitting.
JM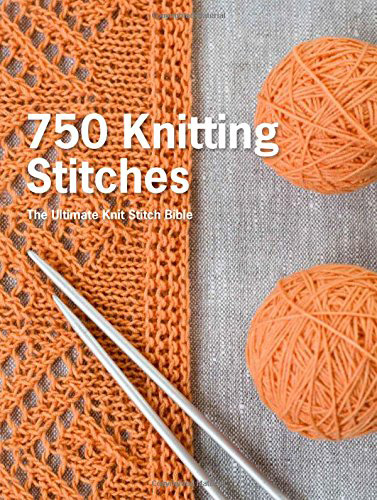 750 Knitting Stitches: The Ultimate Knitting Stitch Bible
St Martin's Griffin
$24.99, hardcover
buy now at Amazon
I have to be upfront and say that the ultimate stitch guides for me are still Barbara Walker's Knitting Treasuries 1-3. I will also admit that the idea of 750 stitch patterns in a single, hardcover book excites me. If you own the New Harmony Guides published by Interweave Press years ago, this is a collection of all of the stitches.
There are all of the usual suspects in here, sections on knit and purl, lace and eyelets, cable, color work and edges and trims. So many things to choose from and with the different types of stitches together in one book, I am more inclined to look for stitches that go together across types rather than staying in a single stitch-lane.

The pages are color coded on the edges by stitch category, so they are very easy to find. Sadly there are very few charts. All of the stitch patterns are shown in full color in a swatch that average 2"x2" it's great to see them as knitted fabric in color.
This was the only stitch dictionary I took with me for swatching this summer, why? Hardcover (hard to destroy, lays flat) and 750 stitches in one place. It's a cornucopia of creative inspiration.
JM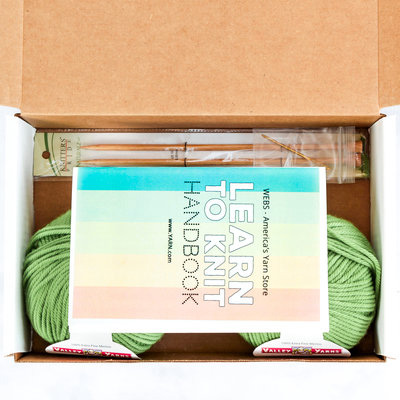 WEBS Learn to Knit Kit
$29.99
buy now from Webs

Beautifully packaged this kit contains everything you need to get going on a scarf project: yarn needles, a yarn needle for weaving in ends, a project bag, and a nice booklet with all the key instructions. The team at WEBS has also put together a library of videos on relevant skills.

The version of the box I saw had the instructions for a Mistake-Stitch Rib scarf. This project might be a little beyond the skill level of an absolute beginner or a kid, but it would be ideal for a knitter returning to the craft after a long hiatus, or a way to set up a knitter who's ready to set out beyond garter stitch. I also think the kit would be terrific for a gift from a knitter to a non-knitter, with the promise of in person support and lessons. Think of it as a knit-night in a box! (All you'd need to do is add snacks...)

KA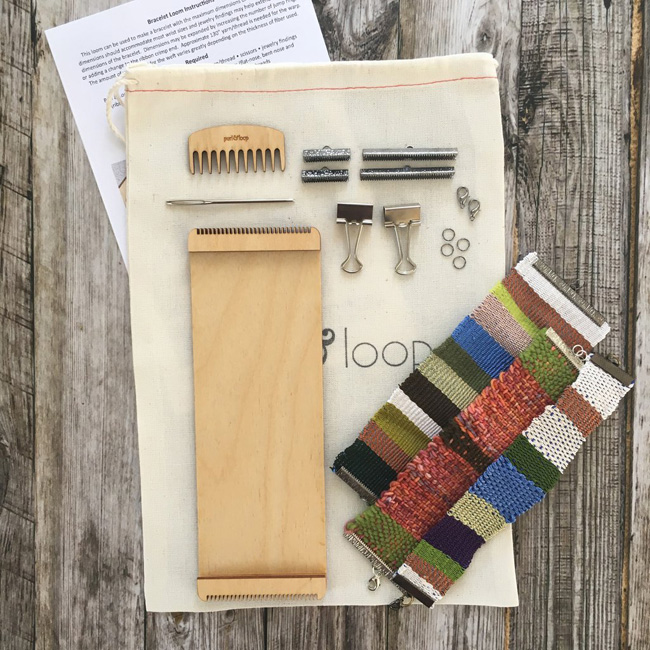 Bracelet Loom Kit
by Purl & Loop
$42
buy now from Purl & Loop
If you think you're coming down with the weaving bug, but aren't yet sure the severity of the affliction, the Purl & Loop Bracelet Loom might be for you.
It takes practical swatches and raises them to a new form as wearable art. This loom is perfect for both new and experienced weavers alike. Perhaps you're curious what it's like to weave at all. The length allows the weaver space to watch fabric develop or play with different weaves on the same warp.
The size is comfortable to hold in your hand and very portable (it fits nicely into a Tom Bihn Sidekick [reviewed here]).
It's great to explore with all the mini skeins available.
If you happen to have jewelry findings you can purchase the compact set that includes the necessities to begin weaving. If you're new to jewelry making, there is a starter package that also includes two sets of the basic findings to finish two bracelets so you can just add yarn and go.
PSG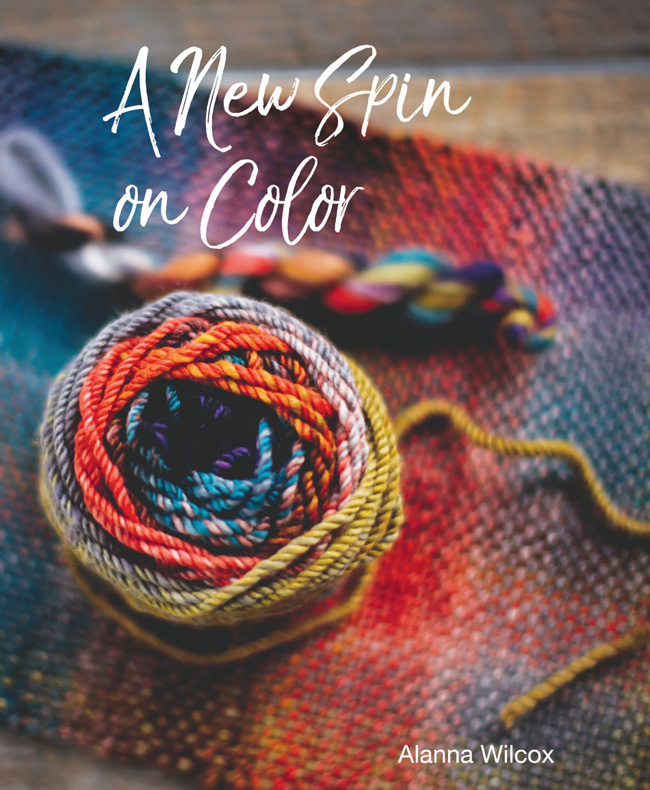 A New Spin on Color
by Alanna Wilcox
$38 print + digital, $18 digital
buy now from the author
I love everything about color and spinning so I was excited to get my hands on this book by Alanna Wilcox. This book was a labor of sweat and love, it encompasses the work Alanna did over four years to achieve her Master Spinner Certificate from the Ontario Handweavers and Spinners. And it is full of good stuff!

The topic is spinning handpainted top in 20 (I think there is more here) ways. I know everyone has braids stashed away and this is a great book to help you explore ways to spin them. Alanna covers Color Theory, Preparation and Spinning Mechanics, Solid and Crisp Colors, Barber Pole and Heathered Yarns and Blended and Muted Yarns in each of her chapters.

This book is especially excellent in that Alanna walks you through each technique visually. This book is amazing in it's visuals. Because it is self published, Alanna could pick the exact photographer, illustrator and book designer to make her ideas sing. A commercial publisher would have condensed this book into half of the pages.

The illustrations of techniques and the photos of yarns and samples are crisp and large with lots of white space surrounding them, everything that's going on is very, very, clear.

She shows samples in the fiber, yarn and a knitted swatch and sometimes a crocheted or woven swatch. There are also finished garments and accessories illustrating the techniques in the book.

A fun and informative book to spin through and it satisfies a spinner's craving to really see what's being discussed.

JM