Feature: Get Warped. Free weaving tutorial about how color appears in woven fabric by rigid-heddle loom expert Liz Gipson
Get Warped
Get Warped

All the Sheeps
We love them, those noble Leister Longwools, charismatic Karakul, reliable Romney, long-locked Lincolns, adorable Churros—I mean look at that face—but what is a knitter to do with them? Weave! All these wools on the strong side of the wool spectrum, are perfect for long-lasting rugs. Rugs don't have to be woven on specialized looms and they don't have to be huge—small throw rugs, table runners, placemats, table squares, and coasters—work up beautifully using rug-weaving techniques and materials.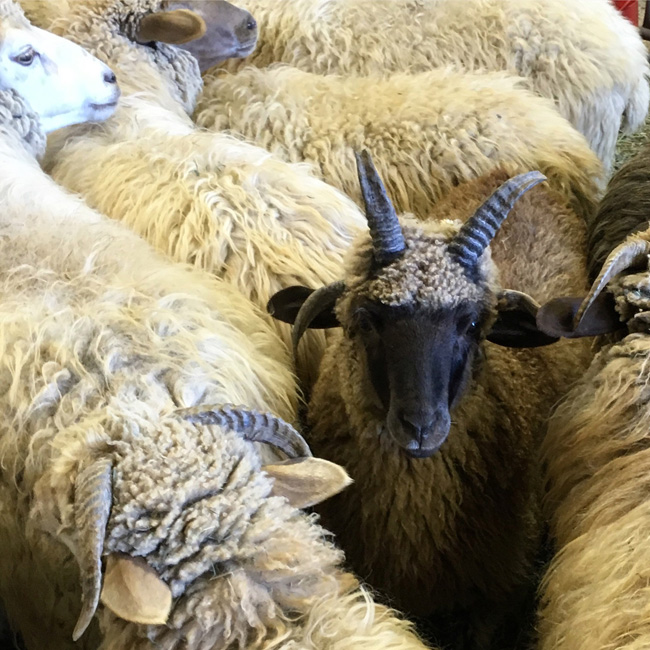 I hear it all the time, you can't weave a rug on a rigid-heddle loom, which is just fiddle-faddle. All you need to weave a rug are good materials and yarn held under reasonably good, even tension. Rugs benefit from a firmly packed weft, which will make many rigid-heddle weavers happy as you are always being schooled to press your yarn into place lightly. In the case of a rug, you can give it a good whack. If desired, you can also use a tapestry beater to press the yarns firmly into place, although for many rugs styles this isn't necessary. How firmly you pack your rug is somewhat up to your taste and the intended use. The harder you pack the weft, the clearer the colors and denser the fabric.
Earlier this year, I hosted a weave-along for the Simply Striped Rug from my first book, Weaving Made Easy. For support, I posted a video on my YouTube channel where I talk about weaving on open setts for weft-faced fabrics, ply-splitting for seamless joins, using a tapestry beater, the concept of an open and closed shed on a rigid-heddle loom, and a bit about selecting your materials. (Oh, and you get to meet my dog, Buster.)
If you watch the video, you will notice I squeezed a lot of yarn in front of the camera. If you give yarns spun from the soft side of the spectrum a good squeeze, it tends to compress quite a bit. You can often feel the contours of your fingers as they press towards one another. Wools on the sturdy side, don't give way as much under pressure, all you feel is a firm mass of yarn. That's what makes them great for interiors—this, and a whole lot of other yarn geekery, such as how they are prepared and spun.
In my new book, Handwoven Home, I have a number of rug projects from the classic rag rug to decorative Krokbrag. By adding rugs into your repertoire, you can use all the sheeps—from soft to strong.