City of Emeralds (aka The Wizard's Green Glasses), a free knitting pattern from Knitty.com.
INTRODUCTION
City of Emeralds
(aka The Wizard's Green Glasses)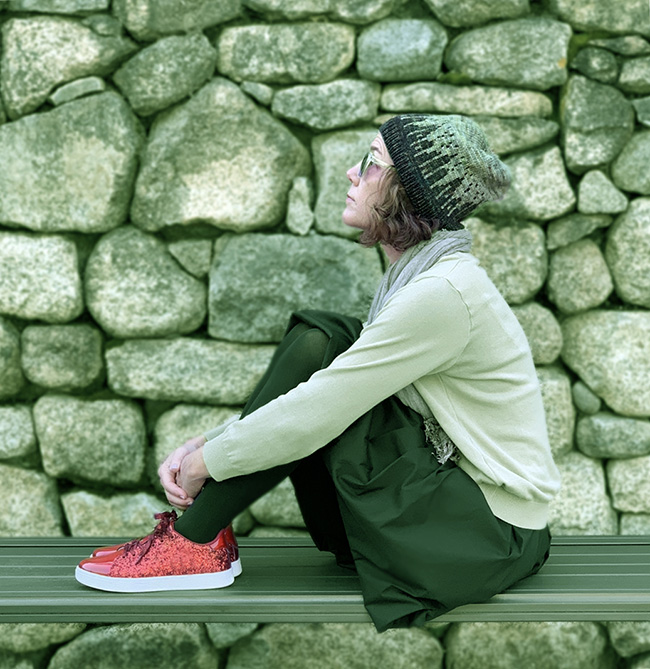 by Angela Hahn

In The Wonderful Wizard of Oz, the first of many books L. Frank Baum wrote about Oz, its capital city was called the "City of Emeralds," not the "Emerald City" (which was used in his later books, and in the 1939 movie). Here's another piece of Oz trivia: The Wizard required everyone in the city to wear green glasses, not (as he claimed) to protect their eyes from the city's brilliance, but to maintain the illusion that everything within the city was green; in fact, while the exteriors of the city's great buildings and its outer wall were encrusted with emeralds, their interiors were of many different colors. That deceitful Wizard!
So the lore of Oz inspired two moods for this hat: City of Emeralds shows the city in jeweled shades of green, silhouetted against a golden sky (a nod to the famed Yellow Brick Road), while the second shows the skyline and sky on a tornado-ey sort of day, as if seen through the Wizard's green glasses.
The City of Emeralds is a beanie-style hat with some slouch at the crown, and is worked in the round from the bottom up. The number of rounds worked between the City motif and the crown decreases can be adjusted (see instructions) to fine-tune the slouch of your beanie (City of Emeralds is less slouchy, and Wizard's Green Glasses is more slouchy).
The City motif is worked in mosaic knitting, a slipped stitch technique invented by Barbara Walker for color knitting. It is much easier than stranded knitting, because only one color of yarn is used during each round (the stitches of the other color are slipped). My love of this technique was inspired in part by Woolly Wormhead's wonderful mosaic knitting, including her Shadowed hat pattern, in the Winter 2019 issue of Knitty.

model: Angela Hahn


photos: Angela Hahn, Tom DeVesto
SIZE
Toddler[Child, Teen-Small Adult, Med-Large Adult]
Shown in Size Teen-Small Adult in more slouchy version above(dark green/light green) and Size Med-Large Adult in less slouchy version (blue-green/gold) below.
Fits head circumference of approx 17-18[18-20, 20-22, 22-23] inches/ 43-45.5[45.5--51, 51-56, 56-58.5] cm.
See Pattern Notes for fitting and customization information
FINISHED MEASUREMENTS
Circumference: 16.75[18, 19.25, 20.5] inches/42.5[45.5, 49, 52] cm
Height:
Less slouchy version: 6.5[7, 8.25, 8.25] inches/16.5[18, 21, 21] cm
More slouchy version:

7.5

[

8

,

9.25

,

9.25

] inches/

19

[

20.5

,

23.5

,

23.5

] cm
MATERIALS
Yarn
Madelinetosh Tosh DK [100% superwash merino wool; 225 yd/205 m per 115g skein];
City of Emeralds version (blue-green/gold):


[Color A] Newshire; 1 skein


[Color B] Glazed Pecan; 1 skein
The Wizard's Green Glasses version (dark green/light green):


[Color A] Tacanda; 1 skein


[Color B] Venti Dragon Mocha; 1 skein

Yarn Characteristics


The samples shown use a DK-weight plied wool yarn that is smooth, springy, and has been hand dyed in lightly to moderately variegated colors, which add interest and depth to the design. Whether using solid or variegated yarn, choose colors that have enough contrast to display the design.

Recommended needle size
[always use a needle size that gives you the gauge listed below - every knitter's gauge is unique]


1 US #6/4mm circular needle, 16 to 24-inch/40 to 60-cm depending on chosen hat size


1 set US #6/4mm needles for small circumference in the round

Notions


stitch markers


removable stitch marker


yarn needle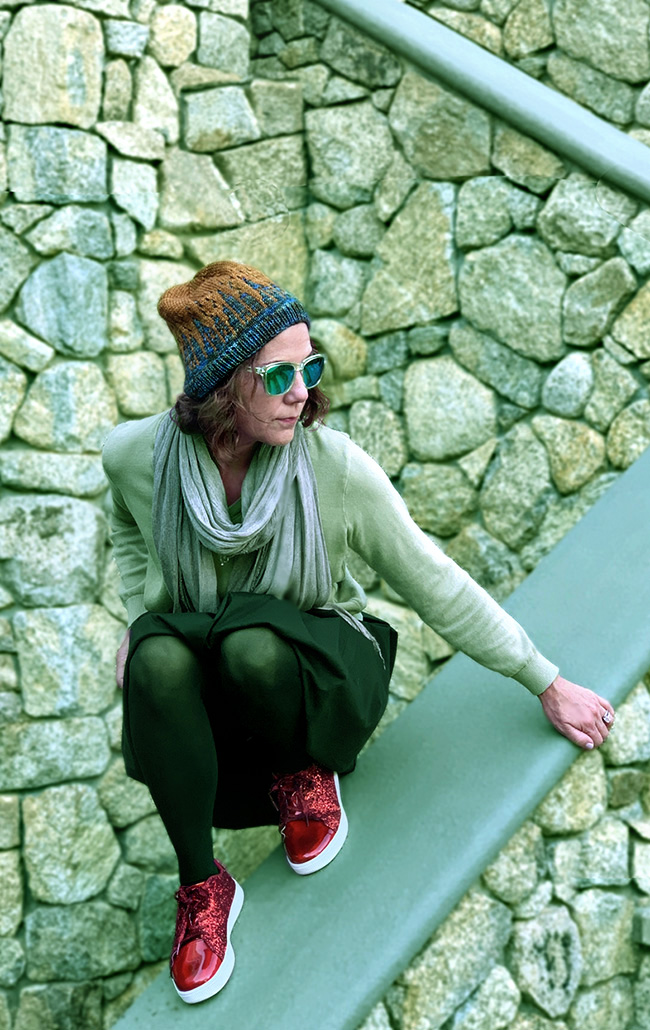 GAUGE
23 sts/30 rounds = 4 inches/10 cm in stockinette stitch
25 sts/49 rounds = 4 inches/10 cm in City mosaic stitch
PATTERN NOTES
[Knitty's list of standard abbreviations and techniques can be found here.]
What size to knit: Consider whether the wearer prefers a tight or a loose fit. I recommend choosing a hat circumference that is 1-3 inches/ 2.5-7.5 cm smaller than the wearer's head circumference. A tighter fit than recommended will distort the mosaic pattern, while a looser fit may allow the hat to fall off easily.
Customizing sizes: The City motif is quite large at 24 stitches, so I have included two smaller Annex charts, each 8 stitches, which can be used (in combination with the City chart) to create a version of this hat that will fit just about any head!
This pattern uses slipped-stitch colorwork (also known as Mosaic). It creates patterns that look like stranded colorwork (Fair Isle), but you only work with one color at a time, making it much easier to work, and a lot less tangly! You work two rounds with one color before changing to the next. To create color patterns, some stitches are knitted in those two rounds, making them that round's color; other stitches are slipped, meaning that they remain the opposite color, the one that they were knitted with in the previous pair of rounds. The fabric compresses vertically.
All stitches are slipped purlwise with the working yarn held in back of the work. Try to keep the working yarn relaxed when slipping more than one stitch.
When you begin the second round of a color, I recommend placing a removable marker in one of the worked (not slipped) stitches in the just-completed round of that color; this will remind you when you complete the second round of that color to switch to the other color. (In areas of the design where the columns don't change much over several chart rows, it is surprisingly easy to accidentally work a third round in the same color.)
CHARTS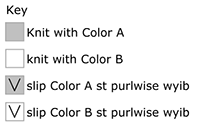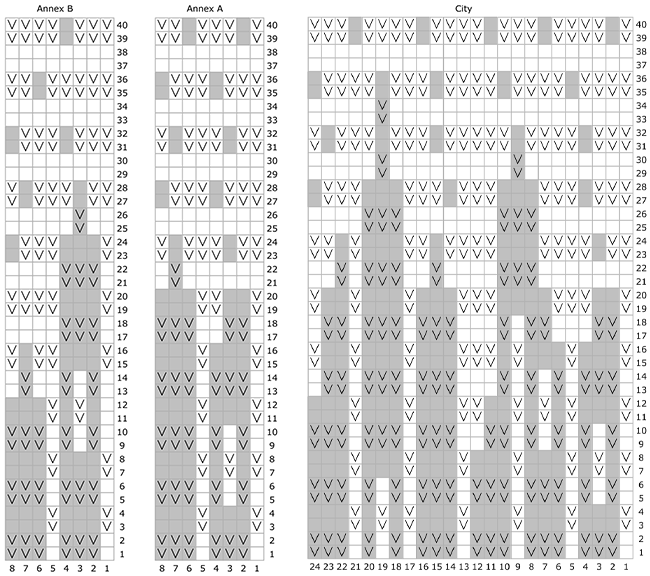 DIRECTIONS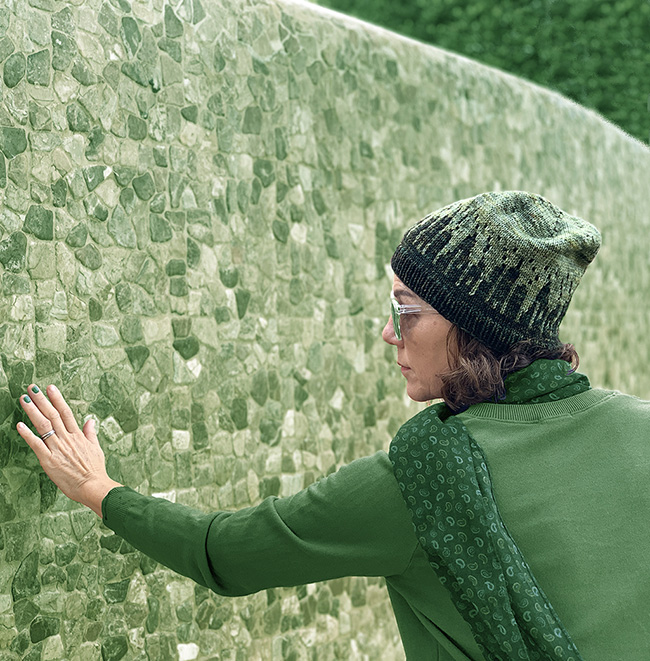 Band
Using circular needle and Color A yarn, CO 104[112, 120, 128] sts. Place marker and join for working in the round.
Ribbing round: [K1, p1] around.
Work ribbing as set for 6[8, 8, 8] rnds total.
Body of Hat
Knit 1[1, 4, 4] rnds.
Beg City patt:
Join Color B, leaving Color A attached. Leave both yarns attached while working the chart pattern.
Rnds 1-2: Using Color B, work Row 1 of City chart 4[4, 5, 5] times, then work Row 1 of Annex A chart 1[1, 0, 1] times, then work Row 1 of Annex B chart 0[1, 0, 0] times.
Rnds 3-4: Using Color A, work Row 2 of City chart 4[4, 5, 5] times, then work Row 2 of Annex A chart 1[1, 0, 1] times, then work Row 2 of Annex B chart 0[1, 0, 0] times.
Cont to work patt(s) as est, working 2 rounds with each color before changing, until you have worked 36[36, 40, 40] rounds in pattern.
Break Color A. Hat is completed in Color B.
Knit 1 round.
Toddler Size ONLY:
Initial Dec rnd: [K15, k2tog, k15, k2tog, k16, k2tog] twice. 98 sts rem.
Child Size ONLY:
Knit one rnd even. 112 sts.
Teen-Small Adult Size ONLY:
Initial Dec rnd: [K13, k2tog] 8 times. 112 sts rem.
Med-Large Adult Size ONLY:
Initial Dec rnd: [K62, k2tog] twice. 126 sts rem.
ALL SIZES:
For Less Slouchy version: Knit 0[2, 6, 6] more rnds.
For More Slouchy version: Knit 6[8, 12, 12] more rnds.
Crown
Note: As hat gets too small to fit on circular needle, change to preferred needles for small circumference knitting.
Rnd 1: (K5, ssk, k2tog, k5) 7[8, 8, 9] times. 84[96, 96, 108] sts rem.
Knit 3 rnds.
Rnd 5 (K4, ssk, k2tog, k4) 7[8, 8, 9] times. 70[80, 80, 90] sts rem.
Knit 3 rnds.
Rnd 9: (K3, ssk, k2tog, k3) 7[8, 8, 9] times. 56[64, 64, 72] sts rem.
Knit 3 rnds.
Rnd 13: (K2, ssk, k2tog, k2) 7[8, 8, 9] times. 42[48, 48, 54] sts rem.
Knit 1 rnd.
Rnd 15: (K1, ssk, k2tog, k1) 7[8, 8, 9] times. 28[32, 32, 36] sts rem.
Rnd 16: (Ssk, k2tog) 7[8, 8, 9] times. 14[16, 16, 18] sts rem.
Rnd 17: K2tog 7[8, 8, 9] times. 7[8, 8, 9] sts rem.
Break yarn, thread through remaining sts and fasten on WS.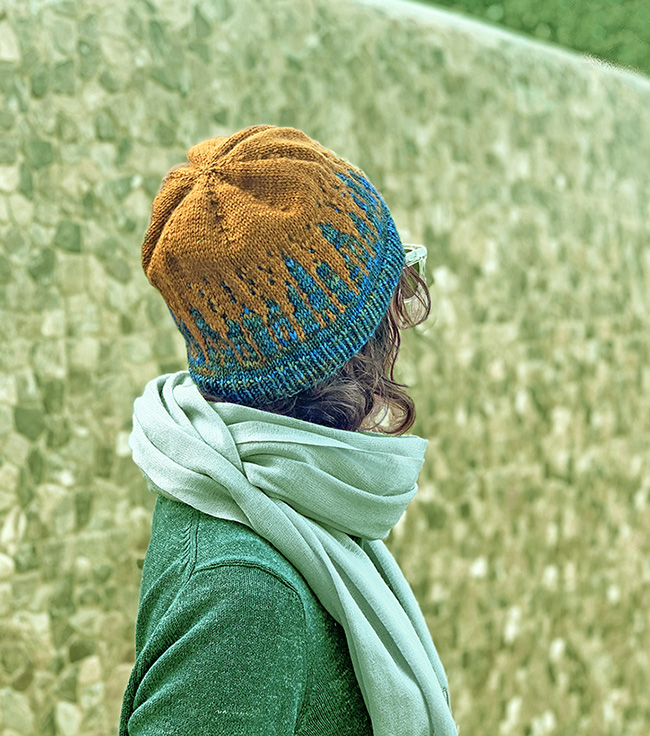 FINISHING
I recommend wet blocking mosaic knitting projects, because I find it does a better job of flattening the fabric than steam blocking: Turn the completed hat inside out and submerge it in cool water, with or without a small amount of rinseless wool wash, and squeeze gently to help water penetrate the yarn. Soak for 10 minutes, then drain water and squeeze hat to remove excess water (never twist or wring!). Place hat on towel, fold towel over hat, and press to remove more water. Put your hands inside hat to gently stretch it, then lay it flat (still inside-out) on a dry towel, re-shaping it to final measurements if necessary. Allow to dry until just slightly damp, then turn hat right side out, stretch again gently and reshape if needed, and lay flat until completely dry.
Weave in ends.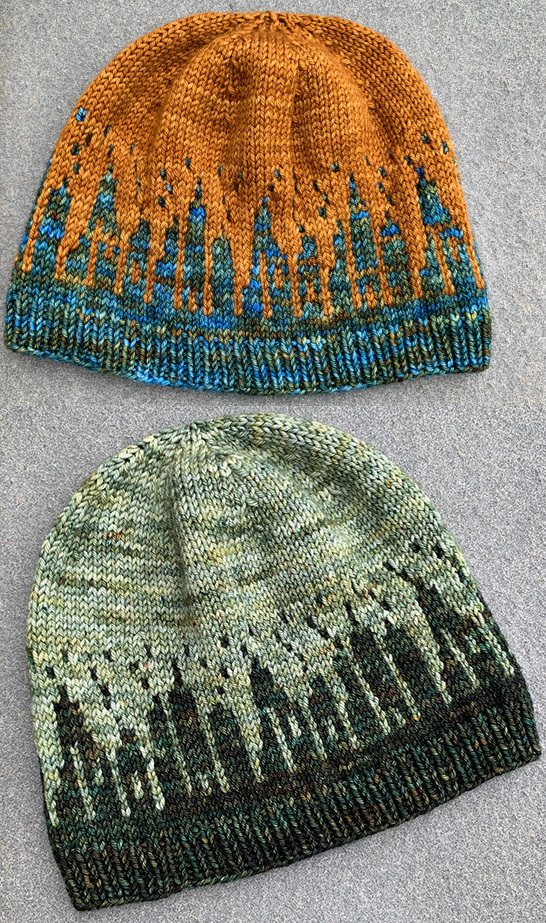 ABOUT THE DESIGNER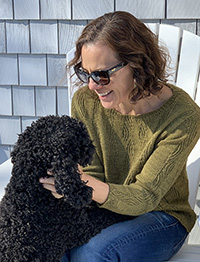 Angela has been designing knitting patterns since 2005, and published her first Knitty pattern, Sherwood in 2006. Many patterns later, she is delighted that both she and Knitty are still going strong! When not designing or knitting, she enjoys playing the mandolin and singing in Irish sessions and bluegrass jams.
Angela's designs can be found on her Ravelry designer page, email, Facebook, Instagram.
Pattern & images © 2022 Angela Hahn