Infundibulum, a free knitting pattern from Knitty.com.
INTRODUCTION
Infundibulum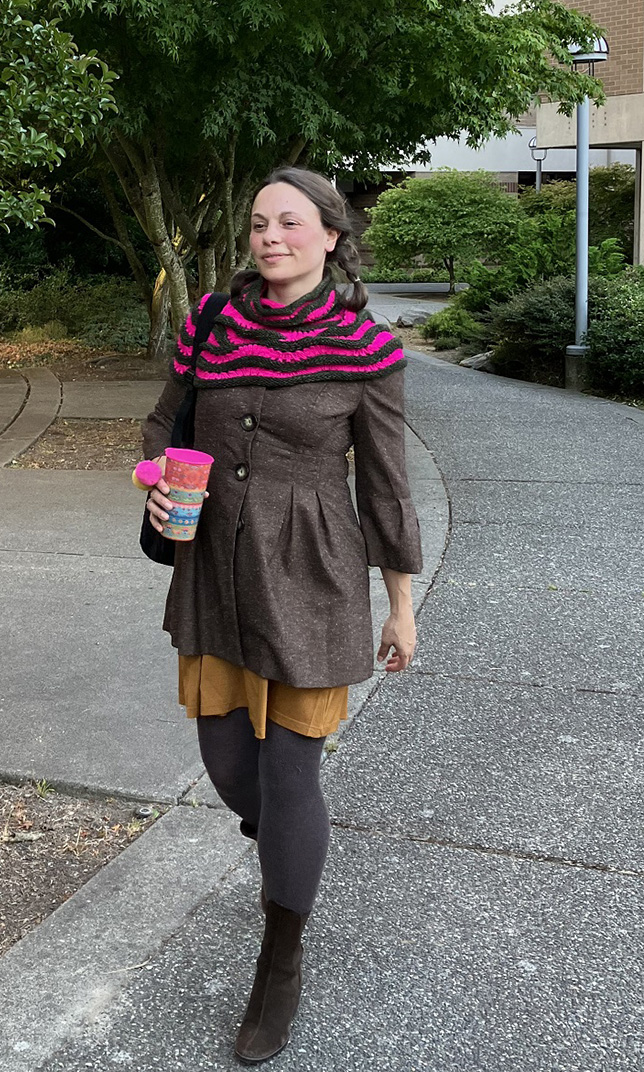 by Jennifer Miller Comstock

Infundibulum! It sounds like a magical incantation, but simply means "funnel" in Latin, and this delightful word was the inspiration for this fun yet practical cowl.
With cozy welted stripes, undulating lace, and striking stripes, this funnel-shaped cowl is a playful way to use up leftovers or showcase handspun yarns. Imagine a gradient or rainbow of shades as your contrast color, tucked into neutral-colored raised welts, or just work the whole thing in a fabulously multi-colored handspun!
The simple lace pattern, a variation of the familiar feather-and-fan, is tucked into the edges of the welting to create the wavy shape without letting the wind in. The fitted neck flows easily into a wider flange to cover the shoulders, to keep out all of winter's chills. Surprisingly quick and easy to knit, this could become a go-to gift for those special people on your list.
The cowl is begun at the top, with smaller needles and a narrower circumference, in the 12-round Welted Lace pattern. A single increase round and larger needles are all that is needed to widen the piece into a funnel shape and continue into the Wider Welted Lace pattern.

model: Jennifer Miller Comstock


photos: C. Comstock
FINISHED MEASUREMENTS
Neck circumference: 20[25] inches/ 51[63.5] cm
Lower edge circumference: 40[50] inches/ 101.5[127] cm
Total height: 16 to 18 inches/40.5 to 46 cm (welting behaves like horizontal ribbing and is very stretchy).

See Pattern Notes for advice on choosing a size to knit
MATERIALS
Yarn
Malabrigo Worsted [100% merino; 210 yd/192 m per 100g skein];


[MC] Olive; 1[2] skeins


[CC] Fuchsia; 1[2] skeins
Note: The second size uses only about half of the second skein of the MC and about a third of the second skein of CC.
Yarn Characteristics


The sample shown uses a plump worsted-weight single that is dense and soft. Yarn with good elasticity will allow the welting to really pop; a more drapy yarn will result in a flatter fabric.

Recommended needle size
[always use a needle size that gives you the gauge listed below - every knitter's gauge is unique]


US #8/5mm circular needle, 16-20 inches/40-50cm


US #10.5/6.5mm circular needle, 24-40 inches/60-100cm

Notions


one stitch marker


yarn needle
GAUGE
18 sts and 26 rows = 4 inches in stockinette stitch on smaller needle
18 sts and 40 rounds = 4 inches in Welted Lace patt on smaller needle
14 sts and 28 rounds = 4 inches in Wider Welted Lace patt on larger needle
PATTERN NOTES
[Knitty's list of standard abbreviations and techniques can be found here.]
The important measurement for choosing your size is the lower edge circumference. You will want to measure your upper body circumference, including your arms, several inches down from the top of the shoulder. If this is less than 45 inches/114 cm, the first size will fit better; if more than 45 inches/114 cm, the larger size will fit better.
LACE PATTERN

Welted Lace Patt (mult of 11 sts)
Rnd 1: With CC, *k2tog twice, (YO, k1) 3 times, YO, k2tog twice, rep from * until end.
Rnds 2-5: With CC, knit 4 rnds.
Rnd 6: As rnd one
Rnd 7: With MC, knit.
Rnds 8-12: With MC, purl 5 rounds.
Wider Welted Lace Patt (mult of 17 sts)
Rnd 1: With CC, *k2tog 3 times, (YO, k1) 5 times, YO, k2tog 3 times, rep from * until end.
Rnds 2-5: With CC, knit 4 rnds.
Rnd 6: As Rnd 1.
Rnd 7: With MC, knit.
Rnds 8-12: With MC, purl 5 rounds.
DIRECTIONS
Top Edge
With smaller circ and MC, CO 88[110] sts. Place marker and join for working in the round.
Purl 5 rounds.
Join CC. Leave both yarns attached throughout.
Work rnds 1-12 of Welted Lace 5 times – 60 rounds total.
Next round, increase: With CC, *k3, (YO, k1) 5 times, YO, k3, rep from * to end. 136[170] sts.
Change to larger circular needle.
Work rnds 2-12 of Wider Welted Lace once, and then rnds 1-12 4 times – 59 rounds total.
Bind off as follows: K1, *k1, return both sts to left needle and knit them tog tbl; repeat from * until all sts have been worked. Cut yarn and pull through final sts to secure.
FINISHING
Weave in all ends. Hand wash in warm water and roll up in a towel to remove excess water. Gently shape and lay flat to dry.
ABOUT THE DESIGNER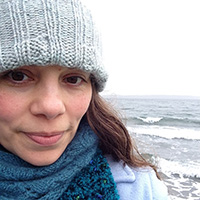 Jennifer lives and works in the beautiful Pacific Northwest, where it is sweater weather all year. She manages The Weaving Works, designs in her spare time, and occasionally even writes down some of the patterns.
You can find more of her work on Ravelry.
Pattern & images © 2022 Jennifer Miller Comstock