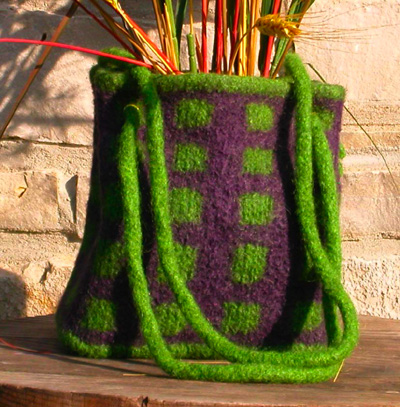 Base
Using smaller needle and CC, CO 32 sts.
Row 1 [RS]: [K1, sl 1] to last 2 sts, k2.
Rows 2, 4, 6, 8 [WS]: Sl 1, p to end.
Rows 3, 7 [RS]: [Sl 1, k1] to end.
Row 5 [RS]: Sl 2, k1, [sl 1, k1] to last st, k1.
Repeat Rows 5-8 six times more.
Next Row [RS]: Sl 1, k1 to end.
Pick up sts around base:
With RS facing, pick up and k 16 sts (1 st in each slipped st) along side edge of work, pick up and k 32 sts along CO edge, pick up and k 16 sts along remaining side edge of base. 96 sts on needle. Place marker on needle; from this point, bag will be worked in the round.
K 2 rounds.
Set CC aside, work next round using MC. When working the body of the bag, it is not necessary to break CC when not in use; it may be carried loosely along the back of the work.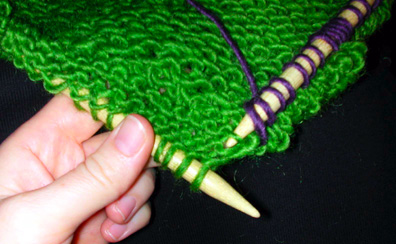 Next Round: [Insert left needle into purl bump at back of st 3 rows below next st, k next st on needle together with picked-up st] to end. This will create a decorative ridge which will give structure to the bottom of the bag.
Bag Body:
Round 1: [K1, sl 1] to end.
Rounds 2, 4: K all sts.
Round 3: [Sl 1, k1] to end.
The next section is knit using the larger needle. When working the slip stitch pattern, be sure to push stitches down your right needle after you have knit them, to help ensure that the yarn floats at the back of the work are not too short. It is better for the yarn to be stranded too loosely, than too tightly!
Round 5: Using CC, sl 2, [k4, sl4] to last 2 sts, sl 2.
Round 6: Using MC, k2, [sl 4, k4] to last 2 sts, k2.
Rounds 7-14: Repeat Rounds 5-6 four times more. The CC squares will be 5 rows high.
Round 15: Using smaller needle and MC, k all sts.
Repeat Rounds 1-15 four times more, then work Rounds 1-4 once more.
Work I-Cord Bind Off as for swatch. Be sure to work this BO very loosely! If you are a tight knitter, you may wish to use a US #17/12mm needle.
When BO is complete, break yarn and draw through sts on needle. Use yarn tail to sew ends of I-Cord together, creating as smooth a join as possible.
Strap
Using smaller needle and CC, CO 3 sts, leaving a 4-inch tail. Work I-Cord until work measures approx. 9 feet without being stretched. BO all sts and break yarn, leaving a 4-inch tail.
Felting
Place your bag and the I-cord in a zippered pillowcase, or in a regular pillowcase held closed with a ponytail holder. Set a top-loading washer on the smallest load size. Add just a few tablespoons of laundry soap. Set the water temp to hot wash/cold rinse. Place the loaded pillowcase and one or two pairs of jeans in the washer. Do not use towels or other types of fabric, because they will release lint that will lock itself into your felt. Start the washer.
You might want to check on the progress of your felting during the cycle while you become more familiar with the felting process. Fully felted fabric should no longer have visible stitches, and should not stretch much when pulled on the bias.
The cold water rinse gives an additional shock to the wool and helps the felting process along. With Brown Sheep yarns and the hottest water I could muster, the handbags in the photo took two complete cycles.
Some felting guides recommend skipping the spin cycle, because it can create creases in your finished product. These creases can often be steamed out with an iron. If you opt not to use the spin cycle, squeeze the handbag in a thirsty towel to get out as much water as possible, so the bag will dry within your lifetime.
Blocking
To give the bag its distinctive rectangle shape, you need a box that is just the right size. (You can also use books, CDs, VCR tapes, Harry Potter books or anything else at hand to make your form.)
Cover the box(es) with a plastic grocery sack and stretch the damp, shriveled, felted bag over the box. Stretching is good! The snugger the fit, the crisper the shape of the final bag. (You might even decide at this point to run the bag through an additional wash cycle.) Put the bag near a radiator or heat vent and let dry. This might take a few days, depending on how wet your bag is to start.
Stretch out the damp I-cord, and hang it to dry. Really stretch it! Do not cut off the yarn tails at either end of the cord; those ends will help you thread the I-cord through the eyelets.