Stash Storage

Fall heralds the peak and subsequent end of fiber fest and agricultural fair season, better known as Stash Acquisition Time. Gather ye fleeces while ye may -- the kids can store their clothes in the bathroom or the garage, right?
But wait -- no need to panic. There are some great, and great-looking options for storing your spinning fiber no matter what your living situation. (While I'm referring to fiber here, most options will also apply to yarn, too). Your storage space may be limited to undesirable areas of your house or apartment, but that doesn't mean your fiber has to suffer. Remember these three things: fiber needs to be stored dry, protected against moths and other insects, and easily accessible. Everything else is a matter of personal taste and floorspace.
BASEMENT/GARAGE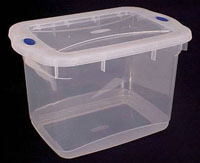 If you've only got space in the basement or a damp garage, plastic tubs are your friend. Readily available at discount stores, choose clear plastic whenever possible unless your space is lit with direct sunlight, which may affect unstable dye colors. Clear plastic makes it easier to hunt down a certain color or fiber type; alternately, label the bins with tape. "2007 Rhinebeck fleeces" or "Dyed Corriedale top, various colors," etc. Apartment building storage lockers tend to be damp and small (not to mention flooded when you least expect it, according to anecdotal evidence from many renting friends) -- sealed plastic tubs will help keep your fiber safe no matter what happens. Mice and other apartment-building fauna love to nest in fiber, so the more solid the seal on your tubs, the better. [Tub at left by Rubbermaid]
ATTIC/BARN/HIGH-CEILINGED GARAGE
If you're lucky enough to have an attic, barn or high-ceilinged garage, you can store fiber the way the pros do... and by "pros," I mean sheep farmers. Gather up all your old pillowcases -- garage sales are a great place to stock up on these. Using a sturdy piece of yarn or twine (hemp works well) and a large needle, thread a long piece of yarn through the channel at the open end of the pillowcase, fill it full of fiber, and hang it from the ceiling beams with an s-hook or similar piece of hardware. At the sheep farm where I bought my first fleece, they used sheets, one per fleece, and hung them from part of the barn ceiling. The fabric allows air circulation but keeps it off the floor and away from mice or other pests. Put in a sachet of anti-moth herbs in each bundle and you'll not only scare insects away, but make the room smell nice, too.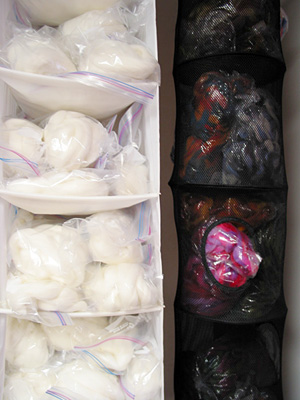 A variant of this option, for those of you who have sturdy drop ceilings and no pest problem: store lightweight bags of fleece overhead between the drop ceiling and the actual one. Don't forget they're there -- and periodically check to make sure nothing's gotten into the bags. This option is not recommended for stinky raw fleeces, unless you have really bad houseguests and want to send them home.
CLOSET
Closets are an obvious choice if you're trying to keep the fiber away from curious kids or pets (or hiding your latest acquisition from your significant other...not that you'd do that, right? *cough, cough*). If you've got just a little bit of space, get shoe or sweater organizers from IKEA -->
They hang directly from the closet rod and will fit quite a bit of fiber in each cubbyhole. An entire closet? Build shelves across the back or hang fiber from the wall and closet rod in bags with s-hooks.
OUT IN THE OPEN
Lucky spinner! You've got yourself a studio space or an exceptionally understanding significant other. Here's where the storage and display gets fun. All photos were taken at River Colors Studio in Lakewood, Ohio, with the exception of the IKEA hanging shoe rack and mesh "tunnel," from my shop Stitch Cleveland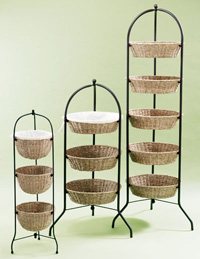 <--Lantern Moon seagrass towers, shown at left. Available, along with many other beautiful and practical display options, at lanternmoon.com (look under "accessories.")
Advantages: sturdy, purpose-built, attractive.
Disadvantages: cost, not for homes with toddlers or naughty pets.

Wire racks. Can be wall-mounted, mounted inside wall depressions (many older houses have spaces that formerly housed built-in shelving or cabinetry) or placed on an attic or basement wall.
Advantages: great air circulation, cost-effective, widely available.
Disadvantages: no appropriate walls for placement or can't install in rental apartment, fiber can slip off the sides easily if not blocked with something.
Bookshelves. Depending on the size of your stash, you might even be able to fill in the space above existing books (don't try this with greasy straight-off-the-sheep fleeces, though). Advantages: reasonably priced, available at home improvement and discount stores, easy to put together, effective use of floorspace.
Disadvantages: takes up lots of wall space, lower shelves accessible to toddlers and pets.



Antique shoe racks -->
Advantage: great air circulation, on rollers, fits in a mudroom or back of a closet. Disadvantage: Hard to find, keep an eye on garage sales and auctions.
A special note for raw, as-yet-uncleaned fleeces: their sticky- and often stinkiness can preclude storing them in the open. Either wash them first, or seal in plastic bags before putting into containers full of other fiber (if you don't have enough space to separate them from the flock). Air them out at least every few months, and don't store them in extreme temperatures, as the various sheepy fluids can coagulate nastily -- or at the very least, make them more difficult to wash later.
No matter how you choose to store your fiber, keep it dry, away from pests and as easily accessible as you can given your own living situation, and you'll be much more likely to use it throughout the year!