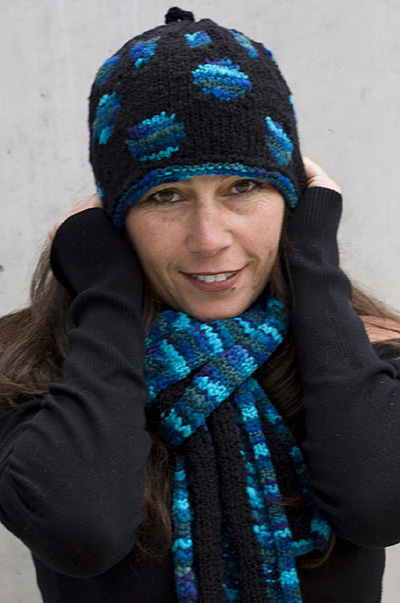 HAT

Using US #10/6mm circular needle and CC, CO 80 sts. Place marker and join to begin working in the round, being careful not to twist.
Work 2 rounds in garter st, beginning with a k round.
Join MC. Using MC, work 2 more rounds in garter st.
Work through all rounds of Hat Chart; see notes above re. working intarsia in the round. Chart will be repeated 5 times in each round. Note that it is not necessary to break the lengths of MC between the first set of circle motifs and the second set; yarn may be carried loosely across the back of the work.
When all rows of Hat Chart are complete, resume working in the round, using MC only.
K 1 round.
Switching to double-point needles when necessary, shape crown as follows:
Round 1: [K6, k2tog] to end. 70 sts.
Even-Numbered Rounds 2-10: K all sts.
Round 3: [K5, k2tog] to end. 60 sts.
Round 5: [K4, k2tog] to end. 50 sts.
Round 7: [K3, k2tog] to end. 40 sts.
Round 9: [K2, k2tog] to end. 30 sts.
Round 11: [K1, k2tog] to end. 20 sts.
Round 12: [K2tog] to end. 10 sts.
Round 13: [K2tog] to end. 5 sts.
Round 14: Working all sts onto one needle, k2tog, k2tog, k1.
Work remaining 3 sts in I-Cord until cord measures 1 inch. Break yarn and draw through all sts, pull tight. Form cord into a loop, and use yarn tail to sew in place.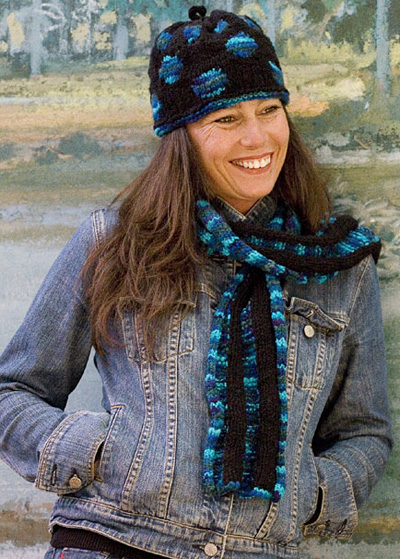 SCARF
Before beginning, wind yarn into large bobbins or butterflies; 2 of MC and 3 of CC. Don't worry about having enough yarn in each to work the entire scarf; make them a comfortable size to work with, and wind new ones as needed.
Using CC and US #11/8mm needles, CO 29 sts.

Row 1 [RS]: [K7, p4] twice, k7.
Row 2 [WS]: [P7 using CC, k4 using MC] twice, p7 using CC.
Row 3 [RS]: [K7 using CC, p4 using MC] twice, k7 using CC.

Repeat Rows 2 and 3 until scarf measures 60 inches or desired length, ending with Row 3.

Break MC, and all CC strands except the one attached to the last st.

Last Row [WS]: Using CC, [p7, k4] twice, p7.
BO all sts in pattern.