the DIY Guide to Starting your Own Local Charity Knitting Project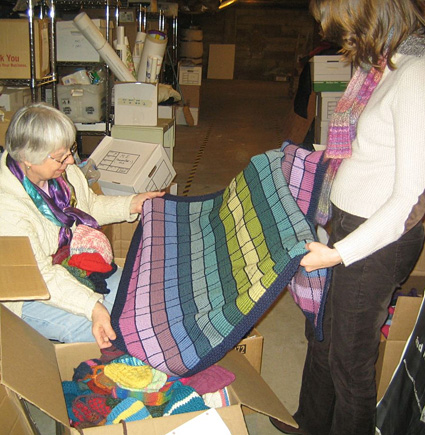 Before too long, the days will be getting shorter and colder and inevitably, our thoughts will turn to our holiday gift lists and local charities. Heaven knows that we knitters are not shy in spreading our crafty love. Gifting, donating, and social activism are literally interwoven with our craft. Many national and international humanitarian knitting projects are making a difference the world over. But what is stopping you, the average knitter-about-town, from putting together a project that will touch the people in your own backyard? We seem to forget all too quickly about the importance of making a difference in our own communities.
In the winter of 2007, I organized a clothing drive for a woman's shelter of Vancouver BC's downtown eastside, one the poorest postal codes in Canada. Through that experience I saw the difference one person can catalyze for a city's forgotten citizens. So, dear reader, this year I am challenging you to channel your passion for our craft and make a difference for the people in your town, city or county. You've never started a charity project, you say? Have no fear – with a little determination and a few tips from the pros, you'll be collecting beautifully handmade pieces of love for those in need around you. To help you in your quest, I'm not only passing along my experiences, but also those of three knitting-for-charity project mavens I have interviewed: Amy Berman, founder of Mother Bear Project; Mary Colucci, Executive Director of Warm Up America!®, and Ann Rubin, director and co-founder of San Francisco-based afghans for Afghans.
Who, What, Where, When, Why and How?
Before starting your project, begin thinking about its scope. This includes defining your recipients, items to be collected, your time frame and motivations, donation goals, potential partner organizations and promotional avenues. Keep in mind administrative and logistical aspects like collection and distribution procedures. Finally, think long and hard about how much time, effort and even money you are willing to commit to your project. I know, I know; it sounds slightly overwhelming. But hey, this article is here to help you sort all those details out. Writing a mission statement is something I strongly recommend as your project's foundation. It proved to be very handy at the beginning of my campaign as it grew organically and unpredictably. Having a rough written framework helped me, as it will you, stay true to your intentions for the project.
So, let's hammer out those pesky details: First up, nail down who your target recipients are, which items you want to collect, and which organization(s) you can work with to make your project possible. Contact administrators who run outreach programs at local places of worship, community centers, hospitals, shelters, social charity groups (Salvation Army, etc), animal rescues, and so on. Partnering with such an organization is something you should definitely consider. They can often contribute the know-how and administrative infrastructure, as well as lend the necessary credibility needed in promoting your project, according to afghans for Afghans' Ann Rubin. As there is so much need in our communities, these organizations can also be helpful in keeping the project's focus narrow; something Mother Bear's Amy Berman deems essential in making any kind of impact with your project.

With the help of a partner organization, carefully finalize the items to be donated, as the needs of a target group can be complex. Donations must be need-focused, sensitive and practical according to Rubinof afghans for Afghans, whose campaigns maintain strict donation guidelines which are based on cultural, religious and climatic factors in Afghanistan. Similarly, Mother Bear Project and Warm Up America!® request specifically designated patterns or items. Keeping requests specific will significantly cut down on the number of unsuitable and unfortunately unusable donations.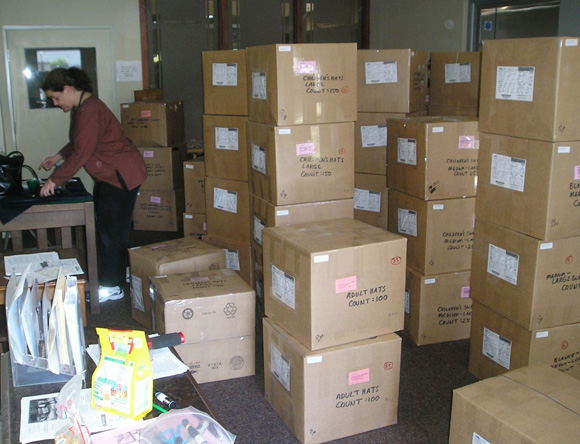 After establishing the project's framework, it is time to look at exactly how your project will operate. Consider the following questions when planning:
What is the project called?

Who will collect donations?

Is there a drop-off point, day and time for donations?

Where will donations be kept, sorted and readied for distribution?

How will you deal with donations that are unsuitable for your recipients?

Can your partner organization/charity provide any assistance in these aspects?

How many volunteers will you need to complete these and related tasks?

How will you promote the project?

Will you hold promotional events such as a knitalong or rally?

Will you assemble a flyer or other informational materials?

How will you handle monetary donations?
Ask yourself these questions sooner rather than later in your project. Otherwise, you may find yourself burned out and overwhelmed, driving around alone to pick up donations, and bags and boxes swallowing up your living room.
Project Promotion via the Big Three
Next up, promotion! It comes as no surprise that this is the key to any charity project's success. There are essentially three types of promotion: online media, traditional media and personal networking. A strong combination of all three will help your campaign achieve a greater impact among the target recipients within your community.
The Internet
The internet is most likely to give you maximum visibility at minimum cost and effort. Set up a web-based email account as well as an online presence for your project. Charity knitting veterans Berman, Colucci and Rubin all agree that a well-presented and informative website is an indispensible form of project promotion. With some ingenuity and the help of free services like Google Sites or Blogger, you can almost instantly get an online presence for your project costing little more than the time it took you to assemble and format the content. You can also encourage participants to subscribe to your RSS feed to receive project updates. Keep a digital camera on you at all times and shoot pictures of any events which you can post on your website or blog.

Social networking sites such as Ravelry, Craftster, Facebook, and MySpace are also fantastically effective online promotional resources. Start a group for your project. Use groups you are already a member of to plug your project and ask friends to help promote your project in other groups. Whichever electronic media you choose to utilize, remember to update your presence regularly and include your mission statement, contact information, donation guidelines, associated links, any press you receive, events and other updates pertinent to participating in the project.
Traditional Media
Even though the internet has revolutionized how we receive information, do not underestimate the power of traditional print media - the second pillar of your project's promotion. Case in point: When Mother Bear Project received initial coverage from a local paper, Berman recalls receiving 800 pattern requests in just 2 weeks and over one hundred people showing up to the first monthly knitalong she organized for the project.
Harnessing the power of traditional media starts with a press release. It sounds slightly intimidating, but a little courage here goes a long way. A free template and writing guidelines are available at free-press-release.com. Succinctly describe the motivations behind the project and who it benefits, how people can contribute, any events you are holding and your contact information. Send a copy of your press release to all your local papers, TV and radio stations and post the press release for free on a website like presszoom.com. After 48 hours, make follow-up calls to the media outlets you sent the release to.
Personal Networking
The final and equally powerful promotional tool is personal or face-to-face networking. Personal networking is the footwork that tangibly connects your project with the community. For my project, I got started by putting together a flyer with the help of friends who have graphic design experience. We drafted a layout that included all the same information used in our online presence. After speaking to the on-duty manager, a big box office supply chain provided gratis copying services. To establish the project's credibility, I obtained and presented a letter of introduction from my partner organization.
With flyer and letter in hand, begin canvassing yarn shops, craft stores, local knitting groups and other associations, cafes, bookstores, other small businesses, markets, and so on to request their support. Pin that flyer up on every corkboard you see! Record the contact details of the people you speak with and where you hung your flyer. Personal networking will not only increase your donation volume, but can also increase the number participants by reaching people not affected by your other forms of promotion. Face-to-face networking may be the most time consuming, yet it is also the most rewarding of all promotional activities.

A few more promotionally-minded tips: Remember, anything you say to a journalist may appear in print or on the airwaves and effectively represents your project, so choose your words wisely. The same goes for your online presence or any informational materials. If you have partnered with an organization, realize that you also represent it and the people it works with. Ask your partners how they wish to be represented and if there are any subjects they would prefer you avoid. Finally, no matter which method of promotion you are using, ensure that all project-relevant details are included and accurate (donation guidelines, drop-off procedures, and most importantly your contact information, website and/or blog).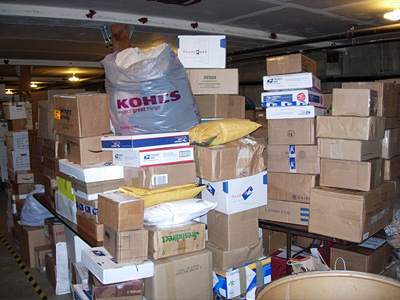 You collected how much?!
Now on to handling all those donations piling up – both knitted items and money. Monetary donations are a sticky subject. To accept tax-free donations, most governments require projects to register as certified charities or non-profit organizations. The registration process can be lengthy and expensive, so if you are short on dough or don't know a lawyer who does pro bono work, simply ask potential cash donors to contribute directly to your partner organization.
The collection of knitted items, however, can be handled in a variety of ways, depending on the circumstances and time constraints you, your volunteers and/or your partner organization(s) have. I strongly discourage giving out your private address for security reasons. Instead, ask your partner organization or local businesses if they are willing to accept donations on your behalf. Several clearly designated and promoted central drop-off points open frequently are ideal as they provide some flexibility for busy donors. In my experience, picking up donations are very time consuming and tedious; schedule specific days for pick-ups in certain areas. Do not make many exceptions unless you have unlimited time and a company gas card. Once you have established a collection system for donations, sort them if required and arrange to deliver the items to your partner organization for distribution.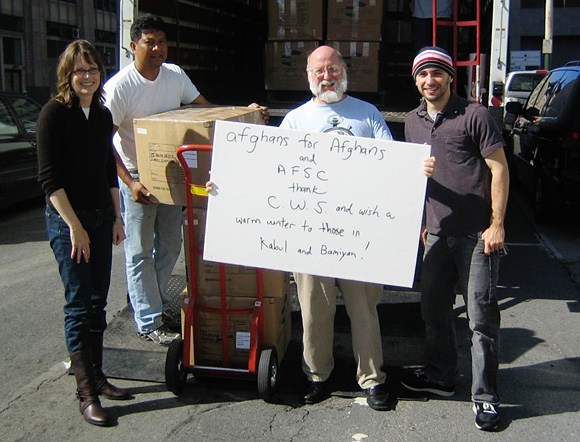 It is amazing what a spark of compassion and a little motivation can do for a neighbor in need. Before I knew it, I had collected nearly five times more than I had initially aimed to. afghans for Afghans' Rubin commented how she and her volunteers had no idea at the beginning of their project that it would be where it is today. In a similar vein, Berman never imagined that she would still be knitting bears five years later for Mother Bear Project. Warm Up America!® is still gathering and assembling blankets 15 years on.
Even if your project only lasts several months, it will raise a lasting awareness of the need of people right there in your community. Each donation conveys care, respect and dignity. And let's face it, folks, there are only so many friends and family members who haven't already received some of your wooly goodness. So take the plunge and do something different this holiday season: knit a difference!