Family plies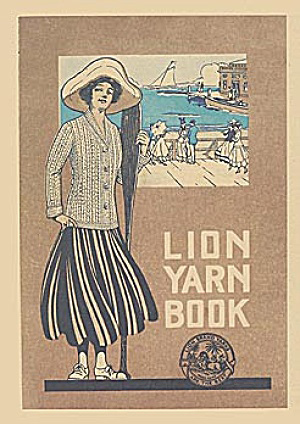 Courtesy of Lion Brand Yarn Company
I once got a message from a knitter that read as follows:
Hi. I am trying to knit this baby outfit and they call for a yarn that isn't made any more. It's not in Ravelry. You write about old knitting. Where can I find out what the yarn was like so I can pick a substitute?
The pattern, published in the 1920s by a yarn company, warned in bold capitals that it would be the height of folly and bad taste to substitute anything for the company's own yarn: FOR BEST RESULTS USE ONLY SUPERIOR "HOTCHA" BRAND "LITTLE FLAPPER FLOSS" OR YOUR BABY WILL GET RICKETS. Or words to that effect.
The difficulty, of course, is that in the intervening century HOTCHA BRAND and its SUPERIOR yarns have long since gone to dust, or been digested repeatedly by larger and larger corporations. Good luck with getting through to customer service.
When you're dealing with older patterns that were published by a yarn company, this is the rule rather than the exception. That's what made me look twice when a student in one of my antique patterns classes pulled out a slim volume with LION YARN BOOK in large letters on the cover.
"Lion as in Lion Brand?" I asked.
"I think so," she said.
It was. Under the title, to the right of a cheerful Ragtime-era soubrette with a shawl-collared cardigan and a canoe paddle, was the familiar trademark of a recumbent lion in a grove of palm trees.
"When was it published?" I asked.
"The copyright is 1916," she said.
"Hmmm," I said.
I had heard of Lion Brand Yarns, of course, but to be quite honest hadn't given them much thought. I associated the name with acrylics and novelty yarns–neither of which is on my list of Favorite Things. They also tend in these parts to be sold primarily in large chain craft stores, which in my little urban village of North Side Chicago are less common and more bothersome to reach without a car than small, independent shops.
But I rather liked the idea of working through a centenarian pattern using modern yarns from the same company that had originally published it. So I did a little digging, made a few calls, and found out that far more than the name and trademark had survived.
When it published "Lion Yarn Book," the company was already well past the quarter-century mark. Reuben Blumenthal established the company in New York in 1878. Almost 135 years later, the company's CEO is still a Blumenthal – David, a direct fourth-generation descendant of Reuben – and his office is still in New York City. In fact, the majority of Lion Brand's leaders are Blumenthals, all great-grandsons of the founder. A fifth generation – including David's son, Evan, now Director of International Sales – is rising, which I think must qualify the Blumenthals to be the Rothschilds of the yarn industry.
I spoke with Jack Blumenthal, a Senior Vice President with an intimate knowledge of the company's history, about how he literally grew up in the business. His father, George H. Blumenthal, was a trained textile engineer who handled the company's sales.
"From the time I was four years old," says Jack, "all I wanted was to be like my dad. He got to travel the world, talking to people, talking about yarn, which what he loved. And I knew I wanted to do that."
On the road, George not only promoted the company's lines but collected information about what yarns knitters were looking for, and where they were looking for them. Like many New Yorkers then and now, he didn't drive, so in each city he visited, he'd hire a driver.*
Says Jack, "He'd always ask the driver, 'Where does your wife buy her yarn?' And in the early 1960s, he noticed that they weren't talking mostly about department stores and small shops any more–they were talking about the new discount stores, like Ann & Hope in Rhode Island. On one visit to Minneapolis, in 1962, the driver took him to his wife's favorite store. A brand new place. It was the first Target."
Lion Brand also followed the market when knitters began to ask for yarns that could be cared for like the new wrinkle-free, stain-resistant, wash-and-wear clothes** they could now buy off the rack. George's background in textile engineering meant he understood the nature and potential of the new man-made fibers, and the company kept its business viable by changing its yarns to meet customer demand.
"Fads come and go," says Jack, "but we don't mind. We like to swim upstream."
Which is a good thing, since nowadays the many of the trends George spotted are reversing themselves under his son's watch. The market for acrylics hasn't exactly disappeared, but the renewed public interest in natural fibers has led the company to introduce the LB Collection, an elegant small-batch line comprising merinos, cashmeres, organic wools, cottons, and other emphatically non-acrylic yarns.

The happy rebirth of the small shop is something the company has also celebrated – by opening its own. The Lion Brand Yarn Studio on West 15th Street in New York City (not far from the company's origins on Orchard Street) was a dream from Jack's first days in the company, in the early 1980s. "We had a vision of what the perfect yarn shop would be," he says. The Studio, which opened in 2008, is the realization – noted for its cozy atmosphere, spectacular window displays, and interior installations of knitted and crocheted art. (For bargain hunters, the company also offers a factory outlet in the New Jersey Meadowlands, complete with a large and comfortable knit café in the middle.)
So, the company that produced the first Lion Yarn Book in 1912 is still very much alive and roaring in 2012; though instead of a book with dozens of patterns, it's got a Web site with almost 5,000. Reuben would be proud.
Old Pattern, New Yarn
Now for the bad news.
I found a pattern in the Lion Yarn Book that I absolutely had to knit – a toddler's pullover in the classic "Middy" mode with bow and sailor collar. The design was a shock to my system: all garter stitch, one piece, knit flat, two simple seams. No increasing except by casting on. No decreasing except by binding off. So modern in technique, so prescient of the work of Elizabeth Zimmermann (who was born in 1910), that it's almost spooky.
The Middy Jumper calls for several skeins of Shetland Floss, a brand that isn't among Lion Brand's current offerings; but I figured while I was on the phone with Jack I'd ask him to tell me about it, maybe even dig up a sample from the vault.
That's when I learned about the fire.
"The oldest yarns in the archives go back to the fifties, a little bit from the forties," he said. "Almost everything before that was destroyed."
There was a long pause, during which I may or may not have wept openly.
So, ironically, I was back to the usual starting point of having only a brand name and a small bit of fairly useless information. The list of Lion Brand Yarns in the back of the book describes Shetland Floss as "2 fold" (meaning two-ply); and it's not in the special category of "Dainty Yarns for Dainty Work." So we know it had two plies and wasn't notably dainty. That doesn't get a person very far when trying to pick a modern substitute.
What to do?
Ultimately I was forced to estimate the original gauge by comparing the number of stitches cast on for the back to the chest measurement for a child of twenty-four months as designated by the Craft Yarn Council of America (CYCA). I have no way of knowing whether the 1916 designer and the CYCA would agree precisely on the circumference of the average toddler, but it was as good a starting point as any.
Dividing half the chest measurement by the number of cast on stitches for the back gave me some idea of the stitches per inch, which allowed me to guess at the gauge of the original Shetland Floss: about six stitches per inch.
Then came another quandary. Six stitches per inch usually means a sport or light DK yarn–and the current Lion Brand lines fall mainly on either side of that weight.
So I did what knitters past, present, and future have ever done in this situation. I picked the available yarn that I liked best and adapted the pattern to make it work. The translated pattern uses a larger gauge, but unlike the original, this Middy Jumper will survive a trip through the washing machine. (Except the bow. Take the bow out first.)
*Until Jack turned 17 and began traveling with his father on sales calls as his driver. That's how he learned the business, he says – sitting and listening to his father talk to buyers and company presidents.
**If, like me, you always wondered how an entire generation could fall in love with acrylic, go ask your grandmother (or any woman who came of age in the 1950s or before) what fun it was to spend one day a week, every week, bent over an ironing board.