Why Granny?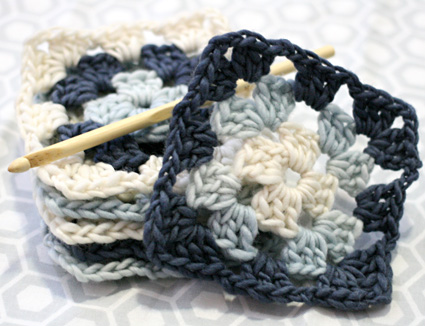 As Amy was crocheting Grantangle, our shawl project for this issue (see below), she began to wonder if Granny Squares were named because the iconic granny stitch --the shell worked into the proceeding rows chain-spaces -- can be made by feel. The granny stitch is perfect for crocheting without looking, say, in a social situation, or in a darkened room. It might also be perfect for a crocheter of grandmotherly age whose eyesight is no longer perfect.
The earliest reference to the style of crochet now called granny squares that we can find in our own collections comes from a Dover reproduction edition of Weldon's Practical Crochet circa 1895. Weldon's calls it "Patchwork Crochet." So the association between crochet and grandmothers must have come later.
We're about to dive in and guide you through your first granny square. But we'd be remiss if we didn't offer a few warnings before we begin. Granny squares are addictive; it's nearly impossible to make just one. They use up scrap yarn. They're great for colorplay and trying out new fibers. They can be made in minutes with just a few yards of yarn and a hook that can be stashed in just about any sized bag or pocket. Don't say we didn't warn you!
Ending Before We Begin
We're starting with weaving in ends for a couple of reasons. Each 3-color, 3-round granny square will have six ends. If you don't weave in your ends after finishing each square you'll be overwhelmed with hundreds of ends when you thought you were done with your project. So take the few minutes to either weave in ends at the end of each round, or weave them in at the end of each square. You'll be so grateful.
Weaving in crochet ends is mostly like weaving in knitting ends. After you fasten off (by cutting the yarn and pulling the tail end through the remaining loop on your hook) you thread your end on a tapestry needle and weave on the back of the work finding bumps to slide under. You look for strands of the same color as your end to hide your work, and you don't take your ends in a straight line, but zig and zag so the ends don't unravel. Hiding ends in crochet is a little easier than in knitting because the stitches themselves are irregular with strands going vertically, horizontally, and diagonally.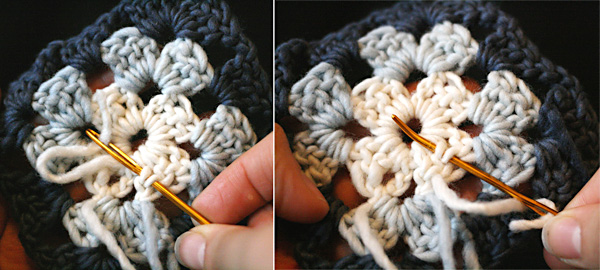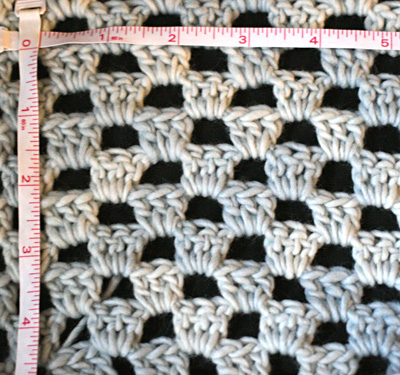 Size Matters
Just as in knitting, gauge (the number of stitches per inch or centimeter of fabric) can make or break the success of a project. When you're measuring your crochet, make sure it's flat and smooth, but not stretched. Measure your swatch and count the stitches as shown in the photo.

At right, you see a swatch of the Grantangle stitch pattern. This swatch has 15 stitches (3 repeats of 5) and just over 7 rows in 4" square.
Row gauge can be especially tricky because different crochet stitches have different heights, and in fact, stitch height can vary within a row if the stitch pattern uses a variety of stitches. That's why it's essential to make a swatch big enough to capture a few repeats of your pattern stitch and measure carefully. Sometimes, in crochet patterns there will be a small side pattern for creating a gauge swatch big enough to get an accurate measurement. Begin by using the hook size suggested in a pattern and make a swatch in the pattern stitch, then use a larger or smaller hook as necessary to get the required gauge.
If you're crocheting without a pattern (or with a different weight of yarn than the worsted we recommend for these granny squares), this chart from the Craft Yarn Council of America is a good place to start. Keep in mind that your knit tension and your crochet tension will most likely be different. So while you might use a 5.0 mm (US 8) needle with worsted weight yarn, you might need a hook of a different size to get gauge with the same worsted weight yarn in crochet.
A Picture's Worth A Thousand Stitches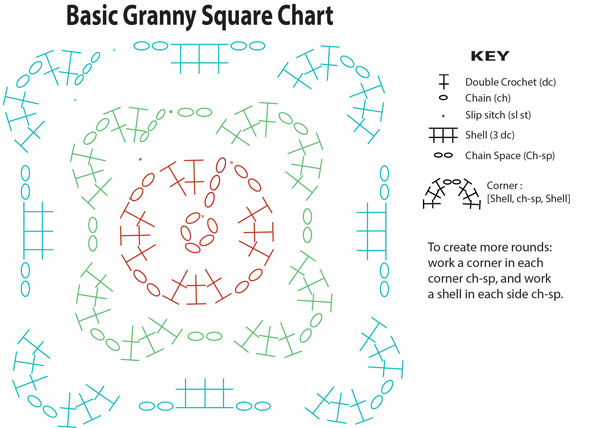 What you see above is a stitch chart for a granny square. Using the key and following the chart, you can create crochet fabric without reading written instructions. Charts are succinct and often less error-prone than written directions.
Crochet charts are similar to knitting charts in that you work each stitch as it presents itself, but crochet charts have a few more things to tell you. For instance, a crochet chart tells you where you need to base the new stitches. This makes it a much more accurate visual representation of the finished piece than a knitting chart. A crochet chart will show you if you are working a stitch into a chain space, or show you a special symbol if the stitch is worked only through the back loop of the previous row.
Like a knitting chart, you read the chart in the direction of your crochet. In the round, you're reading the chart counter-clockwise for a motif chart, or all rows from right to left for a tube. Back and forth, you read from right to left when you're working the front of the work and from left to right when you're working the back side of a project.
Here are written instructions for a basic granny square along with a few step-by-step photos. Try following each round loop in the text and then in the chart. We think you'll get the hang of the charts pretty quickly.
Abbreviations:
Chain: ch
Slip stitch: sl st
Double Crochet: dc
Chain Space: ch sp (the hole under a chain or chains made in the previous round)
Shell: 3 dc in space indicated
Corner: [shell, ch 2, shell] all in space indicated
You'll need three colors of yarn, referred to here in the pattern as CA, CB, CC. Begin with three solid, light colors in worsted weight wool with a 5 mm (H) hook. Adjust the hook size as needed to get a fabric you like.
Instructions

With CA, Ch 5, join last ch to the first ch made with a sl st to form a ring.
Round 1: Ch 3 (counts as 1st dc), work 2dc into the center of the ring, ch 2, *shell into center of ring, ch 2, repeat from * 2 more times, sl st into top of initial ch 3 to join.

Fasten off.
Round 2: With CB, make a slip knot, place it on your hook, & join yarn with a sl st to one of the 4 ch sps, ch 3, work 2 dc into same ch sp, ch 2, shell into same ch sp (first corner made), ch 2, *in next ch sp, work corner, ch 2, repeat from * two more times, sl st into top of initial ch 3 to join.

Fasten off.
Round 3: With CC, join yarn with a sl st, to one of the corner ch-sps.

Ch 3, work 2 dc into same ch sp, ch 2, shell into same ch sp, ch 2, *shell in next ch sp, ch 2, work corner, ch 2, repeat from * two more times, shell in last ch sp, ch 2, sl st into top of initial ch 3 to join.

Fasten off. Weave in ends.

Try making a few granny squares and see if you don't catch the granny bug. And then to get some more practice with the granny stitch and create something easy and wearable, try Grantangle (see pattern below).

In our next issue we'll talk more about assembling granny squares and other motifs into projects.