I love traditional triangular shawls, but sometimes they are difficult to keep in place without a pin.

I have been experimenting with different shapes that could be simply tied like a scarf or have longer ends that would drape gracefully around the shoulders. Annis' distinctive crescent shape lends itself to numerous ways of tying and draping, making it a versatile accessory.

The shawlette is knitted in one piece starting at the outside edge of the lace and the narrow curved shape is created by a unique set of short rows.

The interesting combination of lace and simple stockinette stitches makes Annis a fun and fast project.

model:

Susanna IC

photos:

Diana E
FINISHED MEASUREMENTS
Width: 16 inches
Length: 56 inches
Note: Measurements taken after blocking.
MATERIALS
Yarn


Miss Babs "Yet" Lace [65% Merino Wool, 35% Tussah Silk; 400yd/365m per 65g skein]; color: Frog Belly; 1 skein

Recommended needle size
[always use a needle size that gives you the gauge listed below -- every knitter's gauge is unique]


1 US #8/5mm circular needle, 32 inches or longer


1 US #10/6mm circular needle, 32 inches or longer (used for casting on only)

Notions


Yarn needle


Rust-proof pins
PATTERN NOTES
[Knitty's list of standard abbreviations and techniques can be found here.]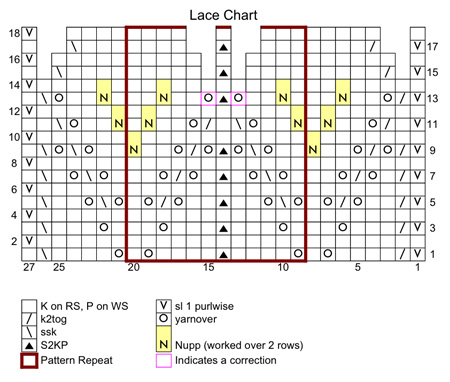 Nupp: Each nupp is formed over 2 rows.
On RS row: Into same st, [k1, yo] 3 times, k1. 1 st increased to 7 sts.
On WS row: P 7 sts together. 7 sts decreased to 1 st.

S2KP: Slip next 2 sts together, knitwise, as if to work a k2tog. Knit next st, then pass both slipped sts together over st just knit. This forms a centered double decrease.
DIRECTIONS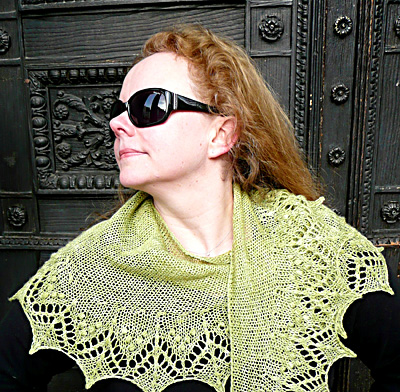 Using larger needle, loosely CO 363 sts. Note that larger needle is used only for casting on, to ensure a loose CO edge. Using smaller needle, work Rows 1-18 of Lace Chart; outlined pattern repeat will be worked 29 times in each row.

When all rows of chart are complete, 243 sts remain.

Short Rows:
Note: In directions that follow, "turning point" refers to point at which previous short row was turned.

Row 1 [RS]: Sl 1, k125. Turn work.

Row 2 [WS]: P9. Turn work.

Row 3 [RS]: K8, ssk, k3. Turn work.

Row 4 [WS]: P11, p2tog, p3. Turn work.

Row 5 [RS]: K to 1 st before last turning point, ssk, k3. Turn work.

Row 6 [WS]: P to 1 st before last turning point, p2tog, p3.
Turn work.

Repeat Rows 5-6 27 times more. 185 sts; 1 st remains unworked at each edge.

Next Row [RS]: K to last 2 sts, k2tog.

BO Row [WS]: [P2tog, sl st from right needle back to left needle] until all sts have been bound off.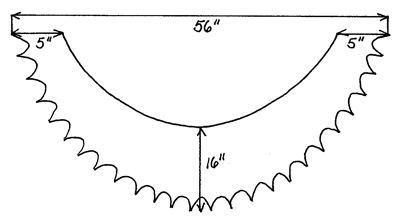 FINISHING
Weave in ends.

Block piece to measurements given, pinning points at ends of long edge first, pinning center point next, then pinning remaining points.

Allow to dry completely before removing pins.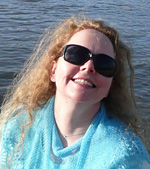 Susanna IC currently lives in Germany with her husband, two sons, eleven fish and countless balls of yarn. She has an extensive background in studio arts and art history, which inspires much of her knitting.

Her projects and designs can be found on Ravelry, user name zuzusus, and at ArtQualia.com.
Pattern & images © 2010 Susanna IC. Contact Susanna