M1 (Make 1 stitch): Insert left needle, from front to back, under strand of yarn which runs between last stitch on left needle and first stitch on right needle; knit this stitch through back loop. 1 stitch increased.
K3tog: Knit next 3 sts together.
Sssk: Slip next 3 sts knitwise, one at a time, to right needle. Insert left needle into fronts of these 3 sts and knit them together.
sk2p: Sl 1, k2tog, pass slipped st over. 2 sts decreased.
S2KP: Slip next 2 sts together, knitwise, as if to work a k2tog. Knit next st, then pass both slipped sts together over st just knit. This forms a centered double decrease.
Stitch Markers: Blue lines in charts indicate stitch marker placement, dividing garter st edging from main body of shawl. If desired, stitch markers may also be placed between repeats of lace pattern to help keep track of pattern. If using markers in this way, place them at edges of outlined pattern repeat, corresponding to vertical red lines within chart. Important note: There are places within the charts where a double decrease (sk2p or S2KP) is worked directly after a red line. When this happens, work as follows: Sl st before marker to right needle, remove marker, return st to left needle, place marker on right needle, then work decrease.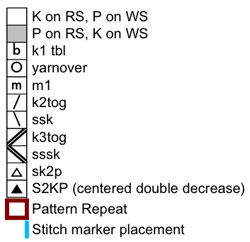 Changing Length and Width:
If you wish to make the wrap longer or shorter, work more or fewer repeats of Chart E.

If you wish to make the wrap wider or narrower, add or subtract a multiple 22 sts to the number of sts you cast on; this will add or subtract one pattern repeat. For example, to widen the wrap by one pattern repeat, CO 143 sts; to reduce the width by one pattern repeat, CO 99 sts.
Instructions for the Long-Tail Cast On can be found here.