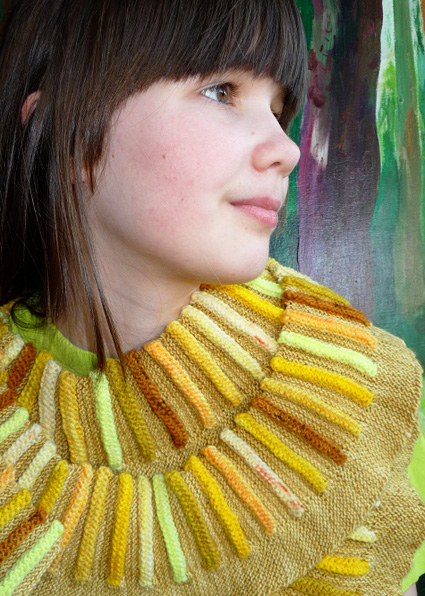 Shaping in knitting is usually achieved by using short rows or increasing and/or decreasing the number of stitches.
However, in this shawlish scarf (or scarfish shawl), shaping is achieved in a different way, namely by gathering together the stitches of part of the project, in order to create what look like steps. When these steps are created at regular intervals, a circular shape appears.
Apart from being a construction element, the steps also stand out as a visual element, especially when they are knitted in a contrasting color.

The pattern is easy to knit. It's all garter stitch and you can use any type (or thickness) of yarn that you like for this pattern.
Note that this pattern uses up more yarn than if you were to knit a regular garter stitch scarf or cowl -- the steps use up lots more yarn that a flat fabric would.
In addition, the more color changes in the ridges, the more ends there are to weave in. But, having said that, I think that the advantage of making this very cool looking scarf outweighs the disadvantages by far!