This column is about my journey in learning to spin without wool or any other 4-legged animal fiber, using the same tools as everyone else.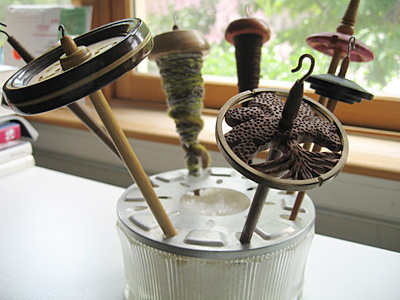 Most of my handspindle collection in a strange vintage [possibly floral display] dish. Spindles clockwise, starting with big whorl with contrast horizontal stripe: Woolly Designs, Norm Hall convertible [whorl hidden], Cascade St Helens, Bosworth mini, Tom Forrester, Avi Wasserman, Golding tree of life

I'm not sure what it is about me, but sometimes I need to be forced to do something before I actually do it. When it comes to household chores, I guess that's not so surprising. But when it comes to trying something I really want to do...what the heck is my problem?
In this case, what I really wanted to do was use my handspindles for their intended purpose. I'd mastered the basics of spinning silk hankies quite a while ago, but spindling anything slippery -- and most of the non-wool stuff I spin is pretty slippery -- was just multiple layers of frustration.
My first spinning lesson was on a handspindle, and it was a complete failure, despite the significant prowess and patience of my teacher. After a day of dropping my brand new spindle over and over, feeling more than usually uncoordinated, I gave up the idea of spindling delicate yarn like the other big kids. That never stopped me, however, from continuing to add to my collection of handspindles.
I turned my spinning-training focus to the wheel, and thanks to my 3-day course with Maggie Casey at SOAR last fall, I changed from a timid non-wool spinner wannabe into someone who could spin fibers like silk, bamboo, hemp and linen reasonably confidently. Maggie trained my hands to know what successful spinning felt like. And as you'll see, this bit of sensory knowledge proved to be pretty important later on in a way I never expected.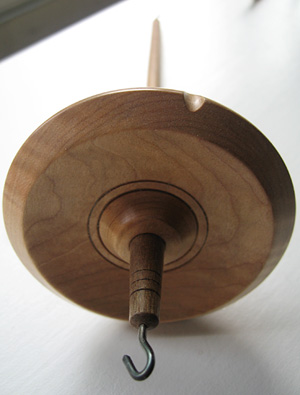 Norm Hall convertible spindle in maple, purchased at the New York Sheep & Wool Festival, Rhinebeck, NY.

Still, something was missing in my new spinning world, because I still couldn't spin roving on a handspindle, and I really wanted to. A lot. The taunting would not stop.
My friend Jillian [also editor of Knittyspin] and I recently attended the Knitter's Frolic in Toronto, a massive festival of yarn, knitting and more yarn, with a little fiber on the side. There's still room in our stashes for fiber, so that's what we came home with. As she always does after getting something fibery and new, Jillian spent that evening watching Jane Austen on TV and spindling up her new acquisition. Sexy silk roving.
I spent the evening watching Jillian. I'd seen her spindle wool roving before, but this time, it was silk. She handled the slippery fibers with confidence and ease, letting the twist snap into the tiny drafting triangle, creating beautiful laceweight yarn. What a tease.

I was aching to do what she did, but remembered how much like a goof I felt the last time I tried roving + spindle. I knit instead.
Aching. Interesting choice of words, because that's what ultimately got me over myself.
I recently was a teacher on a knitting cruise to Alaska. I went fully armed with knitting and, just in case the Northern Lights inspired me, my Bosworth mini and one-ounce twist of tussah roving in a deep chocolate brown. I'm still not sure why I packed it.
I knit and knit happily as the trip began, but soon found myself in quite serious pain. I'd overdone it on an impromptu project that required size US11 needles and super bulky wool-looking-acrylic. I was miserable, scared I'd wrecked something in my hand. The needles went down for the remainder of the trip.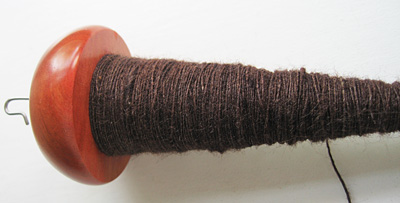 Bosworth mini [pink ivory whorl, ebony shaft] -- a gift from Jillian,
now wrapped in almost an ounce of laceweight tussah silk singles...
spun by me.
Picture yourself stuck on a big boat, surrounded by knitters knitting, unable to knit. Sounds like something Camus would have written, if he'd been a fiber person.
Digging in my bag, I found the Bosworth and the roving and, reluctantly, fearfully, decided this was the time to give it a try again.
For some reason, this time, spinning silk roving was not a problem. In fact, it was almost...easy. The spindle dropped, maybe, once. Just once! I was doing it. The drafting triangle was my servant. I was making laceweight silk yarn and it was a piece of cake.
Happily, spinning used different muscles and tendons in my hands than knitting did, so it didn't hurt. I was able to spin almost the whole ounce of tussah before we docked back in Seattle.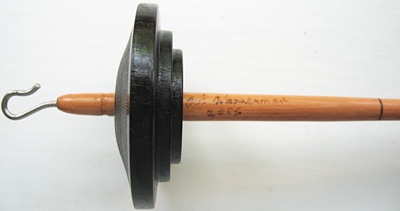 Avi Wasserman spindle [frustratingly notchless] purchased at
The Fold in Marengo, IL

I've continued to practise my spindling, and had some time to think about why I finally succeeded. I think it comes back to Maggie's training of my hands, maybe a little channeling of Jillian's skill [a lot of watching might have helped some of the techniques sink in] and mostly just being brave enough to try even though I was sure I'd probably fail.
I'm self conscious about learning new stuff. I know a learning curve is part of the deal, and am an evangelist to my students about not beating yourself up as you learn in the knitting classes I teach.
But I guess I'm extra sensitive to that feeling of trying something new and being a mess at it. My first [and last] time waterskiing, now that I think of it, is an awful like my first attempt with that Cascade spindle several years ago. I was in the seated position, skiis in front of me, hanging on to the tow rope between my legs like I was hanging from a cliff. The boat took off and boom, I performed a perfect faceplant in the water. That one try was enough. I spent the rest of the day on the dock, watching the other campers do infinitely better than I did. If I can't get even a basic grasp of the thing, a hint of what success might feel like, my temperament doesn't encourage me to keep going. I'd rather just watch.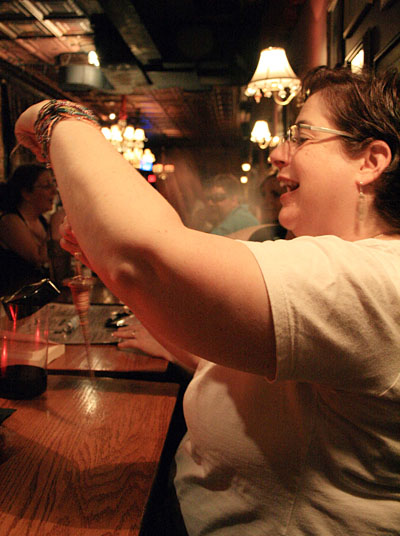 Happily spinning silk and seacell roving on a Golding 2" at the Tip Top bar in Columbus, Ohio, surrounded by knitters and spinners.
Photo courtesy of the fabulous Miriam Felton.

When it came to spinning, however, Maggie had taught me the first foothold that strengthened with every new technique I tried. Success encouraged me to be brave enough to drop my beautiful Bosworth [the floor was carpeted anyway] and possibly look like a goof in front of a room full of spinners.
Learning to spin on a wheel was a big, big deal to me. I thought that would be enough to satisfy my urge to spin, but that foothold just made my lack of even basic spindling ability an embarrassment to me. I was tired of using "my fibers are too slippery" as an excuse.
Now that I can pull out my handspindle and a small bag of silk and seacell roving and spin a little while waiting for my plane, or sitting at a pub waiting for the drinks to arrive, I feel quiite powerful. I'm not shy about it any more. I'll spin anywhere, in front of anyone. The feeling I get as the yarn builds into a tidy cop on the shaft rivals even the giddy joy of the first heel I turned in a sock. Handspindling was, I thought, out of my reach. Instead, all I needed was to get over myself and just DO it.
But I'm still not trying waterskiing again.