An ounce of prevention is worth a pound of cure.
Hand-knitted socks are a glorious thing. As a project, they're supremely portable and help make many a boring commute or lunch hour more interesting. As a finished object, they're delightful. Even Albus Dumbledore claimed his deepest desire was thick woolen socks. And since socks are a significant investment of time and energy - about 34,000 stitches in an average pair of adult socks made in sock-weight yarn - we naturally want them to stay whole and in good condition for as long as possible. Fortunately there are many ways to encourage your socks to hold up well over time.
First, know your yarn qualities. A softly spun merino yarn would make very comfy socks but they are simply not going to hold up to rough usage. For hard-wearing wool socks, you want a tightly spun yarn with some nylon content – preferably 25-30%. This is not to say that you can't make yourself a pair of extremely luxurious cashmere socks to wear while curled up in your favorite chair knitting - just don't try hiking in them. It is also possible to hold a nylon-based reinforcing thread together with your working yarn for the heels and toes of your socks, but some sources say these tougher reinforcing threads may – perversely – cut into your "weaker" working yarn, so proceed with caution.
The techniques that you use to knit can also help keep your socks healthy. A tighter gauge results in a denser and stronger fabric, so try to find a pattern in which you can get gauge with your yarn on smaller needles. However you want to try to keep your cast-on (or bind-off, if you're knitting toe-up) loose enough that the top edge doesn't get "stressed" when you're pulling them on. If the upper edge is too tight, the socks will not only be rather uncomfortable and you risk the yarn at the cast on edge weakening and fraying.
Heels get a lot of friction from your shoes, so making sure they're strong is crucial. The "heel stitch" (as seen in the Knitty pattern "Thuja") creates a stronger heel flap and goes like this…

Right side rows: *slip 1 as if to purl, knit 1*
Wrong side rows: purl
Reinforcing the heel after you're finished knitting is also possible. Just turn your finished sock inside out and - using the same yarn as you knit the heel with – weave the yarn over and under the purl bumps. Work from the top of the heel towards the bottom, then reverse and work up again.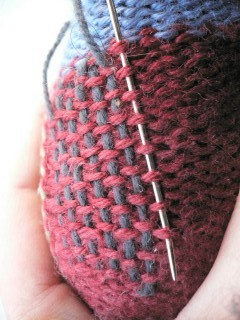 I'm using a different color yarn here so you can see it better.
An afterthought heel, as shown in the Knitty sock pattern "Red Herring" leaves you with the option of removing the heel entirely and re-knitting it if a hole develops. Elizabeth Zimmerman's book Knitter's Almanac includes a pattern for a pair of "Moccasin socks" knit so that the entire foot can be removed and re-knitted.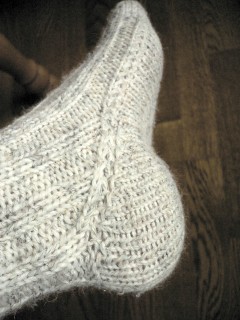 She calls them "The Eventually Totally Re-footable Sock". I can't wait for mine to wear through so I can try!
It's a good idea to inspect your socks regularly for weak areas – particularly around the heel, toes and under the ball of the foot. If you can catch holes before they are proper holes you can repair the area with duplicate stitch.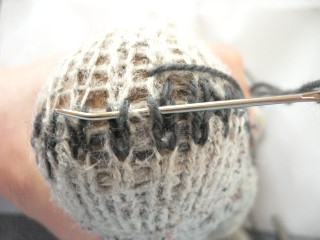 If you use same yarn that you knit with, this will be a nearly invisible mend…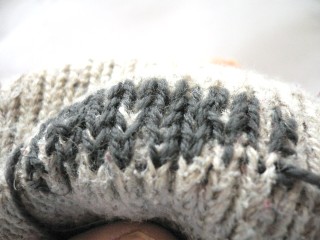 If you do get holes in your socks (or on the elbows of your sweaters, or the fingers of your gloves), you can fill the hole with darning. Darning is a technique of sewing running stitches across the hole, then weaving the yarn across in the opposite direction.
Here are some tools you might find helpful: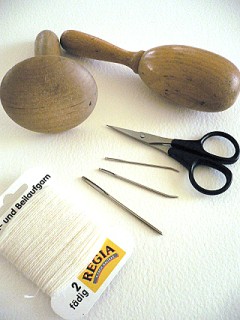 From top left: darning mushroom, darning egg, sharp embroidery scissors,
tapestry needles and darning thread.
Darning mushrooms or eggs are used to support the area where you're repairing a hole and make it easier to sew. I found these darning mushrooms and eggs at an antique fair, but they're readily available – just search Google for "darning mushroom". And if you don't have one, you can substitute a plastic Easter egg or an incandescent light bulb. The yarn you choose to darn with can be the same yarn you used to knit the sock – but if it wore through once already, it's likely to do so again. Darning yarn comes in a wide variety of colors to match your sock yarn, but contains that magical nylon that gives strength. It is, however, quite thin, so you may have to use it doubled.
First insert your darning mushroom into the sock, right under the hole.
Thread your mending yarn onto a tapestry needle and – working several rows into the "healthy" area of the sock on all sides of the hole, begin sewing a running stitch across the hole. (I'm using a contrasting color yarn here so that you can clearly see the process.)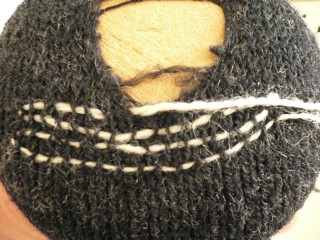 Continue until the entire hole is covered with parallel threads.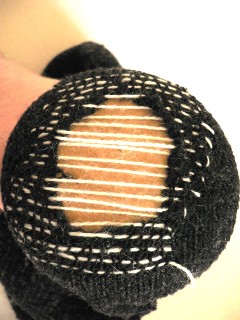 Then turn the darning tool 90 degrees and weave the mending yarn under and over the parallel threads, back and forth until the entire hole is covered. Be sure to keep working several rows past the hole on all sides in order for the darning to have a solid anchor.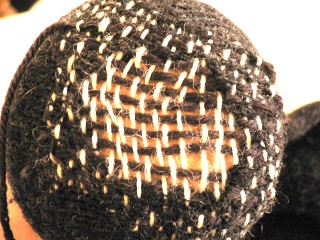 (Again I'm working with yet another yarn to show the process.)
Since the white mending thread was thinner than the working yarn, I've turned the darning mushroom 90 degrees again and worked yet another pass in the darker yarn.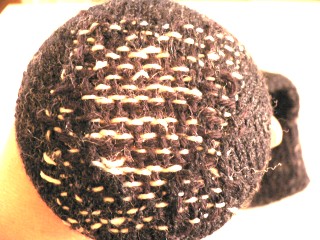 And the hole disappeared! (Try to imagine this without the white yarn showing through. Fortunately for my socks, but unfortunately for this issue, I didn't have a whole bunch of holes to work with… and cutting holes in my socks is a bit further than I was willing to go.)
Maintaining and repairing your hand-knits is a labor of love, but so is knitting. I think of mending as yet another effort to be mindful about taking care of things in a world where so many things are disposable.
References: