Louet Julia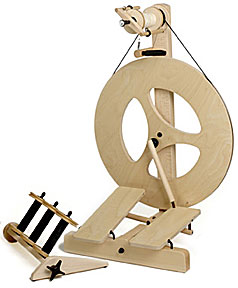 The latest wheel from Louet, the Julia, stands out for me as the most exceptional new wheel on the market since Louet's last new wheel, the popular Victoria travel wheel. During my recent extended in-home test drive, I found this to be no coincidence. Very similar to the Victoria in looks, the Julia is a full-size castle-style with a 20" drive wheel and an orifice height of 27" (68.5 cm). The resemblance extends to the mechanical, with a scaled-up implementation of the same treadle and footman design, and the ability to use all the flyers available for Victoria (including third-party offerings like the WooLee Winder from Robert Lee & Sons).
Louet has incorporated feedback and real-world experiences with the Victoria into the new wheel. This is visible with changes in the orifice eliminating the need for a threading hook, reinforcement at the treadle pivot bar, and an improved scotch tension assembly. That's right – Julia is also scotch tension, or flyer lead single drive, allowing for a wider range of takeup (how hard the wheel pulls on your yarn as you're spinning) than pre-Victoria offerings. This drive system is widely regarded as being the most versatile, allowing for spinning from incredibly fine to very thick.
Stress points and wear points on the wheel are all strongly reinforced, made of durable modern polymer and powdercoated steel. Julia is whisper-quiet with sealed ball bearings – the quietest wheel in my studio – and rock-stable on all but the deepest pile carpet, where a small wobble may occur in any wheel. During a month of test drive, I spun everything with Julia: gossamer-weight cashmere and silk, thick Lincoln rug yarn, a wide variety of blends in lace, fingering, sock, and worsted weights, and even cotton – the ultimate challenge for any flyer wheel, requiring almost no takeup and serious speed. Julia handled them all with ease.



Louet Julia
Drive system: flyer-led single drive or scotch tension
Ratios: 1:6, 1:8.5, 1:12.5, 1:19, optional 1:27
Number of Bobbins supplied: 4
Lazy Kate: comes with wheel for a limited time
WooLee Winder available? yes
Weight: 6 lbs
Height: 30"
Orifice Height: 27"
Orifice size: 12mm, 8mm
Folds? Flat for storage, not necessarily for travel
Other: no need for threading hook

MSRP: $600

Out of the box and with no add-ons, standard ratios range from 6:1 to 19:1 – a range not generally seen without multiple flyer assemblies. Speaking of those, there's also a high-speed flyer (compatible with Victoria) that extends Julia's ratios to 27:1. Right now, Julia also ships with a terrific friction-braked, adjustable, and separate lazy kate. Priced around $600 US, this is a very competitive wheel offering a range of features and abilities that generally cost hundreds more for additional accessories. The only add-on not presently available is a jumbo flyer.
If you have a Victoria and want a full-size wheel, Julia fits that bill beautifully, with the added benefit of interchangeable bobbins and flyers. While Victoria is a travel wheel that can be carried on planes in a case only a little larger than a laptop case or large backpack, Julia is a full-size modern wheel that disassembles with a single knob, lays flat, and would be easy to transport by car or store out of the way – but probably not the wheel for lots of air travel. If you liked the Victoria, but just felt it was too small and light or you wanted greater speed, give Julia a look. If you are a dedicated scotch tension spinner who has avoided the bobbin-lead Louets, or you've heard that you can't spin fine on a Louet, you owe it to yourself to try this wheel; it will really surprise you. Julia would also be a terrific first wheel for any spinner, not only because of its performance, durability, and price point but because of Louet's exceptional service and support.
So, who would love a Julia? Well, I do! In fact, I'm hoping they don't want this demo wheel back. Wish me luck.