Yarn Notes
I highly recommend the listed yarn for this project because of its wonderful springiness, tight twist, and rich colors. However, if you decide to substitute, make sure you use a yarn with spring to it, not a fiber like 100% cotton that has less elasticity or may be heavy.
The pattern uses a very small amount of each color. The blossoms, for example, use approx. 8yd of CCA. You will have most of the yarn you purchase left over to make socks or another project, such as colorwork gloves.
Abbreviations
Dvw (double vertical wrap): Bring yarn forward between needles, down front of work, and wrap under bottom of work. Bring yarn up at back of work and forward between needles again to wrap a second time, ending with yarn at back of work, ready to knit the next st. Be sure to knit next st snugly, to pull wraps tight.
SKP: Sl 1, k1, pass slipped st over st just knit.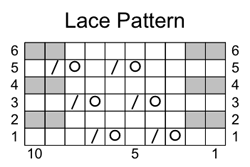 S2KP: Slip next 2 sts together, knitwise, as if to work a k2tog. Knit next st, then pass both slipped sts together over st just knit. This forms a centered double decrease.
Lace Pattern (Worked over 10 sts):
Row 1 [RS]: K2, yo, k2tog, k1, yo, k2tog, k3.
Rows 2, 4, 6 [WS]: K2, p6, k2.
Row 3 [RS]: K3, yo, k2tog, k1, yo, k2tog, k2.
Row 5 [RS]: K4, yo, k2tog, k1, yo, k2tog, k1.
Repeat Rows 1-6 for Lace Pattern.
I-Cord
Using a double-point needle, CO required number of sts.
Next Row: Instead of turning work around to work back on the WS, slide all sts to other end of needle, switch needle back to your left hand, bring yarn around back of work, and start knitting the sts again. I-Cord is worked with the RS facing at all times.
Repeat this row to form I-cord. After a few rows, work will begin to form a tube.