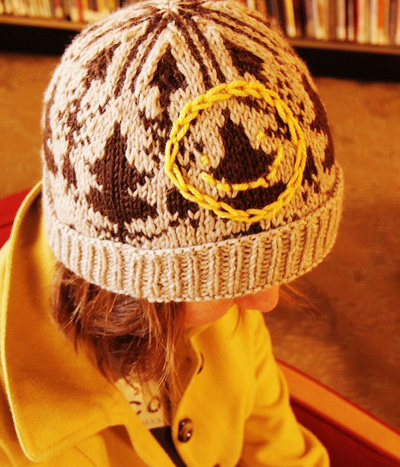 The Smiley Face is optional. If you do choose to embroider it onto the hat, only a small amount of the CC2 yarn required.

Directions for chain stitch, back stitch, working a French Knot.

Charts
The chart for this pattern is very large and fits on a letter-sized page.
Click here and print the resulting page.


Brim
Using the 16-inch circular, CO 98 sts in MC and join in round, being careful not to twist. Place marker at beg of rnd.

Ribbing round: [K1, p1] around.

Repeat Ribbing round until brim measures 1.5 ins.

Knit 2 rounds.

Hat Body
Join CC1.
Body round: Work Chart 7 times to end of rnd.

Work until Chart is complete. As the sts decrease for the crown, you will want to change to needles for working a small circumference, as you prefer.

Break CC1 and MC and thread on needle. Pull both yarns through all sts and pull tight.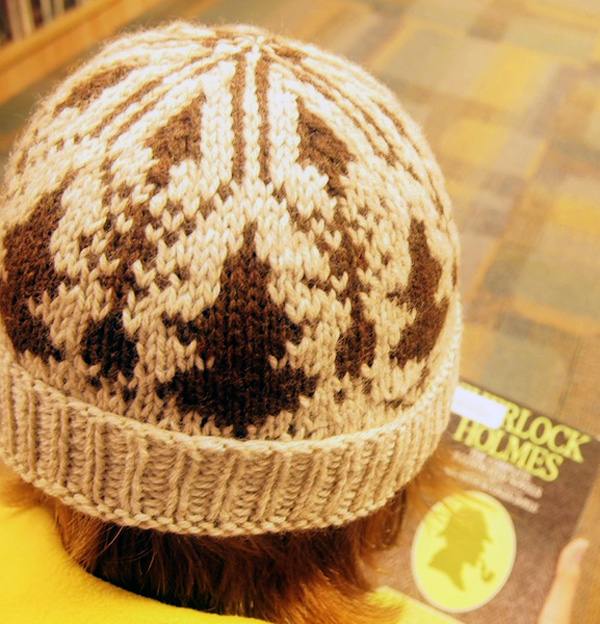 Weave in all ends. Block.

For smiley face: Using photos as a guide, with CC2, embroider a circle in chain stitch, a smile shape in backstitch, then two French knots for eyes. Weave in ends.