Made in the USA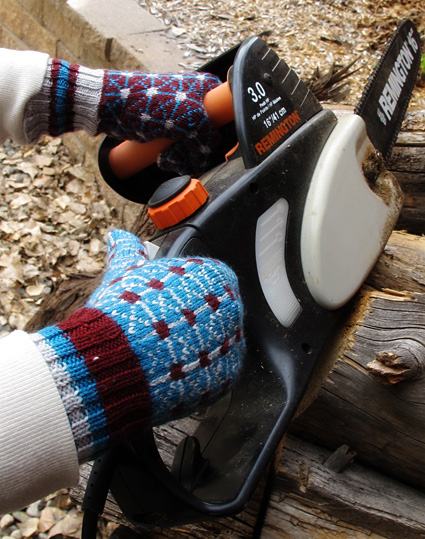 For those of us who live in the Western hemisphere, sumptuous fibers spun into luxurious yarns in faraway places touch our imaginations the way "Made in the USA" never can. Traveling in Europe, Asia, Africa, and South America sounds sexy and exciting. And it is. But traveling closer to home can be exciting as well. The simple pleasures of your local yarn shop can be as rewarding as booths full of strange spices, unknown fruits, and brightly colored textiles in an exotic market. It's all in how you look at it.
"I'm staying home this year," I say.
"But didn't you go...to Oklahoma? ...to North Carolina? ...to Sock Summit in Oregon?"
"I'm staying home this year."
"But aren't you going... on a knitting cruise? ...to California for Interweave Knitting Lab? ...to Vancouver? ...to visit your relatives Back East?
"I'm staying home this year. In North America."
Now, let me make one thing perfectly clear, I'm not about to stop traveling any time soon. But my alter ego Euro Donna has finally learned how to live with the firstborn me, born in the USA. Although at first we went together about as well as oil and vinegar or chalk and cheese, we've grown to complement each other over the seasons of long-distance travel and those of cocooning at home. And this year that means, I'm staying in North America.
In some ways knitting traditions in the Americas are even richer than those in Old World countries. With immigrants from around the world bringing their traditional clothing designs, color sensibilities, and knitting techniques to the melting pot that is America, a unique blend of styles has evolved into something new.
When knitting was brought to South America by the Spanish, the Andean people already had longstanding spinning and weaving traditions. Today, in the mountains of Peru, Bolivia, Chile, Argentina, and Ecuador, men and women use both natural fiber and synthetic yarns to knit brightly colored chullo caps, many different styles of small purses, and winter accessories.
In the Pacific Northwest, knitting was introduced to the Coast Salish peoples by missionaries. Using very thick yarn, spun tightly and also knitted at a tight gauge, local knitters created wind- and water-proof sweaters that could serve as winter coats in much of the United States. The earliest sweaters were made with one color but those that are well-known today are decorated with pictorial colorwork motifs.
In New England, Nova Scotia, and Newfoundland knitted mittens, along with other cold-weather accessories, became local works of art. Some mittens were decorated with color patterns brought over by different immigrant groups from Northern Europe, while others were made in solid colors and felted or had "thrums" (tufts of unspun wool) knitted in as a lining.
All of these New World knitters modified the designs introduced by Europeans to suit their own needs and tastes. If you find a pattern you like but it doesn't seem exactly right for your design, why not try your hand at making your own tweaks. You can change the number of colors used, make the repeat larger or smaller (this is especially easy with geometric patterns), and even add new elements, such as small diamonds, crosses, or lines between and around the main motifs, to completely change the look.
Here's how: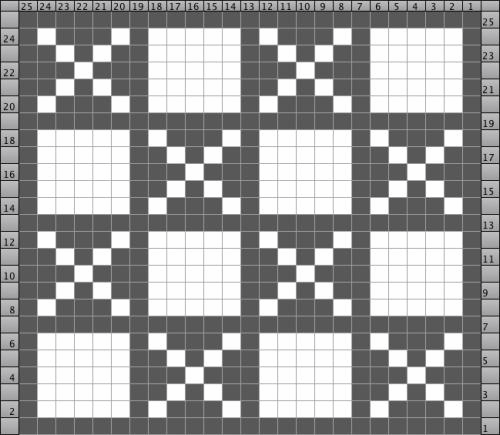 This pattern, known as Fox and Geese in the United States and Canada, has been used in an identical form as well as in many variations around the world.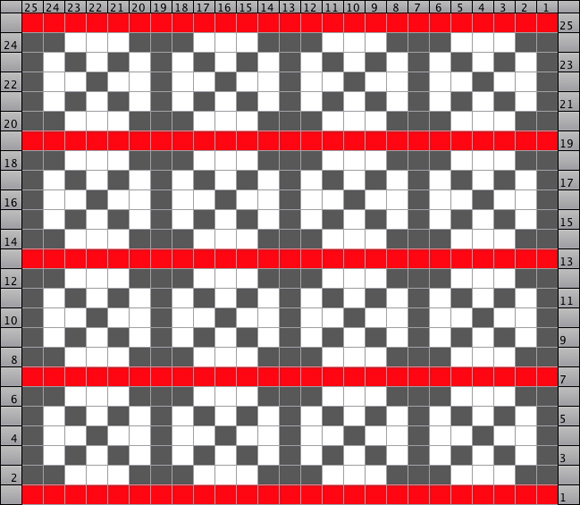 The traditional Fox and Geese pattern is knitted with 3 colors.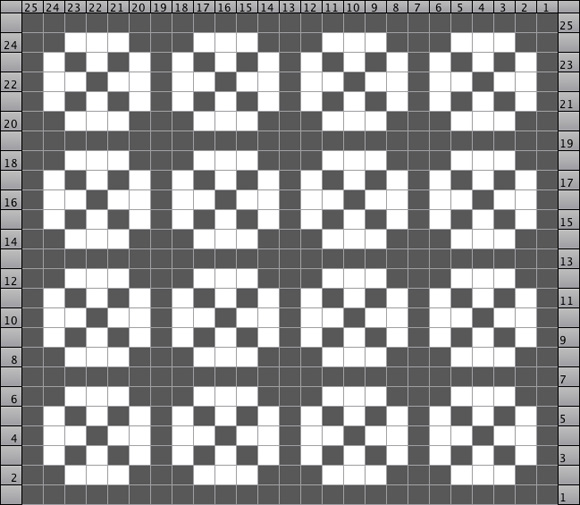 When worked with 2 colors, this same pattern is sometimes called "Spider's Web."
Although simple geometric designs with horizontal and diagonal lines intersecting is ubiquitous wherever knitting is found, knitters in each corner of the world have a unique take on the arrangement of the individual design elements and use two or three colors to change the design in simple, but striking ways.
One of the most fun parts of working with traditional ethnic designs is tweaking charts and pattern stitches to suit your own design. I've included several examples of variations of the Fox and Geese pattern, and these examples should give you some ideas for playing with patterns on your own. You can easily draw new charts on graph paper, or color squares in a spreadsheet on your computer, or use special knitting-chart software.
Here are some of the variations of Fox and Geese that I found in my knitting books: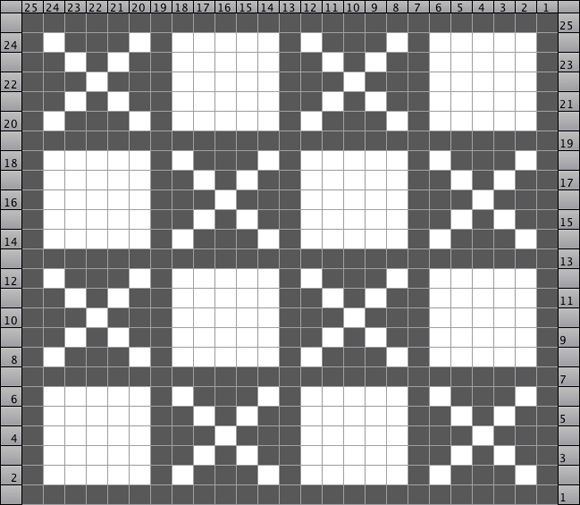 This version of the six-stitch repeat is known as "Noughts and Crosses."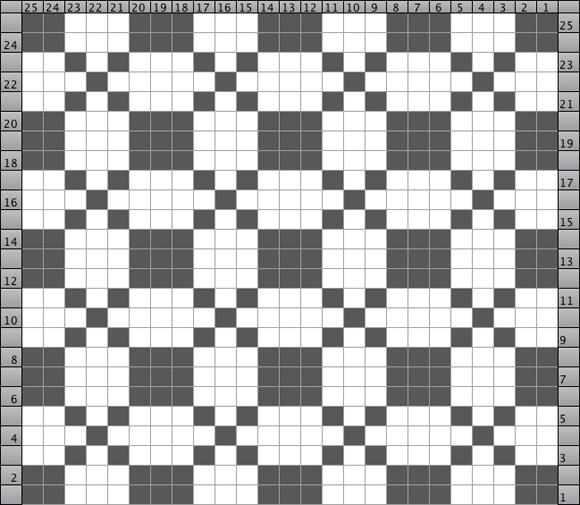 I found this two-color variation of the pattern in knitting book from Poland.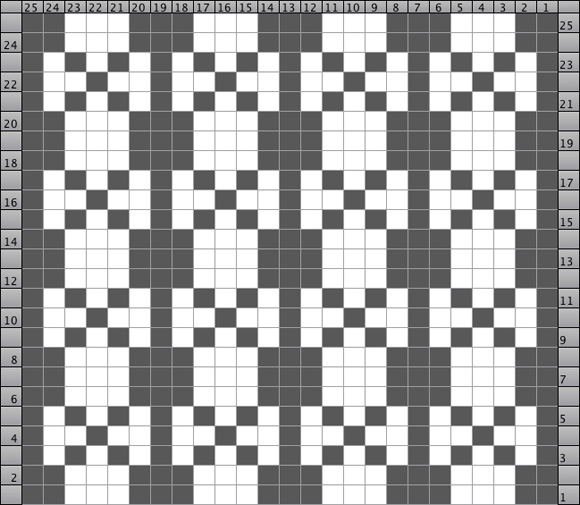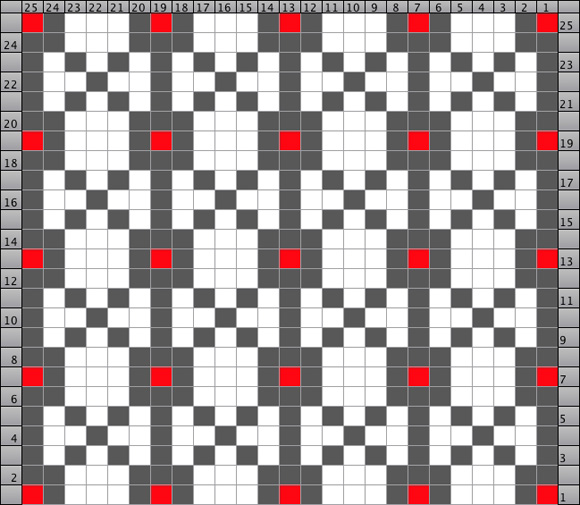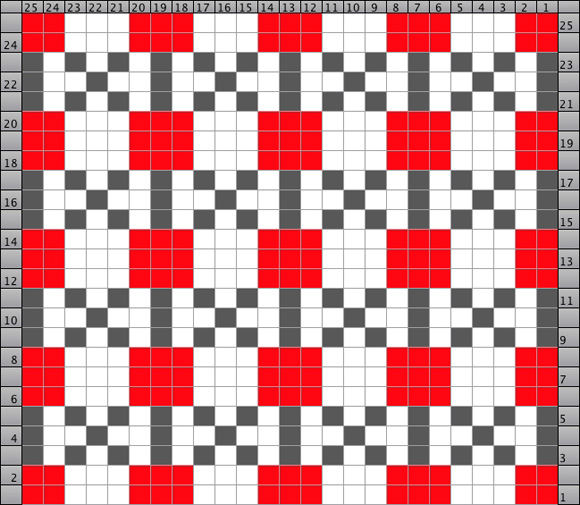 These versions of the pattern were used by Turkish knitters.
When three colors are worked in a row, third color is sometimes added with duplicate stitch.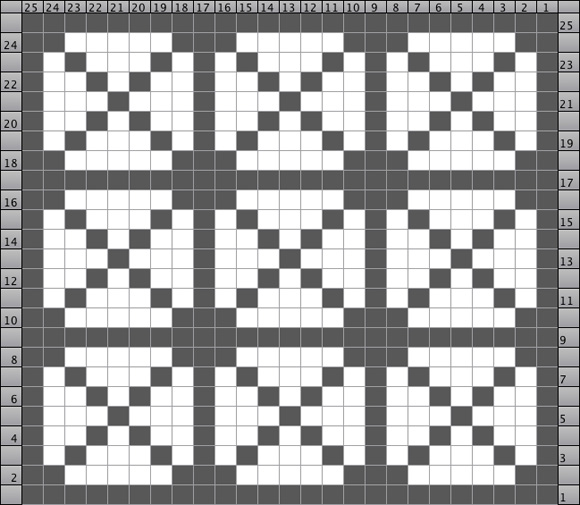 Enlarging the pattern to an eight-stitch repeat allows for further variations.
The most basic version is known as "Compass and Rose."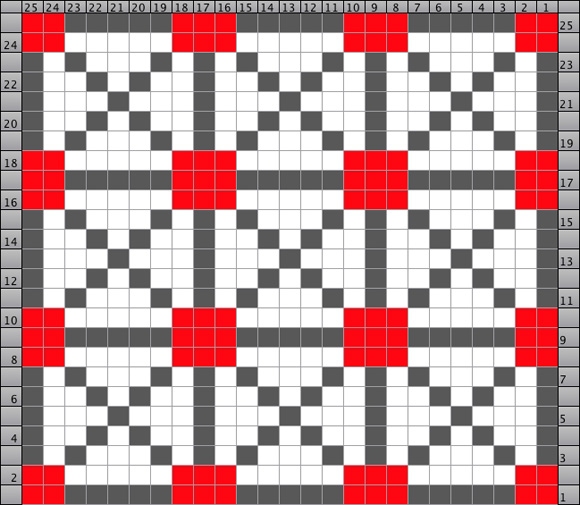 In Lithuania Compass and Rose is knitted with three colors,
although knitters don't have a special name for this pattern.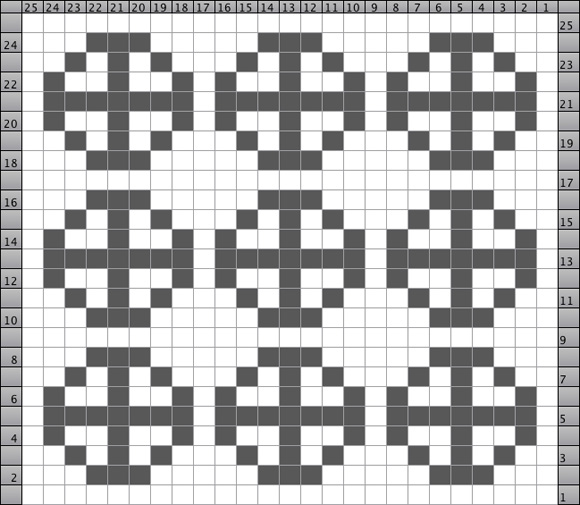 In the Norwegian "Spinning Wheel" motif the vertical and horizontal lines
are part of the background, which isolates the individual motifs.
In Scandinavia and South America, even larger variations have been used.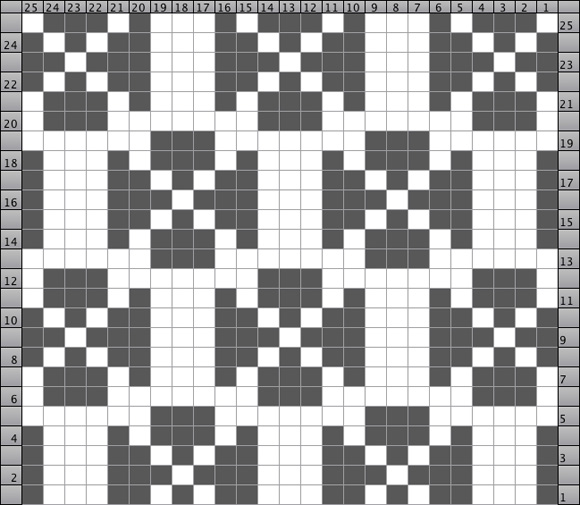 This "Cat's Paw" design was likely derived from the Spinning Wheel design.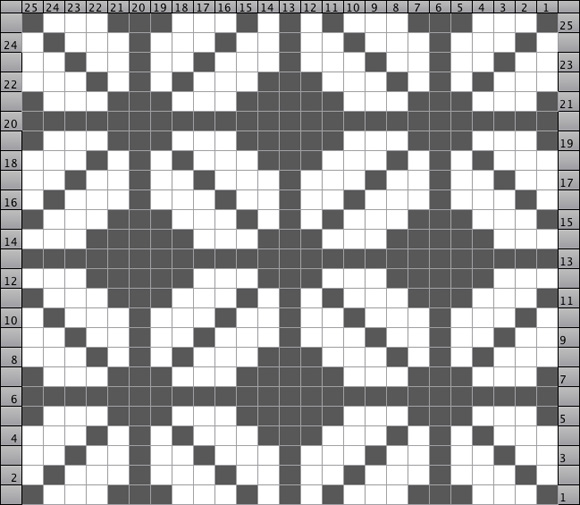 This design, known as the "Coca Leaf" pattern in the Andes has many other names around the world.
Learn more:
Ethnic Knitting Discovery and Ethnic Knitting Exploration, Donna Druchunas, Nomad Press
Favorite Mittens, Robin Hansen, Down East Books
Ultimate Mittens by Robin Hansen, Down East Books
Folk Mittens, Marcia Lewandowski, Interweave Press