DIRECTIONS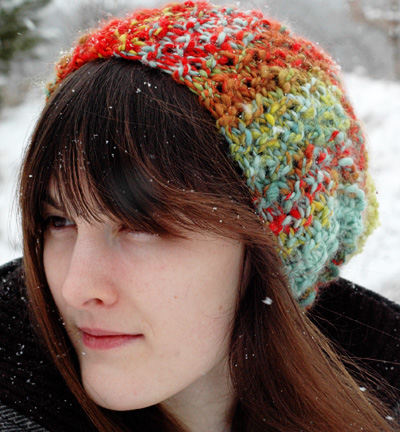 Cast on 14 stitches.

Pattern row: [K2, p2] 3 times, k2.

Repeat Pattern row until piece measures 14.5[16, 17.5] inches unstretched (should stretch comfortably to 20[22, 24] inches – if not, continue until it does).

Work 2 more rows in pattern.

Bind off.

Seam the cast on and bound off edges together.

With RS facing, and using 16-inch circular needle, pick up and knit 54[60, 66] stitches around one side of the brim.

Distribute sts as you prefer and join for working in the round. Place a marker for the start of round.

Knit 9 rounds.

Note: As you work the crown decreases, switch to DPNs, magic loop or two circulars as circumference gets too small to work comfortably on 16 inch needle.

Crown round 1: [K4, k2tog] around. 45[50, 55] sts.
Crown rounds 2, 4, 6, 8: Knit around.
Crown round 3: [K3, k2tog] around. 36[40, 44] sts.
Crown round 5: [K2, k2tog] around. 27[30, 33] sts.
Crown round 7: [K1, k2tog] around. 18[20,22] sts.
Crown round 9: [K2tog] around. 9[10, 11] sts.

Cut yarn leaving a 6-inch tail and draw through remaining stitches, pull to close.