Feature: Knittyspin
INTRODUCTION
Knittyspin
Strung Along: How many plies for colorwork knitting?
I have always been a texture knitter obsessed with bumps and meandering lines knit into fabric, but lately I've been heading the siren song of color knitting. I've always found Fair Isle so beautiful and now that the Lopi craze is well on us, I'm smitten with that too.
Of course I want to spin my own yarns to knit, but I am wantonly lazy. In stranded colorwork there are so many yarns to keep track of when knitting and all of those ends. When spinning, they all have to match in wpi and grist. I know it's not that much and one day I will get to spinning all of those yarns, but baby steps. Also, did I mention I'm lazy.
That's why I think faux Fair Isle is genius. It's been around for as long as there have been variegated yarn and knitters looking for a short cut. With faux Fair Isle there are only two yarns, usually a solid and a variegated. When these two yarns are knit together in a colorwork pattern, the solid creates a nice background and the variegated yarn spirals through its colors, one after the other, creating knitting that looks much more complex than it is, plus no ends to wrestle.
Now faux Fair Isle doesn't have the clear distinctions of color that true Fair Isle or other colorwork knitting has; it's more a meandering progression of color. But it is truly lovely in its own way.
One other stressor that faux Fair Isle takes off of the table is choosing colors. I know many knitters and spinners that are paralyzed by the thought of choosing colors that work together, but with faux Fair Isle all you need is a variegated yarn and a solid that plays well with the variegated in color and is contrasting on the scale of light to dark. The mixture and progression of colors is taken care of by the genius dyer that you bought the braid from. If the braid is gorgeous the knitting will be gorgeous.
Spinning and knitting these samples was actually fun. I have a metric ton of variegated top in my stash. I chose a richly-colored Falkand top from Into the Whirled , color II Tromonto. To contrast I chose a natural grey Corriedale from Louet. It took 5 minutes to choose. I did spend another 30 minutes petting my stash and planning projects I will never spin. Then I chose a simple motif to knit from Mary Jane Mucklestone's 200 Fair Isle Motifs.
Grey corriedale from Louet and Il Tramonto on Falkland from Into the Whirled
Along with the question of, 'how will the colors play out in pattern' I found myself wondering how ply will affect the overall look of the knitted colors. I spun and knit samples with 3-ply, 2-ply and singles.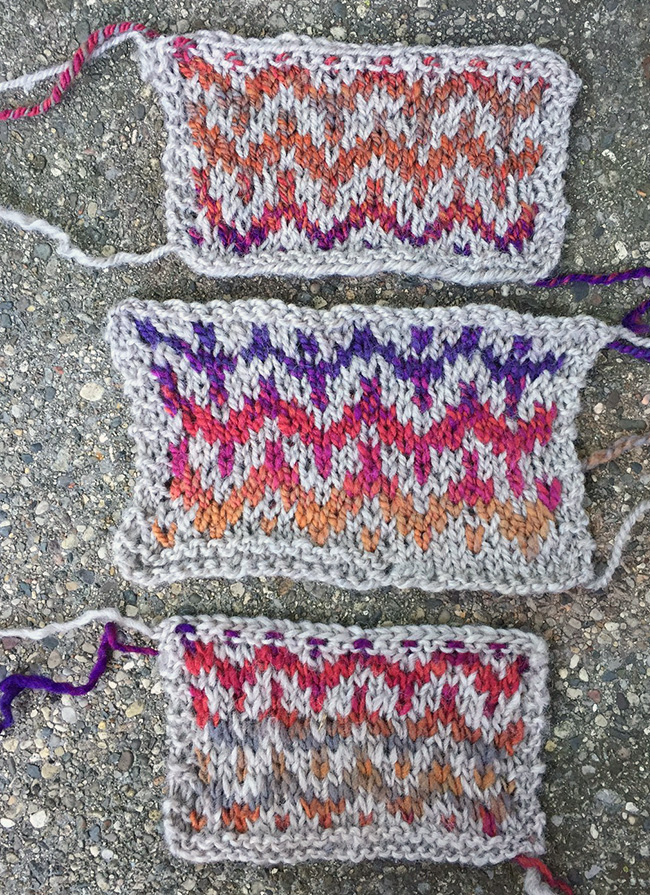 Fair Isle swatches: from the top 3-ply, 2-ply and singles
My results were interesting. The number of plies made a big difference visually. There isn't one I like particularly over the others, but I would definitely pick a specific ply for a specific project. What about the color?, you ask. Well these samples may make it a much longer time before I spin and knit separate colors, it's that pretty.
I spun and knit my samples bigger than I would for a sweater. I wanted it to be very obvious to me what was going on. I have old eyes and bigger is better.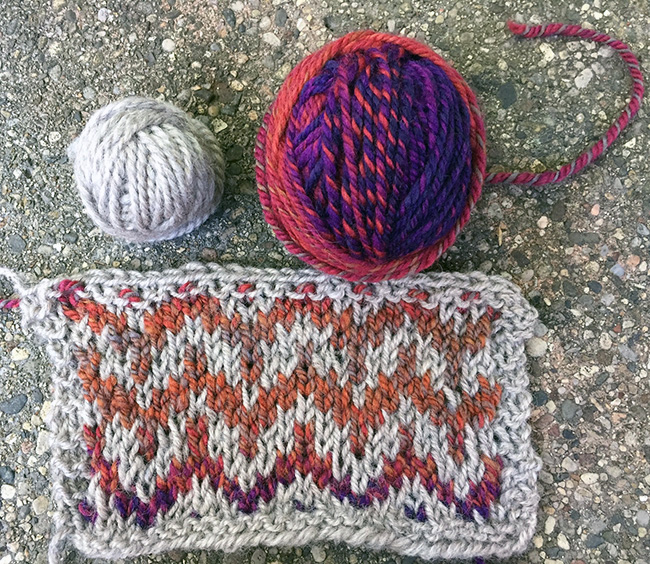 3-ply
3-ply
In 3-ply yarn, the colors were crispy and bright. The yarns stand away from each other because they are round, giving a clear separation between the variegated color and the background. I would use this yarn for big motifs that I want to stand out like intarsia or larger Scandinavian motifs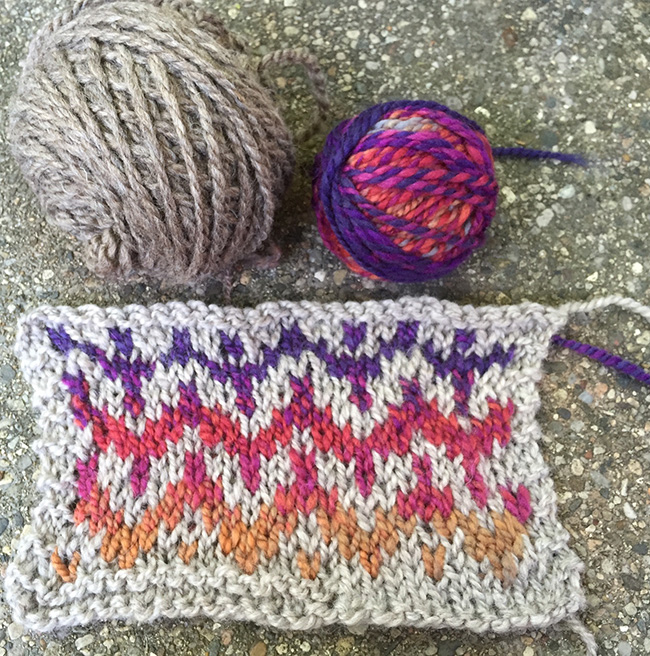 2-ply
2–ply
2-ply yarns look more relaxed and fuzzy. Colors flow into each other, edges touching and getting a little snuggly.
I would use this for Fair Isle knitting and definitely at a smaller gauge to visually mix the colors even more.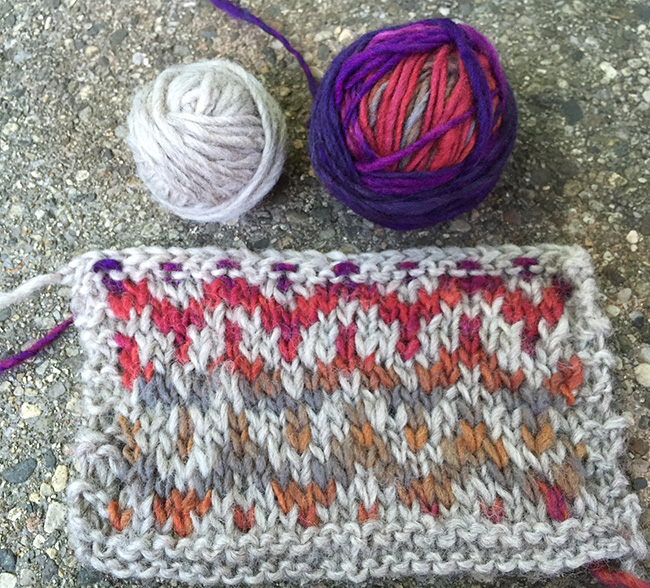 Singles
Singles
Hello, Lopi knitting!
The singles yarns are soft and open with lots of fuzz. They spread color like pancake batter in a pan. I would keep these singles yarns this size for knitting; they are the same gauge as Lettlopi. I think Mary Jane Mucklestone's Stopoover sweater would look fantastic knit with a variegated yarn.
If you look at the three swatches side by side and close up, you can really see the difference between the three.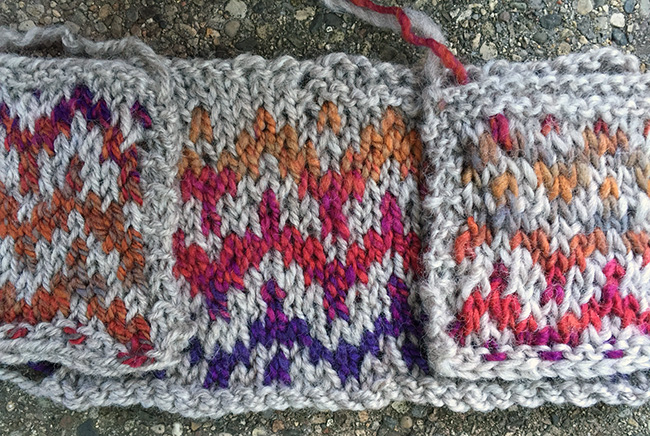 [
from the left: 3-ply, 2-ply and singles
Now I know exactly how many plies to use if I want my stranded knitting colors to stand out from each other or to flow one into the other. Plus I have extra love for faux Fair Isle for my lazy stranded colorwork spinning and knitting.