Knitty Staff Room
The Staff Room
Meet the people that make Knitty happen...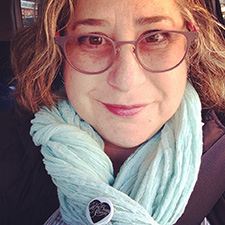 Amy Singer
Amy is the editor of Knitty. She's also the publisher and founder of the magazine. In 2002, it came to her in a dream while sitting on her living room couch that she should start an online knitting magazine to feature the knitting talent she'd been seeing on blogs all over the world in one tidy, professional-looking website. The rest is happy history.
She loves ukuleles, rabbits [she lives with a Flemish Giant mix rescue bunny named Tully -- Squeeze now lives with her daddy], things with buttons, and stuff that's shiny. She's allergic to wool and sensitive to all animal fibers, so she's the non-wool knitter in the Knitty crew. Amy taught all over the place for almost a decade and now is enjoying staying put, saving her travelling for vacation-type relaxation.
She lives in Toronto and can often be found hanging out, having an iced latte and knitting, at The Purple Purl. She is frequently obsessed with technology and gadgets, and quite likes shoes that don't hurt.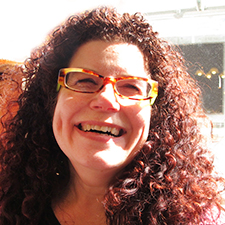 Jillian is the editor of Knittyspin, Knitty's Ad Manager and Catalyst of the whole shebang. This means she is often the brains behind the exciting new ideas we implement at Knitty, like the blog-writing thing and the division of fall into two seasons that better describe what knitters really want. She's also the reason there is a Knitty -- her passion, brain and heart have helped Amy build the magazine and keep it on the grassroots path we all feel is so important. If you ever meet her, thank her.
Jillian has been a knitter forever, and a spinner almost as long. Spinning is her current passion, and she spends part of almost every day at her wheel. She is the​ author of the best-selling spinning book Yarnitecture. She is the editor​ of Knittyspin.​ She teaches all over and writes about spinning ​on her blog, the KnittyBlog, PLY Magazine and Spin Off Magazine. She can't stop writing and teaching about spinning, wool, yarn and making things.
She likes vintage dresses, Tim Burton, British murder mysteries and listening to her kids sing in the bathtub.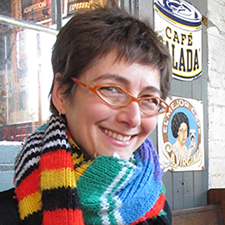 Kate is our Managing Technical Editor, as well as our Editorial Assistant.  She is a mathematician, which comes in handy in all aspects of her knitting work. Kate is a highly regarded knitting teacher in Toronto, and offers her professional services through several Toronto-based shops and beyond.
Kate's first book "Beyond Knit & Purl" was praised as the 21st century "Knitting for Anarchists", and her second book "Knit Accessories: Essentials and Variations" was published in late 2012 to great acclaim. She's written several more very well-received books since she wrote this bio. In fact, her books and instructional DVDs fill an entire page at Amazon.
She is an expert on all things deli, and is a regular at Caplansky's. She likes double-pointed needles, kitten heels and strong coffee. Abandoned in downtown Toronto by some misguided soul, Dexter the beagle mix calls Kate mom after being rescued on her front lawn.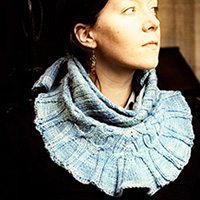 Ashley Knowlton
Ashley is one of our two super-skilled Garment Technical Editors. Even when she's not tech editing (unlikely), she still manages to wax lyrical of her love of Excel, scientific calculators, and industry standard sizing charts.
American-born but naturalized Brit, Ashley spends most days in the Cotswolds in England with her husband and cat, working, writing novels, and designing classic knitwear with interesting constructions.
You can find her patterns on Ravelry.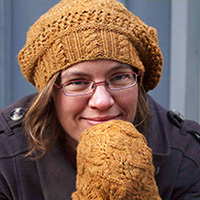 Originally a lab geek, Rachel now uses science (well, math, actually) to help knitwear designers put out clear, concise patterns for knitters of all types. She's the other half of our Garment Technical Editing team. When not tech editing, she spends as much time as possible dyeing fiber in science-inspired colorways, spinning, designing, and organizing yarn-centric events in London and the UK as one half of Yarn in the City. And oh yeah, occasionally still working in the lab playing biologist.
A former resident of the Commonwealth of Massachusetts, she now lives in London with her husband, two daughters, a Wee Ridiculous Dog and a recently-acquired Feline Overlord. and teaches classes on a variety of knitting-and spinning-related topics.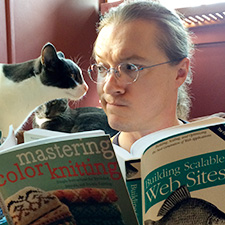 Chris Gernon
Chris is our newest staff member. As System Administrator, Chris configures servers, manages databases, analyzes logs, researches new technologies, and generally makes sure the site stays up and running.
Chris lives in upstate New York with their spouse, kids, and way too many cats. They've been knitting since 2013 and always wish they had more time to devote to it. They love to get together with other knitters at The Village Yarn and Fiber Shop, but don't get to nearly as often as they would like.
Besides knitting, Chris also enjoys reading, electronics, videogames, LEGO building, puzzles, board games, and most of all, raising their children.