Knitty Staff Room
The Staff Room
Meet the people that make Knitty happen...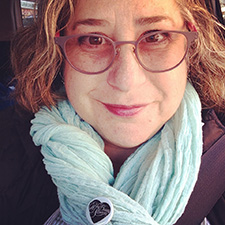 Amy Singer
Amy is the editor of Knitty. She's also the publisher and founder of the magazine. In 2002, it came to her in a dream while sitting on her living room couch that she should start an online knitting magazine to feature the knitting talent she'd been seeing on blogs all over the world in one tidy, professional-looking website. And here we are 16 years later. Cool.
She loves ukuleles, rabbits [she lives with a little Harlequin rescue bunny named Rabbi Schmooley ben Timothy], things with pushable buttons, and stuff that's shiny. She's allergic to wool and sensitive to all animal fibers, so she's the non-wool knitter in the Knitty crew. Amy taught on both sides of the Atlantic Ocean for almost a decade and now is enjoying staying put, saving her travelling for vacation-type relaxation. Two carpal tunnel surgeries in 2016 have finally paid off...she's knitting again!
She lives in Hamilton, Ontario, with her partner, Mark, and his [their!] two cats, Brody and Tasha. As they're new to the city, they're still discovering all its wonderfulness. Amy is frequently obsessed with technology and gadgets, and quite likes Blundstones and Birkenstocks.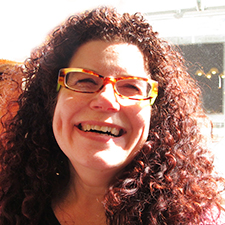 Jillian has been a knitter forever, and a spinner almost as long. She is the​ author of the best-selling spinning book Yarnitecture. She is editor​ of Knittyspin and Developmental Editor for PLY and PLY Books. She's also Catalyst at Knitty, which means she is often the brains behind the big ideas we implement, like the blog-writing thing and the division of fall into two seasons that better describe what knitters really want. She's also the reason there is a Knitty -- her passion, brain and heart have helped Amy build the magazine and keep it on the grassroots path we all feel is so important. If you ever meet her, thank her.
She kinda loves this spinning thing and wants everyone who spins to love it too, so she teaches and writes a lot. She knits, weaves, and stitches and tries to do as much of it as she can with handspun yarn. She's always cooking up all kinds of exciting and creative things combining fiber arts.
She likes her mysteries British, her walks woodsy, and to spend as much time as she can laughing. Spy on her on her blog, the KnittyBlog, and her website.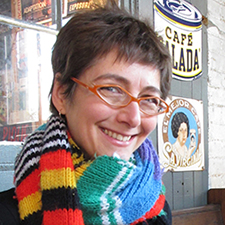 Kate is our Managing Technical Editor, as well as our Editorial Assistant. She is a mathematician, which comes in handy in all aspects of her knitting work. Kate is a highly regarded knitting teacher in Toronto, and offers her professional services through several Toronto-based shops and beyond.
Kate's first book "Beyond Knit & Purl" was praised as the 21st century "Knitting for Anarchists", and her second book "Knit Accessories: Essentials and Variations" was published in late 2012 to great acclaim. She's written several more very well-received books since she wrote this bio. In fact, her books and instructional DVDs fill an entire page at Amazon.
She is an expert on all things deli, and is a regular at Caplansky's. She likes double-pointed needles, kitten heels and strong coffee. Abandoned in downtown Toronto by some misguided soul, Dexter the beagle mix calls Kate mom after being rescued on her front lawn.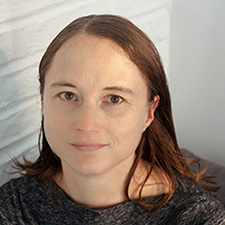 Penny is the newest member of Knitty. Think of her as a master sorter and organizer. In addition to spending time each week to find interesting, intriguing, and unique links to share every Wednesday on the knittyBlog, she's also our Patreon Rewards Whisperer. What does that mean? She wrangles the data in the magic spreadsheet so Patreons can receive their rewards each October.
When not assisting small businesses with their technology needs she's knitting, crocheting, spinning, or begging the cats to let her weave. She loves muddy trail runs, fosters kittens, and lives in Westchester, NY, with her husband and two resident cats.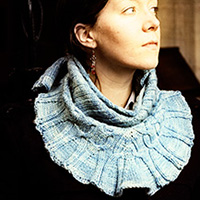 Ashley is one of our two super-skilled Garment Technical Editors. Even when she's not tech editing, she still manages to wax lyrical of her love of Excel and scientific calculators to all who might pause to listen.
Born in America, Ashley is now a naturalized Brit and lives in the Cotswolds with her husband, cat Dobby, and Tibetan Spaniel Tibby). By day she is a school Librarian-in-training; by night she tech edits, writes fiction, and spends too much time working through the weirdest games on Steam.
You can find her patterns on Ravelry, and on Twitter as @ashleyknits.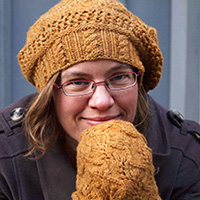 Originally a lab geek, Rachel now uses science (well, math, actually) to help knitwear designers put out clear, concise patterns for knitters of all types. She's the other half of our Garment Technical Editing team. When not tech editing, she spends as much time as possible dyeing fiber in science-inspired colorways, spinning, designing, and organizing yarn-centric events in London and the UK as one half of Yarn in the City. And oh yeah, occasionally still working in the lab playing biologist.
A former resident of the Commonwealth of Massachusetts, she now lives in London with her husband, two daughters, a Wee Ridiculous Dog and Feline Overlord, and teaches classes on a variety of knitting-and spinning-related topics.