Knitty Staff Room
The Staff Room
Meet the people that make Knitty happen...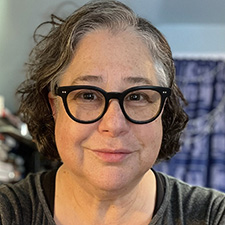 Amy is the editor of Knitty. She's also the publisher and founder of the magazine. In 2002, it came to her in a dream while sitting on her living room couch that she should start an online knitting magazine to feature the knitting talent she'd been seeing on blogs all over the world in one tidy, professional-looking website. And here we are 20 years later. Cool.
She loves really good keyboards, rabbits, quirky movies, tiny collectible vinyl toys and making a very good iced coffee to start every day. She's allergic to wool and sensitive to all animal fibers, so she's the non-wool knitter in the Knitty crew. Amy taught super-relaxing knitting on both sides of the Atlantic Ocean for almost a decade, and now is enjoying staying put, saving her travelling for vacation-type relaxation. In 2021, Amy became a pandemic lemming and adopted a rescue dog from Turkey. Sky is Amy's first dog and she is over the moon with love for this magical being. That same year, Amy was finally diagnosed (at 59!) with ADHD which has explained much of her previously inexplicable nature. She blogs about navigating late-diagnosed ADHD and other probably too personal stuff at The Goal Is Now. To see the small collection of patterns she designed when her brain was on a good spell, or read about the a lectures she'd love to share with your shop or guild, visit amysinger.ca.
She lives in Hamilton, Ontario, with her partner, Mark, and his [their!] two cats, Brody and Tasha, plus Sky, of course.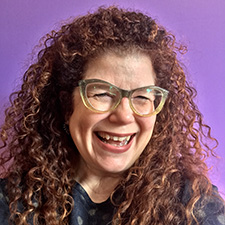 Jillian Moreno is the author of the best-selling spinning book Yarnitecture: A Knitter's Guide to Spinning: Building Exactly the Yarn You Want. She is the Editor of Knittyspin, and the other half of Amy's Knitty brain. Because her brain never stops spinning out ideas, she is the Developmental Editor for PLY and PLY Books. She regularly writes about the construction of yarn for Modern Daily Knitting.
She teaches all over the US and leads fiberfolk on tours to places like Iceland and Ireland.
She usually reads three mysteries at once, is always experimenting with fiber, and starts many more projects than she ever finishes.
You can keep up with her fiber exploits at jillianmoreno.com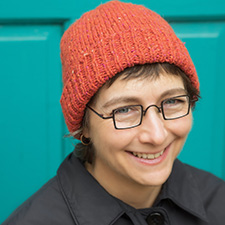 Kate Atherley is a knitting author, teacher, and editor. Her latest book, Custom-Fit Hats is her ninth, and the fourth in a series on customizing projects for perfect fit and style; it joins works on shawls, socks, and mittens. She's also the co-founder and publisher of Digits & Threads, an independent, member-supported online magazine about Canadian fibre- and textile arts, crafts and industry. The combination of her university degree in mathematics, professional experience in software development and usability, and training in garment and fashion design give her a unique perspective.
She lives in Toronto with her husband, rescue dog Winnie, and the family of skunks under their porch.
Find out more about Kate at kateatherley.com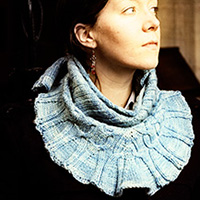 Ashley is one of our two super-skilled Garment Technical Editors. Even when she's not tech editing, she still manages to wax lyrical of her love of Excel and scientific calculators to all who might pause to listen.
Born in America, Ashley is now a naturalized Brit and lives in the Cotswolds with her husband, cat Squeak, and Tibetan Spaniel Tibby). By day she is a school Librarian-in-training; by night she tech edits, writes fiction, and spends too much time working through the weirdest games on Steam.
You can find her patterns on Ravelry.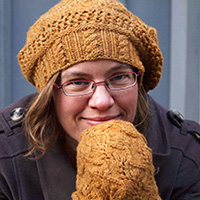 Originally a lab geek, Rachel now uses science (well, math, actually) to help knitwear designers put out clear, concise patterns for knitters of all types. She's the other half of our Garment Technical Editing team. When not tech editing, she spends as much time as possible dyeing fiber in science-inspired colorways, spinning, designing, and organizing yarn-centric events in London and the UK as one half of Yarn in the City. And oh yeah, occasionally still working in the lab playing biologist.
A former resident of the Commonwealth of Massachusetts, she now lives in London with her husband, two daughters, a Wee Ridiculous Dog and Feline Overlord, and teaches classes on a variety of knitting-and spinning-related topics.