Knitty Patreon FAQ
INTRODUCTION
Patreon FAQ
(FAQ updated Mar 2017)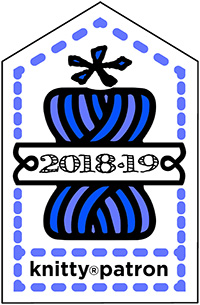 Q. I can't/don't want to pay. Can I still read Knitty?
A: Absolutely, yes!

Q. When will you bill me for my pledge?
A: We send out a post to all Patrons that indicates a new issue has been released about a week after each the new issue is live. That post tells Patreon that it's time to bill our Patrons for their pledges. They will do the actual billing on the first day of the next calendar month. Please note that Patreon bills pledges to Knitty (and all their Content Creators) in USD.

Q. I was charged at the beginning of the month following the new issue, but I've decided I don't like the issue and want a refund.
A. When a new issue goes live, you have till the end of that calendar month to decide if you'd like your pledge to get charged or not. If you don't do anything, the pledge is charged on the first day of the next calendar month. Once the pledge has been charged, we're unable to make refunds.

Q. If you get enough support, will you remove advertising?
A. Knitty exists for two main reasons: to help find and promote new and existing knitting design talent and to support the knitting industry. A huge part of what we enjoy as knitters are the yarn, books, tools, bags and knitwear designs that are created for our benefit. We consider the ads on our pages an essential, fundamental part of our mission, and we very much enjoy seeing what our advertisers have to offer! Giving manufacturers, designers, retailers and publishers an affordable place to share their products with the knitting community is important to us, and we do not plan to eliminate that vital platform of communication.

Q. Can I make a one-time donation instead of becoming a Patron?
A.
Absolutely! Thank you! But Patreon doesn't have a place for that, so the easiest thing to do is to send your donation to us via Paypal. Just click the cute pink button immediately above.
Q. By request: I'd like to send you a donation monthly or annually without being part of the Patreon program. How do I do that?
A. Wow! Okay, we've set a few options for you. If you'd like to donate either $5 or $10 per month, or $25 per year, just click the appropriate button and it will take you to Paypal. Once there, you can fill in your details and Paypal will bill you automatically for that amount (either monthly or annually, whichever you have selected) until you cancel. THANK YOU for your support!
Q. I would rather send you a check than use a credit card or Paypal. May I?
A. Absolutely! Thank you! However, we have no way to track you within the Patreon platform without an accompanying online contribution, so we are unable to offer you the rewards you'd normally get as part of one of the Patron levels.
If you're okay with donating without receiving rewards, here's our address:
Knitty magazine
2255b Queen Street East
#527
Toronto, ON
Canada M4E 1G3
Thank you!


Q. I signed up for a level that offers a tangible goody like a sticker or patch. When will I receive it?
A. To make the best use of your donation, we'll be ordering items like stickers and patches in bulk and sending out one Reward mailing per year. Swag gets shipped at the beginning of September every year. That means that everyone who is on the list as of August 31st and whose payments are current will get the 2018-9 swag. *Sometimes, pledges are declined by the credit card or Paypal. Current means that your pledge was successfully processed.

September 1, 2018, marks the start of the 2018-9 Patronage year, with a new sticker, new patch and a fabulous new reward for the Facemelters. Those will ship in October 2019. (I promise to write you when the packages are being shipped, so you know to watch for them.)

What if you sign up but leave before the chosen month? I have no way of knowing you were here, once you've left. The Patreon system only records current Patrons and their current pledge level. Imagine if it recorded every sign up, change in pledge level and exit...how could anyone possibly stay on top of so much data? It'd be impossible. And really, the goal is to keep Knitty supported, which means we really need you to stay with us. The Rewards are budgeted based on a year's worth of support from each Patron, so we think this is the fairest way to fulfill our part of the deal.


Q. What logo will be on the swag?
A.The logo you see at the top of this page will be on all swag! We think it's pretty neat and hope you love it, too! We'll release a new batch of swag in 2017 for our Patrons with this new version of the logo on it!


Q. I signed up for the Mellow level, but would like to change to a different level. Can I?
A. Yes, you can change your pledge level at any time! Just click "Edit my pledge" after you login to the Patreon site. You'll get the appropriate access to any online goodies right away after making the change. For example, if you go from Tangy to Piquant, you'll get an invitation to the next Webcast!


Q. What's the difference between a WebCAST and a WebCHAT?
A. A Webcast (offered at the Piquant level) is a one-way party! You'll get to see and hear me (and my occasional special guests) on screen, as if you were in a big auditorium. You can type in questions and our moderator will pass them to me so I can answer as many as possible! All you need to enjoy this Webcast is a current computer and high-speed internet.

A Webchat (offered at the Extraspicy level and above) is a smaller, more intimate gathering. Technology permitting, we will invite you on screen for part of the chat, if you'd like! (If you're shy, you can type in your questions and comments instead of being on screen.) We will be able to get to know each other as time goes on, can share stories, show what we're working on, ask questions, get knitting support…that sort of thing. We'll have occasional special guests. In order to participate fully in this Webchat, you'll need a current computer, a camera and microphone and high-speed internet.


Q. When will the Webcasts and Webchats take place?
A. For the Piquant Webcast, I will vary the time and day issue to issue, in order to give everyone a chance to be there. I expect late afternoon to evening is the best time, and probably a weekday vs a weekend.

For the Extraspicy and Facemelter Webchats, since we're a more intimate group, I'll use a handy web tool that asks when each member is available from a list of possible dates and times. That gives me the best shot at pleasing the greatest number of people.

For both Webcast and Webchat, the events will be archived (technology permittng) and you'll have password-protected access to them, so even if you weren't able to attend, you won't miss out!


Q. You said you were going to do X when you launched the Patreon campaign, but now I see you're doing Y. What's going on?
A. This Patreon campaign is a whole new way of existing for Knitty. In order to keep it working well, make things better and toss out ideas that end up not being good ones, the principals of Knitty (that's me, Jillian, Kate and Christopher) will need to make adjustments to the program as we go. Our intention is only to improve things, not take away something that you're loving. Remember, you'll have access to the Patron News feed to get info directly from us, and you can talk to us there and tell us what you think, about the Patreon campaign or Knitty, at any time!