Knitty Patreon FAQ
INTRODUCTION
Patreon FAQ
(FAQ updated Dec 2023)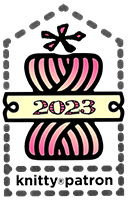 Q. I can't/don't want to pay. Can I still read Knitty?

A: Absolutely, yes!

Q. When will you bill me for my pledge?
A: Near the end of the month a new issue has gone live, we send out the "official Patreon post". That post tells Patreon that it's time to bill our Patrons for their pledges. They will do the actual billing on the first day of the next calendar month. Please note that Patreon bills pledges to Knitty (and all their Content Creators) in USD.
Q. I was charged at the beginning of the month following the new issue, but I've decided I don't like the issue and want a refund.
A. When a new issue goes live, you have till the end of that calendar month to decide if you'd like your pledge to get charged or not. If you don't do anything, the pledge is charged on the first day of the next calendar month. Once the pledge has been charged, we're unable to make refunds.

Q. If you get enough support, will you remove advertising?
A. Knitty exists for two main reasons: to help find and promote new and existing knitting design talent and to support the knitting industry. A huge part of what we enjoy as knitters are the yarn, books, tools, bags and knitwear designs that are created for our benefit. We consider the ads on our pages an essential, fundamental part of our mission, and we very much enjoy seeing what our advertisers have to offer! Giving manufacturers, designers, retailers and publishers an affordable place to share their products with the knitting community is important to us, and we do not plan to eliminate that vital platform of communication.

Q. Can I make a one-time donation instead of becoming a Patron?
A. Absolutely! Thank you! But Patreon doesn't have a place for that, so the easiest thing to do is to send your donation to us via Paypal. Just click the cute pink button below.

If sending a check is more your style, here's our address:

Knitty magazine
2-558 Upper Gage Ave
#127
Hamilton, ON
Canada
L8V 4J6

Thank you!

Q. By request: I'd like to send you a donation monthly or annually without being part of the Patreon program. How do I do that?
A. Wow! Okay, we've set a few options for you. If you'd like to donate either $5 or $10 per month, or $25 per year, just click the appropriate button and it will take you to Paypal. Once there, you can fill in your details and Paypal will bill you automatically for that amount (either monthly or annually, whichever you have selected) until you cancel. THANK YOU for your support!

Q. I signed up for the Mellow level, but would like to change to a different level. Can I?
A. Yes, you can change your pledge level at any time! Just click "Edit my pledge" after you login to the Patreon site.


Q. You said you were going to do X when you launched the Patreon campaign, but now I see you're doing Y. What's going on?
A. This Patreon campaign is a whole new way of existing for Knitty. In order to keep it working well, we will need to make adjustments to the program as we go. Our intention is only to improve things, not take away something that you're loving. Remember, you'll have access to the Patron News feed to get info directly from us, and you can talk to us there and tell us what you think, about the Patreon campaign or Knitty, at any time!