What is knitty+?
Latest update: October 5, 2023
What is knitty+?
knitty+ (or k+) is an additional feature built into the code of Knitty magazine on all patterns going back to Winter 2014, and it's only available to Patrons. Knitty Patrons are readers who support Knitty financially every issue. In exchange, depending on their level of support, they receive exclusive benefits like access to knitty+.
k+ allows you to select the size you're going to knit, and then you can hide all the other numbers in the pattern. The image above shows what a pattern looks like once you select the size you want (top) and after you hide unused sizes (bottom). Neat, eh?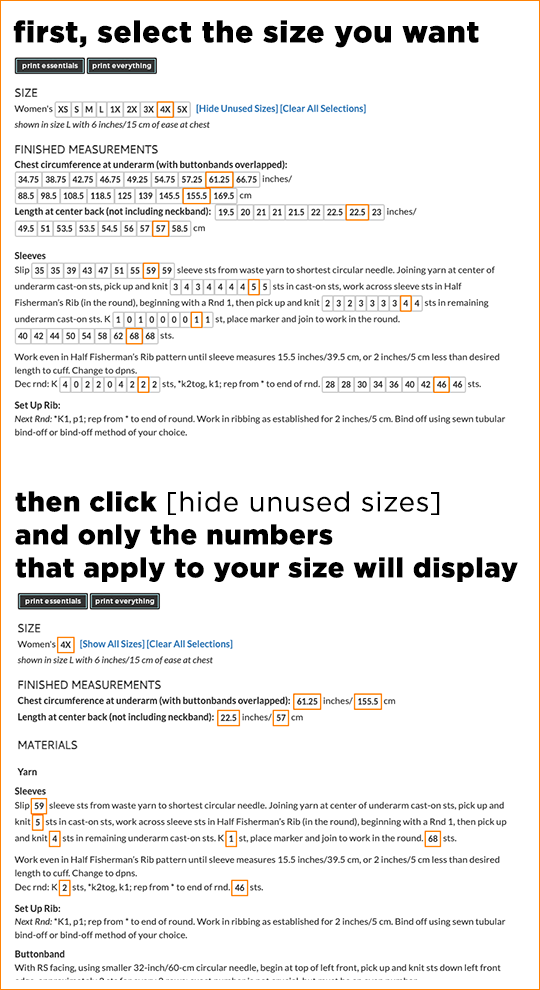 Other things you will be able to do (depending on your level of Patron support):
select any other size number (ex: if you're knitting the body longer, you can select a different number of rows) and save those changes. Any numbers you select that are not the original numbers will be shaded with a grey background to remind you you've changed them. The original number remains highlighted with the orange box around it, unshaded. Future feature: sections that do not apply to the size of pattern you've chosen will be hidden as well. For now, they display with a (-) where the number would be.
like any knitty pattern, you can print the resulting page and it will show your customizations! To get a good result, please choose either of our two print buttons:
(which prints the first pic, schematics, charts that display in the pattern, plus all pattern text) or
(which prints the whole page, including all images).

save your current place in the pattern vertically. If you leave the page and come back, it will return to the place you were viewing when you last saw that page. Future feature: Some sort of highlight that you can move to a specific location to show the exact line you were working on.
make notes in the pattern about any changes or tweaks; these notes will display at the end of the pattern if you print it or save it to a PDF file
k+ has been enabled for all issues from FF22 to DF23, and full access has been given first to Piquant, Facemelter and Extraspicy Knitty Patrons. Once we're sure things are solid enough to support more users, we will open k+ up to one additional Patron tier at a time.
When your tier is eligible to enter the k+ beta, I'll email you with all the instructions. We expect to be able to have all current (paid-up) Patrons on k+ within a month, barring any big technical issues. And once we're confident everything is working well, we'll extend k+ access back to Winter 2014, one issue at a time. All current (paid-up) Patrons from Mellow to Facemelter will have full access to all features of k+ for the duration of the Deep Fall '23 issue so that you can see just how cool it is and try it out on a number of different patterns. Free Knitty Followers will not have access to k+.
Once your Patron tier has access to the k+ beta, you will be able to experiment, give feedback, make feature requests, and help guide how we develop this feature. As with all beta launches, occasional glitches are to be expected, but back-end developer Philly will be on the case to sort things out. We appreciate your patience as we go through the beta testing process.
---
Can I see how knitty+ works?
Here's a little tutorial video I created for you that shows you how to do everything from logging on to customizing to printing.
---
Is this going to cost extra now?
No. Deep Fall 2023 is a transitional issue where k+ is in beta, and so we're not charging anything extra over your usual Knitty Patreon pledge.
"Beta" means that the k+ code is active, but there may still be bugs or errors that require correcting, and things may temporarily break as we fix the code. It's how we test that the feature is ready to use, and get feedback from our Patrons about things that are broken or they'd like to see changed or improved.
These new features are offered to all current (paid-up) Knitty Patrons at no charge for the duration of this issue (September to November '23 inclusive) so that Patrons can experiment, use the feature as much as they want, and decide if they want to continue using it when the Winter '23 issue launches in December.
Existing Knitty Patrons were charged for the Deep Fall '23 issue on October 1. Patrons who joined after the billing date of September 26, 2023, will not be billed until after the launch of the Winter '23 issue in December 2023 – the pledge will be charged to your account on January 1, 2024.
---
We've introduced new Tiers as of October 5, 2023. Here's a chart that shows the original tiers and benefits, and what the new + tiers are offering.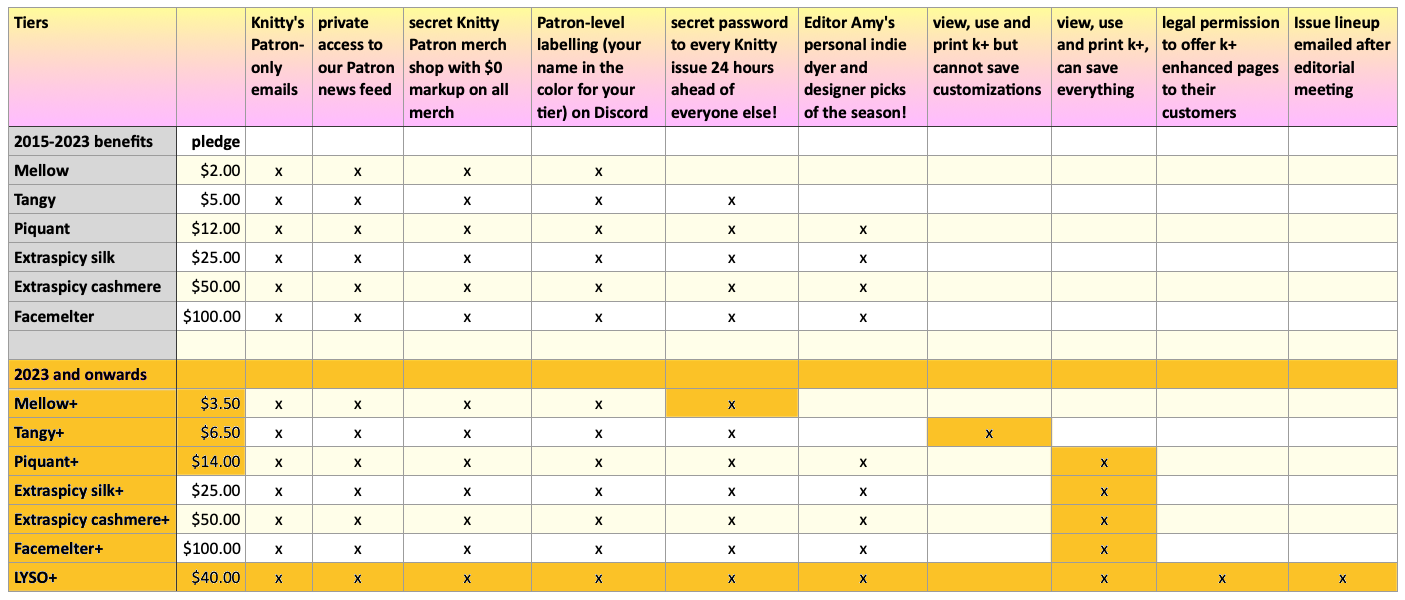 Click the chart to see it at full size
These new tiers offer the new benefits for all Patron levels, highlighted in orange. As a result, the fees for the Mellow+, Tangy+ and Piquant+ tiers have been raised by a small amount each over the original Mellow, Tangy and Piquant tiers.
Why? Creating and implementing k+ has been a massive undertaking. The person who developed the code for this project is Philip Chatterton (who also happens to be my ex). He started working on building the code to make this dream of mine come true before we split in 2014. Now that it's ready to launch in beta, it's time he gets compensated for the extraordinary amount of effort and countless hours he's put into knitty+ already. This will also allow him to make changes based on your feedback, add new features, and continue to support and improve knitty+ going forward.
In addition, though our number of Patrons has remained relatively consistent over the last few years, the amount that a large proportion of our Patrons have been able to pledge has gone down. This means we're currently running an operating budget of about $1500 less per issue than we had two years ago. We've tightened belts, and our Patrons were kind enough to allow us to redirect the Dyer/Designer fees ($800 per issue) back to our Pattern Designers, and that's helped. But at the current level of funding, Knitty itself will become unsustainable. By adding even more tangible value to being a Patron, we're hoping to increase our membership numbers and thereby our budget, so that we can continue to maintain and improve Knitty now and in the future.
Also why? Patreon doesn't allow us to change the price of a tier once people have joined it. That means, in order for us to offer k+ and increase the fee so we can pay for it, we have to introduce new levels and invite you to join them. HOWEVER, as you will see below, if you don't wish to or can't afford to pay an increased fee, you can stay exactly where you are, pay the same amount as always, and continue to receive the same benefits as you always have. We love you and appreciate your support and can't do this without you.
---
I am a current Patron on one of the original tiers, and don't want to change. Can I stick with what I have?
Yes! If you like things the way they are, you may stay at your current level with no change to what you receive or what you pay. Forever. Patrons on the original tiers will note, however, that their tier no longer shows on the Knitty Patreon page. But your tier is still active and you have all the same benefits you've always had; you're grandfathered in. Since no one new can join those original tiers, having them show would be too confusing. You can see what your Knitty Tier is on this page.
Important notes:
The access that you've had to k+ will end with the launch of the Winter '23 issue.
if you leave an original tier, you won't be able to rejoin it.
---
Starting with the Winter '23 issue, who gets what? What will it cost?
Mellow+ Patrons will now get the early access password to Knitty starting with the Winter '23 issue! This was formerly only available to Tangy and up Patrons. You'll be able to see the new issue the moment it's live. The rest of the world has to wait 24 hours to get in! Use of k+ is not included.
Mellow+ costs $3.50 per issue.


Tangy+ Patrons will get modified use of k+. You can print or save to PDF for the page that's currently in your browser; saving your customizations and notes is not available. Once you leave a page with your customizations on it, everything gets reset to the default and your customizations are lost.
Tangy+ costs $6.50 per issue.


Piquant+ and higher Patrons get full and unlimited use of k+ during the beta period. As you make changes to any pattern in those issues, your customizations will be saved. If you leave the page and come back later, all your changes will be there. You can clear the changes you made to the numbers with one click if you decided to choose a different size, or if you made a bit of a mess with your selections, but your notes will still saved. You can also print or save to PDF like the Tangy Patrons.
Piquant+ costs $14 per issue.
There will be no change to the price of Extraspicy+ or Facemelter+ tiers.


NEW! LYSO+ Patrons (NEW!) get full and unlimited use of k+ during the beta period, with k+ enabled in all issues back to Winter '14 when we're out of beta. This tier includes Knitty's legal consent to use it in your shop for all of your customers, plus other LYSO-specific benefits.
Important note: You're only able to save one version of any pattern. You can't have a copy of Divergenerate customized for Jane and Joe and Chris. Whatever changes you make last are the ones that are saved. We plan to add a one-click PRINT TO PDF button as soon as it's feasible, to make it easier for you to email the customized pattern to your client.
LYSO+ costs $40 per issue.
---
I'm already a Knitty Mellow or Tangy Patron and would like to keep full k+ access when Winter launches. How can I get it?
For the Deep Fall '23 issue, you'll have full k+ access like all the other tiers, so you can see how it works and if you like it!
The new + tiers have been introduced, and I would suggest switching to the Piquant+ tier (or higher, if you wish) as soon as it is available. You will not be charged the new amount until January 1, 2024, no matter when you sign up for a new tier. (Reminder that you're only charged on the first of the month after a new issue is released, so even if you sign up in October, you will not be charged till January 1, 2024, since Winter '23 doesn't come out till early December.) Signing up early to a + tier means you will receive all the benefits of the new tier structure the moment the Winter issue goes live!
This page shows you how to edit your pledge on Patreon.
---
I am not a current Patron and would like to participate in testing the beta.
We'd love to have you join us! Simply become a Knitty Patron by signing up here. You will get the same access as existing Patrons at the tier you've chosen.
---
I run a Yarn Shop and want to use knitty+ for my customers. May I?
We've set up a special Patron tier for LYSOs, and it grants you legal permission to use knitty+ with all your customers, with no limits! Simply become a Knitty Patron by signing up here and choose the LYSO+ tier. You'll see there are other benefits to that tier as well, created especially for LYSOs!
Important note: You're only able to save one version of any pattern. You can't have a copy of Divergenerate, for example, customized for Jane and Joe and Chris. Whatever changes you make last are the ones that are saved. We plan to add a one-click PRINT TO PDF button as soon as it's feasible, to make it easier for you to email the customized pattern to your client. For now, simply select one of the PRINT buttons (PRINT ESSENTIALS or PRINT EVERYTHING), and select PRINT TO PDF to save the file with all your customizations. Then you can email it to your customer.
---
How do I access k+?
We're in beta right now, and only Piquant, Extraspicy and Facemelter Patrons have access, while we squash a few bugs. As soon as we get those ironed out, we will invite the Tangy Patrons in next, and the Mellow Patrons after that.

To access k+ during the Deep Fall '23 issue, you need to be a current (paid-up) Patron. All good? Awesome!
In the menu for the Deep Fall '23 issue, You'll see a new drop-down section labelled knitty+. Simply click on it, and select "Login with Patreon".
if you are already logged in to Patreon in that same browser, you'll see a little window like the one below. Click "Allow" and it will automatically give you access to k+ on knitty.com


If you aren't already logged in to Patreon, you'll be guided to do that first, and then you'll see the little window below.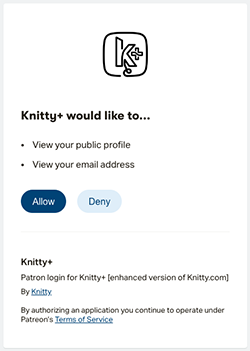 Once you've clicked "Allow", you'll notice that the same drop-down menu now reads "Logout knitty+: your name (your Patron tier)". If you don't click that, and you have enabled cookies (see the next section for more about that), you will stay logged in and have access to k+ until you intentionally log out, OR quit the browser.
---
What's the most important thing I need to know for k+ to work for me?
Cookies must be enabled in your browser for k+ to work seamlessly for you. k+ stores a little bit of data (called a "cookie") that connects your Patreon account to k+. This little bit of data, which does not include any financial or other private information, tells k+ which Knitty Patron tier you belong to and, therefore, enables the appropriate k+ functionality on knitty.com

If you do not enable cookies, you will need to log in with Patreon every time you click on another pattern or page in Knitty, and it will be unbelievably annoying for you. You also risk losing any of your saved selections and notes, because the cookie keeps those safe in our backed-up database for you. Please enable cookies in order to use k+.
---
I've enabled cookies, but I can't select a size (or something else weird is happening).
For all weirdnesses, our first suggestion is to empty your cache and delete your cookies. As mentioned k+ requires cookies to work, and as we've been testing the site for a while, little things may be askew if you don't start with a fresh slate. If you try this and there's still a problem, please fill out a bug report. Thank you!
---
I am logged in with Patreon on knitty.com, but I do not see any k+ features.
Only Piquant, Facemelter and Extraspicy Knitty Patrons currently have access to the k+ beta as of October 5, 2023.

If you are a Piquant, Facemelter or an Extraspicy Patron, and you're still not seeing the k+ features, tt's possible your last pledge payment failed for some reason. In order to have access to k+, your pledge must be up to date.
This page explains how to handle a declined payment and get back to current status again.
Tangy Patrons will get access to the k+ beta next; then Mellow.
Free Knitty Followers will not receive access to k+; you must be on a paid account to get k+ access.
---
I have found an error while using k+. How do I let you know?
Please fill out a bug report here. The more complete the information you provide to us is, the better we will be able to fix the error. Thank you!
---
I have a suggestion, request or comment about k+. How do I let you know?
Please send an email to knittyplus@knitty.com with the subject "knitty+ suggestion". Thank you for your input!
---
I logged an error OR sent an email, but I have not had a response.
Amy, Knitty's editor, is the one managing the entire process of beta testing, bug reports and all incoming emails as well as all the other things that keep Knitty humming, as we work to produce a new issue every three months. We hope you will be patient with us.
We will fix bugs as our first priority, as soon as humanly possible. That might take several days, or it could happen really fast. If it's a complex issue, it might take longer than several days.

You should receive an auto-response when you write to knittyplus@knitty.com
Amy will not be able to respond to your email unless she needs to follow up with you for a specific reason. Please know that all your input and feedback will be read, seriously considered, deeply appreciated, and put into the future feature/update queue, if it makes sense for Knitty. We thank you for understanding.