Feature: Knittyspin
INTRODUCTION
Knittyspin
Twists and Turns: Ply Twist and Weaving

I've been dipping my toe into weaving. Really, I've been running around like a ruffled chicken researching, reading, buying yarn, and pretty much doing everything but sitting down to weave. It's how I do new things.
Instead of just weaving to learn (and for fun) I have to complicate things in my mind by adding the ideas and structure of handspun yarn to my thinking. My brain feels very full, but I can't stop thinking about it.
I'm going to take a local weaving class on a floor loom as well as keep working on projects on my Schacht Cricket rigid heddle loom and my Louet Erica with commercial yarns to get the basics down.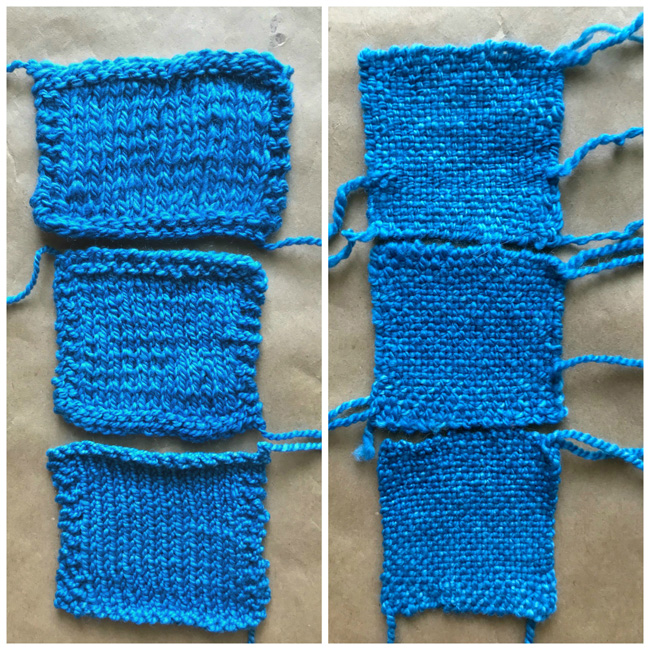 Knit vs. weave with the same yarns
But I'm curious about handspun and weaving and you know what that always means – sampling.
I tried to jump into color spinning and weaving with a post for Schacht [https://schachtspindle.com/jumping-into-weaving-with-hand-dyed-handspun-yarn/]. The goddess of weaving had a good chuckle at that as she shook her head and said , "No, little one, there 's more learning to be done" (I imagine her as Dame Judi Dench) It was not a success, but I learned a lot.
So I dialed back my curiosity and went to play in a smaller sand box, I decided to compare the amount of ply twist in a 2ply yarn in knitting and weaving side by side.
I'm really trying to get some very basic things to click for me about yarn and weaving, by looking at knitted and woven swatches side by side. I don't think there are many parallels between knitting and weaving, but it comforts me to have something familiar for comparison.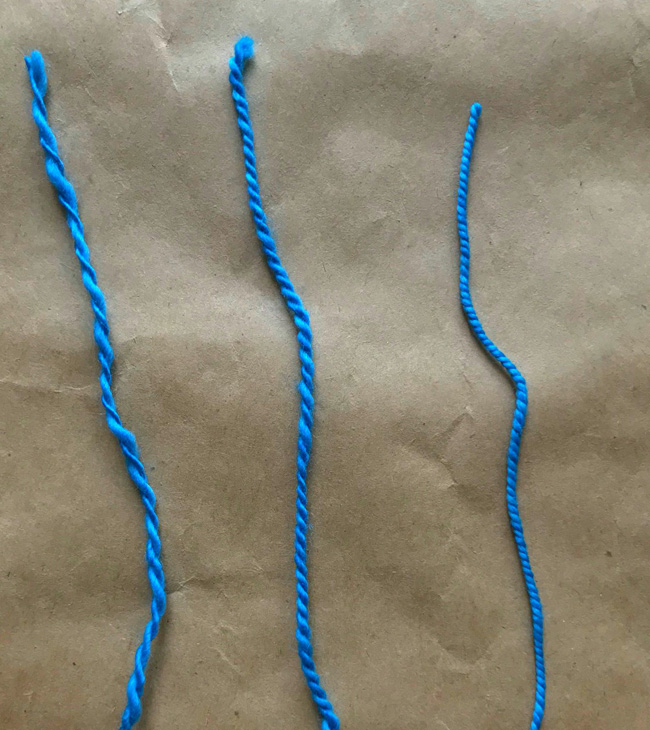 2-ply yarns with, L to R, less twist, balanced twist, more twist]
I spun two singles and plied them into three different 2-ply yarns , each with a different amount of ply twist. I had what folks call a balanced yarn (a yarn that looks a lot like my ply back sample) a yarn plied less than that, and one plied more than that. My yarns were about worsted weight, the ranged in wpi from 6 to 8. The fiber I used was Falkland from Into the Whirled.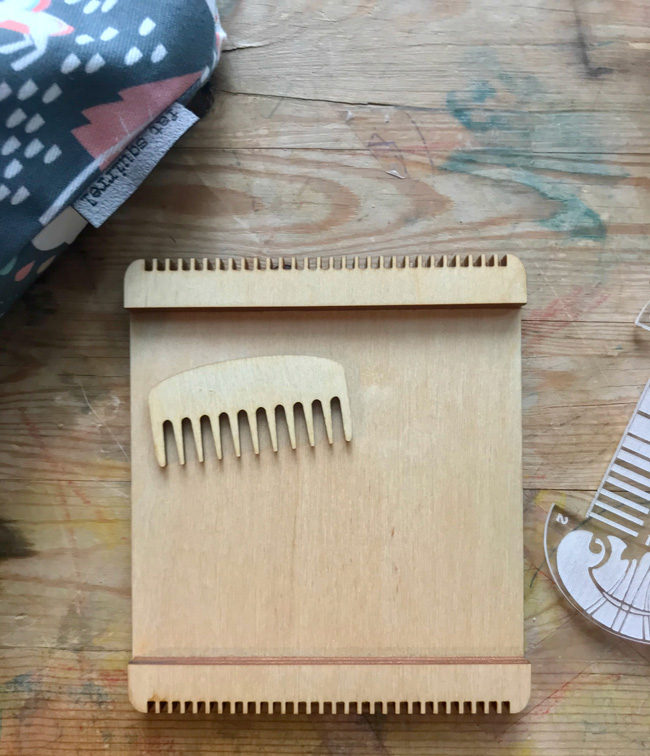 Wee Weaver from Purl and Loop
I knit each yarn in stockinette, and wove each yarn as a balanced weave on a Purl and Loop, 8 dent, Wee Weaver, that makes a 3-inch square.
Here's what I saw: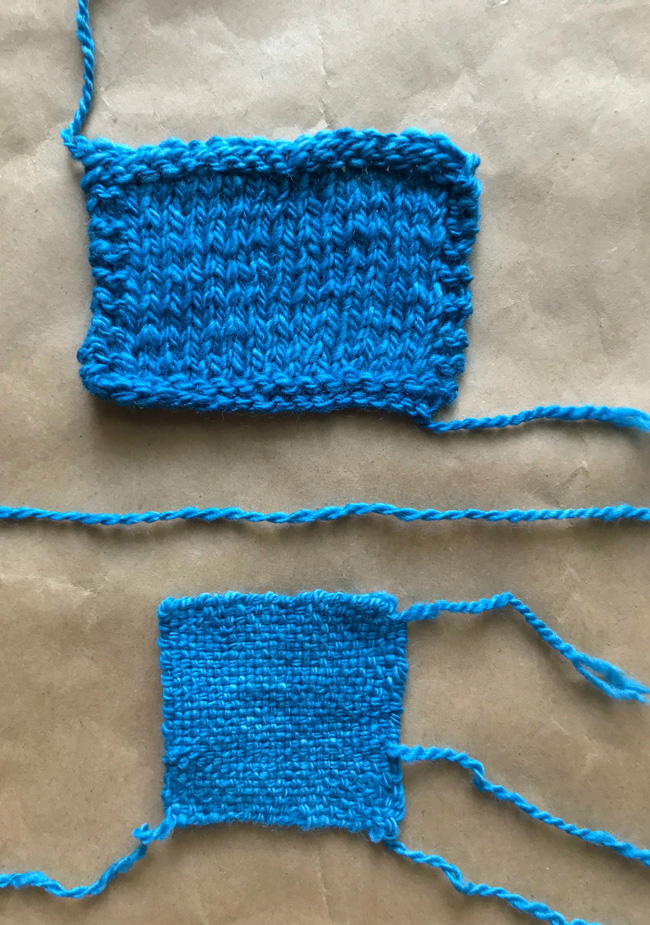 The knitted swatch stitches look loose and sometime times the plies are parallel. It's not what I'd look for to use in a basic knit. I might use it for something drapey or lace.
The woven swatch (please look away from my uneven edges and beat) shows many more of the plies parallel instead of twisted — more like I doubled the threads for warp and weft instead of plying them. The woven fabric feels substantial.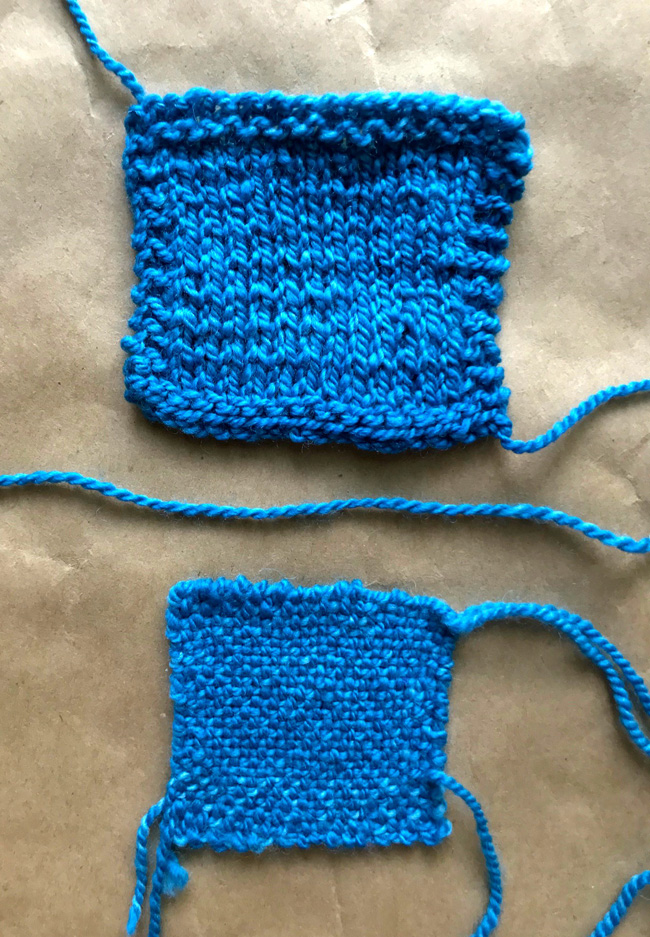 This is what a lot of my knitting looks like. I really like the surface texture of a 2-ply yarn knitted. I would use this yarn for an everyday anything.
This woven swatch looks much more pulled together than the underplied swatch. The warp and weft look more locked into each other, the fabric is starting to look like pinwheels, and it feels tighter.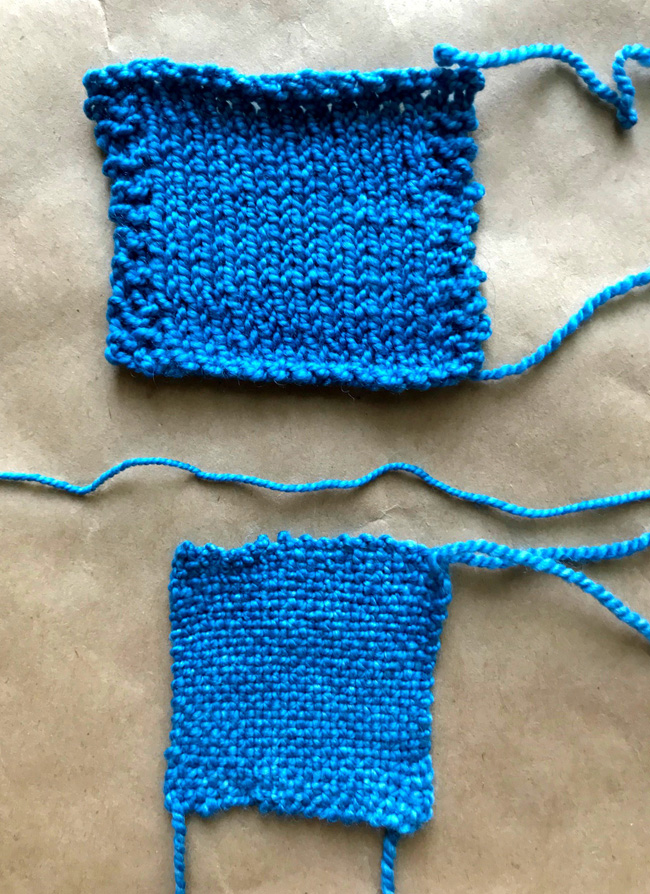 Overplied yarn with knit and woven swatches
This overply is more plied than I usually like an overply. It's still kinky in the finished yarn. The knitted fabric is biasing, but I must say I think the stitch definition looks cool. The fabric is stiffer than I would use for a sweater, but it would make last-forever mittens. The woven swatch looks tight and pulled together, the fabric is very stiff, but like the knitted swatch, I like how the fabric looks.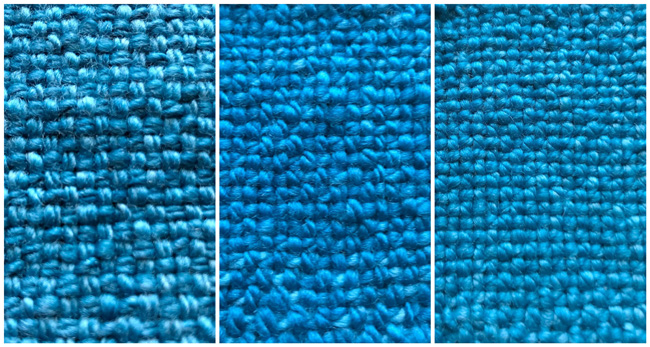 All three woven swatches close up, L to R, less twist, balanced twist, more twist
Here are all three woven samples side by side and up close and personal. I can really see how in the underplied sample the plies sit side by side. The balanced sample shows the yarns pulling together and they're starting to look like pinwheels in some spots and in others like coffee beans hanging out together. The overplied sample has the coolest-looking fabric: pinwheels or flower shapes all over.
This was an interesting exercise, but like most gives me more questions than answers. I think all of these yarns would have been happier at a looser sett, and I would have been happier with a bigger sample. But I did learn, like in knitting, ply twist makes a difference in woven cloth. The tighter the ply, the more durable the fabric, and that the hand of the fabric changes dramatically with more ply twist.
Of course there's a place for each of these fabrics in my imagination. The tight twist may never be a scarf in my mind, but I can't help think how great it would be woven in a tweedy yarn and made into a jacket or winter pants.