Feature: Our Knitting Roots: a study of the contributions immigrants have made to North American knitting, by Donna Druchunas
INTRODUCTION
Our Knitting Roots
by Donna Druchunas
National Suicide Prevention Lifeline

We can all help prevent suicide.
The Lifeline provides 24/7, free and confidential support for people in distress,
prevention and crisis resources for you or your loved ones,
and best practices for professionals.
"If I'm an advocate "If I'm an advocate for anything, it's to move. As far as you can, as much as you can. Across the ocean, or simply across the river. The extent to which you can walk in someone else's shoes or at least eat their food, it's a plus for everybody."
― Anthony Bourdain
Knit their patterns, too.
---
This issue's column will be short and bitter-sweet, and very personal.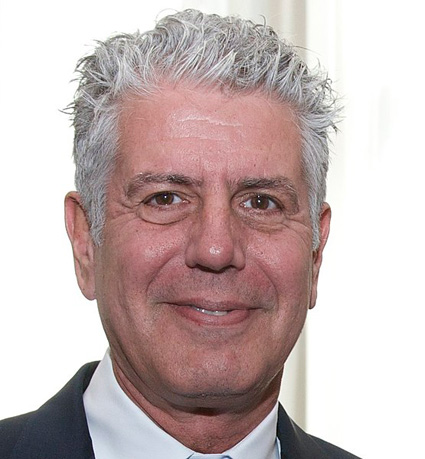 I loved Anthony Bourdain more than anyone else I've never known. Like so many others who mourned his untimely death on June 8, 2018, when he was 61, I never met the man. But I looked to him for inspiration and encouragement. I tried to emulate his spirit in my own work. I dreamed of people seeing me as "the Anthony Bourdain of knitting."
The truth is, we'll never know who Anthony Bourdain was when he was alone with his thoughts. He always seemed so alive and engaged. Sometimes, in retrospect, I think I catch a glimpse of sadness in his eyes as he talks.
People think I'm happy and outgoing, too. Facebook followers see me as kind-hearted, welcoming, and gregarious. Knitters look to me for inspiration and encouragement. Colleagues call me a mentor, a teacher, or a leader. My favorite activity is sitting with a friend having coffee and deep conversation. But when I am alone with my thoughts, I am someone else. I hate everyone and everything. I ignore my phone when it rings and I sneak around in my own house to avoid my family because saying "good morning" makes me anxious. I take pills to keep me from having irrational outbursts of anger and punching a bag of frozen string beans or stabbing a picture of the President in the newspaper with a fork.
Remember, as you are ready to judge another person: you do not know them. Even if they live in your house. Even if they share your bed. There are, in each of us, parts unknown.
RIP Tony. I wish I could have known you.

Learn more:
---
Parts Unknown, a free knitting pattern from Knitty.com. Free knitting pattern for a shaped, cabled cowl design to honor the memory of Anthony Bourdain.
INTRODUCTION

Parts Unknown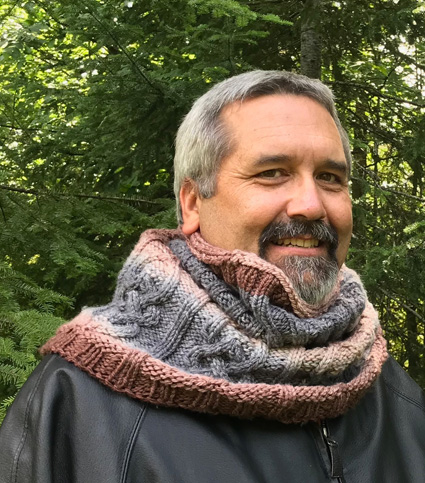 This cowl is for Anthony Bourdain (1956-2018). RIP. The beauty of the world can take us to immeasurable heights of joy, and it's awfulness can drop us in to the darkest pits of despair. Beauty and despair can both be seen in Anthony Bourdain's work. He never hid from the latter, and wherever he went, he always did his best to show us the former.
I travel, but not like Anthony Bourdain did. This year, in fact, I'm not getting on a plane once. But I still travel, through the pages of books, through each episode of Parts Unknown, and through the motions of making stitches on my knitting needles. My knitting this month took me to Sweden and Norway, Iceland, Great Britain, and Nova Scotia, Canada, all on on the trail of Vikings and their braided knot-work motifs. The Vikings didn't knit, but their art still inspires knitters around the world. I hope you'll enjoy some armchair travel as you knit this cowl.
Please join me in knitting this Viking cowl in memory of Anthony Bourdain, and as you are making and wearing it, never forget, we're all only human.

model: Dominic Cotignola

photos: Donna Druchunas
FINISHED MEASUREMENTS
Width:
30 inches/76cm circumference at bottom edge
22 inches/56cm circumference at top edge
Length: 19 inches/48cm
MATERIALS
Yarn


ModeKnit Yarns ModeWerk Flow Bulky [100% superwash merino; 106yd/97m per 100g ball]; color: Java; 4 balls

Recommended needle size
[always use a needle size that gives you the gauge listed below - every knitter's gauge is unique]


US #9/5.5mm circular needle 16 inch/40cm or 20 inch/50cm


Extra US #9/5.5mm needle for BO

Notions


US #M-N-13/9mm crochet hook


tapestry needle


stitch marker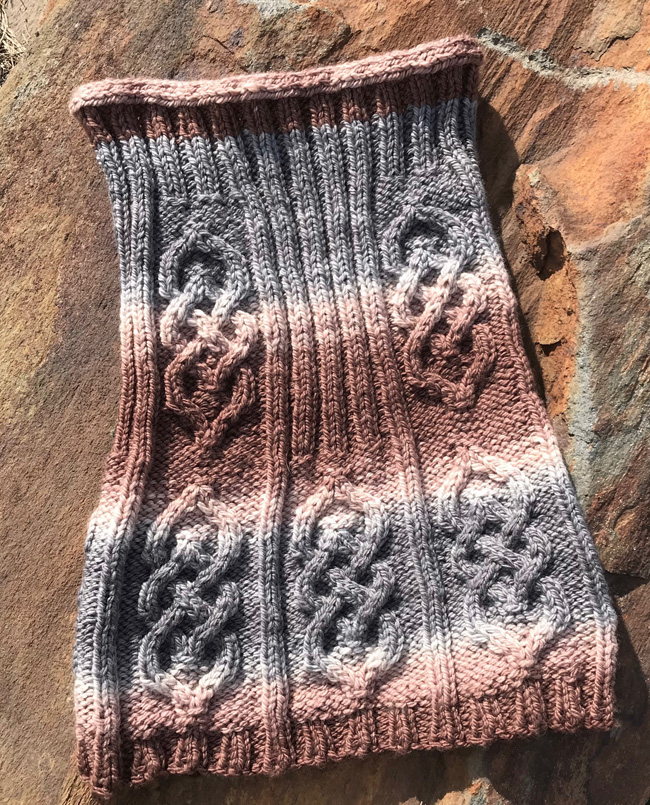 GAUGE
14 sts/24 rounds = 4 inches/10 cm in Stockinette stitch on US #9/5.5mm needles
CHARTS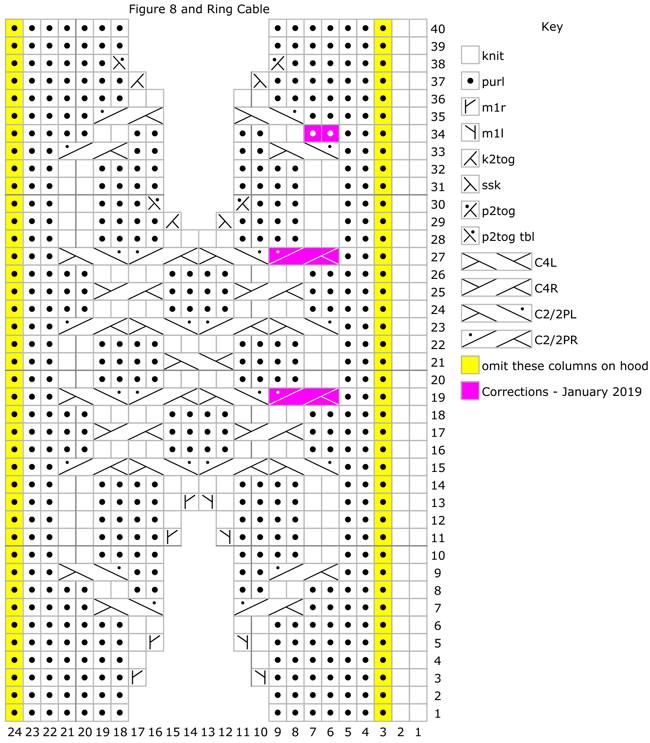 DIRECTIONS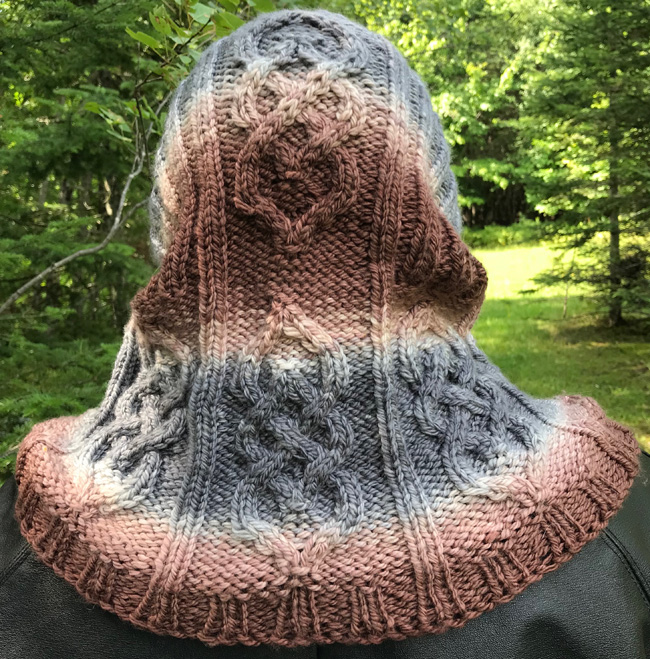 Using the crochet cast-on, CO 112 sts. Place marker and join for working in the round.
Bottom Border
Ribbing round: [K2, p2] around.
Work Ribbing as set for 6 rounds.
Cowl
Round 1: Work row 1 of Figure 8 and Ring Cable chart 7 times around.
Note: each repeat increases from 16 to 24 sts and then decreases back down to 16 sts.
Work as set until all rows of chart have been completed once.
Hood
Round 1: [(K2, p2) 4 times, k2, p2tog, p10, p2tog] 3 times, (k2, p2) 4 times. 106 sts.
Round 2: [(K2, p2) 4 times, work Figure 7 and Ring chart OMITTING YELLOW COLUMNS over the next 14 sts] 3 times, (k2, p2) 4 times.
Work as set until all rows of chart have been completed once.
Top Border
Round 1: [(K2, p2) 4 times, k2, p2tog, p8, p2tog] 3 times, (k2, p2) 4 times. 100 sts.
Work in (K2, p2) ribbing as for lower edge until piece measures 18.5 inches/47cm or approx .5 inch/1.5cm less than desired finished length.
BO with i-cord method as follows: Using the cable method and the extra needle, CO 4 sts onto left ndl.
(K3, ssk, slide 4 sts back onto left ndl) until only the 4 i-cord sts rem. BO rem 4 sts.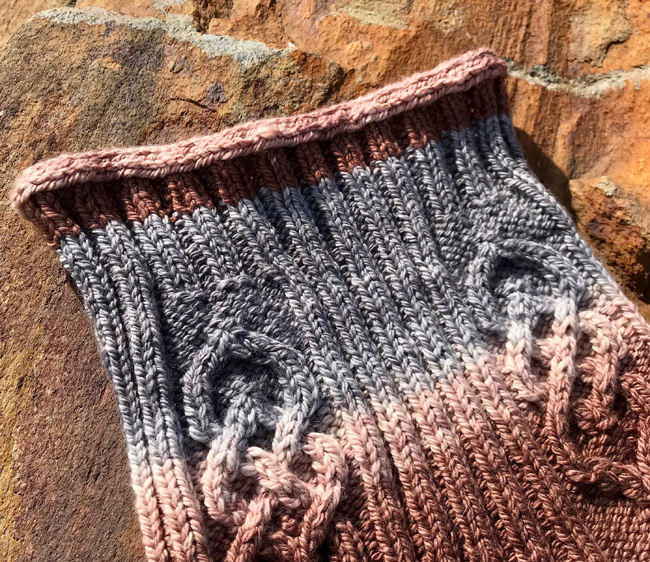 FINISHING
Sew beg and end of i-cord together. This is the center front of the cowl (under the chin when the hood is up).
Weave in ends. If desired, wash and dry flat to block.
ABOUT THE DESIGNER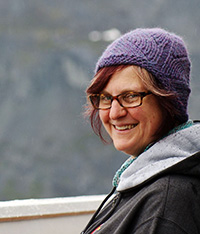 Donna Druchunas is obsessed with her family history and the history of knitting. In combination with this column, Our Knitting Roots, she is also running a book club for knitters who appreciate the people, places, and cultures behind the stitches of their knitting projects.
Donna's newest project is opening a small local yarn shop in rural Vermont. Visit her online store to order kits for her Knitty projects as well as other yarns, books, and notions. She is the author of many knitting books including her newest title: The Art of Lithuanian Knitting. Donna has taught knitting workshops in the United States, Canada, and Europe and she holds annual retreats in Vermont.
You'll also find her on Ravelry.
Pattern & images © 2018 Donna Druchunas